WATERS & TYCO SUZUKI WIN AT ASSEN BSB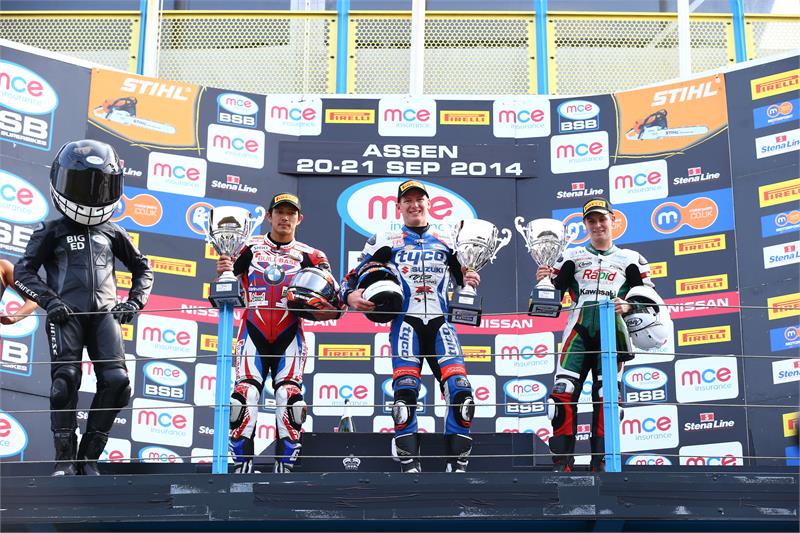 Josh Waters raced to his second British Superbike Championship victory of the season for Tyco Suzuki at Assen's TT Circuit in the Netherlands in the Australian's first-ever appearance at the famous Dutch venue.
Waters backed-up his first race win with a solid eighth place in race two, where his team-mate John Hopkins finished fifth. 'Hopper' had been in the early hunt for podium honours, but struggled to hang onto the leading quartet after using the best of his tyres in the early laps.
In race one, Waters came through from his fifth-row grid spot to take a well- deserved victory aboard his Tyco Suzuki GSX-R1000. With rain falling just before the start, Waters' crew made the correct tyre and set-up choice; which afforded him the confidence to carve his way through the pack.
A late and exciting battle with Ryuichi Kiyonari had the huge crowd on the edge of their seats, but the hard-charging Aussie delivered on the final lap to take a hard-fought-for victory.
Josh Waters:
"I'm 'rapt' to have taken another win for Tyco Suzuki and I really enjoyed the conditions. Coming here for the first time I'd have been happy with solid single figure top-10 finishes but the boys really have perfected a top-class wet-weather set-up on the Tyco Suzuki GSX-R1000 and I just dug in, kept it upright and yeah, I'm really happy to get another BSB win. I made a poor start in race two and got caught-up and maybe was a little frustrated, but I'm satisfied enough with my weekend's work and we can take away a lot of positives."
John Hopkins:
"I'm really frustrated as I know I had the pace for the podium if not the win, but I really had to use up the best of my front tyre running deep into the turns to stay with the front four. Staying in the draft on the straights was pretty tough and once the front tyre went off, we were tucking the front everywhere and I couldn't risk crashing. Yeah it's a tough one. Through the fast-flowing stuff I could hang with them no problem but on the straights we were losing-out. But we did what we could today and just have to regroup and look to Silverstone for that podium finish."
Philip Neill – Team Manager:
"A great gutsy win from Josh Waters in race one when he could so easily have settled for a finish in very difficult conditions. We have to take into consideration it was the lad's first time here at Assen, which is no easy track to perfect, and eighth in race two is also a good effort considering he had a sluggish start.
"John was hampered by his tyre-choice early in race one, but when the track started to dry he was coming through very quickly on the intermediate rear; had it stayed dry I'm certain he would have been top-five at least. That's part of the gamble in those conditions and unfortunately for John, like many others, he lost out.
"In race two it was great to see him battling at the front-end in the dry with Kiyo and Shakey. Unfortunately he couldn't turn it into a podium finish, but we will analyse his thoughts on the race and the data and see what we can improve for Silverstone in a fortnight."
British Superbike Championship, Assen, race one result:
1. Josh Waters (Tyco Suzuki)
2. Ryuichi Kiyonari (BMW) +0.184s
3. Stuart Easton (Kawasaki) +23.904s
4. James Ellison (Kawasaki) +24.637s
5. Christian Iddon (Bimota) +29.741s
6. Dan Linfoot (Kawasaki) +37.273s
7. Jed Metcher (Kawasaki) +38.068s
8. Howie Mainwaring (Kawasaki) +49.647s
9. Tommy Bridewell (Yamaha) +50.861s
10. Lee Jackson (BMW) +52.446s
British Superbike Championship, Assen, race two result:
1. Shane Byrne (Kawasaki)
2. Ryuichi Kiyonari (BMW) +0.152s
3. Tommy Bridewell (Yamaha) +0.460s
4. Dan Linfoot (Kawasaki) +4.170s
5. John Hopkins (Tyco Suzuki) +8.759s
6. Stuart Easton (Kawasaki) +12.203s
7. James Ellison (Kawasaki) +17.729s
8. Josh Waters (Tyco Suzuki) +30.241s
9. Filip Backlund (Yamaha) +32.308s
10. James Westmoreland (BMW) +33.060s
BSB Championship Points (after 10 of 12 rounds): CLICK HERE
Assen BSB Image Gallery: CLICK HERE FOR PHOTOS