MOTORCYCLIST TO RIDE FROM UK TO INDIA IN NEW RECORD ATTEMPT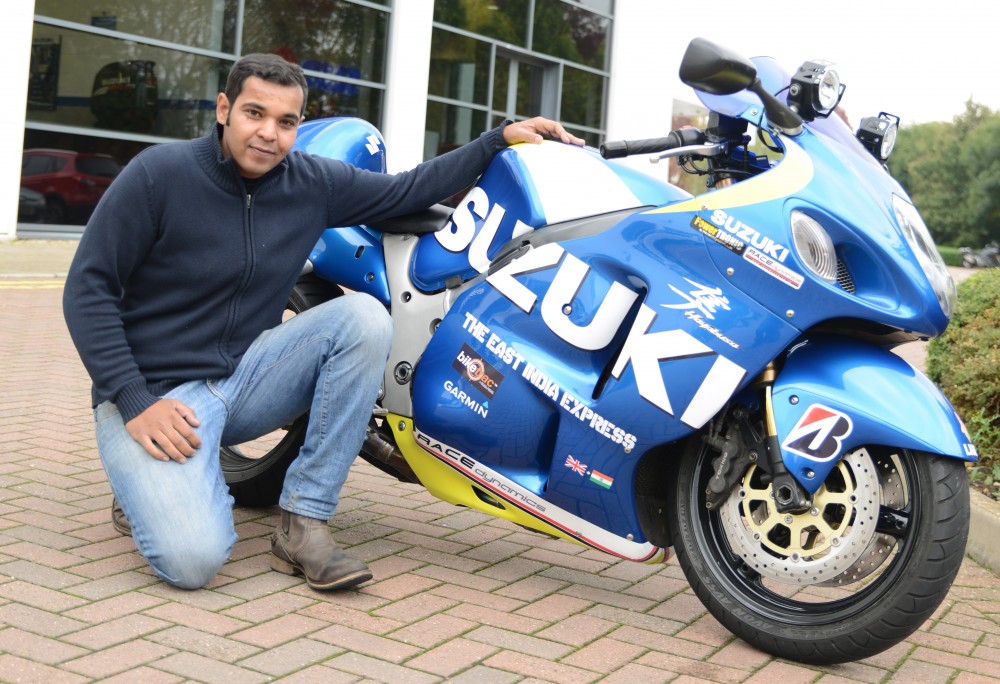 Sushanth Shetty is aiming to set a new record by riding his Suzuki Hayabusa from the UK to India in the fastest overland journey between the two countries.
Setting off from the UK on Saturday 25 October, Sushanth, who lives in London but retains his Indian citizenship, will ride his Hayabusa to France and through Europe to Turkey and then Iran. From there it will either be Pakistan, if his visa application is accepted in time, or Dubai, before arriving in India.
Dubbed the East India Express, the journey is expected to take 15 days of riding if permission is granted to travel through Pakistan – however, a police escort would be required – or slightly longer if a deviation through Dubai is necessary, but Sushanth is looking forward to the challenge.
Sushanth, who has previous travel experience through Asia and Europe, said, "I´d always fancied riding a bike from the UK to India and came up with the plan in Bangkok while travelling through Asia. I´ve also done a bit of riding across Europe before. But I didn´t think I was cut out for six months or so of riding and ´finding myself´; I wanted to do it as fast as possible. So I tried and thought about a few different bikes, but it had to be the Hayabusa. It should be a good journey and I´m looking forward to setting off. I´m looking forward to going to Sofia in Bulgaria, Ljubljana in Slovenia and Istanbul in Turkey. I´m also a bit apprehensive of Eastern Iran and Pakistan, but I´m also really looking forward to riding through Iran as a whole, and hoping I can do the whole thing to set the fastest overland journey time between the two countries, and that´s sticking to speed limits too."
Sushanth already has his flight booked back to the UK on 23 November, after spending a few days at home. The bike will remain in India for India Bike Week in February before being shipped back to the UK.
To follow Sushanth´s journey live, click here.??For more information visit http://theeastindiaexpress.com
NEW SUZUKI GSX-S1000 RANGE HEADLINES COLOGNE SHOW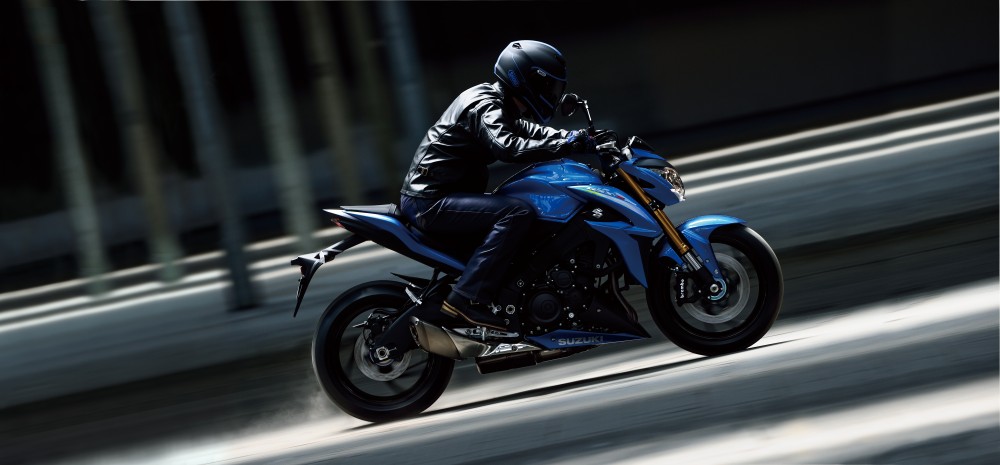 Suzuki pulled the wraps off its new GSX-S1000 and GSX-S1000F models at the opening of this year´s International Motorcycle Show in Cologne, Germany, as the Japanese manufacturer unveiled several new models and updates that will form part of its 2015 model range.
GSX-S1000 ABS
The product concept behind Suzuki´s new super-naked was to provide the spirit of GSX-R in a naked streetbike chassis. Designed for nimble and agile handling, the GSX-S1000 features an all-new frame and utilises engine design and characteristics from the iconic GSX-R1000 K5, famed for its low-down torque and mid-range power.
With knowhow from MotoGP development, the GSX-S1000 benefits from a traction control system boasting three-modes as well as the option to switch the system off completely. ABS is also available, with the bike expected in dealership showrooms in late spring next year.
GSX-S1000F ABS
Also unveiled as part of Suzuki´s new GSX-S range, the F variant features all of the benefits afforded to its naked sibling, including an all-new frame, traction control and ABS, but wrapped it in a newly designed fairing.
Designed with the same concept in mind, the GSX-S1000F shares the ergonomics and riding position of the naked version, with both aimed at providing a sporty ride on the road, but leaving customers with the choice of added weather protection or sheer naked aggression. It too, is expected in late spring.
Address 110
The new Address 110 is expected to arrive in early spring next year, and brings with it exceptional fuel economy and value. Boasting 139MPG* and a 5.2 litre fuel tank, the Address 110 is set to become the commuting scooter of choice.
Practical touches include under-seat storage in excess of 20 litres that will comfortably take a full face helmet and riding gear, and rear handbrake for use when parked. The Address benefits from a new fuel injection system and reduced overall weight, which comes from sporty, redesigned bodywork and cast aluminium, hollow-core wheels.
V-Strom 650XT ABS
Based on the already popular V-Strom 650, which has been the top selling dual-purpose machine in the 650-800cc class in the last decade, the V-Strom 650XT comes with more adventure as standard.
The new V-Strom 650XT takes design cues from the DR Big, the first dual-purpose machine to feature the now standard ´beak´ design synonymous with models in the adventure sector. A new beak blends smoothly into the existing front bodywork, with air ducts that channel airflow to the radiator.
Newly designed, lightweight, wire-spoked aluminium wheels aid in the adventure-styling of the new V-Strom 650XT, and shock absorption performance is increased on unpaved roads. Its arrival is anticipated as early as December this year.
Bandit 1250S ABS
Bandit is back for 2015, with the iconic machine on sale in the UK early next year. With the original Bandit models developing a cult following, the latest incarnation uses the newest version of Suzuki´s 1255cc inline four-cylinder engine and gets a styling update to bring it into 2015.
After repeated wind tunnel testing, the redesigned fairings, with new radiator shrouds, offer improved aerodynamics, with venting just below the headlights, as well as better wind and weather protection for both rider and pillion.
Inazuma 250F
The A2-licence friendly and ideal commuter, comes clad with a newly designed fairing for 2015, with the Inazuma 250F unveiled at Intermot.
Adding extra wind protection to the popular city-wise machine, which boasts an impressive 85MPG figure, cost conscious commuters can now travel even further in comfort. The new faired Inazuma will be on sale in early 2015, alongside the existing naked machine.
GSX-R1000 ABS
The iconic GSX-R1000, which took the win at the prestigious 24 hours of Le Mans earlier this year in the hands of the Suzuki Endurance Racing Team, now comes with ABS as standard for 2015.
As the Japanese brand celebrates its return to the blue-ribband class of motorcycle racing next year, the GSX-R1000 will also be available in the replica colours of Suzuki´s new MotoGP racer, the GSX-RR.
*Data resulting from tests made by Suzuki in compliance with WMTC. These tests were conducted by a single pilot with no additional optional equipment. Fuel consumption may vary depending on your riding style, how you maintain your vehicle, weather, road conditions, tyre pressure, the presence of accessories, the load, the weight of the crew and many other parameters