2014 WORLD ENDURANCE BOOK ON SALE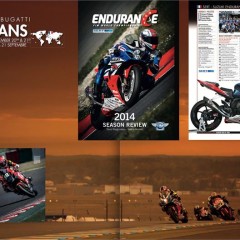 The latest 2014 Endurance Season Review book by renowned French photographer David Reygondeau is now on sale.
The large-format hard-back 176-page publication is packed with all the best imagery from this year's series along with information and facts on all the major teams and riders, including 13-time World Champions Suzuki Endurance Racing Team and World Superstock Champions Junior Team LMS.
Reygondeau, who also shoots all the stunning Endurance images for Team Suzuki's www.suzuki-racing.com has teamed-up with journalist Valerie Moreno; who provides all the words and information for what is again promised to be a must-have reference publication to have in the library.
It is priced at 45 Euros, plus postage/ shipping costs to various countries, and available now direct from David Reygondeau:[email protected]