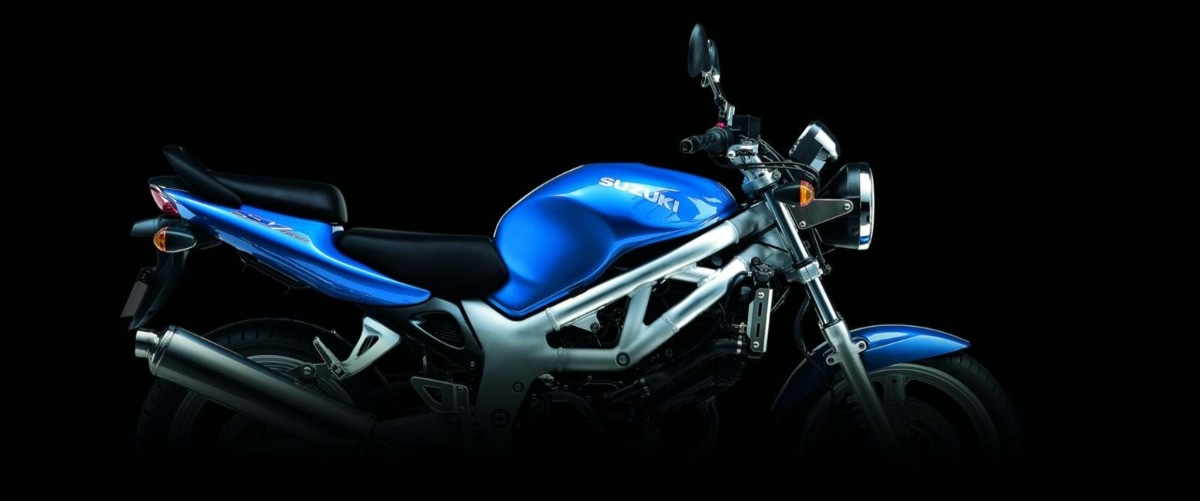 The SV650 was first introduced in 1999 as an affordable-but-fun middleweight, available either naked or half-faired. No one, not even Suzuki, could have imagined the cult appeal the bike would develop, as it appealed to everyone from commuters to riders looking for a capable tool for a weekend blast, and now fills race grids up and down the country. 20 years on, we take a look back at the history of one of the biggest overachievers in motorcycling.
The naked version of the SV650 cost just £3,999 when it was launched back in 1999, with the S model a mere £300 more. Both bikes immediately found favour with the motorcycling public, with a combined 2,549 sold in the first year and 2,939 the following year.
The SV was designed to be the answer to many people's prayers; a robust, reliable, but characterful V-twin middleweight, suited to a range of riders and uses.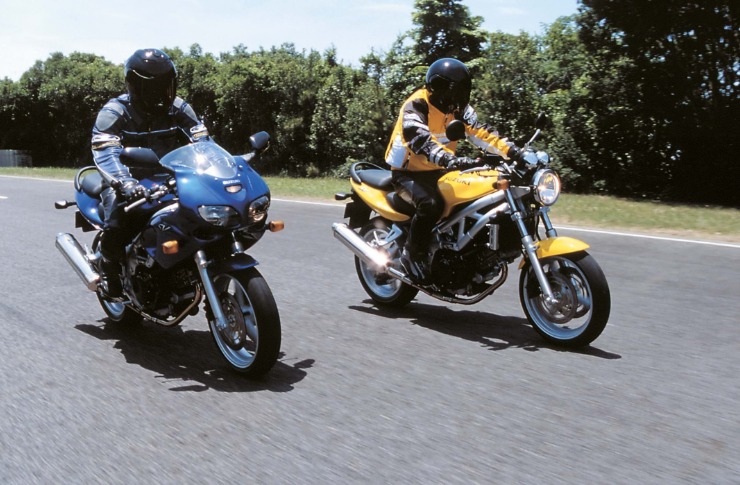 It was affordable and did everything it needed to. But it did it better than its rivals, with nimble, agile handling more akin to more expensive, sportier machines, and an engine that has gone down in motorcycle folklore. MCN referred to it as a 'straightforward middleweight V-twin all-rounder which proves you don't have to be boring to be practical'. It found a niche and it excelled.
It was comfortable as well, with a plush seat and easy-going ergonomics – especially the naked version. It could take a pillion too. And there was a great range of accessories, which meant the SV could be taken touring across the continent, or, with the fitment of fairing lowers, a pillion seat cowl, and a racy exhaust, become a mini V-twin weapon between the hedges.
Such a weapon in fact, that in club racing, the SV650 was the bike to be on when it came to the twin classes. As people sought more affordable ways of going racing, the SV filled Minitwin grids up and down the country, which boasted tighter regulations than other classes of racing. Frames couldn't be modified, nothing could be done to the engine, and even things like the forks had to remain standard. However, the basic package from Hamamatsu was far greater than the sum of its parts, and the bikes posted impressive lap times around circuits like Donington Park, Brands Hatch, and Cadwell Park.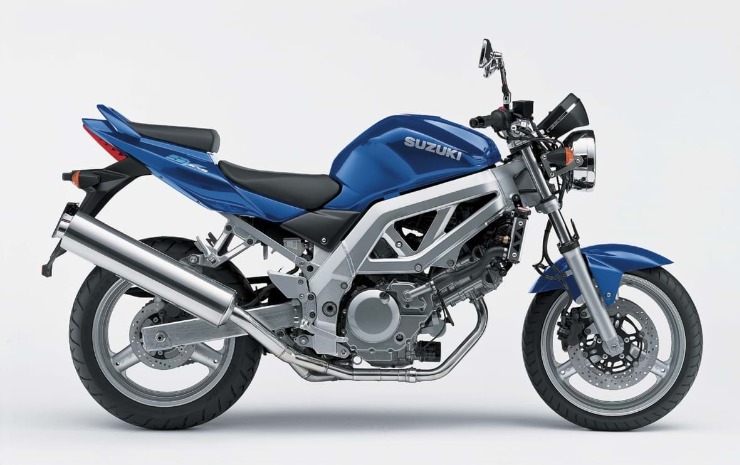 2003 saw the introduction of the second generation SV650. The new bike boasted an all-new cast aluminium frame, new swingarm and new exhaust. It also made the switch to fuel injection from carburettors. It got a power hike, too, taking peak power up to over 73bhp, while peak torque increased to 47.2lb-ft.
And it continued to fly out of the showrooms too. 2,266 were sold when the new bikes were introduced, as new riders, commuters, and racers alike sought them out.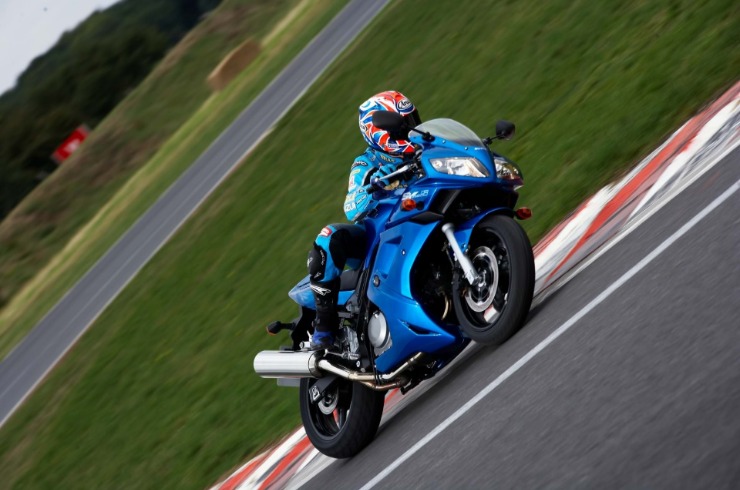 In 2007 new twin-plug heads were introduced to improve emissions, but it was the last update before the naked SV650 was superseded by the SFV650, which was launched in 2009.
The SFV650 was launched in Fuerteventura to widespread praise. MCN rated the upgraded engine five out of five, and commended the new bike, writing "the old SV650 was a good bike and to be honest Suzuki didn't have to do much to make it a great bike once more. But they have gone one better and given us an excellent bike."
Changes to the camshaft profiles and valve lift, a 10% increase in crankshaft inertia, newly staggered intake and exhaust tract lengths, and a new exhaust made it possible to boost low-rpm and midrange power, without sacrificing top-end output. There were also new valve springs, and while the bore and stroke remained the same from the older SV650, the bore was plated with Suzuki's race-proven nickel-phosphorus-silicon-carbide coating. It also benefited from new iridium spark plugs.
The most striking difference was how the new bike differed visually from the SV. The classic styling made way for more modern lines, and a new steel trellis frame replaced the aluminium frame of the outgoing SV650.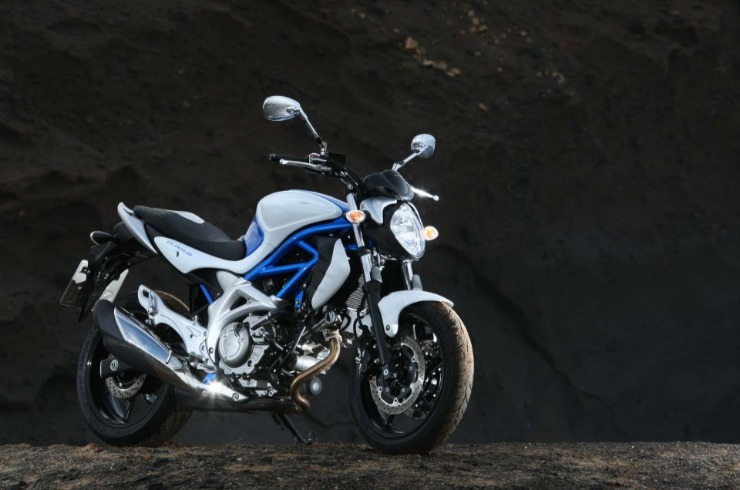 In classes where limited modifications were permitted, the SV650S continued its dominance of club racing grids, with it's clip-ons and removable rear subframe. But in the more relaxed Supertwin classes, the SFV650 was carving a name for itself.
JHS Racing in particular were championing the way with the SFV, turning out an exquisite example dressed in GSX-R600 fairings, that turned heads when on display at Motorcycle Live.
The preparation put into the bike was essentially the same that goes into a superbike. The JHS SFVs used the original crankshaft, but got new con-rods, pistons, valves and valve springs. It retained the standard ECU, but with some parameters changed and some sensor eliminators, to extract every ounce of power. This bike didn't have to do thousands of miles between services.
"The SFV650 boasts even more potential than the SV for racing," James Holland from JHS Racing said at the time. "It's the engine we like the most, as the nickel-phosphorus-silicon-carbide coating in the bores allows us to run higher tolerances with our pistons and rings."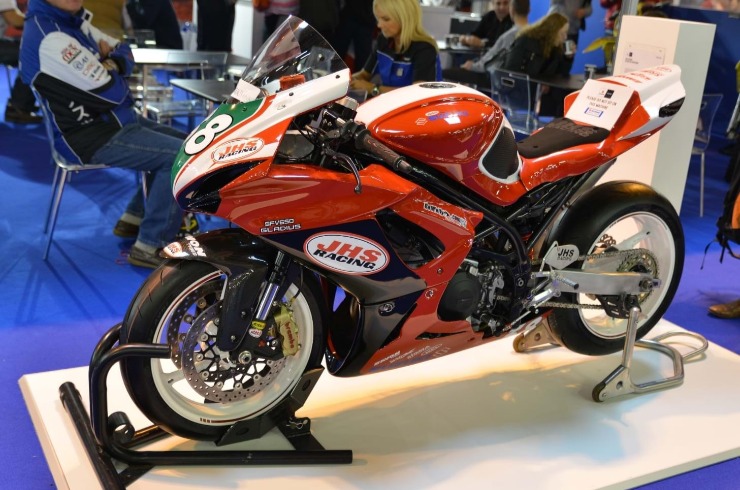 But for 2016 the naked SV returned to the range, doing everything it did in 1999, only better. It's more powerful and lighter than the SFV650, with clean, classic styling to appeal to a variety of riders. It boasts some more tech too, with a one-push, easy-start system and Suzuki's low-rpm assist function that makes it incredibly difficult to stall the bike when pulling away. On its launch in northern Spain it was praised for its handling, with Bike Social writing, "The Suzuki's chassis is mint. It turns well, holds a line, and leans over till the long hero blobs and exhaust are dragging if you want."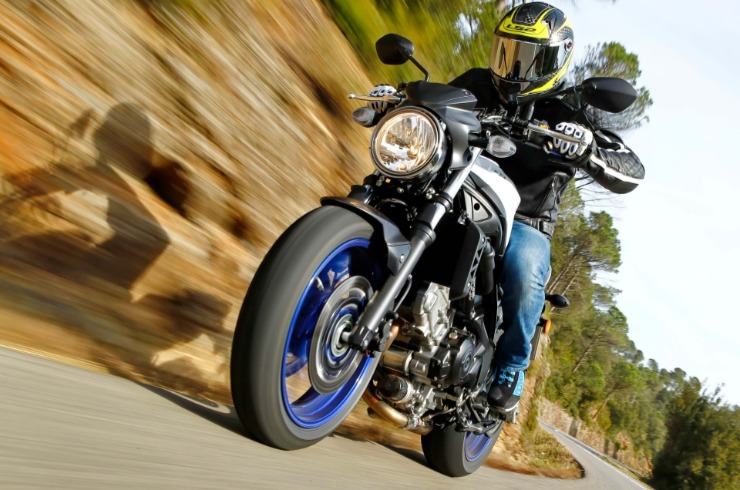 Two years later and the SV650X joined the lineup alongside the standard SV, while the S made way. It offered something new for SV customers, sporting café racer-inspired styling with a bikini fairing, dropped bars, and ribbed seat, plus a retro-style livery.
The SV650 remains a model that does far more than it should, better than it should. When the first SV650 rolled off the production line in the late 90s, no one would have believed that it would find favour with so many riders looking for so many different things, and go on to fill club racing grids and tackle the Isle of Man TT. It really is one of motorcycling's biggest overachievers.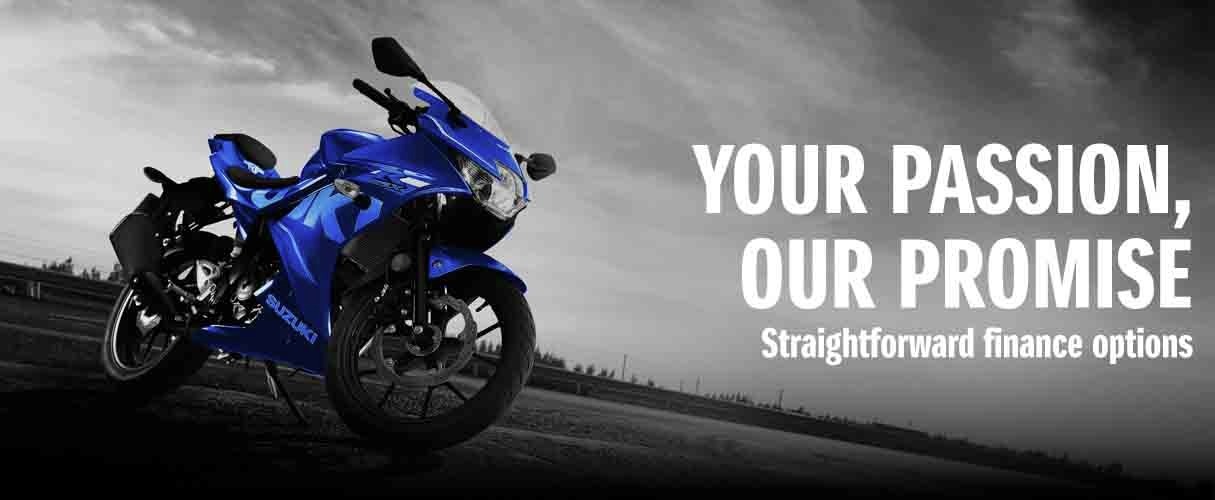 Straight Forward
You choose your preferred product
Simple
Easy to apply, pay and upgrade*
Flexible
You choose the deposit and duration
Transparent
There are no hidden charges
Suzuki Finance
We're here to help you purchase the Suzuki you desire at a monthly repayment you can afford. We have years of experience and expertise in providing finance to bikers. We understand that as riders we all have different needs and we pride ourselves on tailoring contracts that fit your needs. 
1. Choose your Bike
2. Add your bolt-on accessories
=  Value of your purchase
3. Decide your product
Personal Contract Purchase (PCP)
Want to keep your options open?
PCP could be the choice for you with 3 options to choose from at the end of the contract. 
End of contract
Once you've paid all the regular monthly repayments you can then pick from one of the 3 options. 
Deposit: Decide on the deposit you would like to pay. You might also have a bike to trade in. 
Months: Choose the number of months you want to repay over, this is the repayment term. 
Mileage: Pick the annual mileage you think you will do during the term of your contract. 
Guaranteed Future Value: Based on your chosen annual mileage and the repayment term, we calculate the vehicle's Guaranteed Future Value (GFV). This value (plus £10 Purchase Fee) then becomes your optional final repayment. 
Keep It: Pay the optional final repayment and keep the bike. 
Hand it back: Hand the bike back and have nothing further to pay, subject to the bike being in good condition (fair war and tear accepted) and not having exceeded the maximum agreed mileage. Charges will apply if the bike has exceeded the maximum agreed mileage or if the bike is not in good condition. 
Get a New One: Part-exchange your bike and purchase a new bike (subject to settlement of your existing contract; new contracts are subject to status). If the trade-in value of the bike is more than the optional final repayment this difference could be used as a deposit on a new bike. 
Want to own your bike?
With HP you will own the bike at the end of the contract once all the repayments have been made. 
Deposit: Decide on the deposit you would like to pay, you may also have a bike to trade in. 
Months: Choose the number of months you would like to repay over, This is the repayment term. 
End of contract: Once you have paid all the monthly repayments you will be the owner of the bike. 
Benefits of PCP
Choose from 3 different options at the end of the contract

Select a repayment length and annual mileage to suit you. 

Fixed regular repayments. 

Available on any new or used Suzuki up to 1 year old. 
Benefits of HP
You own the bike at the end of the contract.

Fixed regular repayments

You will pay less interest overall when compared to a PCP product of the same price and term

Available on any new or used Suzuki up to 3 year old. 
Terms and Conditions:*Subject to settlement of your existing contract; new contracts are subject to status. Credit is subject to status and only available to UK residents aged 18 and over. Credit is provided by Suzuki Financial Services Limited. Suzuki Finance is a trading style of Suzuki Financial Services Limited, St William House, Tresillian Terrace, Cardiff, CF10 5BH.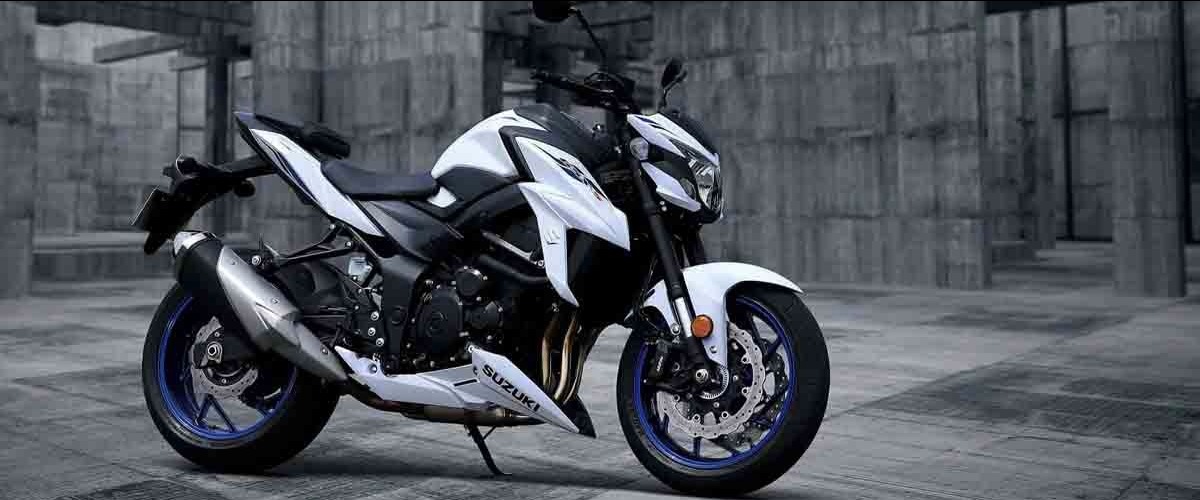 SUZUKI ANNOUNCES ITS SUMMER LOW-RATE FINANCE OFFER
Suzuki has announced the details of its summer low rate finance offer, which gives customers the ability to tailor a finance package to their individual needs by choosing from either a Personal Contract Purchase (PCP) or Hire Purchase (HP) agreement, and the term of their choice – from two, three, and four years – with an APR to match.
The offer is available on all V-Strom 650 and V-Strom 1000 models, plus the GSX-S1000F, GSX-S1000, and GSX-S750 street machines, with a minimum deposit of £1,000. With a minimum deposit of £500 customers can also take advantage of the offer on the GSX-S125 and Address scooter.
Address HP Only. Credit is available to UK residents aged 18 and over, subject to status. Suzuki Finance is a trading style of Suzuki Financial Services Limited; St William House, Tresillian Terrace, Cardiff, CF10 5BH.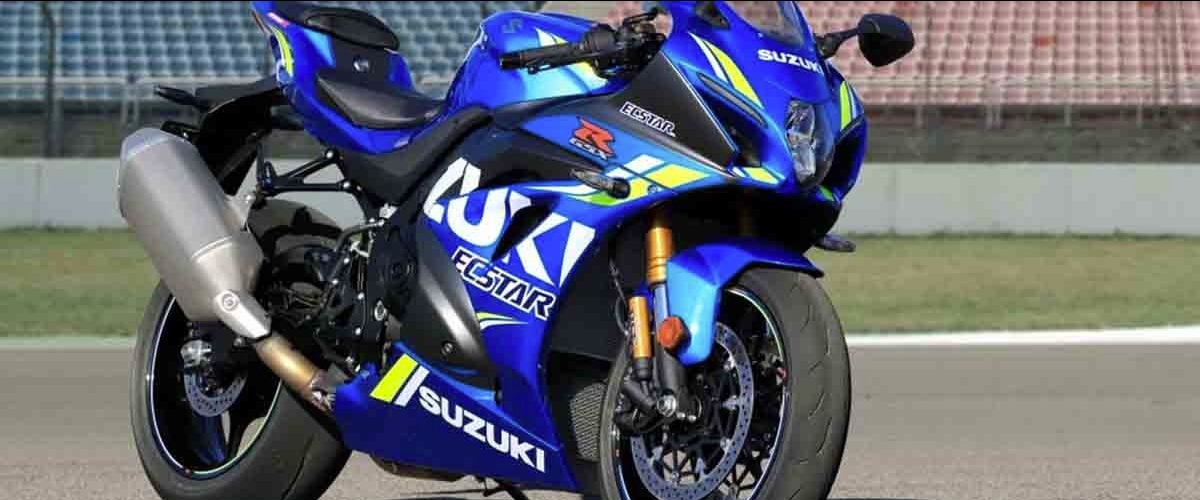 SUZUKI ENHANCES GSX-R 0%REPRESENTATIVE FINANCE OFFER
Suzuki has announced an enhanced 0% APR Representative finance offer on the award-winning and race-proven GSX-R1000R plus the entry-level GSX-R125, available until the end of September 2019. There's also a new £250 Suzuki deposit contribution on the GSX-R125.
Available with a minimum deposit of £1,000 on the range-topping GSX-R1000R, customers can ensure they're choosing a deal that best suits their personal circumstances, and opt for either a Personal Contract Purchase (PCP) or Hire Purchase (HP) agreement.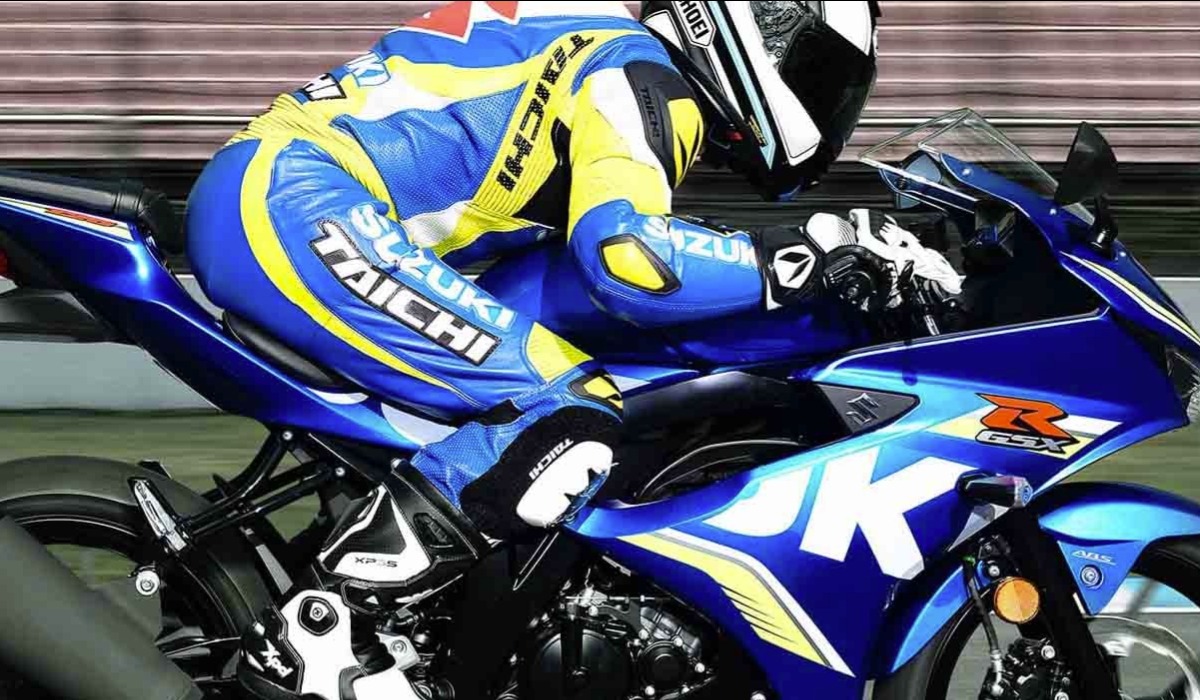 Suzuki's 0% APR Representative offer also extends to the learner-friendly GSX-R125, which is available with a minimum deposit of £750, £250 of which comes as a Suzuki deposit contribution, meaning buyers need only £500 deposit.
The GSX-R1000R uses a host of MotoGP-derived technology, from a clever variable valve timing system that allows it to produce both low-down and midrange torque and impressive top-end power, to a comprehensive suite of performance-boosting electronics that includes an IMU-governed, 10-mode traction control system, launch control, quickshifter and auto-blipper, and cornering ABS.
The GSX-R125 set new benchmarks when it was launched in 2017, coming into the 125 sports bike market with the best power-to-weight ratio. It boasts an LCD dash, LED lighting, keyless ignition, and Suzuki's easy-start system.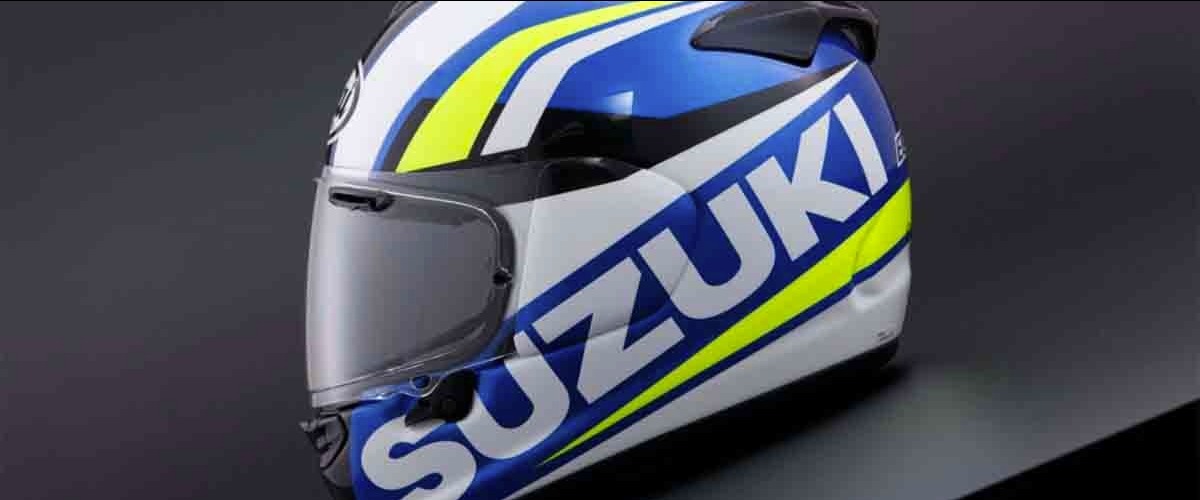 SUZUKI MOTOGP-INSPIREDARAI CHASER-X AVAILABLE
Suzuki and Arai have joined forces to create a Team Suzuki Ecstar, MotoGP-inspired Chaser-X limited edition helmet, which comes with an RRP of £550 and is available now through authorised Suzuki dealerships or online.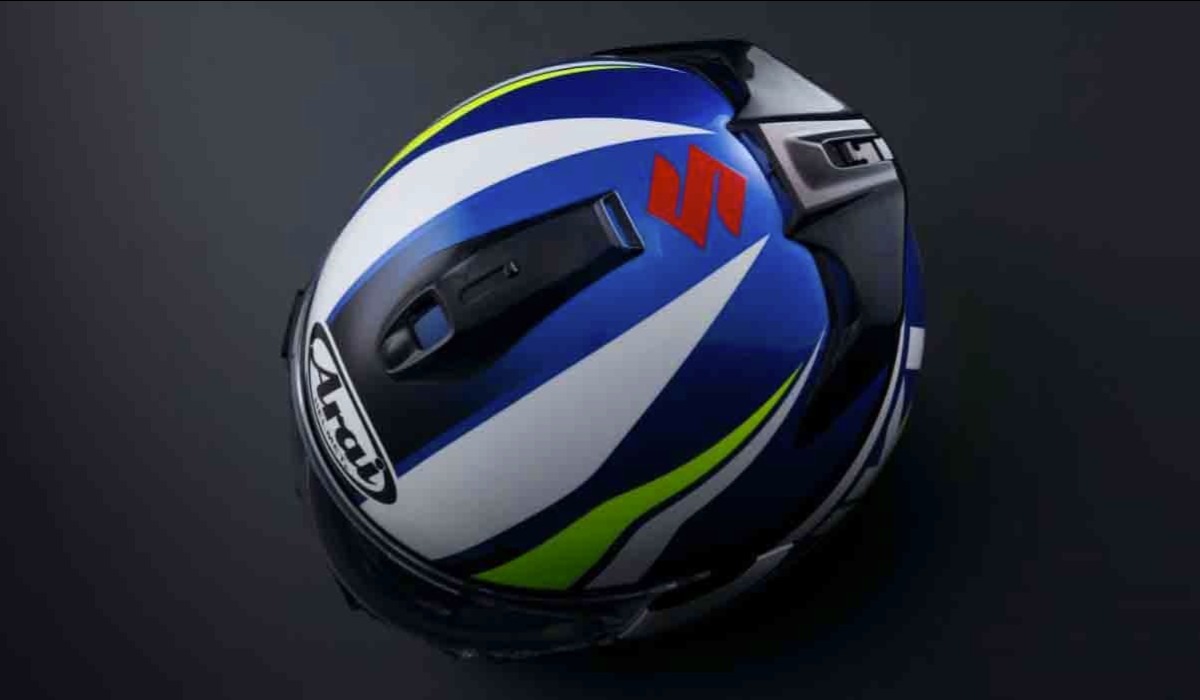 The helmet gets a striking blue, white, and yellow design with bold Suzuki lettering, reminiscent of the firm's GSX-RR MotoGP racer, and is ACU Gold Standard certified. It also uses a double d-ring chin strap fastener, Arai's new shield latch system, and includes liner speaker pockets.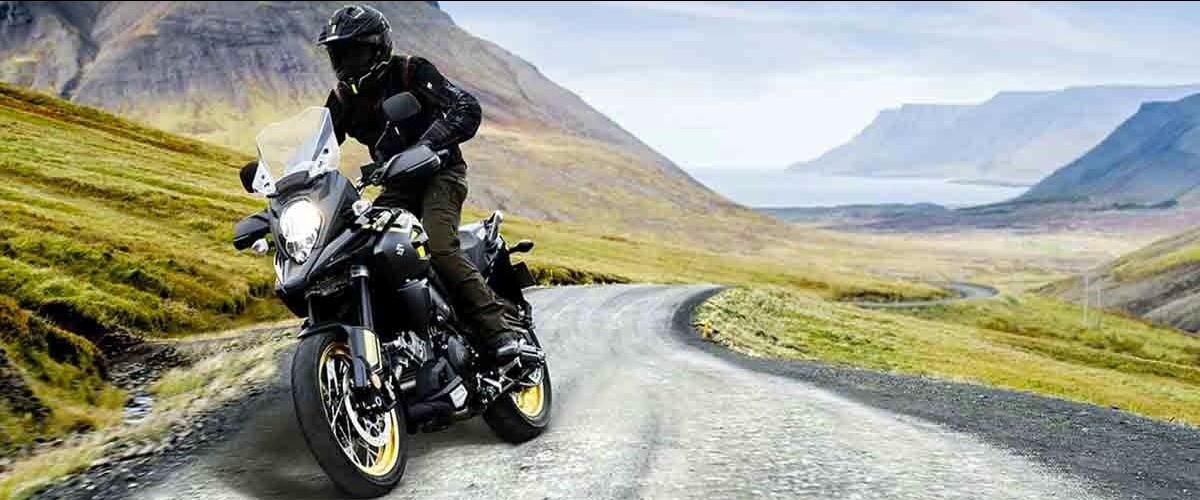 SUZUKI SET FOR INAUGURAL ADVENTURE BIKE RIDER FESTIVAL

Suzuki will showcase its adventure and off-road ranges at the inaugural Adventure Bike Rider Festival, which takes place from 12-14 July at the Ragley Hall Estate in Warwickshire, with visitors also able to enjoy test rides on many of the models on display.
The range-topping V-Strom 1000XT – which features a 1037cc V-twin engine packed with low-down torque and a broad midrange, plus a two-mode traction control system and intelligent cornering ABS – will be displayed alongside the standard V-Strom 1000. The cult-favourite V-Strom 650 will also be on display, side-by-side with the more off-road-focussed V-Strom 650XT, which swaps cast wheels for lightweight spoked options, and gets hand guards and lower cowling as standard. Both models use Suzuki's characterful and famed 645cc V-twin engine, and get traction control and low RPM assist.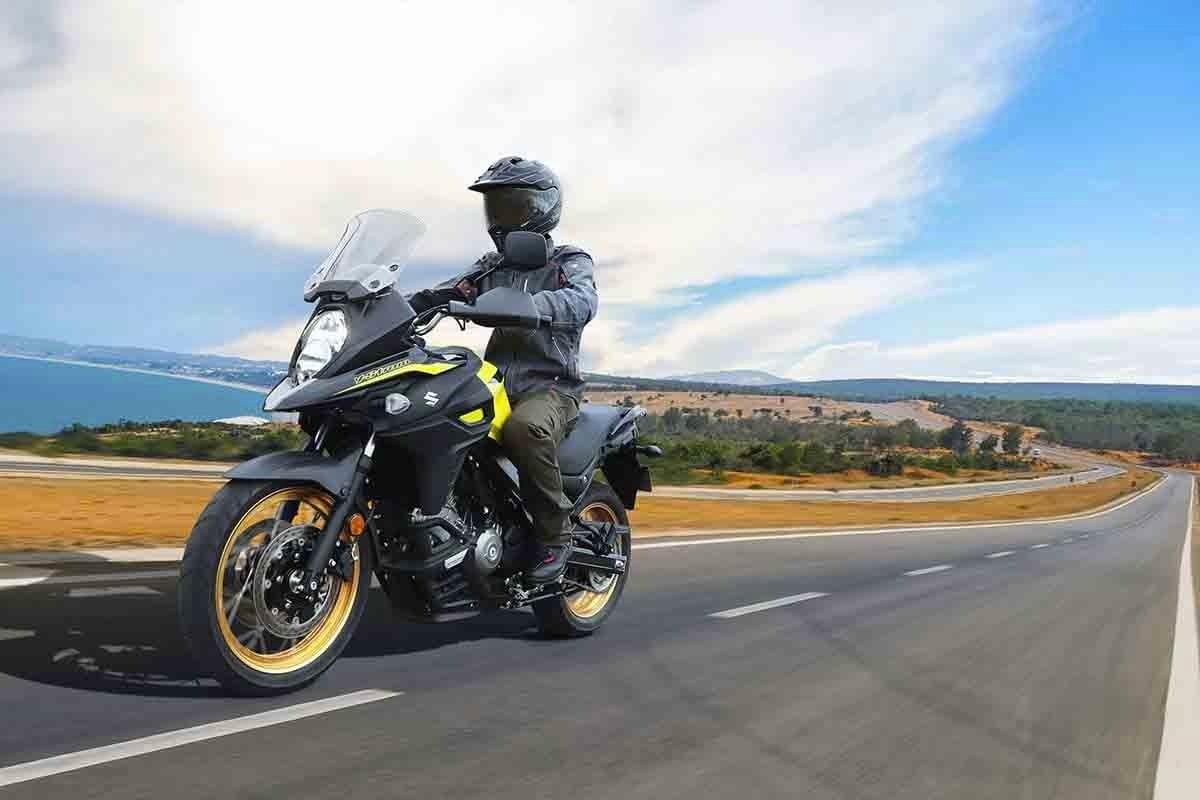 Demonstrating the V-Strom's adventure-potential is the Bike to Japan V-Strom 1000, which was ridden from the UK all the way back to the Suzuki factory in Hamamatsu, Japan in 2014.
Proving big adventures can come in small packages is the V-Strom 250. The A2 licence-friendly machine uses a flexible parallel twin engine, and includes full luggage among its range of accessories, and will be on display along with its larger capacity siblings.
Further highlighting the Japanese brand's off-road prowess is the RM-Z450 motocross machine and KingQuad 750 ATV, both of which will be present on the Suzuki stand, while the head-turning new KATANA will nod to the firm's street bike range.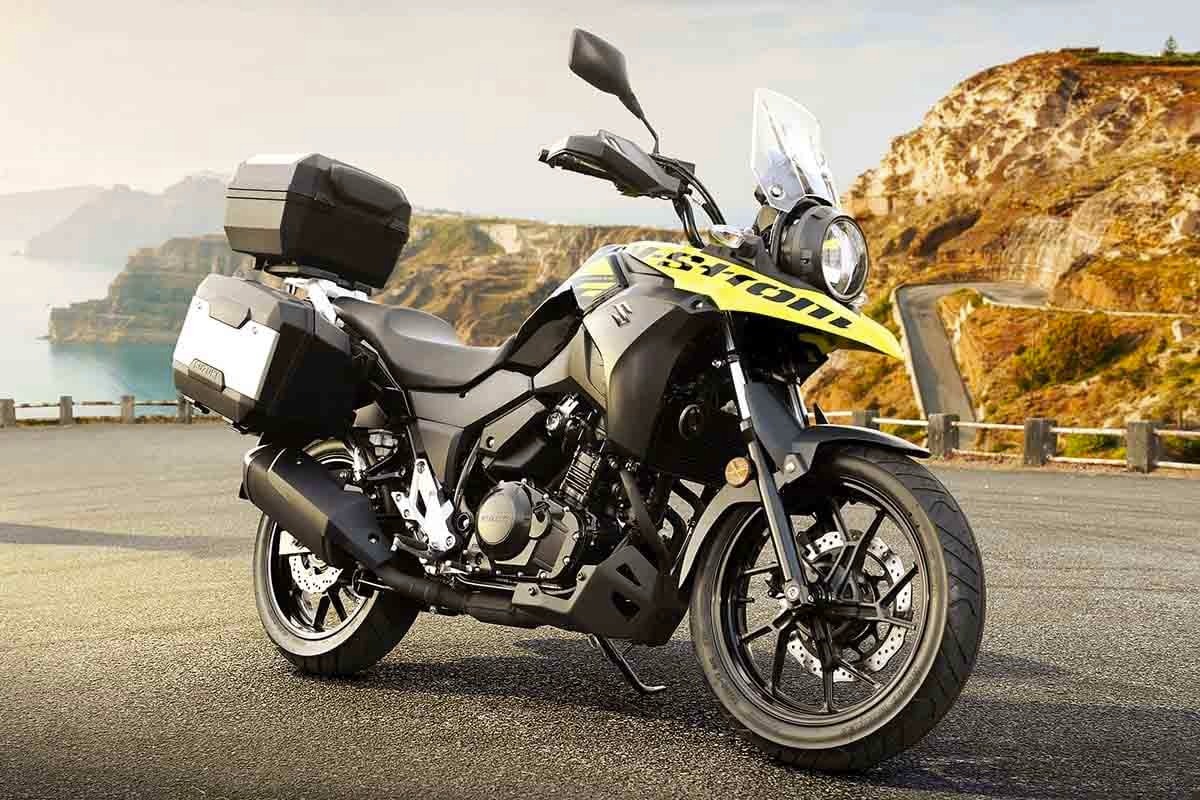 Visitors to the festival can also sample the entire V-Strom range for themselves, with test rides available over the course of the event. The KATANA – an evolution of the iconic 1981 machine that uses a 150hp version of the legendary GSX-R1000 K5 engine, housed in a lightweight aluminium chassis and tamed with a three-mode traction control system – will also be available for demo rides.
For more information on Suzuki's adventure range, click here. To find out more about the new KATANA, click here.