SUZUKI TO RESTORE MORE SHEENE BIKES AT MOTORCYCLE LIVE
Three more of Barry Sheene's race bikes have arrived at Suzuki GB from the family home in Australia, and two of them will be restored at this year's Motorcycle Live, which takes place at Birmingham's NEC from 16-24 November.
Watch the arrival and uncrating of the bikes in the video below:
Sheene's last Grand Prix bike – a DAF Trucks-sponsored 1984 Harris-framed XR45 RG500 – arrived alongside a 1978 XR27 RG500 and a special XR23A 652cc big bore RG500, raced in the Trans Atlantic series and F1 Championship in 1979.
In conjunction with Suzuki's Vintage Parts Programme, both the XR45 and XR23A will be refurbished and fired into life once again at Motorcycle Live, while the XR27 will be displayed alongside Sheene's 1976 and 1977 world championship-winning XR14s, both of which were also restored thanks to the Vintage Parts Programme in 2017.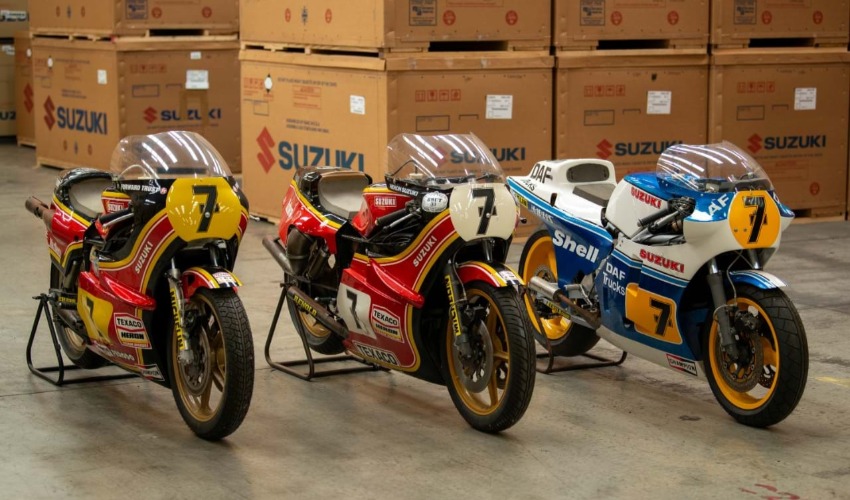 Suzuki GB aftersales marketing coordinator, Tim Davies, said, "This is another special moment for us. These bikes haven't been back in the UK since Barry and his family emigrated to Australia, so it's quite something to get them out of the crates and see them here again. But it's going to be even more of a special occasion when they live again, thanks to the restoration process which will be carried out by former '70s and '80s Grand Prix technician Nigel Everett and former mechanic for Barry Sheene, Martyn Ogborne. And it's a great opportunity for fans to again see, hear, and smell them as they would have existed at the time. We can't wait."
Launched in 2013, Suzuki's Vintage Parts Programme exists to help owners of older Suzukis keep their machines maintained or help with restoration projects, with a host of parts available from cylinders, pistons, and conrods, to a range of bearings and seals, and everything in between.
For more information visit https://bikes.suzuki.co.uk/vintage-parts-programme/

SUZUKI GSX-R1000 WINS NATIONAL SUPERSTOCK 1000 CHAMPIONSHIP
The Suzuki GSX-R1000 has won the 2019 National Superstock 1000 Championship at the hands of Richard Cooper and the Buildbase Suzuki team.
With two rounds to spare, a double victory at Oulton Park last weekend [6-8 September] gave Cooper an unassailable series lead in a championship where he has finished on the podium at every round apart from one, including 11 wins.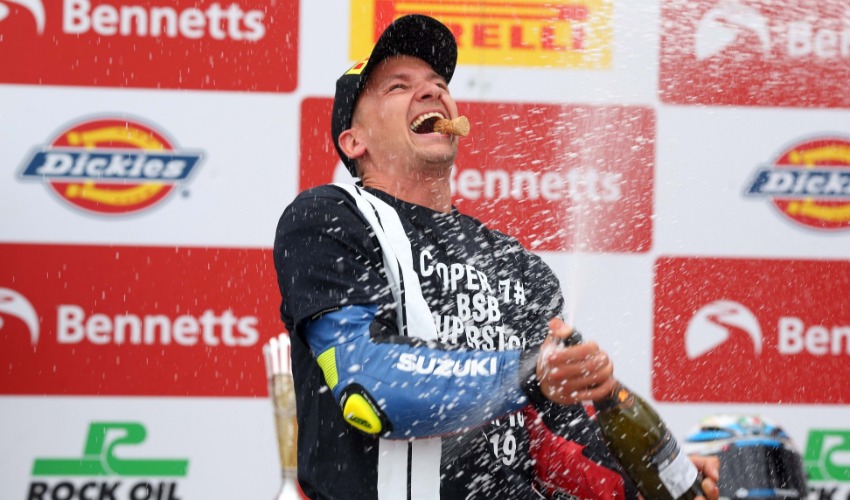 Cooper said after his title win, "It was ours to lose at Oulton but we approached the weekend in the same way we always do and in the way that's seen us on the podium at every round bar one. Honestly, we've hardly touched the bike from round to round because it's so rider-friendly. So then you're riding the same bike each time you go out and just get more and more comfortable and more and more confident and can go out and enjoy yourself.
"In my opinion we've got the best all-round package on the grid. Other bikes have their own strong points, but when you look at every element, every aspect, I think it's hard to argue otherwise, just because of how consistent and how strong it's been at so many different types of circuit."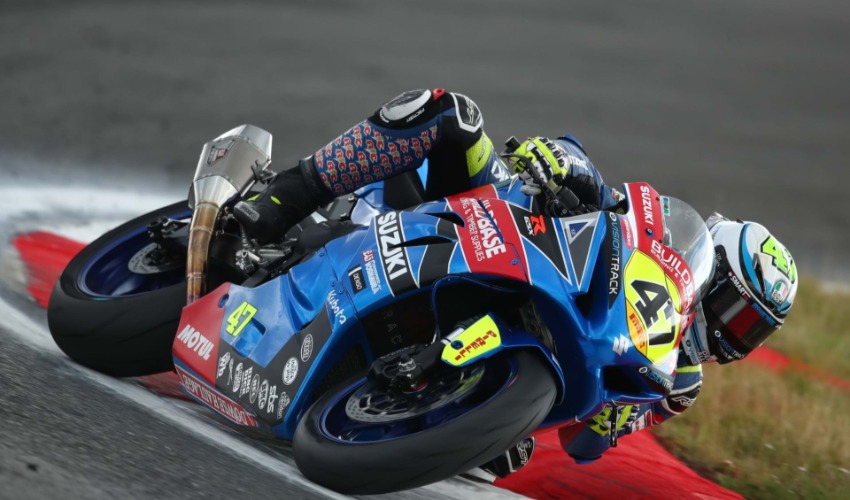 Suzuki GB head of motorcycles, Jonathan Martin, said, "The GSX-R1000 has proven itself as a competitive package since its launch, winning races and titles not only in the UK, but also across the world including MotoAmerica, Australian Superbikes, and around the Isle of Man TT course. The Buildbase Suzuki team turned it into a race-winner here at the first time of asking in 2017, and have now delivered an incredible title, for which we are incredibly thankful and proud."
The GSX-R1000 and GSX-R1000R – both of which are currently available on 0% APR finance – inherit a host of technology developed on Suzuki's GSX-RR MotoGP racer, including the inline four-cylinder engine's variable valve timing, chassis design, and suite of electronics that features a bidirectional quickshifter, 10-mode traction control system, and launch control on the R. The R It also gets cornering ABS, adjustable swingarm pivot and Showa's Balance Free suspension.
For more information on the GSX-R1000R, 
click here
.
NEW COLOURS FOR 2020 SV650AND ADDRESS SCOOTER.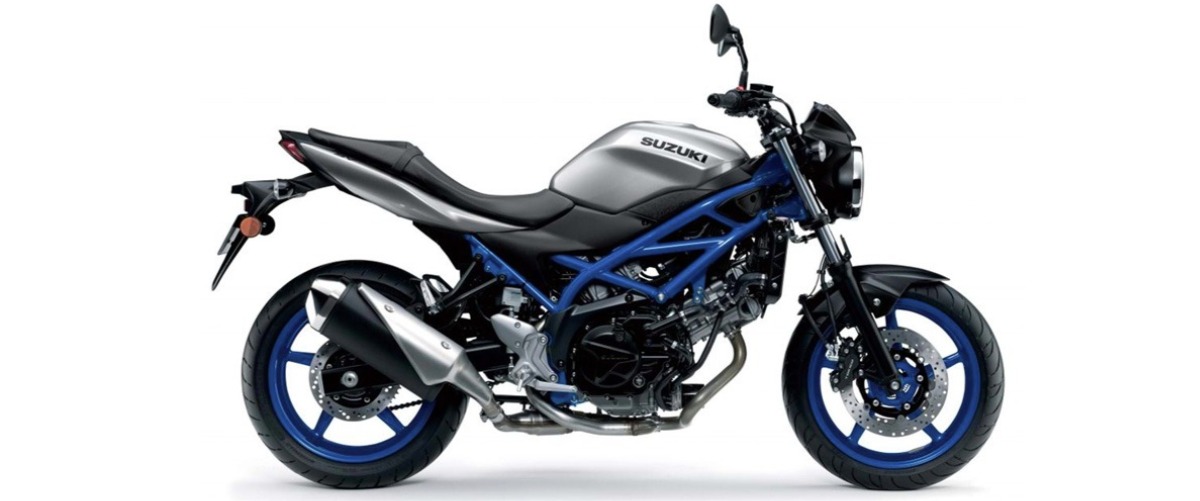 Suzuki has shown its new colour options for the 2020 SV650 and Address scooter, which are available from UK dealerships this month.
The ever-popular SV650 comes in a new metallic silver with an eye-catching blue trellis wrapped around its punchy 645cc V-twin engine and blue wheels. A matt black version uses a similarly striking red frame and wheels, while those looking for a more understated SV650 can opt for a gloss black model with black frame and wheels.
Boasting 135mpg, the frugal and congestion-busting Address scooter also comes in a trio of colours for 2020. A simple pearl white is joined by a bright Suzuki blue, plus a classy, dark, matt stellar blue option.
The 2020 SV650 comes with an RRP of £5,999, the Address is available for £2,199.