EURO5 GSX-R125 AND GSX-S125 ANNOUNCED
Suzuki has pulled the covers off its Euro5 GSX-R and GSX-S125 machines, with the new learner-friendly models available in dealerships next summer.
In 2022 the GSX-R125 – which has become the weapon of choice in the Freetech 125 Endurance Championship having won the title two seasons in a row – is available in the signature MotoGP blue with the bold, white SUZUKI graphic adorning the fairing, as well as a black and grey take on the trademark design, offset by red wheels.
The GSX-S125, which uses the same DOHC, free-revving single-cylinder engine as its fully-faired sibling, comes in a blue, black and silver, as well as a more subtle black and grey. A more eye-catching white and black with red decals and red wheels completes the set.
Both machines use a compact LCD dash and get Suzuki's easy-start system. The GSX-R125 also features a keyless ignition system.
Pricing to be confirmed.
Re-energising one of Kawasaki's most lusted after paint schemes from the 1970's, the new Z900RS SE model for the 2022 season will be available in the classic "Yellow Ball" livery of the original 1972 Super Four, model Z1.
Although the most obvious sign of this new variation on the stunningly popular Z900RS theme, the modifications do not stop there. Again, reminiscent of the type of tuning performed by enthusiasts back in the day, the Z900RS SE comes equipped as standard with an impressive array of other quality specification upgrades including changes to suspension and braking components.
An easy spot at the rear of the machine, the SE model features an Öhlins S46 rear shock with preload adjuster. Featuring an aluminium body with single-tube construction, the large ø46 mm piston plus internal oil and gas chambers separated by a floating piston result in a superior sense of grip and handling.
And up-front changes have also taken place with the 41mm inverted front fork not only resplendent with gold-coloured outer tubes but with standard settings refined to create an ideal balance of front/rear poise and reaction across the whole range of suspension travel.
Braking too has seen a change with the adoption of a Brembo caliper and rotor package for the front end. The twin ø300 mm Brembo front discs are gripped by Brembo M4.32 radial-mount monobloc calipers served by a smaller-diameter Nissin radial-pump master cylinder (down to ø17.5 mm from the ø19.1 mm on the standard model) activating braking action through stainless-steel braided lines delivering greater stopping power while offering linear progression when operating the lever.
Cosmetically, the Z900RS SE, which features the "RS" letters of the model logo on the side covers finished in red, is differentiated even further via black alumite radiator side covers and FI cover plus gold coloured multi spoke wheels. The "icing on the cake" of course is the so-called "Yellow Ball" paint scheme pulling on the heart strings of dedicated Z1 fans plus legions of new riders attracted to the ever-growing retro sport scene willingly immersing themselves in Kawasaki's decades of unique Z heritage.
STANDARD PETROL IS CHANGING TO E10 – KNOW YOUR FUEL
Know Your Fuel. In the Summer of 2021, the standard petrol grade in the UK will be changing to E10. The introduction of E10 petrol will help reduce CO2 emissions associated with petrol vehicles.
The good news is, most motorcycles are also approved to use E10 petrol, but for those who like to keep their classics running, they should check compatibility just in case. For the few vehicles that need it, E5 will continue to be available at most larger forecourts in the 'super' grade. E10 contains up to 10% bioethanol.
The DfT have created the E10 Fuel Checker which enables riders to search for their PTW and check compatibility, prior to arrival at the pumps. Some PTWs made prior to 2011 will need to continue to use E5 petrol, which will remain available as the super grade petrol option at the pumps. Riders are being advised to use the super grade E5 option if there is any doubt in compatibility.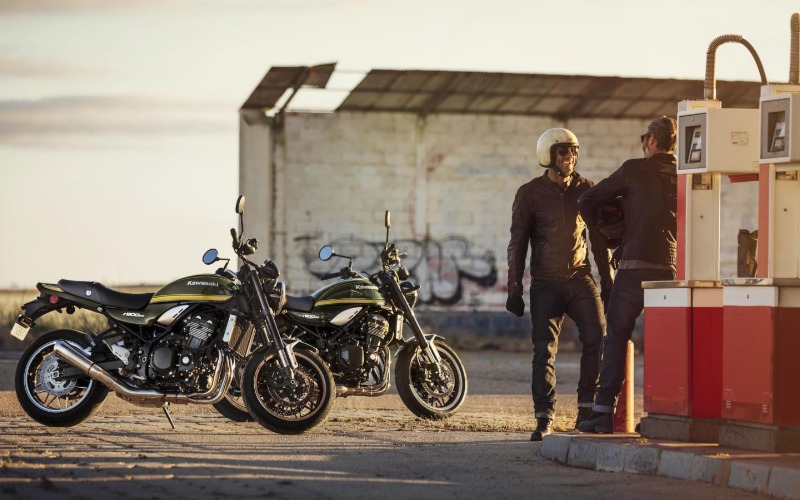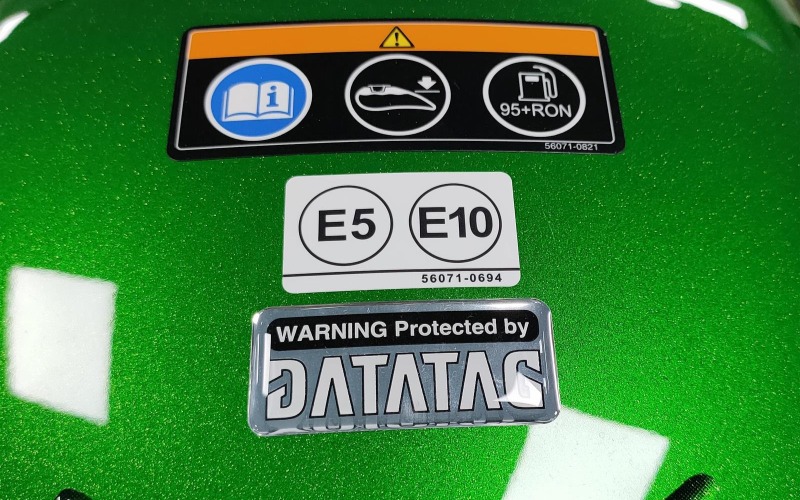 With news of a new fuel composition being introduced in the UK later this year, and the constant need to be more economically friendly, we've enlisted the help of our partners at the RAC to explain how these changes will affect you and your Kawasaki.
What is E10 fuel and why are we talking about it?
E10 is a biofuel made up of 90% regular unleaded and 10% ethanol – hence the E10 name.
Standard unleaded fuel contains up to 5% ethanol and can be used in any petrol-engine vehicle without problems or the need for modification.
In a bid to cut carbon dioxide (CO2) emissions, the Department of Transport (DfT) has confirmed that E10 petrol is being introduced to UK forecourts in September this year.
The benefits of E10
It's estimated that the greener fuel could reduce CO2 emissions by 750,000 tonnes per year, the equivalent of taking up to 350,000 cars off the road in the UK.
Transport Secretary Grant Shapps said: "The next 15 years will be absolutely crucial for slashing emissions from our roads, as we all start to feel the benefits of the transition to a zero-emission future.
"Before electric vehicles become the norm, we want to take advantage of reduced CO2 emissions today.
"This small switch to petrol containing bioethanol at 10% will help drivers across country reduce the environmental impact of every journey."
The E10 blend is already used in other countries such as Belgium, Finland, France and Germany.
Robin Wright, secretary general of environmental campaign groups ePURE, said: "Displacing 10% of Europe's petrol with ethanol through E10 fuel, a fuel widely available in France, Finland and Germany, would reduce greenhouse gas emissions from petrol vehicles by over 6%.
"But more ambition and greater use of ethanol is needed. Brazil currently mixes its petrol with up to 28% ethanol, so why not Europe?"
Finland is leading the way in Europe. E10 fuel has increased its share of petrol sold each year since it was introduced at the beginning of 2011, with the Finnish Petroleum and Biofuels Association reporting a 63% share in 2015.
How does it affect you?
As many as 600,000 vehicles on our roads in 2020 aren't compatible with E10 – you can see if your vehicle is compatible with the new fuel by visiting the official E10 online checker: https://www.gov.uk/check-vehicle-e10-petrol
Whilst the government website lists compatible models, it is currently outdated for Kawasaki motorcycles. Below is the list of older models that Kawasaki Heavy Industries (KHI) have tested and approved for use with E10 fuel.
Any earlier model year should use a non E10 fuel whilst those manufactured later are approved for E10 fuel use. The fuel details are also detailed in the owner's manual and shown in the fuel identification label located on the fuel tank.
| | |
| --- | --- |
| Model | From Model Year |
| KLX125 | 2009 onwards |
| D-Tracker 125 | 2009 onwards |
| KLX250 | 2008 onwards |
| Ninja 250R | 2008 onwards |
| Ninja ZX-6R | 2007 onwards |
| ER-6n | 2006 onwards |
| ER-6f | 2006 onwards |
| Versys | 2007 onwards |
| Z750 | 2007 onwards |
| W800 | 2011 onwards |
| VN900 | 2006 onwards |
| Z1000 | 2009 onwards |
| Z1000SX | 2011 onwards |
| Ninja ZX-10R | 2006 onwards |
| ZZR1400 | 2006 onwards |
| 1400GTR | 2008 onwards |
| VN1700 | 2009 onwards |
| VN2000 | 2008 onwards |
Club Kawasaki and RAC have put together a unique offer that combines 12 months Club Kawasaki and 12 months Kawasaki Assist for one great price from £70.00. For full details, please visit: www.kawasakiassist.co.uk
SAVE £500 ON THE SV650 THIS SUMMER
Suzuki has added the ever-popular SV650 to its Summer Savings campaign, with the V-twin middleweight now available with a £500 off test ride incentive.
It means the machine that arguably launched the booming middleweight naked market can be had for just £6,099.
The SV650 produces 73PS, is capable of averaging nearly 70mpg in every day riding conditions, and uses Suzuki's easy start function and low RPM assist.
Owning an SV650 became almost a rite of passage for riders progressing from smaller, learner-friendly machines. Today it finds favour with new and experienced riders alike thanks to its manageability and fun, easy-to-ride nature.
Terms and conditions:
£500 test ride offer applies to purchases of a new SV650 only. The motorcycle must be purchased and registered between 16/07/2021 and 30/09/2021 to qualify. Offer may be extended or withdrawn at any time.
NEW WINTER OFFER ON SUZUKI TWINS
Suzuki has announced a new offer across its twins range – from its range-topping V-Strom 1050XT Tour to the popular SV650 – with 2.9% APR representative available over a three year agreement, with no deposit required and an additional £500 off test ride incentive.
Running from 1 December 2021 until the end of March 2022, the offer is available on both PCP and HP deals. The V-Strom 1050XT Tour is included in the offer, complete with three-piece aluminium luggage – as is the V-Strom 1050XT. Both machines use Suzuki's proven 1037cc V-twin engine, boasting an abundance of torque in the low and midrange.
Models using the equally-famed 645cc V-twin, known for its free-revving character and reliability, are also included in the offer; both the V-Strom 650XT and V-Strom 650, plus the SV650 middleweight naked and its café racer-inspired stablemate, the SV650X.
The offer means the SV650, arguably the bike that spawned the current middleweight twins market, can be had with an RRP of just £6,099 after taking a test ride. And with no deposit required it removes the need to find a lump sum up front, while 2.9% APR ensures lower, manageable monthly repayments.
Or if you're dreaming of adventure, taking a test-ride see's the V-Strom 650's RRP comes down to £7,499, and the V-Strom 1050XT Tour, with 112 litres of storage capacity in its aluminium luggage, is just £12,399.
And with plenty of stock available in dealerships, there's even time to put one in the garage before Christmas.
Credit is subject to status and is only available to UK residents aged 18 and over. Suzuki Personal Contract Purchase (PCP) is only available through Suzuki Finance, a trading style of Suzuki Financial Services Limited. Registered office: St, William House, Tresillian Terrace, Cardiff, CF10 5BH.