2018 Bennetts British Superbike Champion Leon Haslam is making an exciting return to the series this season, setting his sights on regaining his title. The popular rider will be racing for the Lee Hardy Racing team, riding the Ninja ZX-10RR.
Haslam will be returning to the BSB paddock following several seasons competing in World Superbikes, which included a stint as a factory Kawasaki Racing Team rider alongside Jonathan Rea. Now, the Derbyshire-based rider is returning to the UK with the aim of repeating his form of 2018 that saw him take his maiden BSB title with 15 wins and a further six podiums.
For this season, Leon will be riding a Kawasaki Ninja ZX-10RR for the proven Lee Hardy Racing team. Joining the premier class in 2014, the squad has enjoyed great success in recent years, finishing second to Leon in the 2018 series, and the one-rider team will be looking to build on this form and challenge for race wins from the opening round.
The team's new title sponsor and 2022 livery will be revealed in the coming weeks before the season officially gets underway at Silverstone on April 15th.
Ross Burridge, Head of Marketing & Racing Department at Kawasaki UK:
"It was great being part of Leon's success in 2018 and we as Kawasaki UK are excited to see him back in the Championship this year to hopefully challenge at the front of the field again. It's a tough Championship and after some time away in World Superbikes it will take some time to settle back in, but I'm sure the combination of both Leon's and the team's experience will put them in a great position right off the bat at round one."
"I'm super excited to be back in the British Championship and also to be back with Kawasaki, especially with the link to my Kawasaki-backed Affinity Sports Academy team. It's been a tough few years racing abroad so it's going to be great back in front of my home crowd once again! I know it's going to be a tough year against these guys but I'm looking forward to the challenge and have a lot of faith in the team around me."
Lee Hardy, Team Principal:
"I am very excited to have signed an agreement with Leon to contest the 2022 British Superbike Championship. Leon has proved what an asset he can be to a team, and we look forward to building a strong partnership together. We have both had amazing success with the Kawasaki brand, Leon last won the championship in 2018 with them and in that same year the Lee Hardy Racing team finished second to him also on Ninja machinery. We both have forged a great alliance with Kawasaki, and I see this as an incredible opportunity to fight for the championship again."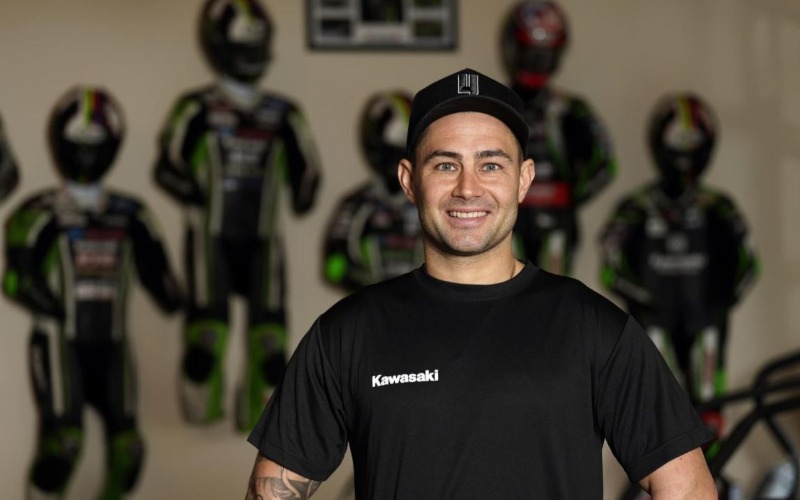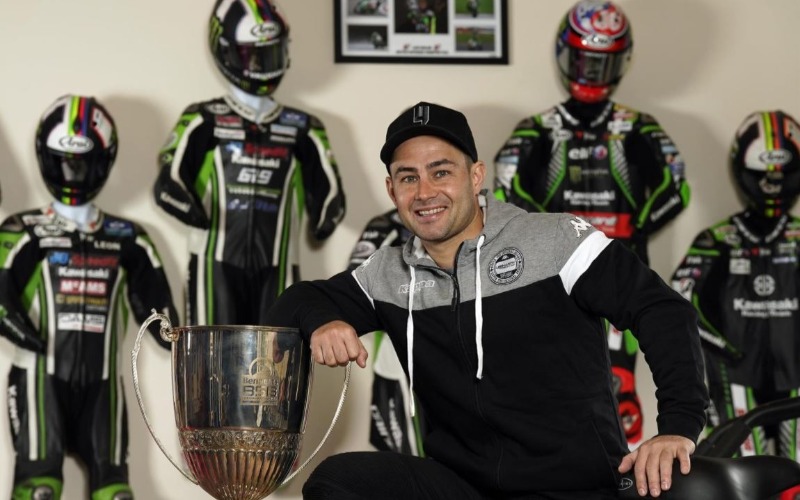 The FS-3 Racing Kawasaki team, the official Team Green entry in the Bennetts British Superbike championship, has today unveiled a striking new retro-inspired livery that will be used for all 11 rounds of the 2022 season.
Keeping with the same exciting line up of Lee Jackson and Rory Skinner, 2022 will be the sixth season that the Coventry-based team has partnered with Kawasaki. With both riders having had a year of development on the new Ninja ZX-10RR, they have firmly set their sights on building on their podium-finishing potential from 2021.
Following an incredible reaction to the ZX-7RR-inspired livery that World Superbike star Jonathan Rea used at the Argentinian round last year, the FS-3 Racing team has decided to create a similar retro-inspired them for their 2022 livery. The hugely popular design has been a hit across the UK, and for this year, customers who purchase a new ZX-10R or ZX-10RR from an authorised Kawasaki dealer can upgrade their bike to have the matching livery.
Unveiled for the first time at the MCN London Motorcycle Show, race fans will be able to see the striking liveries in action for the first time when the season gets underway at Silverstone on April 15th.
Ross Burridge, Head of Marketing & Racing Department at Kawasaki UK:
"Having witnessed the incredibly positive feedback from racing fans across the globe after seeing Jonathan's machine in Argentina, and then on our standard road bike at Motorcycle Live on the Kawasaki stand, we knew we had to see it on track in the UK this year. The guys at FS-3 Racing also fell in love with the design and are excited to see Lee and Rory debut the new look on track at round one in April later this year."
The newly renamed DAO Racing Kawasaki team has today unveiled the striking new Ninja ZX-10RR that Dean Harrison will campaign in the 2022 Bennetts British Superbike Championship.
With the covers being pulled off this morning at a busy London Motorcycle Show, race fans will immediately notice a departure from the traditional light blue colours that have adorned the team's Kawasaki machines for the past few seasons.
This reflects the team rebranding to DAO Racing, while the enhanced flashes of green showcase their close relationship with Kawasaki, with them being the Official Road Racing squad for the brand. These new colours will be seen at all 11 rounds of the 2022 Bennetts British Superbike Championship, while Dean will be running a slightly different design at the North West 200, Isle of Man TT and Ulster Grand Prix to reflect additional sponsors.
Last year saw Dean enjoy one of his best-ever seasons in the BSB class, and the Bradford-based rider will be looking to build on that while also using it as a chance to help prepare him for the return of the roads.
Ross Burridge, Head of Marketing & Racing Department at Kawasaki UK:
"This livery really is very striking! Although this is the same team, now known as DAO Racing, it's great to have a fresh new look for the 2022 season. Dean has been making strides in the Superbike class at BSB over the past 12 months and I am sure he will be progressing again this year and ready to fight to retain his Senior TT winner title also! One thing is for sure, he will be doing it in style!"
Jonny Bagnall, Team Manager at DAO Racing
"Following a complete rebrand for the team, we wanted a new look for our ZX-10RR and I'm delighted to reveal our 2022 British Superbike livery. This is the bike we will run at all BSB meetings this year and we will be unveiling our roads machine at a later date.
We have chosen to go for quite a dramatic change in style and colours. Although we have stuck with blue, green and white, we've gone for a darker and brighter blue this year, moving away from our traditional old shade and have retained the green to reflect our involvement with Kawasaki.
The livery also includes elements such as the Thai and Manx flags and I believe we've created a bold and striking machine to fly the DAO Racing flag in the Bennetts British Superbike Championship in 2022."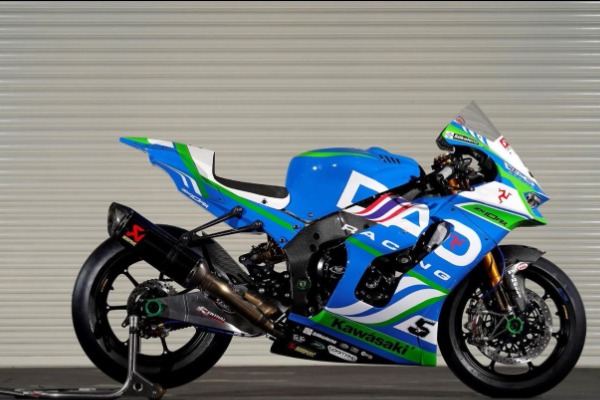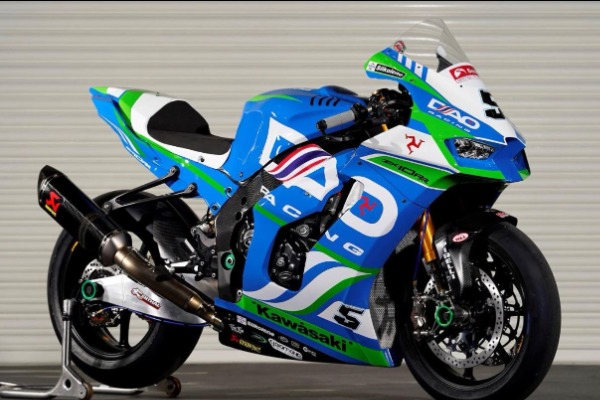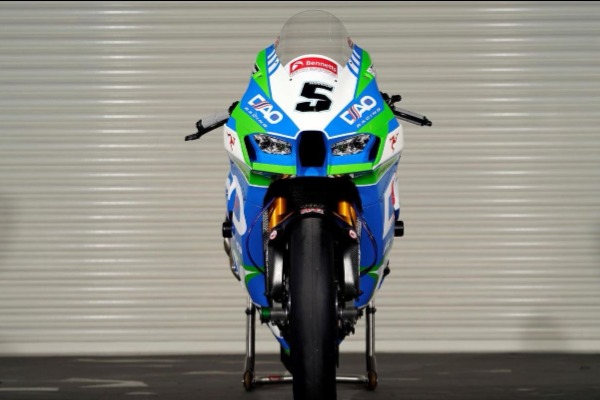 The GR Motosport-run STAUFF Fluid Power Kawasaki team has made the exciting move to bring former BSB star Joe Francis into the Pirelli National Superstock Championship for 2022. Joe will campaign the entire season aboard the Ninja ZX-10RR machine.
A successful 2021 season saw the STAUFF Fluid Power Kawasaki team secure race wins and podiums in the maiden year of the new Ninja ZX-10RR. Now with a year under their belts, the team are looking to build on this performance in 2022 and challenge for the National Superstock Championship title.
To do this, they have signed former Bennetts British Superbike Championship star Joe Francis. The Chester-based rider previously rode for the GR Motosport squad in 2013, securing the British Motostar title in the process, so the duo will be looking to replicate that winning form this year.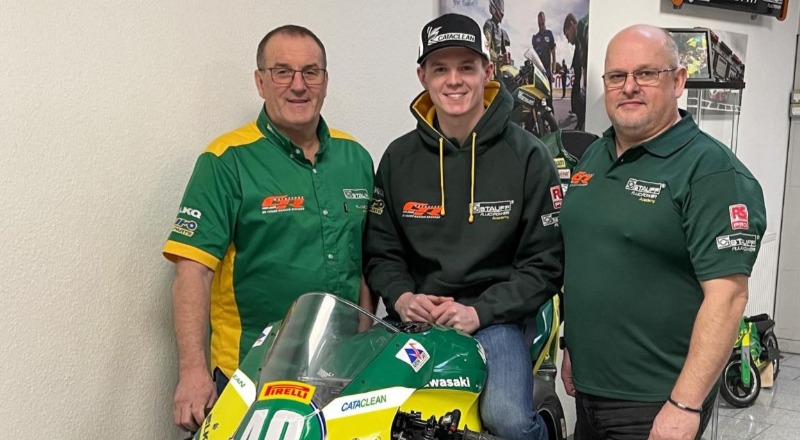 "I'm really looking forward to this year and a new challenge in the Superstock class. It is something I am excited about; my goal is to challenge for the championship title, and I am really motivated for the season ahead.
It is nice to be back with Brent and the crew, working with the same team members I had back in 2013 when we won a championship together, and now we want to make it two. I am confident that with the programme and team around me that we can make it happen. I can't wait to get going in a new class and I am thankful to Brent and all of my sponsors who have put me in this position for the 2022 season."
Ross Burridge, Head of Marketing & Racing Department at Kawasaki UK:
"Having worked with Brent and his professional outfit for a number of seasons now and seeing how the team have continued to develop across a multitude of classes, we are excited to see what they and Joe can achieve in 2022. It's always a tough class, but it's an important one for every Manufacturer, so we wish them the best of luck for the season ahead."
One of the most influential motorcycle designers of recent times has sadly died at his home in Japan at the age of 75. In December 2021, Shunji Tanaka passed away and leaves a considerable legacy in terms of his influence on motorcycle design while Design Director for Kawasaki based at their factory in Akashi, near Kobe, Japan.
As an integral part of Kawasaki's K-Tec design department, Tanaka-san played a significant part in the introduction of a fresh, new approach to the styling of Kawasaki motorcycles both in terms of the bodywork and overall appearance plus the adoption of so called "signature colours" which defined the machines during their launch phase.
Already a highly respected automotive designer before joining Kawasaki, Tanaka-san is credited with the design direction of the Mazda MX5, the world's top selling two seat convertible ever in terms of volume of sales with production now exceeding one million units. Moving from four to two wheels did not intimidate Tanaka-san; in fact, the remit to create bold designs for Kawasaki which embodied the uncompromising performance personality of the company resulted in a series of machines with instant impact and lasting appeal.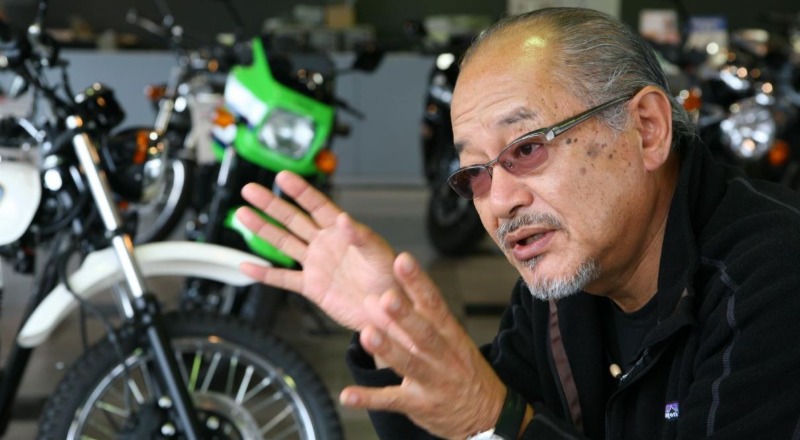 Marshalling his design team into a mutually supportive group – one of the keys to Tanaka-san's success – was the democratisation of the design process with even the most junior team member having a voice and being able to contribute to the final finished product.
Applauded for his influence on the styling and visual appeal of the machines launched during his time as K-Tec design director, Tanaka-san was proud to be involved in the successful introduction of the water-cooled in-line four-cylinder Z1000 in 2003 with its distinctive quad exhaust system and angular lines and for overseeing the look of the dramatic and impressive 2004 Ninja ZX-10R and subsequent 2005 Ninja ZX-6R.
Creating a recognisable "face" for the machines his team were responsible for was no coincidence as Takana-san firmly believed that the "personality" of a motorcycle was determined by the upper cowl and headlamp area with the rest of the design flowing from, and influenced by, this crucial part of the styling exercise.
It is hardly surprising that among many and varied enthusiasms in his private life, that Shunji Tanaka had a passion for the "Noh" masks used in traditional Japanese theatre productions; each mask establishing the credentials and often complex personality of the character in the play.
Mercurial, thoughtful, and highly creative, Tanaka-san was an eminently approachable man whose evident enthusiasm for design was infectious. As a "landmark" along the considerable design journey that Kawasaki has taken – and continues to this day – Shunji Tanaka will be remembered with considerable respect and affection.
AKRAPOVIC SILENCERS FORM PERFORMANCE ACCESSORY PACK FOR HAYABUSA
Suzuki has launched a new Performance accessory pack for its Hayabusa hypersport machine, which comes with an RRP of £2,599, representing a saving of £1,112 over the cost of the individual items.
The standout accessory in the kit is a pair of titanium Akrapovic silencers, which save a total of 4kg and boost power by 2kW, as well as enhancing the soundtrack. Capped with a carbon fibre tip and featuring a carbon fibre heat shield, the silencers are finished with a classy, laser-etched Akrapovic and Hayabusa logos.
Billet aluminium brake and clutch levers replace the original items, with extra style coming from a colour-coded pillion seat cowl, an accessory seat with Hayabusa logo and red stitching, plus a tank pad also adorned with a Hayabusa logo in a choice of gold or red, to suit the bike's colour.
The Performance accessory pack can be fitted at the time of purchase, meaning it can also be incorporated into any finance deal, spreading the cost monthly, and benefits from the same three-year-warranty.
With an RRP of £16,499, the third generation Hayabusa uses a heavily redesigned engine – including new pistons, conrods, crankshaft, and camshaft – specifically aimed at producing enhanced performance in the lower to mid rev ranges, making it the fastest-launching Hayabusa yet with more cumulative torque than its predecessor.
It gets Suzuki's most advanced suite of electronics ever, with 10 lean angle-sensitive traction control modes, lean angle-sensitive ABS, three power modes, a bi-directional quickshifter, cruise control and a speed limiter, and three stages of launch control, all controlled via easy-to-use switchgear and managed through a neat colour TFT display, nestled between two analogue dials reminiscent of the original Hayabusa's clocks.
Design cues from the original also extend to the bodywork, which is sharper and more angular but nonetheless immediately recognisable as Hayabusa.