Cheshire Mouldings Kawasaki sign Max Cook for the 2023 British Superbike season
The Official Kawasaki-supported Bennetts British Superbike Championship team, Cheshire Mouldings Kawasaki, is excited to confirm its full rider line up for the 2023 season, with reigning Junior Superstock Champion Max Cook joining Lee Jackson on the proven Ninja ZX-10RR Superbike.
The move into the premier class is going to be a big step for the 19-year-old, who will become one of the youngest riders in the highly competitive series. However, the Cheshire Mouldings Kawasaki team have a proven pedigree in helping young riders take the next step in their career, as they proved with Rory Skinner in recent years.
To ensure that Max is able to line up on the grid for round one in the best possible shape, the team has created a comprehensive winter testing programme designed to help him get to grips with the powerful 1,000cc Ninja ZX-10RR. Max is also undertaking an extensive fitness programme over the off-season to ensure that he will be ready for the demands of Superbike racing when the season gets underway on April 7
th
at Silverstone.
The UK's largest manufacturer of wood mouldings and stair parts, Cheshire Mouldings, is returning as title sponsor for the team. First partnering with the FS-3 Racing team last year, Cheshire Mouldings are a recognised name within the world of motorcycling racing, sponsoring the Kawasaki Racing Team in World Superbikes and various riders and teams within the British Superbike paddock.
"This is a dream come true for me. Firstly, I would like to thank Nigel and Darren for supporting me for six years and now, to finally be their rider is so surreal! Nigel has supported me throughout my years at Red Bull Rookies Cup, Moto3 Junior World Championship and most recently, winning the Junior Superstock 600 championship, so he knows what I can do on a bike.
Of course, this is a big step for me, but I feel like I am totally ready for the challenge and looking forward to showing people what I can do. To have Lee Jackson as my teammate is amazing. We all know he is very fast, and he is someone that I have always looked up to, so I can't wait to soak up his knowledge. I have already had a taste for the superbike in early October, and I'm very excited to give it the beans in a proper run out in winter testing!"
Nigel Snook, Team Manager of Cheshire Mouldings Kawasaki:
"We've been supporting Max for six years and have been really impressed with his progress. He's served his apprenticeship winning the BSB Moto 3 championship in 2017, then progressing through the British Talent Cup, Red Bull Rookies and the Junior World Championship. His talent really shone through this year as he dominated the Junior Superstock Championship and made a very impressive Supersport debut at the final round at Brands Hatch.
As a team, we pride ourselves on actively supporting young talented riders, so the decision to promote Max to ride alongside Lee Jackson fitted perfectly with our philosophy. As a front-running BSB team, it's easy to overlook a long-term development plan in return for instant results. We believe every team in the paddock has the responsibility to nurture young talent to keep British riders at the forefront of world racing and show everyone that the British Superbike Championship is the strongest domestic championship in the world. Just coming up to his 20th birthday, Max will certainly have his work cut out getting used to the raw power of a superbike, but we've got a full testing plan in place for him over the winter, and he's very excited to get going. Based on his previous experience, we don't think it will be too long before he surprises a few people.''
Ross Burridge, Head of Marketing & Racing Department at Kawasaki UK
:
"Nigel and Darren are very much in line with the Team Green philosophy, and we are excited to see what they and Max can do in 2023. After successfully developing Rory Skinner with him ultimately ending up in Moto 2 next year, we know they have the credentials to work with young riders. Max is a supreme talent, we have all seen that already, but now it's time for him to make his biggest step yet. We are confident for an exciting and strong season."
Bradley Perie to make British Superbike debut with Lee Hardy Racing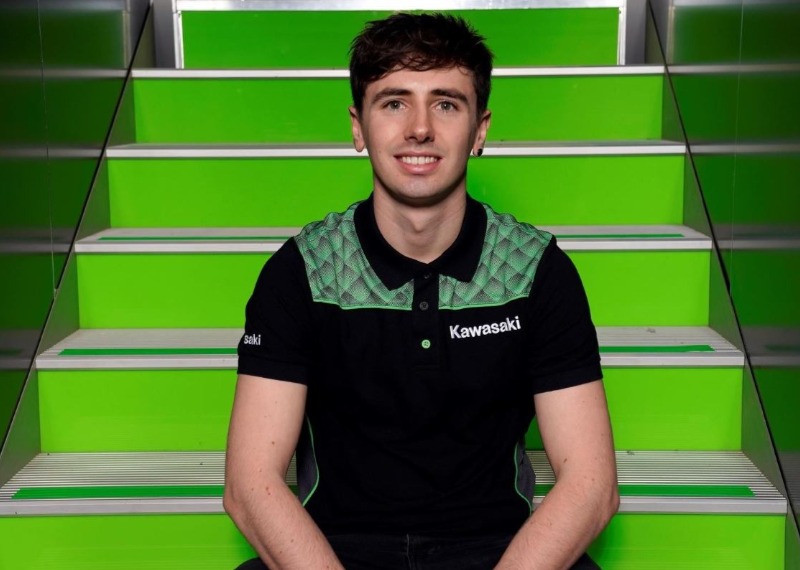 British Supersport sensation Bradley Perie will make his Bennetts British Superbike Championship debut in 2023, signing with the proven Lee Hardy Racing team to compete on a Kawasaki Ninja ZX-10RR.
After a turbulent 2022, the team is looking to regroup for next season and build an updated and advanced version of the Ninja ZX-10RR. This will ensure that multiple-Supersport race winner Bradley will have the best possible start to his career in the highly competitive series.
However, stepping up from a 600cc machine to 1000cc is a big switch. That is why alongside the team working hard on advancing the Superbike, Bradley is fully focused on working on his fitness over the winter months to prepare for the challenges the larger capacity machine brings.
Bradley Perie:
"I'm grateful and excited to be making my debut Superbike season with the renowned Lee Hardy Racing team, onboard the proven Kawasaki ZX-10RR along with the Team Green family. It's a dream come true so I can't wait to get the ball rolling with the first test in 2023."
Lee Hardy, Team Principal:
"I'm very excited to announce our new signing Bradley and particularly keen to secure Bradley for not only 2023 but it's also important to retain Bradley for a second season. This opportunity will give Bradley a stable situation to learn the Kawasaki ZX-10RR Superbike without the pressure of having to try and succeed in year one.
Bradley is a complete rookie to the Superbike championship however he has shown me great potential and certainly is a rider that has caught my eye. It is so nice to revert back to the roots of Lee Hardy Racing and give young talent an opportunity to develop and hopefully succeed within the BSB championship.
There are many things you need to consider as a team owner when you are looking at a new venture, one thing that definitely helped me make my decision was the opening up of the Spanish testing again. This is a great opportunity for Bradley to throw his leg over the 2023 Kawasaki ZX-10RR and complete many laps in a relaxed environment, it's not just about learning the bike, this will also give Bradley the chance to understand his new crew and get comfortable working with a new team."
Ross Burridge, Head of Marketing & Racing Department at Kawasaki UK:
"Lee runs a great outfit that has not just lots of experience with the ZX-10RR machine but also with developing young talent, almost taking Jake Dixon to Championship glory in 2018. We have every faith that Bradley and the team will click from the off, and maximum effort will be put in from all sides to ensure a smooth and successful transition from Supersport to Superbike for Bradley. It's important that teams start to give young up-and-coming riders a chance in Superbike, and with Lee doing just that, we are right behind him."
DAO Racing Kawasaki expands to Pirelli Superstock 1000 class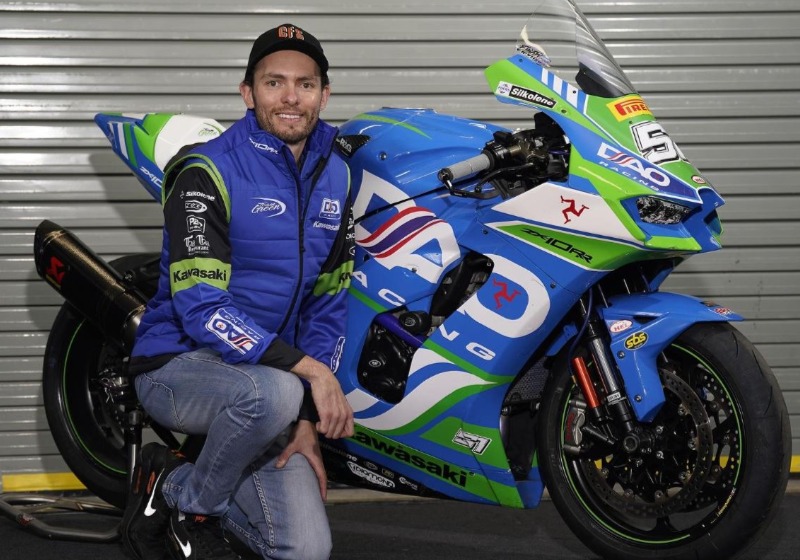 After another strong season on the roads, which saw multiple podiums at the Isle of Man TT, the DAO Racing Kawasaki team will again return as the official Kawasaki UK Road Racing Team for 2023 with Dean Harrison. The Kirby Lonsdale-based team will also expand their efforts into the competitive Pirelli National Superstock 1000 class with new signing Brayden Elliott.
Australian rider Brayden will join the DAO Racing team, ready to build on a fantastic 2022 season in the National Superstock class. Finishing fourth overall, taking one victory and a further three podiums, the 27-year-old will make the switch to the Ninja ZX-10RR for next year, setting his sights firmly on challenging for the title.
Bradford's Dean Harrison will remain with the team for next season, again competing in the Bennetts British Superbike Championship to ensure he remains sharp and 'bike fit' ready for the North West 200 and Isle of Man TT in May.
As the official Kawasaki UK Road Racing Team, the DAO Racing squad will be receiving factory support from Kawasaki in Japan, helping them to continue the development of the Superbike and allowing them to push for a repeat success of the memorable Senior TT win in 2019.
Jonny Bagnall, DAO Racing Kawasaki Team Manager:
"Whilst our main focus always has been the roads, we are enjoying competing in a full season of British Superbike racing. It really does benefit Dean on the roads, but we also want to be as competitive as possible on the short circuits too. Having Brayden join us on the Superstock bike is really exciting as we will be pushing hard for the title in that class whilst at the same time developing the Superstock machine for Dean on the roads. We can't wait to get going!"
Ross Burridge, Head of Marketing & Racing Department at Kawasaki UK:
"After several successful seasons on the roads, we are pleased to continue with DAO Racing as our official Road Racing team and excited to see them expand to the Superstock 1000 class! Brayden is a talented rider with a passion for success, and we hope that the combination of Brayden, the team and our Ninja ZX-10RR will bring that success we all strive for in 2023! With an even stronger Superbike for Dean, too, we believe that he will be well-positioned to fight for top honours on the roads next season. It can't come soon enough!"
Kawasaki UK expands partnership with MSS Performance for 2023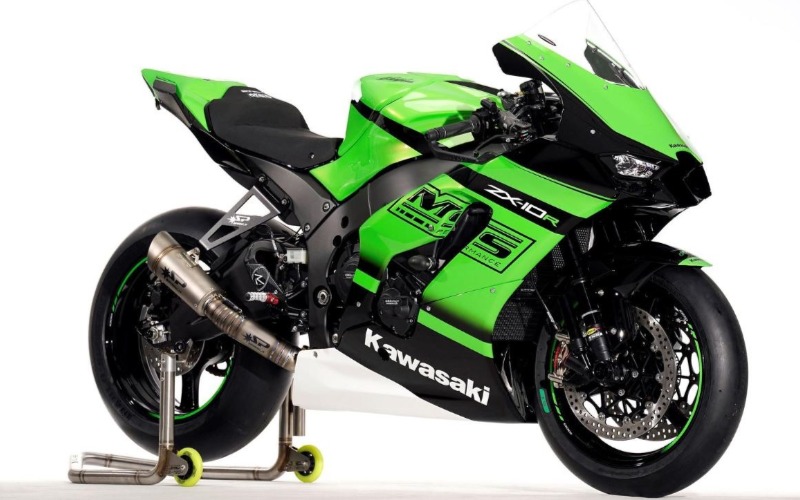 After a long and successful history working with MSS Performance, including the last six years as the official Team Green Technical Partner, Kawasaki UK is excited to be strengthening that partnership further in 2023.
First connecting back in 1982 when MSS raced a GPZ1100 at Bemsee Club Racing, the pairing between Kawasaki and MSS has continued to grow over the years. Six years ago, Team Green appointed MSS Performance as its official Technical Partner, seeing them support everyone from British Superbike and Isle of Man TT riders to club racers and even trackday enthusiasts.
2023 will now see MSS Performance adding even more race parts to their inventory, allowing them to create bespoke and higher-spec race packages for riders across the UK. Unveiled on the opening day at Motorcycle Live, visitors to the show will be able to see a full race-spec Ninja ZX-10R and Ninja 400 on the Kawasaki stand. Interested riders and teams will also be able to meet the MSS team throughout the nine-day event or contact them by visiting
https://www.mssperformance.com/
.
Ross Burridge, Head of Marketing & Racing Department at Kawasaki UK:
"We are really pleased to be able to take our partnership with Nick and the MSS team to the next level. I first began working with the team when they were our official British Superbike squad, and since then, we have had many successful years working together.
For 2023, this strengthened relationship will allow even more riders to join the Team Green family, and I think everyone can agree that the two display bikes on our stand look fantastic!"
Nick Morgan, MSS Performance:
"2023 sees us enter into our sixth year as Team Green Technical Partners, which we are extremely proud of. It has been a fantastic opportunity for MSS to assist riders of all levels across the proven Ninja 400, ZX-6R and formidable ZX-10RR race bikes. Our passion for Kawasaki started over 40 years ago, and remains as strong as ever!
We are really looking forward to being able to offer riders even more for 2023 and cannot wait for the start of next season and then many more after that."
Ninja H2 SX automatically lights the way in 2023
Engineered to be free, the 2023 Kawasaki H2 SX takes all the high-tech features of Kawasaki's most advanced Sports Tourer ever and adds the convenience of auto high beam.
The ARAS equipped machine benefits from Adaptive Cruise Control and Blind Spot Detection plus, integrated into the new 6.5" colour TFT instrumentation, is Kawasaki's SPIN Infotainment system supporting the unique Rideology app offering a convenient rider/machine interface via Bluetooth and Smartphone. A Forward Collision Warning feature is built into the twin radar specification machine as well as the comfort of an Emergency Stop Signal warning following traffic of sudden braking.
With keyless KIPASS ignition, LED cornering lights, Tyre Pressure Monitoring System and Vehicle Hold Assist (aiding uphill starts) as standard features, the list of equipment on the balanced supercharged machine marks it out as a class leading Sport Tourer, especially with the addition of Kawasaki's one-key accessory clean mount pannier system complete with convenient inner bags. Lighting that leading position in 2023 is the innovative addition of Auto High Beam (AHB). Using a camera sensor to assess the brightness of the lights of vehicles ahead plus streetlights, etc. AHB automatically turns the bike's LED high beam on or off as necessary. For the system to function, the dimmer/passing switch must be set to high beam and the bike must be travelling above 20 km/h in darkness. With the system engaged a green icon is displayed on the 6.5" TFT multifunction, colour instrument screen.
Consistently at the forefront of innovation, the path ahead is now clearly defined by the Auto High Beam equipped Ninja H2 SX.
Colours for the two-model range in 2023 are:
Ninja H2 SX
– Metallic Diablo Black
Ninja H2 SX SE
(Equipped With KECS Kawasaki Semi-Active Electronically Damped Suspension With Skyhook)
– Emerald Blazed Green/Metallic Diablo Black/Metallic Graphite Grey
Kawasaki reveals carbon neutrality plans at EICMA | Go with Green Power
In a landmark speech at the 2022 EICMA Motorcycle Show in Milan, the President of Kawasaki Motors Corporation, Mr Hiroshi Ito, unveiled a range of new and prototype Kawasaki models while sharing more details of a company-wide vision focused on Carbon Neutrality.
Joining the battery electric Z family machine destined to fulfill the needs of commuters in cities across Europe first shown as a prototype at Intermot, Mr Ito also unveiled a Ninja style machine with the same dual battery motive power and a maximum capacity of 3.0 kWh. Both machines have been created to comply with the European A1 vehicle licence regulations and will be on sale during 2023.
Highlighting Kawasaki research and development into other innovative vehicle types, Mr Ito hosted the European preview of Kawasaki's first ever Hybrid motorcycle in prototype form. Able to quickly and easily switch between its internal combustion engine and electric motive power, the HEV machine is currently destined to be part of the 2024 product range.
Demonstrating that Kawasaki is considering the full breadth of urban mobility from multi-cylinder machines to those based on familiar cycle technology and configuration, the Kawasaki booth at EICMA also hosted displays including an electric tricycle called "Noslisu" plus an experimental hydrogen powered display engine based on the Supercharged Ninja H2 using direct injection and compressed gaseous hydrogen as fuel plus the Elektrode, a child's off-road style electric bike already on sale in North America.
While underlining Kawasaki's commitment to internal combustion engines and research into future fuel types, Mr Ito also unveiled a new symbol headlining the new Go with Green Power initiative with its goal of achieving carbon neutrality for Kawasaki within a strategic timeframe.
From the current model line, an updated Ninja H2 SX was shown for the first time at EICMA. Already equipped with front and rear radar sensors as standard, the new addition of auto high-beam – that automatically switches between low and high beams – was unveiled as just one of the many new models for 2023 season. Amidst so many attention-grabbing new, prototype and pre-production models, Mr Ito additionally clarified that across the two model seasons from model years 2024 to 2025, Kawasaki plan to also introduce about 30 internal combustion engined motorcycles globally. About half of this number will comply with European regulations and are therefore destined for the European market.
The sentiment that Mr Ito left the media audience with at EICMA was that Kawasaki will continue to provide products and services that meet the needs of its customers and society by harnessing advances in current vehicle technology and via new, environmentally friendly products that are carbon neutral.

Watch the full press conference here, and the promotional videos here and here.
adidas and Kawasaki team up once again
adidas and Kawasaki team up once again with another addition to the collaborative ZX footwear collection. This iteration comes in the form of the adidas ZX22 KAWASAKI, a future-ready sneaker inspired by the experimental forms and materials of the Kawasaki vehicle.
adidas are reunited once again with Kawasaki for a bold new footwear release, reigniting the collaboration that fuses the aesthetic of the Japanese powersports titan into the world of the celebrated ZX sneaker range. Inspired by the forms of futuristic Kawasaki vehicles, this future-ready silhouette is executed in a bold metallic colorway accented with black and lime green details.
A co-branded metallic silver leather with reflective three-stripe branding sits on a chunky midsole unit with BOOST cushioning, encased in a bold heel cage accented with lime green and black details.
About Kawasaki:
Kawasaki is one of the world's leading powersports (motorcycle, off-road four wheelers, and personal watercraft) and power unit brand. Its unique ability to create products with unrivaled performance is made possible through its technological expertise drawn from a century of diversified engineering and heavy industry capability of the Kawasaki Group. True to its development philosophy to constantly challenge themselves in delivering the ultimate riding experience and sensory thrills to nourish the soul and empower spiritual richness, has produced many iconic machines such as the H1 (500SS Mach-III), Z1 (900 Super Four), Ninja (GPz900R), and in recent years the supercharged Ninja H2.
About adidas Originals:
Inspired by the rich sporting heritage of adidas – one of the world's leading sports brands and a global designer and developer of athletic footwear and apparel – adidas Originals is a lifestyle brand founded in 2001. With the adidas archive at its foundation, adidas Originals continues to evolve the brand's legacy through its commitment to product innovation and its ability to filter the creativity and courage found on courts and sporting arenas through the lens of contemporary youth culture. Marked by the iconic Trefoil logo that was first used in 1972 and championed by those that continue to shape and define creative culture, adidas Originals continues to lead the way as the pioneering sportswear brand for the street.