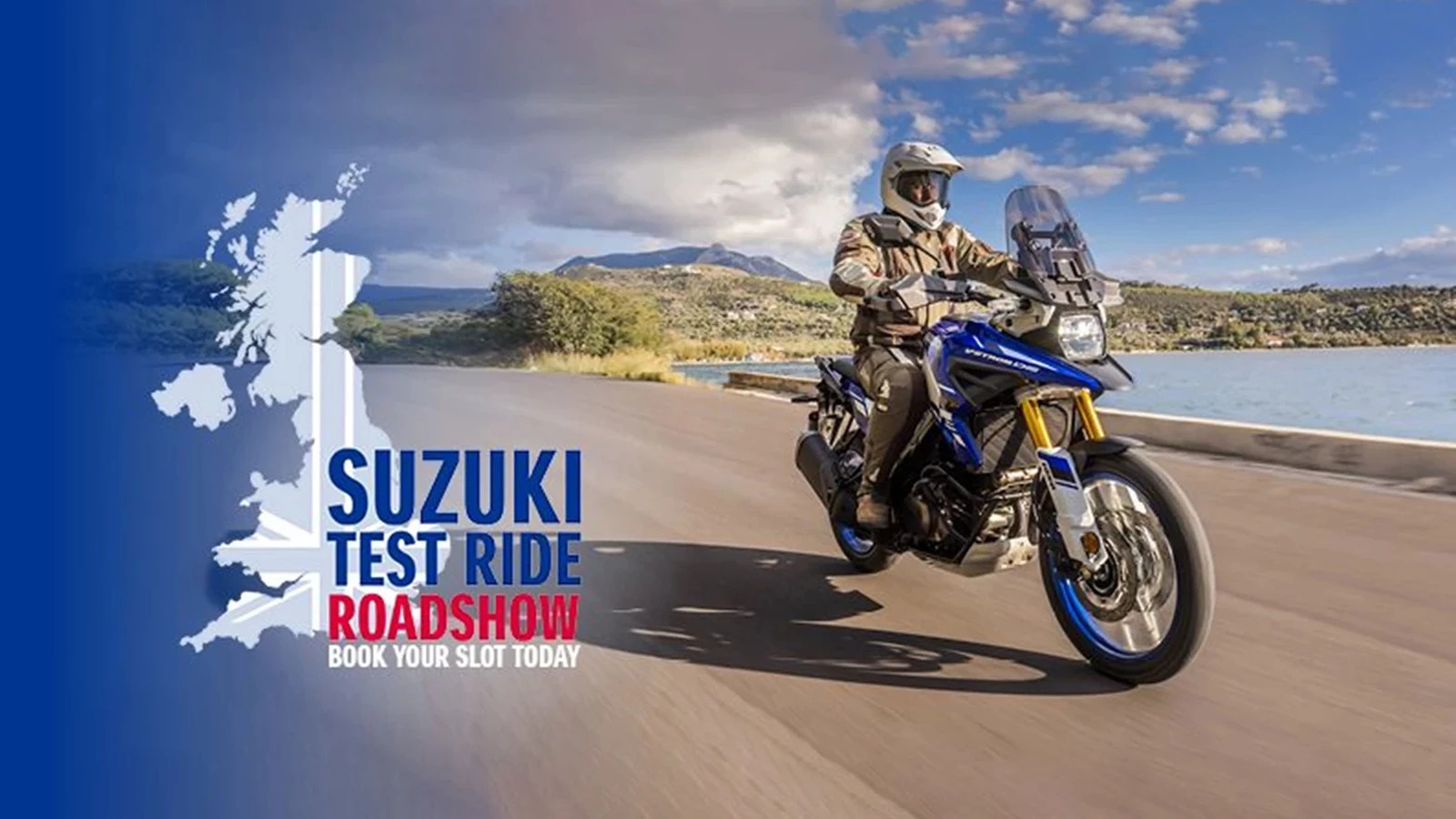 SUZUKI SUMMER TEST RIDE ROADSHOW BACK FOR 2023

Suzuki GB will again embark on a test ride roadshow this summer, when it brings an additional fleet of demo machines to a number of dealerships nationwide.
The first of 14 events will take place on the 1-2 of April at new Suzuki dealer Mo-Tech Suzuki, based in Newcastle Upon Tyne, with a test ride fleet including the all-new V-Strom 800DE middleweight machine, powered by a new 776cc parallel twin and equipped with a quickshifter, colour TFT dash, power modes and multiple traction control modes including an off-road mode, plus switchable ABS. The list of demo machines also features the new V-Strom 1050 and V-Strom 1050DE; which also feature a quickshifter, colour TFT dash, power modes and multiple traction control modes. The V-Strom 1050DE also gets switchable ABS and an off-road traction control mode.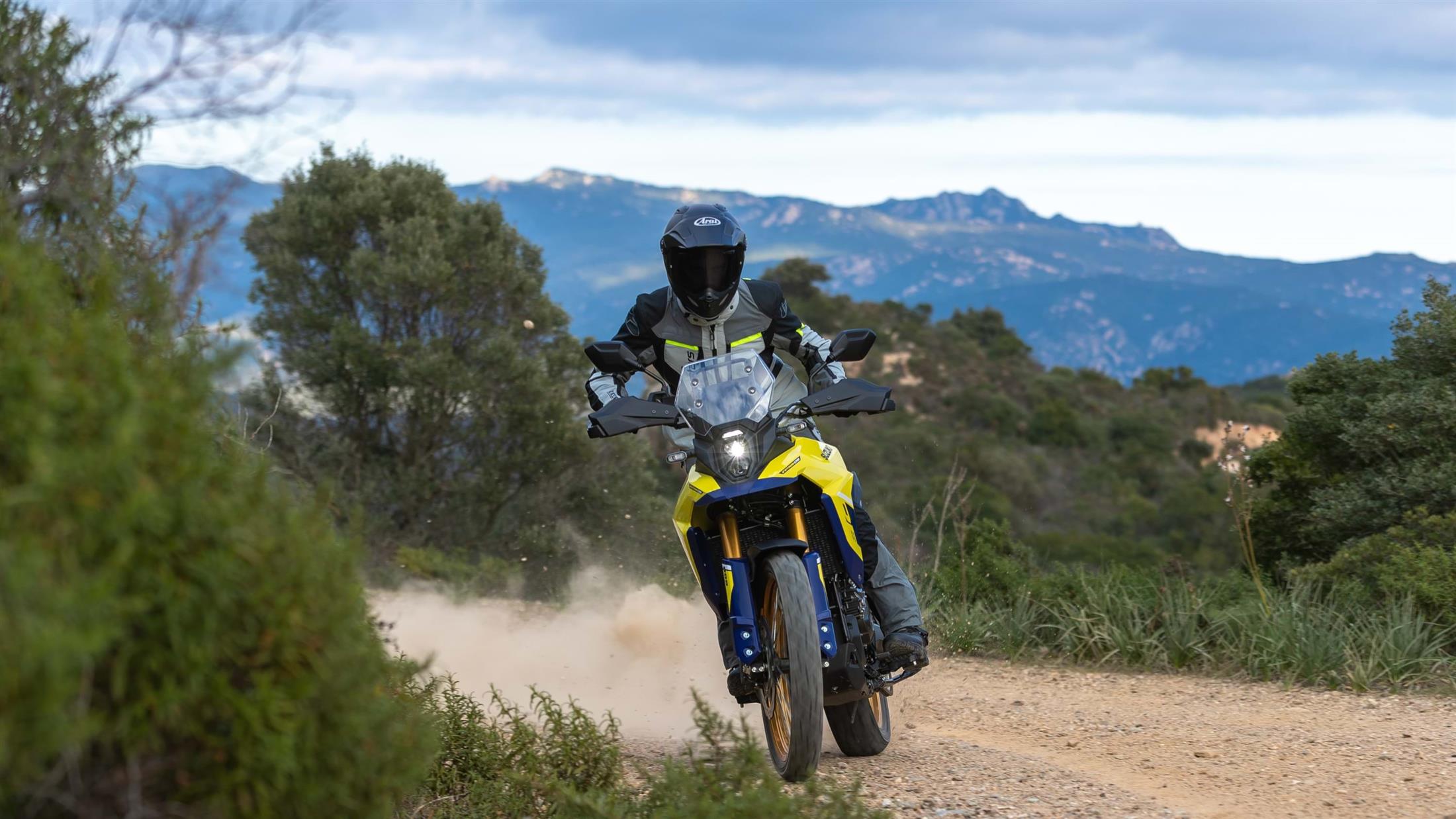 The summer's list of demo machines also includes the GSX-S1000 and GSX-S950, as well as the GSX-S1000GT – the best-selling sports tourer of 2022 – the updated Katana, the Burgman 400 maxi scooter, and the iconic hyperbike, the Hayabusa.
Joining the test ride fleet from the 8th April will also be the all-new GSX-8S which features a new 776cc parallel twin and equipped with a quickshifter, colour TFT dash, power modes and multiple traction control modes.
(Note that bike availability will differ from one event to another. Customers are advised to speak to their local dealer in advance of the event to check availability and to pre-book.)
Away from the test rides, Suzuki staff will be on hand to provide information on the firm's full range of models and current offers and incentives. Additionally, individual dealerships will also provide extra entertainment and activities on the day, such as refreshments, special guests, offers on clothing and accessories, and motorcycle health checks.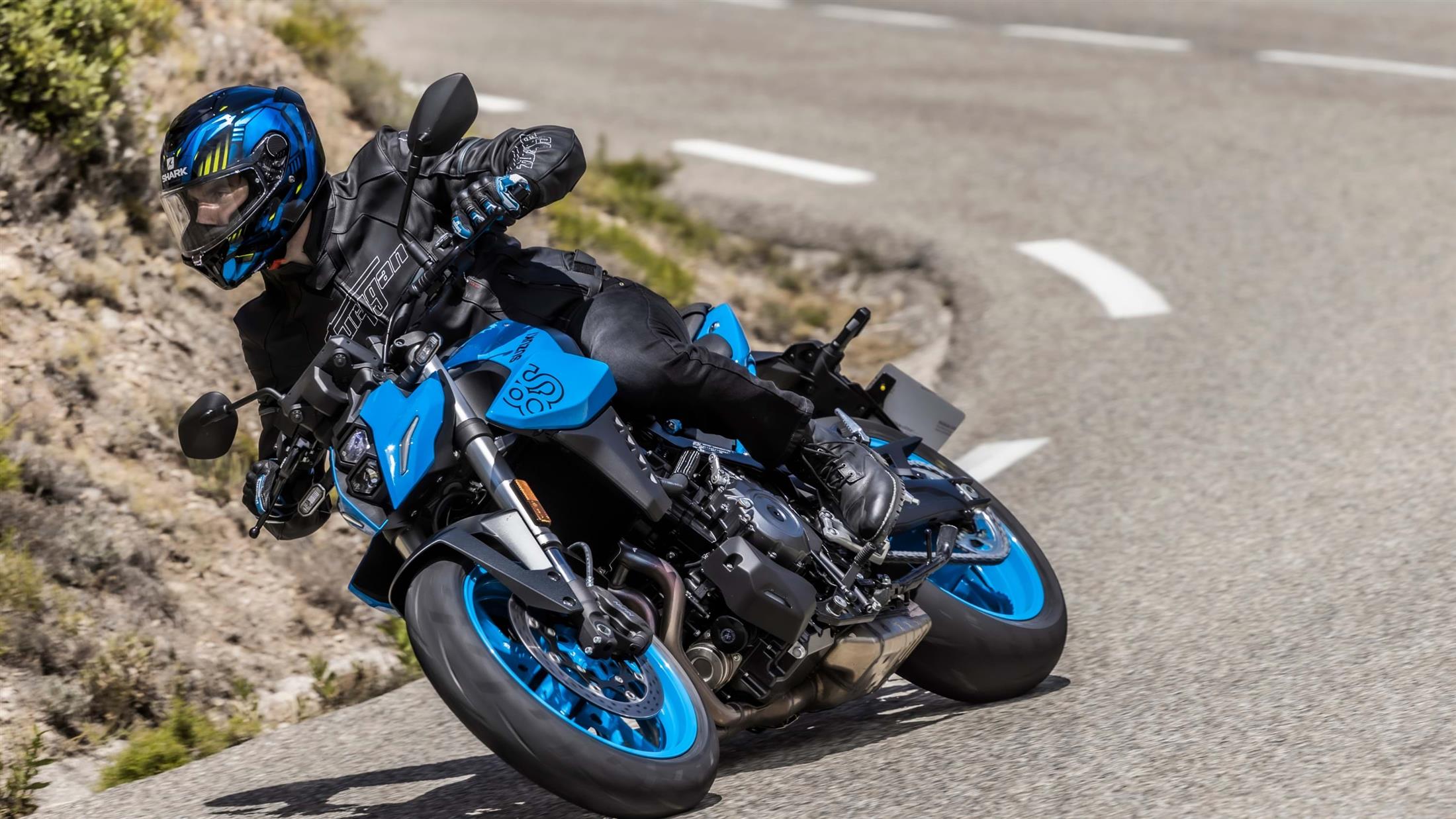 Suzuki GB's head of motorcycle marketing, Ian Bland, said, "The test ride roadshows have become a staple part of our summer events' calendar, and we're looking forward to getting them underway again in 2023. Not only can potential customers try a rich variety of Suzuki machinery on the day, it is also a great opportunity for us to spend time talking with existing and potential customers to better understand their motorcycling needs and habits. We're travelling the length and breadth of the country, and it's set to be another busy summer of motorcycling."
For a full list of dates, see below, or visit the event's calendar.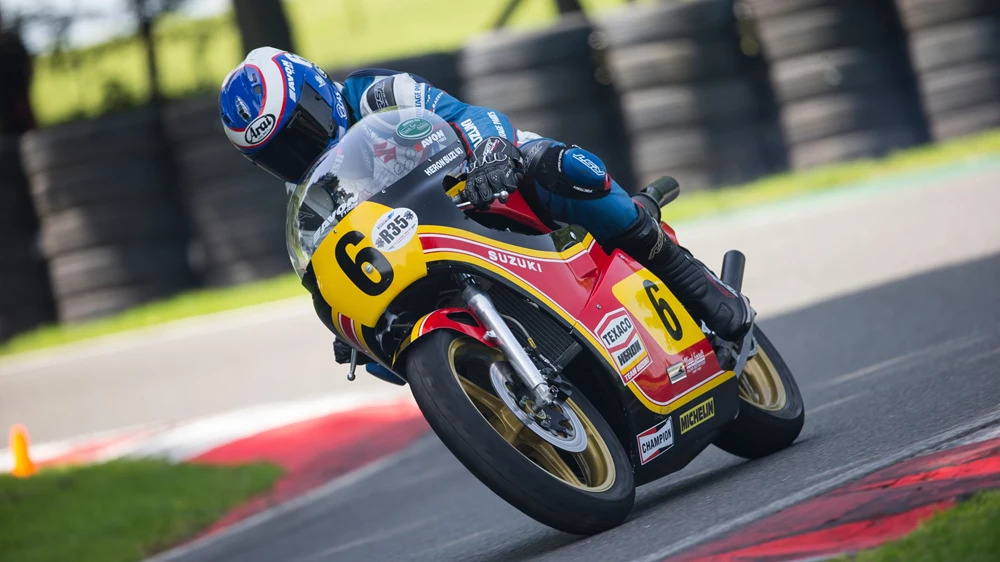 SUZUKI LIVE RETURNS FOR 2023
Suzuki Live will return for 2023, with a full weekend of activity planned at Cadwell Park on 15-16 July, including track sessions, a new adventure bike zone, trade stands and displays, plus special guests.
Spread over both Saturday and Sunday, the event will again bring together track sessions for classic and modern machines, with novice, intermediate, and experienced groups available for pre and post-2000 Suzukis. There will also be a number of classic race bike parades across the two days.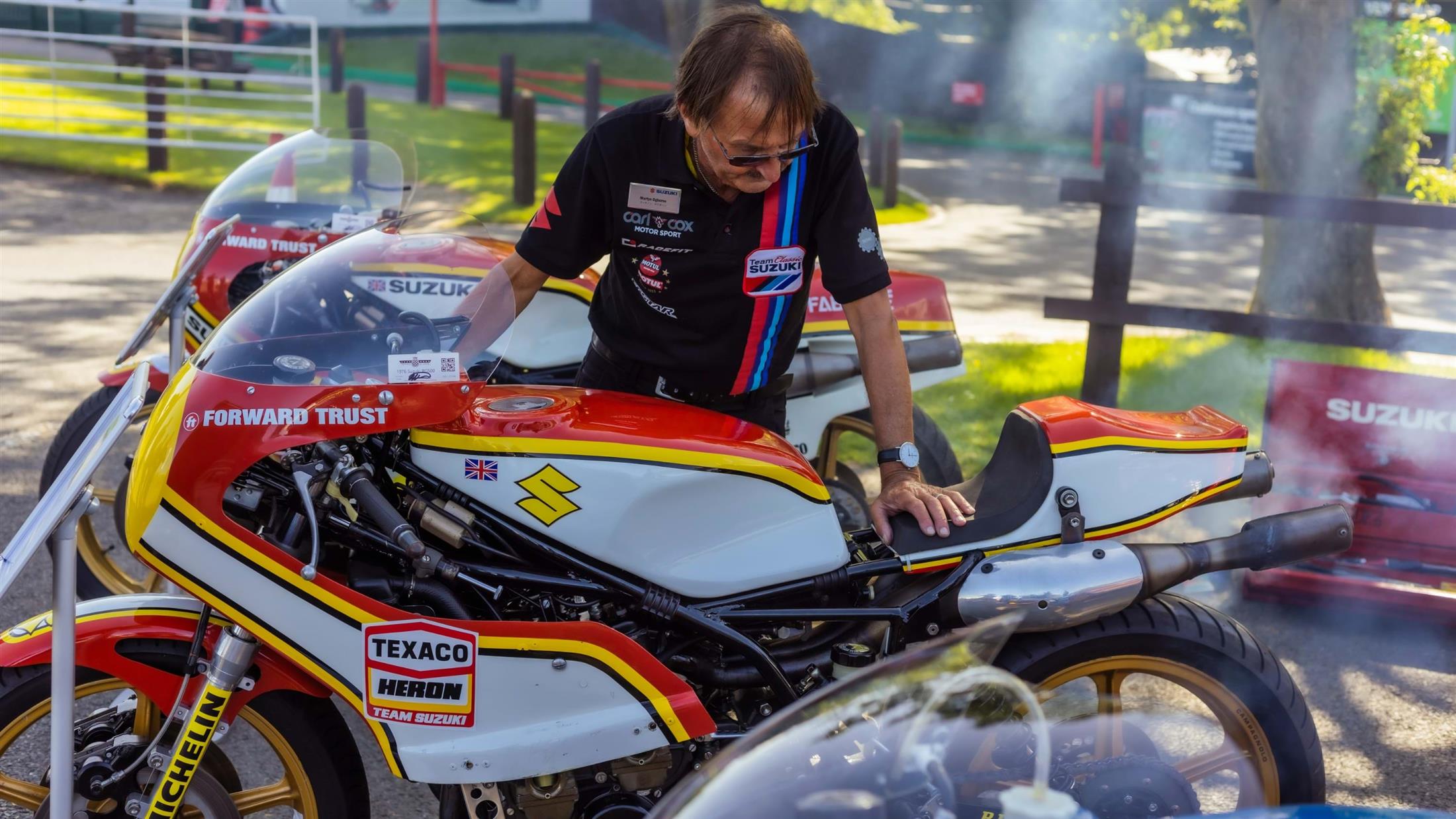 A new adventure bike zone will give V-Strom owners the chance to take their bike off-road, as well as test ride the new V-Strom 1050DE and all-new V-Strom 800DE. The zone – free to enjoy over the weekend – will include expert tuition, a skills area, and a test ride loop through woodland and undulating terrain.
Out on the roads local to Cadwell Park, visitors will be able to test ride other models in Suzuki's on-road range, including the new GSX-8S, GSX-S1000GT, GSX-S1000, and the iconic Hayabusa.
Joining in the fun will be the likes of three-time British Superbike champion John Reynolds, former National Superstock 1000 champion Taylor Mackenzie, and former 500 Grand Prix racer and British champion Steve Parrish.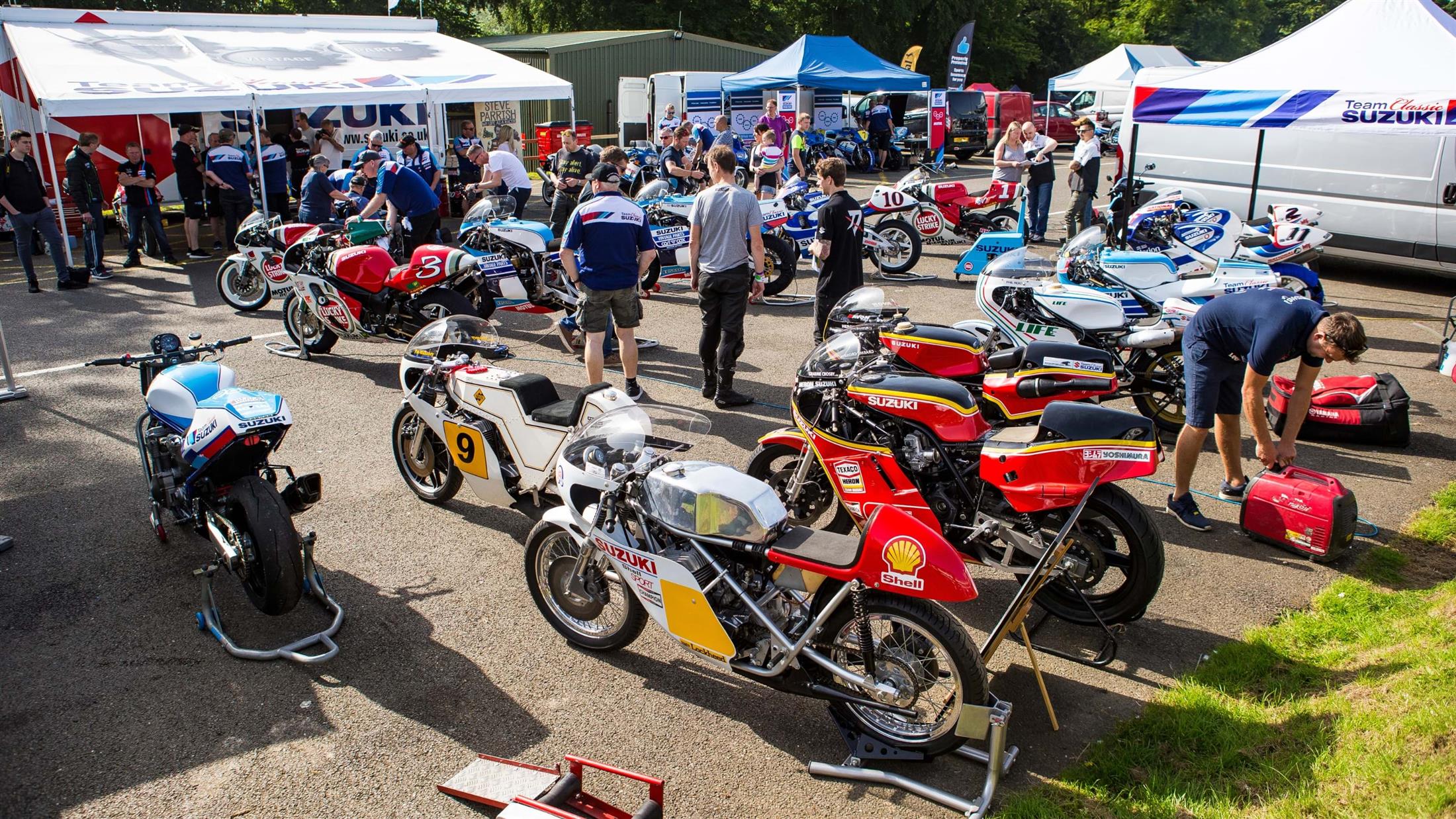 Suzuki GB's head of motorcycle marketing, Ian Bland, said, "Last year's Suzuki Live event took place in glorious sunshine and was a spectacular day out for us and for everyone that joined. So much so, we couldn't wait to extend it to a full weekend of track activity, parades, displays, and entertainment., and also add a new adventure bike zone. It's going to be a full weekend of Suzuki-themed fun, and we're excited to join our customers on road and track this summer."
Track day sessions for the full weekend are available for £229, with race bike parade spots costing £199, and both all include camping and evening entertainment on Saturday night, which will feature trophy presentations, lively stories from the star guests, and a live band.
Traders and clubs can also book display space.
ADSS97 Kawasaki announces star-studded World Endurance Line Up!
UK-based World Endurance team ADSS97 Kawasaki is upping the ante for 2023, announcing an exciting new rider line up of Chris Walker, Levi Day, Chris Platt and Craig Currie. All four riders will be competing on a freshly prepared Superstock spec Ninja ZX-10R.
2023 will mark a big step forward for the ADSS97 Kawasaki team. After several seasons competing in the Endurance World Championship Superstock class, the squad are now setting their sights on success with its strongest line up to date.
Spearheading the effort is Kawasaki legend Chris Walker, who will be returning to the competitive world of endurance racing for the first time in over two decades. Joining him on the Ninja ZX-10R will be Australian rider Levi Day, who has enjoyed great success in the National Superstock class in the UK. Team owner and experienced rider Chris Platt completes the team, having ridden Kawasaki machinery in both the British and World Endurance Championships. Craig Currie is on hand as reserve rider for the season as well as competing on three wheels in the World Sidecar Championship and Isle of Man TT.
The ADSS97 Kawasaki team truck will also be the K-Tech Suspension Service Centre for the entire EWC Paddock.
Chris Walker:
"What an opportunity! To race within a team full of my pals on a proven bike, the ADSS97 Kawasaki Ninja ZX-10R, and at the Le Mans 24hr again after a 24-year gap is mega! I had always hoped my career would head me back in the direction of endurance racing as it reached its latter years, having enjoyed it so much in the past, but it didn't quite pan out. A few years in Sidecars and TriOptions Cup, coupled with old age and obesity, sent me down a different path, so I've been Zip testing for RST for a while now, but the chance to go and ride the 24hr EWC series in the stock class is something I couldn't turn down. So with the help of a few of my old sponsors coming along and supporting the team, I'm back on track, back on a Kwak, back to Le Mans and back on a racers regime of training and eating properly. Testing starts in Spain in a matter of Days, and I can't wait!"
Levi Day:
"I'm really looking forward to the Endurance World Championship this year, and it's something I've been keen to get into over the last few years. I've had the pleasure of doing Suzuka and an eight hour at Estoril a few years ago, so doing the three 24-hour races this year really excites me! It will be something very different to what I'm used to, but I will be working hard to do the best for the team, and I'm looking forward to teaming up with Chris Platt and Chris Walker on the ZX-10R and working together with the team to do our very best. There is a great crew involved, and I'm excited to get going!"
Chris Platt:
"I've competed in all sorts of racing, but I have to say that Endurance is one of the friendliest and most supportive paddocks. After cutting our teeth with the UK No Limits Endurance series, we stepped into the EWC paddock in 2021 and have now raced four 24hr races with a 100% success rate! For 2023, with new bikes, the backing of K-Tech Suspension, a strong team structure and new riders with a great mixture of youth and experience, we're taking the next step, and I can't wait to get going!"
Ross Burridge, Head of Marketing & Racing Department at Kawasaki UK:
"The ADSS97 Kawasaki team have gone from strength to strength over the past few seasons, and we have been watching their progress closely. With a very strong rider line up this year, we are sure they will do a great job on the very competitive world stage."