For the second round of the EWC World Endurance Championship, the Webike SRC Kawasaki France Trickstar Team managed to run an exceptional 12 hour race on the famous Estoril circuit in Portugal. Once again, the experience of the riders and the mechanical reliability of the Kawasaki Ninja allowed them to consolidate their second place.
The good weather and the heat were evident for the whole 12 hours of race. At 10am, Jeremy Guarnoni on the #11 got away to a very good start and went straight from 8th to 5th position. He stayed there for several laps before making his first pit stop earlier than his competitors for strategic reasons. Indeed, team manager, Gilles Stafler had foreseen this scenario.
Following the excellent performance of the Ninja ZX-10RR and some crashes and unforeseen events of competitor bikes, the #11 found itself elevated to second position.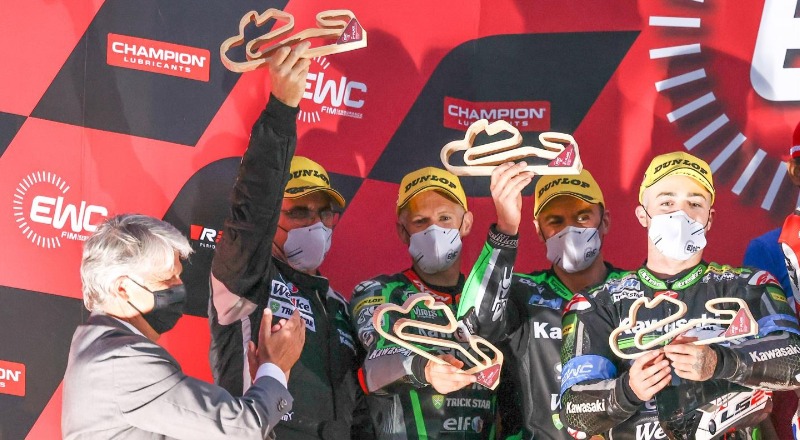 Unfortunately, after more than three hours of racing, the intervention of the safety car did not benefit the SRC Team and it lost about 10 seconds on the first placed machine
.After a number of twists and turns, the lime green bike was in first place around the halfway mark and led for most of the second half of the race until a fuel failure interrupted this domination. Erwan Nigon had to push his dry machine to get back on track with David Checa in third position.
Jeremy Guarnoni then put in a superb final stint to see the #11 finish second after a fierce battle with the #333 machine.
Again, all three riders set a very fast pace with exemplary consistency to lead an exceptional race. The Dunlop tyres excelled throughout the race despite the very high temperatures, and a track that was raised to 58 degrees at one point!
This second place on the podium allows the Webike SRC Kawasaki France Trickstar Team to take the lead in the 2021 FIM EWC World Championship.