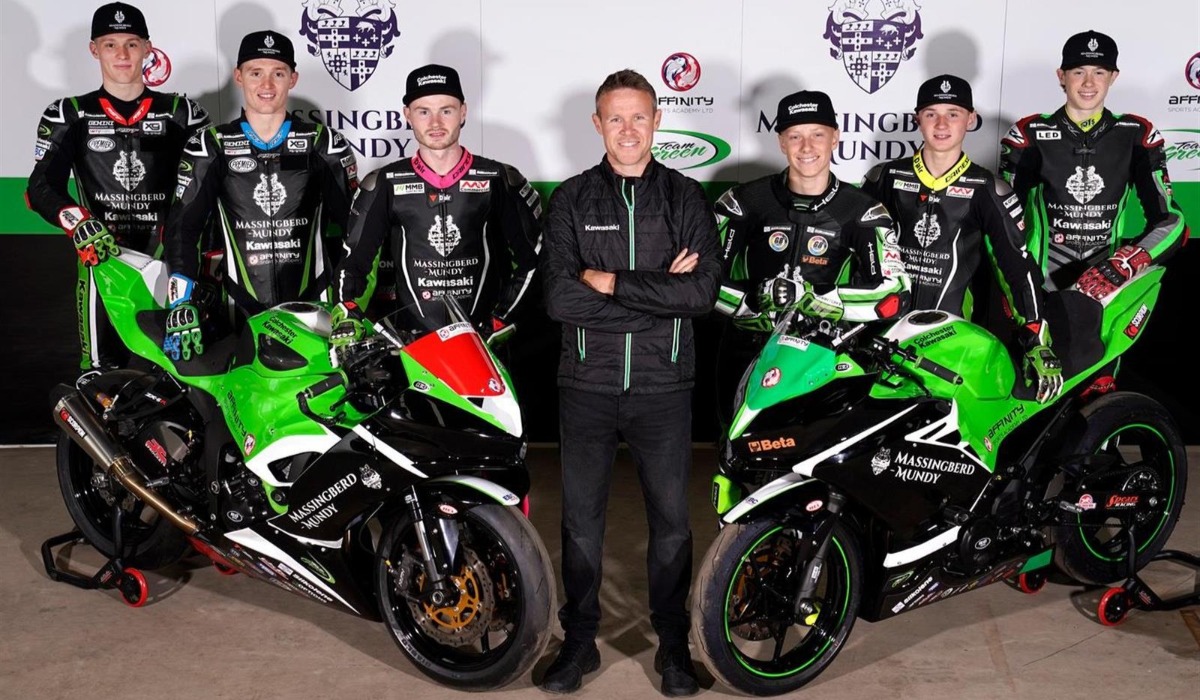 The long awaited start to the 2020 British Superbike Championship season is now just around the corner and Affinity Sports Academy have been focused on readying the team for a high velocity roll out at the first round.  
The recent birth of the team last year has seen the team work tirelessly behind the scenes, with dedication applied towards setting up the best platform possible for the six young riders to launch from. (Find out more about the riders here – http://www.teamgreenracing.co.uk/junior-superstock-sport.aspx).
The new academy's strong association with Kawasaki's Team Green brand is important for not only the riders who want to progress through the ranks, but also for Team Manager, John Laverty.
"This is an exciting new venture for all of us. Team Owner, Leon Haslam has created a great platform for these young riders to work from, and I am there to help nurture them through the season and try not to let them make the same mistakes that we all did when starting out!", said John.
"The support of Team Green is invaluable and these guys know they have a great opportunity ahead of them. The idea of the Academy is to help them win races, Championships and hopefully progress through the British Superbike series alongside Kawasaki and Team Green.
"Naturally the crowds and supporters of the series draw their attention towards the Superbike class, however Kawasaki understands the importance of assisting young riders who are fairly new to the sport. At the forefront of Team Green's ethos is offering athletes the highest amount of support possible and ensuring there is a robust foundation to work from in the early stages in their racing career.
Kawasaki Motors UK Senior Racing Coordinator, Ross Burridge said, "Team Green has always focussed on developing young talent and offering opportunities for progression. Danny Buchan is a great example who has progressed from Junior Superstock, right the way through to becoming our official Superbike rider, so there really is something for the young riders of Affinity Sports Academy to aspire to. Spanning across two classes, Junior Supersport and Junior Superstock, immediately there is an opportunity for growth within the Academy itself, so I am sure we will be seeing some exciting racing on track from all riders when the season gets underway in just over a month's time."
The 2020 British Superbike Championship will fire up for the first time this year on 7th August at Donnington Park. Find out more here – https://www.britishsuperbike.com/