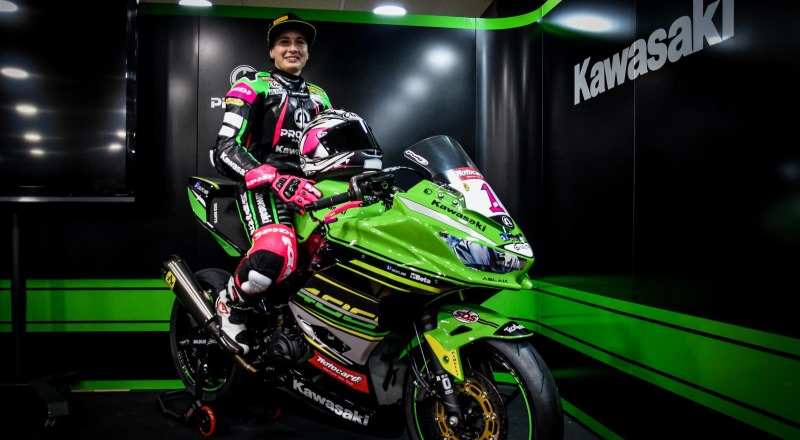 Today, 29th March, 2019, the project and the new Kawasaki Provec structure with which Ana Carrasco will defend her World Championship title were presented at the Motocard Centre in Barcelona. 
 After a winter where Ana has had a never ending list of commitments with the media, the last two months have served for the Murcian rider to concentrate on training for many hours; physical, off-road and the last few weeks testing the new Kawasaki Ninja 400 prepared by the technicians of Provec Racing.
Ana Carrasco will be the only member of this team so that Provec can concentrate on her performance. 2018 has passed and although Ana will carry the number one on the Kawasaki fairing, she sets off with 0 points, knowing that the expectation and the pressure will be very high.
The first race of the WorldSPP300 World Championship takes place on April 7th at Motorland Aragón.
Ana Carrasco (Rider): It has been one of the busiest winters of my life, we have made many changes at the sports level as well as at a personal level and I'm very eager to start the season to see the results of all this. Although I've had to do a lot of media work these months, I've also been able to work a lot on the motorcycle and I think that I'm ready for the first race. I'm very happy with all my team, with the work we've carried out during the pre-season tests and I'm very excited and keen to have a good season and will be able to return all the effort over these months to the team via good results and to give my best this year.
Steve Guttridge (Kawasaki Europe Racing Planner): "After such an amazing 2018 season with Ana and her World title achievements on our Ninja 400, we cant wait to see the 2019 season unfold! It's not going to be easy by any means but with the Kawasaki Provec WorldSSP team structure in place and Ana's desire to retain her title, we are set for some fantastic battles this year and for sure Ana and the team can rely on Kawasaki's support all the way!"