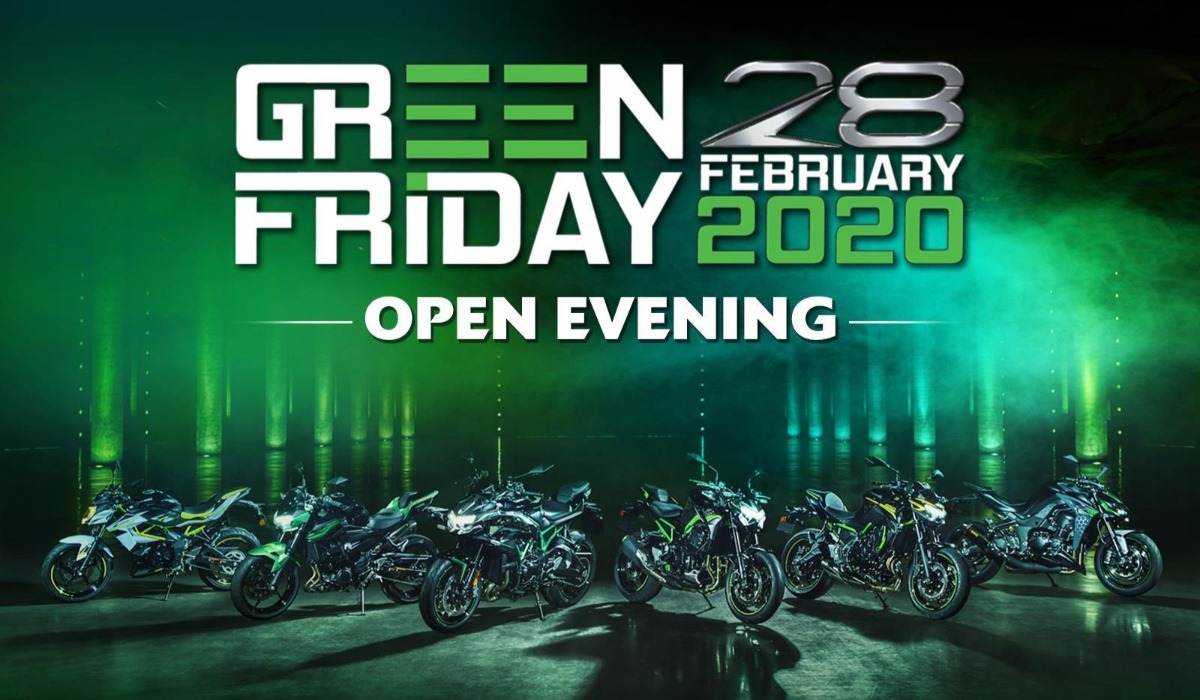 Kawasaki dealers throughout the UK and Northern Ireland will host their highly anticipated annual open evening, Green Friday, on 28th February 2020. 
Customers will be given the opportunity to be one of the first people in the UK to see the new 2020 Kawasaki range and enjoy your local dealerships hospitality and entertainment.
Attendance is by registration only and each registered customer will go into a draw to win one of the following national prizes*:
1. 1x ticket for a Kawasaki Days, Germany Tour with Dragon Moto on 21-26 May 2020. For full details on the tour and what is included, please visit www.dragonmototours.co.uk
2. A pair of World Superbike VIP hospitality tickets at Donington Park on 3-5 July 2020
3. Club Kawasaki jacket
In addition to the national prizes, each Kawasaki dealership will select a winner on the evening for a Motorcycle Traveller book and DVD by legendary film creator Peter Starr and MCIA bike covers.
Kawasaki supercharges forward with brand-new models and significant model updates in 2020. Our world-beating litre engine is boosted beyond belief with supercharger technology from the unrivalled H2, in the all-new Z H2. The timeless Sugomi style exudes Kawasaki DNA, elegant colour details, full TFT screen and a chrome air intake combine tradition of the Z with the technology of the H2. The 2020 Ninja 1000SX marks the fourth generation of a successful sport touring platform. Cleaner emissions with the same great performance, sportier, more dynamic new styling, a single-sided muffler and all-LED lighting feature on the new spec list. Sport and Touring capability; the 2020 Ninja 1000SX truly offers the Best of Both Worlds. In the modern classic sector, the new W800 offers easy handling and a high level of craftsmanship. Of the three modernised retro models in the W family, the W800 is the truest to the looks and feel of the original W.
In addition to the new models, the Ninja 650, Z650 and Z900 received significant model updates. The Ninja 650 and Z650 both now feature a full-colour TFT screen with smartphone connectivity, a new LED headlight and Dunlop Sportmax Roadsport 2 tyres. The Z900 features all-LED lighting, a TFT screen with smartphone connectivity and integrated riding modes that link Kawasaki Traction Control and Power Modes to suit a given riding situation.
See these new models and more at your local Kawasaki dealership on Friday 28th February. To register your attendance for Green Friday, simply fill in the registration form and select your local participating Kawasaki dealer. If you are looking to try out one of our 2020 models, you can also request a test ride through this form and the dealer will be in contact to arrange a suitable date and time for your test ride.
*The following terms and conditions will apply to the National and Dealer prize draw:1. The prize draw is open to UK and Northern Ireland residents aged 18 and over.
2. Participants must hold a current UK motorbike licence for all test ride bookings and have a valid email and postal address to participate.
3. Participants must supply full details as required by the enquiry form. No responsibility is accepted for ineligible, incomplete, or fraudulent entries.
4. Information provided by participants in registering for this event will only be used by Kawasaki Motors UK and the chosen Kawasaki Dealership in future, if entrants have provided permission.
5. You have the right to change your details held by us or withdraw your consent at any time by contacting the Customer Service department, Kawasaki Motors UK, a branch of Kawasaki Motors Europe N.V, 1 Dukes Meadow, Millboard Rd, Bourne End, Bucks, SL8 5XF.
6. No entrant information whatsoever will be made available to third parties.
7. This draw is not open to Kawasaki employees, dealers, dealer staff or contractors of Kawasaki Heavy Industries, Kawasaki Motors Europe and Kawasaki Motors UK or any person directly or indirectly involved in the organisation or running of the draw or their direct family members.
8. Each qualifying participant can enter the free draw to win the advertised prizes.  Duplicate entries will be deleted.
9. The competition closes at 1:00pm on Monday 24th February and Kawasaki Motors UK will draw the prize winning customer details at random at 2:00pm on Monday 24th February.
10. The 1st national prize is valid for a Dragon Moto Tour to Kawasaki Days in Germany on 21-26 May 2020 only. If the winner is unable to accept these travel dates, fails to arrive by the departure time or does not hold a valid passport, their prize will be forfeit and the winner shall not be entitled to any form of compensation.
11. A pillion partner ticket can be purchased for the Kawasaki Days, Germany Tour by the winner with a 15% discount off the RRP. To book, please contact Geraint or Jan on 07816 396614 or email
[email protected]
12. For full Dragon Moto terms and conditions please visit
www.dragonmototours.co.uk
13. The prize as described is available on the date of publication. Should the prize become unavailable, a substitute tour of equal value shall be provided. The prize is non-transferable and there are no cash alternatives.
14. A member of the KMUK marketing department will contact the dealerships directly to advise them of their winning customers details. An email providing further information about the prize, and how it will be coordinated, will be sent from KMUK to the winning participant within five working days of the draw. The winning participant will then be required to confirm acceptance of the prize by replying to the email within seven days of this date. Following acceptance of the prize the winning customer's details will be shared with Dragon Moto Tours.
15. 13.  If a winner does not confirm acceptance of the prize within seven days, they will automatically forego the rights to claim the prize and a new winner will be chosen from the winning customers who were successful in reaching the final stage of the draw.
16. The decision of the promoter, Kawasaki Motors UK, is final. No correspondence will be entered into.
17. KMUK and Kawasaki Dealerships reserve the right to use photography of the event and competition winners on social media channels.
18. By entering the draw participants agree to be bound by these conditions.
19. For KMUK's full privacy policy please visit:
www.kawasaki.co.uk