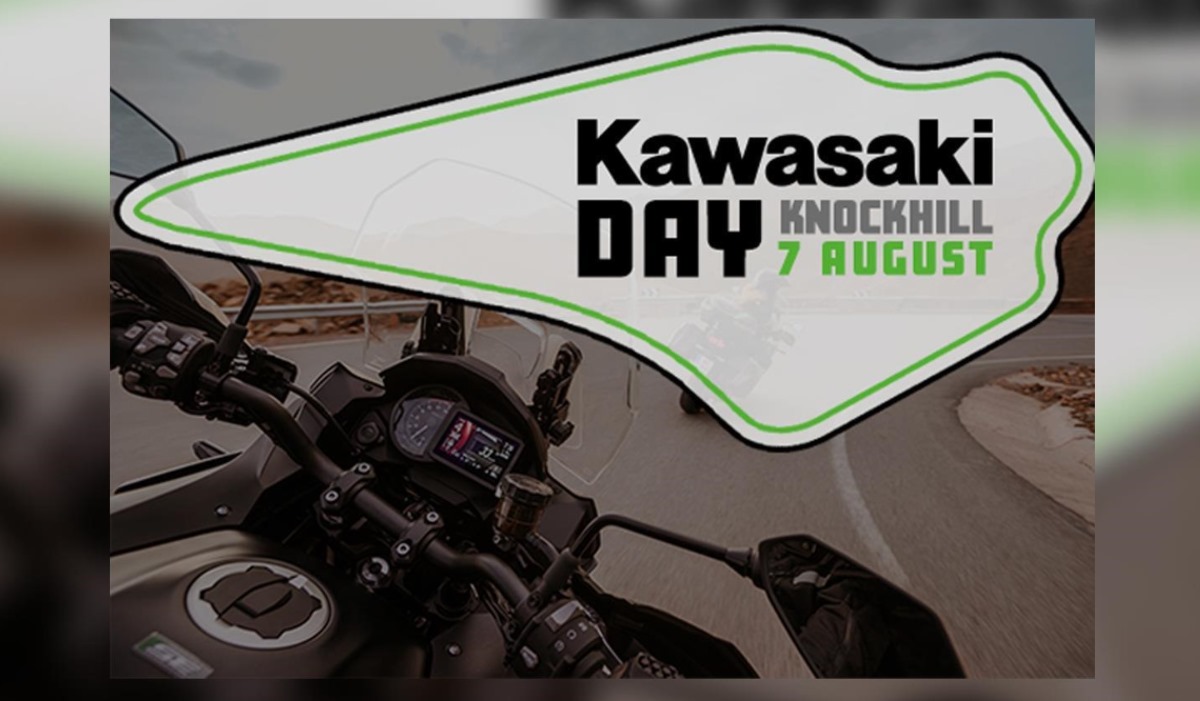 Location: Knockhill Circuit
Date: Wednesday 7th August
Time: Gates open at 1pm, close at 8pm
Cost: No cost to come along to the event & take part in road demos, health check. Track sessions cost £49 for Club Kawasaki members, £69 for non-Club Kawasaki members.
Join Kawasaki at the famous 1.27 mile long Knockhill circuit for track time on your machine and the opportunity to road test the 2019 Kawasaki models on the roads around the circuit. Knockhill is Scotland's only accredited FIA and MSA approved venue, with extensive investment in facilities it's promising to be an event to remember!
Road demos on 2019 Kawasaki models are open for all customers and will depart from the circuit from 1pm. Track sessions on your own machines take place between 5 – 8pm (6 x 15min sessions each for advanced and intermediate groups). With just a limited number of on track sessions available for this event, you'll want to book now to avoid disappointment. Club Kawasaki members receive a discount of £20 on the ticket price for this event, making the already great value price of £69 for non-Club members, even more appealing at £49 if you have a Club Kawasaki membership.
Attended by Kirkcaldy Kawasaki and Shirlaw's Aberdeen, take advantage of a free health check on your Kawasaki while attending and receive advice on the best Kawasaki care products to keep your bike in top condition.
Go one step further and take part in the Ultimate Ninja Experience, there are just 4 places available for you to put the middleweight Ninja ZX-6R through its paces in a controlled environment and pick up some expert tuition along the way from guest rider Danny Buchan! Racing for team FS-3 racing in the British Superbike Championship and having won his first Superbike race at the Knockhill round, Buchan will also be showcasing the KMUK owned supercharged Kawasaki Ninja H2R around the track!
Book the Ultimate Ninja Experience at Knockhill on the 7th August now by phoning No Limits on 01525 877087.
In addition, customers who attend the Ultimate Ninja Experience will receive a Ninja ZX-6R voucher* valued at the cost of the Ultimate Ninja Experience – £319, which they can put towards the purchase of their new Ninja ZX-6R! In simple terms, if you attend and go on to buy a new Ninja ZX-6R, your Ultimate Ninja Experience is FREE!
This event is free to attend by the public and road demo rides are open to all customers, with bookings being made on the day.
All track sessions must be pre-booked by contacting your local Scottish Kawasaki Dealer:
Kirkcaldy Kawasaki
149 Rosslyn St, Kirkcaldy KY1 3HT
01592 656910
https://www.kdykawasaki.com/
Shirlaws of Aberdeen
92 Crown St, Aberdeen AB11 6HJ
01224 584855
https://kawasaki.shirlaws.com/
*Terms and Conditions for Voucher – valid for 3 months from date of track day. Valid for the purchase of one new Ninja ZX-6R only and cannot be used in conjunction with any other offer. Discount value is the same value of the Ultimate Ninja Experience ticket and does not include any other costs incurred to attend the event. Voucher only available for customers who have paid for the Ultimate Ninja Experience, not applicable to KMUK or third party competition winners. Valid for the named rider and cannot be transferred to persons who did not take part in the Ultimate Ninja Experience.