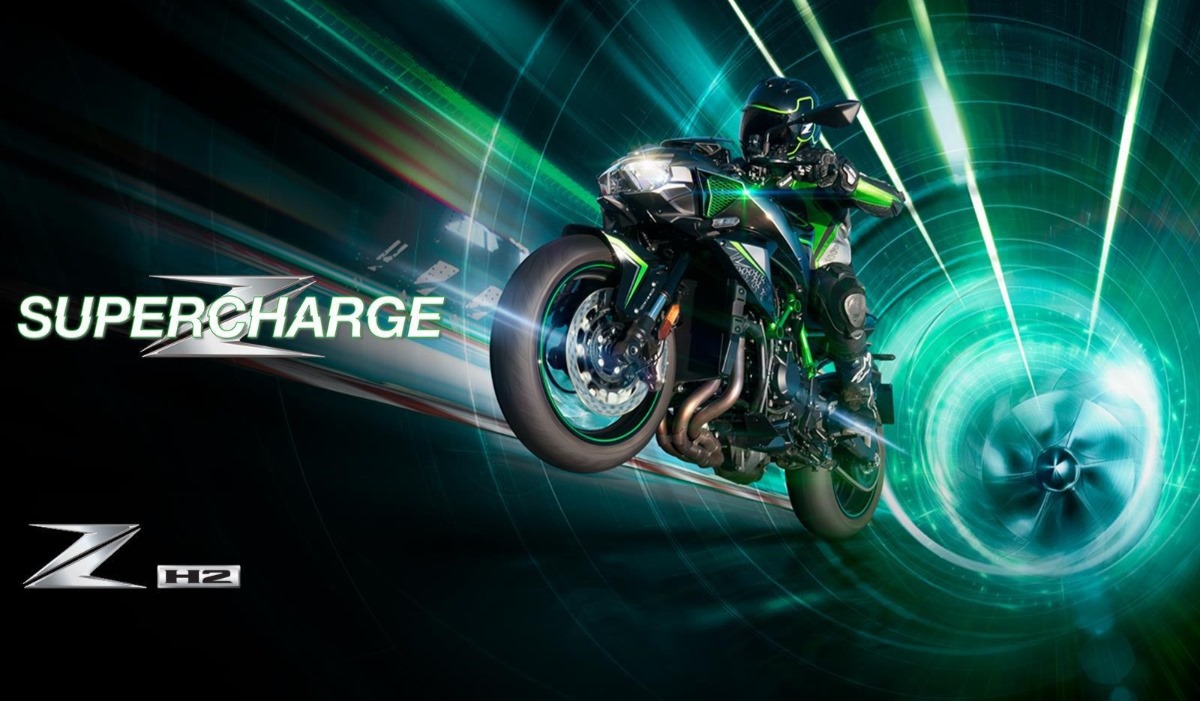 With no less than six new or recently announced models to highlight at Milan's EICMA show – along with a stand bursting with carry over machines in new colours, genuine accessories and racing machinery – Kawasaki has a truly Supercharged presence at the world famous Italian motorcycling event in November.
Already unveiled at the Tokyo Motor Show in October, and teased on video to huge worldwide public reaction, the Z H2 Hypernaked makes its first physical appearance in Europe at EICMA and all eyes will be on this class leading machine with its Sugomi styling, all LED lighting, new trellis chassis, Brembo front calipers and unique balanced Supercharged engine.
 
Boasting an impressive array of electronic rider aids such as integrated riding modes, launch control, traction control, assist and slipper clutch, cruise control, quick shifter and intelligent advanced cornering ABS, the presence of the Z H2, plus its peak power of 200PS, reveal a machine sure to capture headlines as well as hearts in 2020.
 
The famous Z range itself is refreshed for the coming season with rider focused changes to the Z900 adding traction control, integrated rider modes and also the same style of TFT meter and all LED lighting, power modes and Smartphone connectivity as on the mighty Z H2. Add a more rigid frame in the swing arm area, newly enhanced acceleration and deceleration feeling allied to a tuned exhaust note and one of Kawasaki's best sellers in Europe just forced itself to the top of the pack again along with its A2 focused 70 kW (adjustable to 35kw) identical in appearance Z900 sibling.
 
And in the A2 or so-called entry level arena, the Z650 gets LED lights, a TFT meter as well for 2020 and, like all the TFT equipped Kawasaki machines, enjoys Smartphone connectivity using Kawasaki's Rideology app logging machine settings and – according to machine – a variety of other motorcycle and journey statistics.
 
Partnering the fresh and aggressive styling of the Z650 in the new year will be a refreshed Ninja 650 with an even more aggressive cowl behind which is placed the TFT meter panel. For passengers, the rear seat padding has changed on both the Ninja 650 and Z650 with a wider and deeper rear seat while the Ninja 1000SX receives updates to both the passenger and rider seating. As two of Kawasaki's top selling bikes in Europe – and responsible for bringing many new people to the world of two wheels – the Z650 and Ninja 650 are sure to make a big impression in 2020.
 
For the Ninja 1000SX, the refinements to the adaptable sports and touring package adds further to this highly popular machine with the addition of electronic cruise control, four selectable rider modes, a quick shifter, electronic throttle valves plus a more aggressive cowl styling treatment (with a 4-way screen offering increased wind protection) and sporty single silencer. For sure this is a Ninja and proud to sit alongside machines such as the Ninja H2 SX but it also has prodigious touring capacity thanks to optional 56l combined capacity colour coded panniers operating on a "one key" system along with the ignition and fuel cap key.
 
Ninja and Z heritage is joined in 2020 by a machine representing a model line stretching all the way back to 1966. The W800 completes a three-machine model offering for 2020 alongside the current W800 Street and W800 CAFE. Resplendent in chrome and polished metal, the W800 is equipped with a 19inch front wheel and – like the other W's for the incoming season – a new frame, tuned exhaust sound, new ABS brakes and a fuel tank with more volume. Already anticipating Euro 5 legislation, the W800 succeeds comfortably in looking forward while not ignoring its past.
 
Naturally, in terms of harnessing the corporate strength and achievements of the Kawasaki group for 2020 there is no sign more potent than the totally in-house developed and manufactured Supercharger at the core of the new Z H2 making a four-machine stable of Ninja H2, Ninja H2R, Ninja H2 SX and now Z H2.
 
Again, Kawasaki unveils new and diverse machinery at EICMA and again the effect will be compelling. Kawasaki at EICMA – Supercharge!