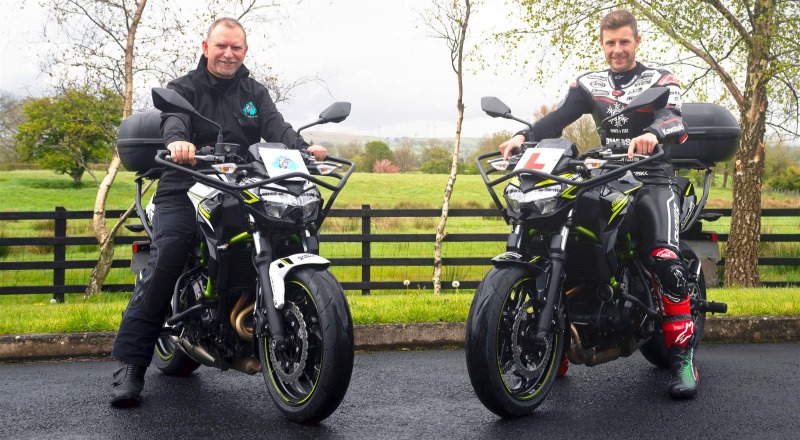 Six-time consecutive World Superbike Champion, Jonathan Rea, has achieved another of his personal goals by passing his UK motorcycle test.
Winner of the world championship at his first attempt on Kawasaki machinery when he joined the Kawasaki Racing Team in 2015, the 34-year-old native of Northern Ireland repeated the feat by passing his Compulsory Basic Training (CBT) and motorcycle tests both at the first attempt.
Undertaking one to one training with Stephen Mills of Moto Training, Rea learned new skills and new ways to ride on private training areas and the public road using a Kawasaki Z650 supplied by Moto Training as part of their accreditation as a Kawasaki approved KRTS training school.
It is not uncommon for professional riders at the highest level of motorcycle sport to have no full motorcycle licence but for Rea this is a pathway to greater things as he considers which machine to ride now that he has a huge range of choice.
Commenting, Rea told something of his journey while thanking Stephen Mills of Moto Training and hinting at what his next step as a fully qualified road rider might be.
"I am so happy and proud to have passed my motorcycle test. It's been something I have wanted to do for such a long time but with my sporting commitments and busy calendar it has been tough.
I took advantage of the lockdown due to the pandemic to study all the theory materials such as the UK Highway Code.
My priority was to reach out to an instructor that I would feel comfortable with and found Stephen Mills of Moto Training in Northern Ireland. He taught me all about riding a motorcycle on the road which is completely different to riding on a circuit.
You have to be much more aware as the environment is much less controlled and even I was able to learn new skills and techniques. The training has not just made me a better motorcyclist but also more aware when I am driving my car.
Now comes the pleasure of deciding which motorcycle in the Kawasaki range is perfect for me and my riding needs. I am pretty sure I know what fits my lifestyle and I will unveil my choice in the very near future."
A video record of Jonathan's training can be found on his YouTube page: Jonathan Rea