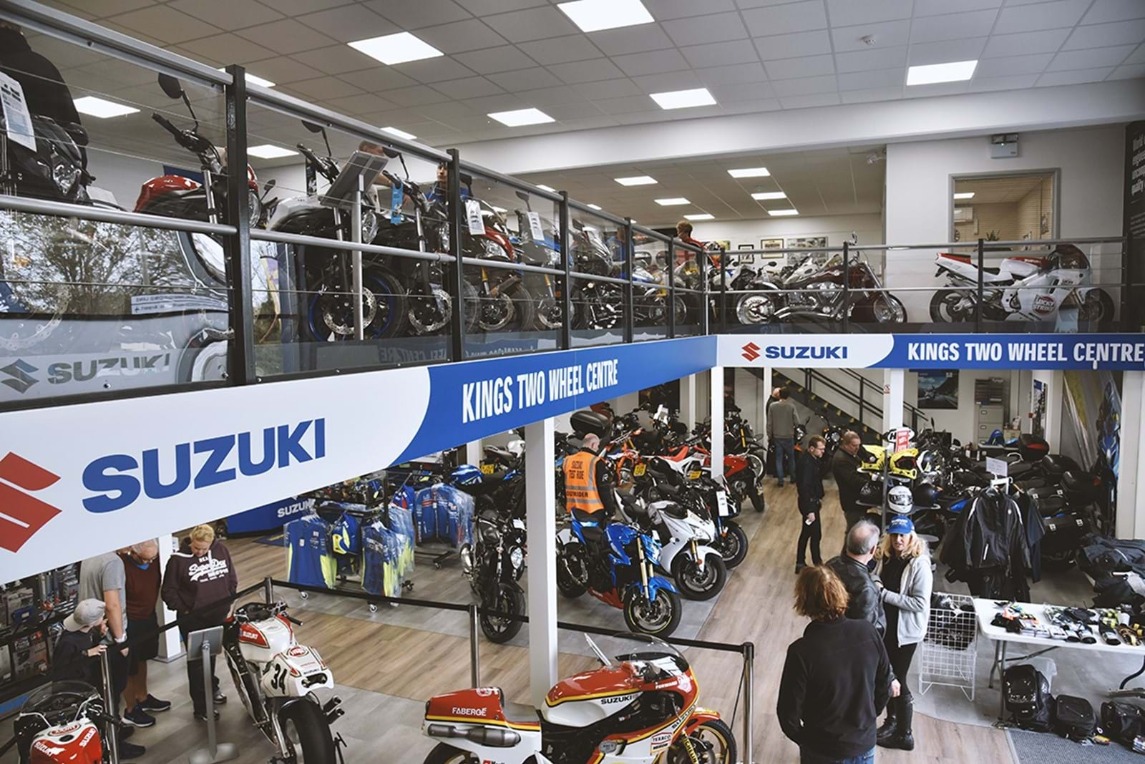 SUZUKI DEALERSHIPS TO OPEN ON JUNE 1
Suzuki's dealer network is set to re-open on June 1, and with the new V-Strom 1050XT in showrooms and a host of offers available across the range, it's the perfect time to head in.
Of course, despite the country's lockdown rules relaxing to a degree, Suzuki's dealerships will be following strict guidelines and practices around cleanliness and social distancing, plus the adoption of PPE where required, to ensure the safety and wellbeing of both customers and staff alike.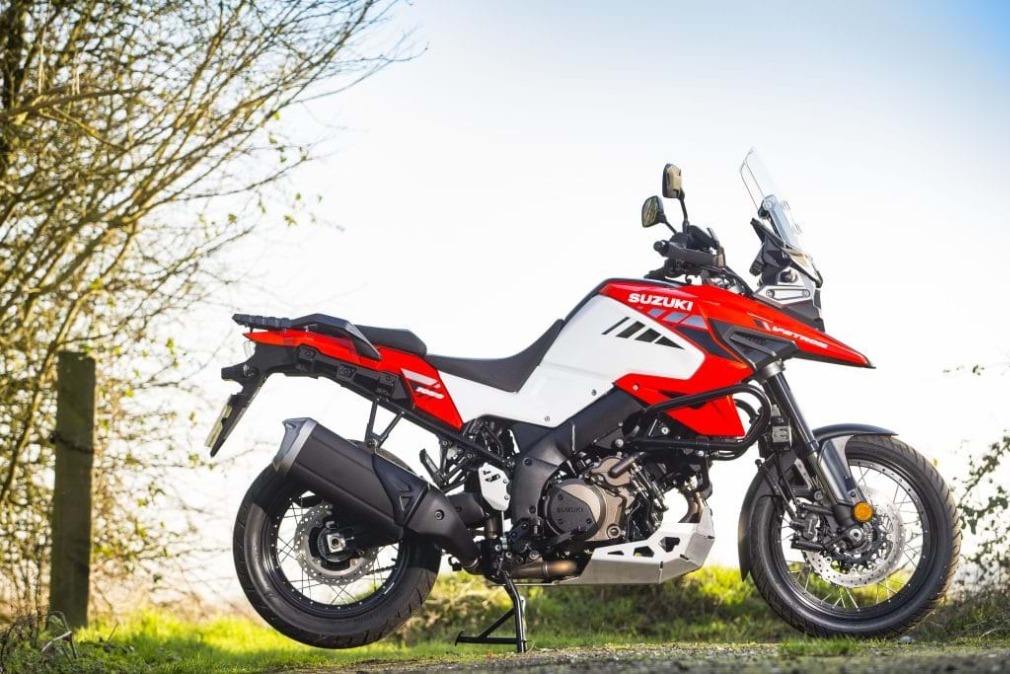 Yet with the new V-Strom 1050XT and V-Strom 1050 beginning to arrive in showrooms just prior to the lockdown coming to force, the re-opening will give many potential suitors their first chance to try one for size and take a test ride.
Suzuki is also currently offering 0% APR HP finance across much of its big bike range, as well as knocking £500 off the RRP to help customers get on a new Suzuki this summer.
Terms and Conditions:
0% APR offer applies to purchases of all variants of the GSX-R1000R, GSX-R1000, GSX-S1000F, KATANA, GSX-S1000, GSX-S750, and V-Strom 650/XT purchased from a participating Suzuki Dealership. HP finance only. Minimum deposit required: £500. Credit is available to UK residents aged 18 and over, subject to status. Suzuki Finance is a trading style of Suzuki Financial Services Limited. St William House, Tresillian Terrace, Cardiff, CF10 5BH. The purchase and registration of the motorcycle must take place between 01/02/2020 and 30/06/2020. This offer may be extended or withdrawn at any time.
 †To qualify for the £500 purchase contribution, simply contact your preferred Suzuki Dealer directly. Purchase and registration of your chosen motorcycle must take place between 27/04/2020 and 30/06/2020. £500 purchase contribution is available to both finance and non-finance customers. Offer may be extended or withdrawn at any time.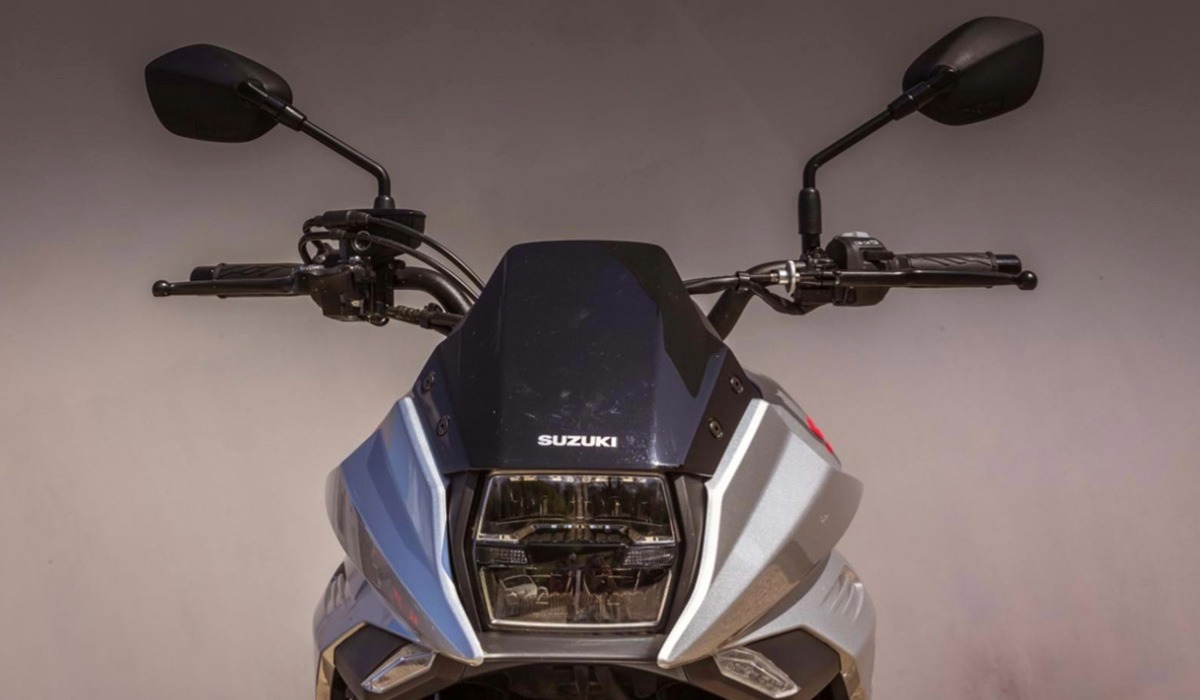 SUZUKI ANNOUNCES WINTER OFFERS INCLUDING 0% APR FINANCE ON GSX-R1000R AND KATANA
Suzuki has announced its winter offers, which run until the end of March 2020 and include 0% APR finance on a number of key models in its current on-road range, plus £500 off its 125cc motorcycles.
Suzuki's headline offer of 0% APR HP finance over 48 months is available on the range-topping GSX-R1000R and GSX-R1000, the new-for-2019 Katana, the GSX-S1000 and GSX-S1000F, GSX-S750 as well as the standard and XT variants of the V-Strom 650 – all with a minimum deposit of just £500 required.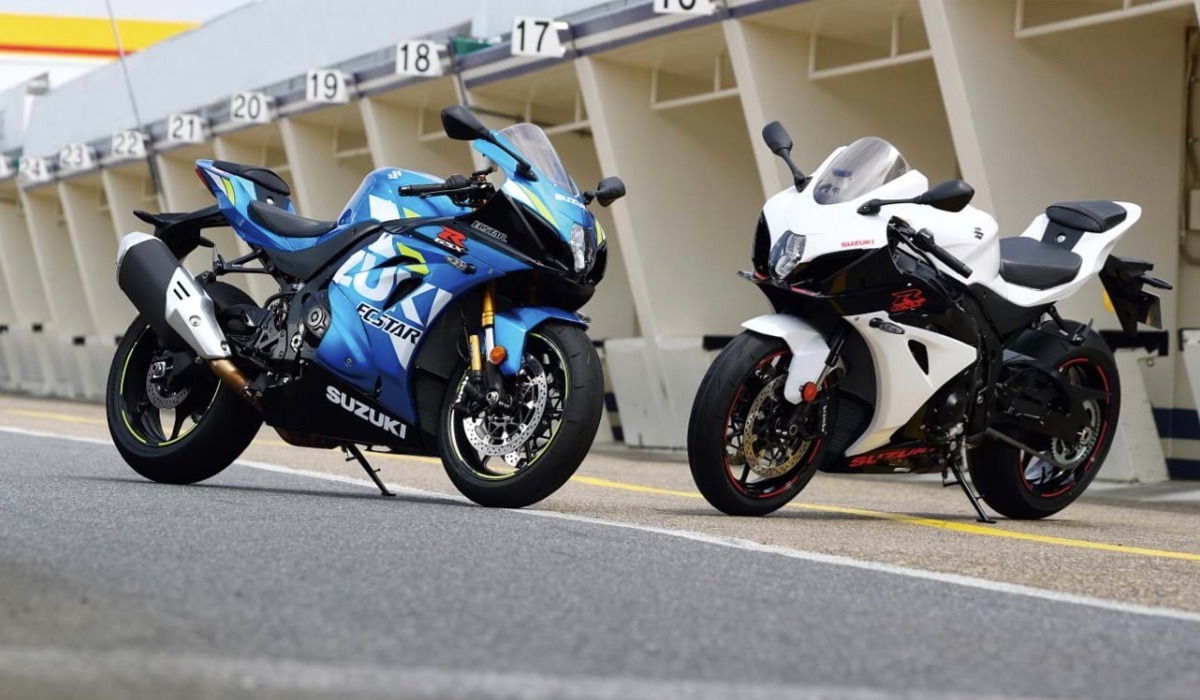 As a result, some of Suzuki's most popular models are now available with even more affordable monthly repayments, plus there's the added benefit that you'll be the owner of the bike once you've paid all the monthly repayments.
Those looking for a learner or A1 licence-friendly machine can benefit from £500 off Suzuki's GSX-R125 and GSX-S125 models, which lowers prices to £3,899 and £3,599 respectively until the end of March. Both bikes use a free-revving DOHC single-cylinder engine, with styling that echoes their larger GSX-R and GSX-S siblings.
For more information on the latest Suzuki promotions, visit our promotions page. 
Terms & Conditions: £500 minimum deposit. HP finance only. Credit is available to UK residents aged 18 and over, subject to status. Suzuki Financial Services Limited, St William House, Tresillian Terrace, Cardiff, CF10 5BH. This offer may be extended or withdrawn at any time.
THREE V-STROM 1050 ACCESSORY PACKS ANNOUNCED AHEAD OF SPRING ARRIVAL
Suzuki has announced three accessory packs for its hotly anticipated V-Strom 1050 and V-Strom 1050XT ahead of their arrival in March, and knowing everyone's idea of adventure varies, Suzuki has tailored its new kits to suit.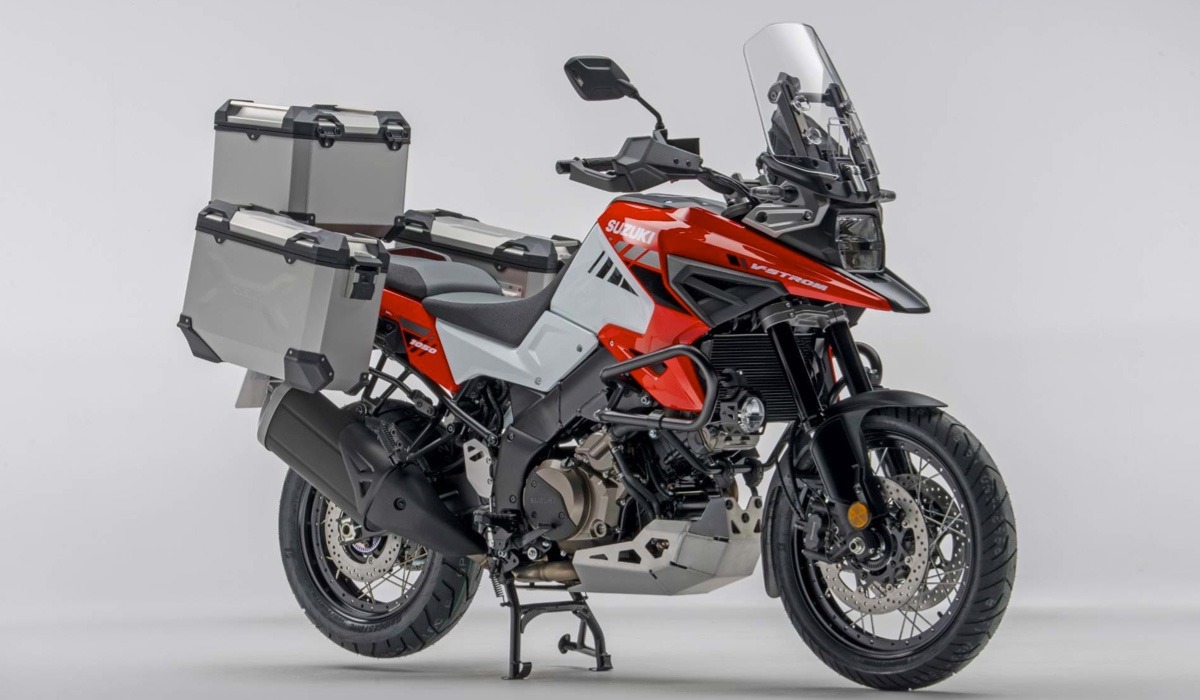 A fully-loaded Explore pack equips the DR-Z-inspired V-Strom 1050XT with full aluminium luggage, engine bars, LED fog lamps, aluminium bash plate, and heated grips. Ideal for those looking to cover big mileage and conquer rougher terrain, the Explore pack comes with an RRP* of £2,499 and represents a saving of £626 over the cost of the individual items.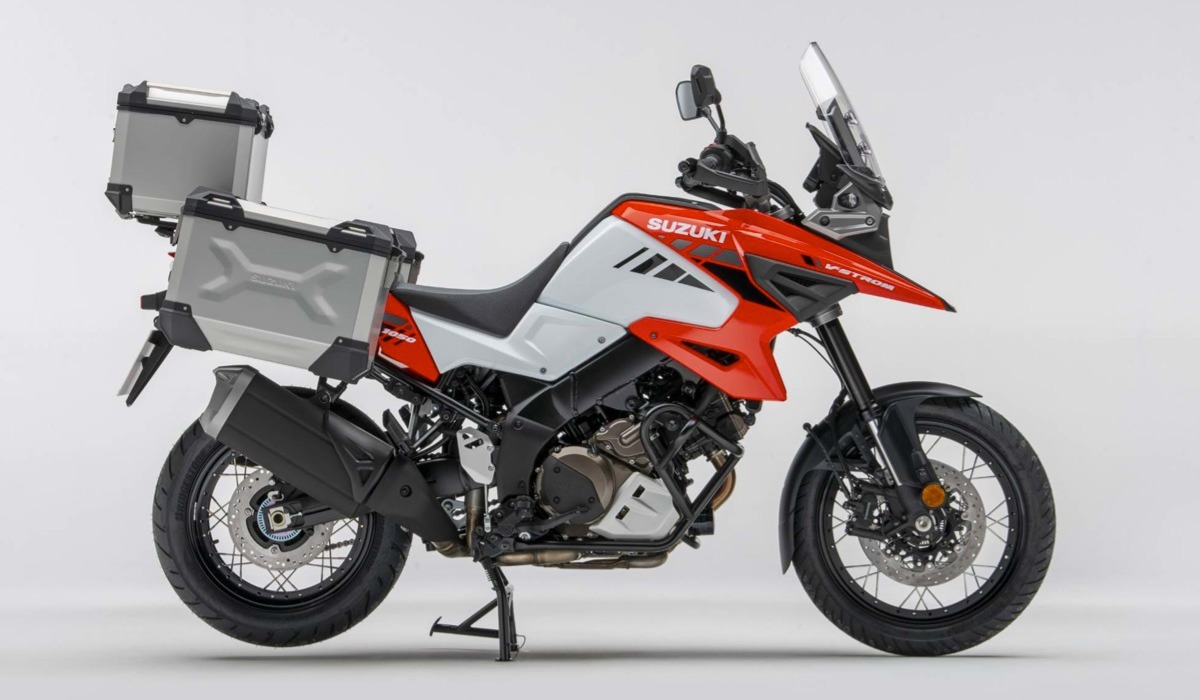 For customers plotting weekends away the Tour pack comprises full aluminium luggage and costs £1,299, meaning a saving of £316.  Those looking to exploit the V-Strom 1050s capabilities as a city tool can opt for the City pack which includes a spacious 55-litre top box and centre stand for £549, saving £115 in the process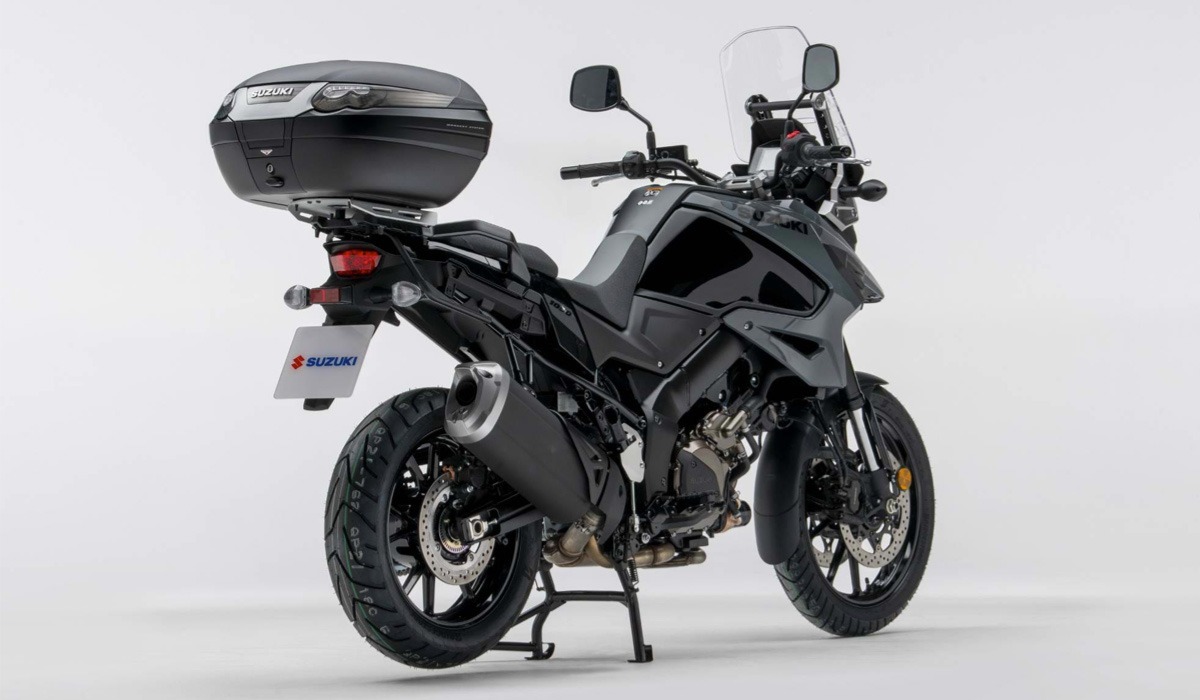 Suzuki GB's national motorcycle marketing manager, Ian Bland, commented, "We know a lot of owners want to add a personal touch or tailor their V-Strom to their specific needs, and by offering three different accessory packs that is now not only easier but also more affordable, too. The packs can also be fitted at the point of sale, and benefit from the same three-year warranty we offer across our range."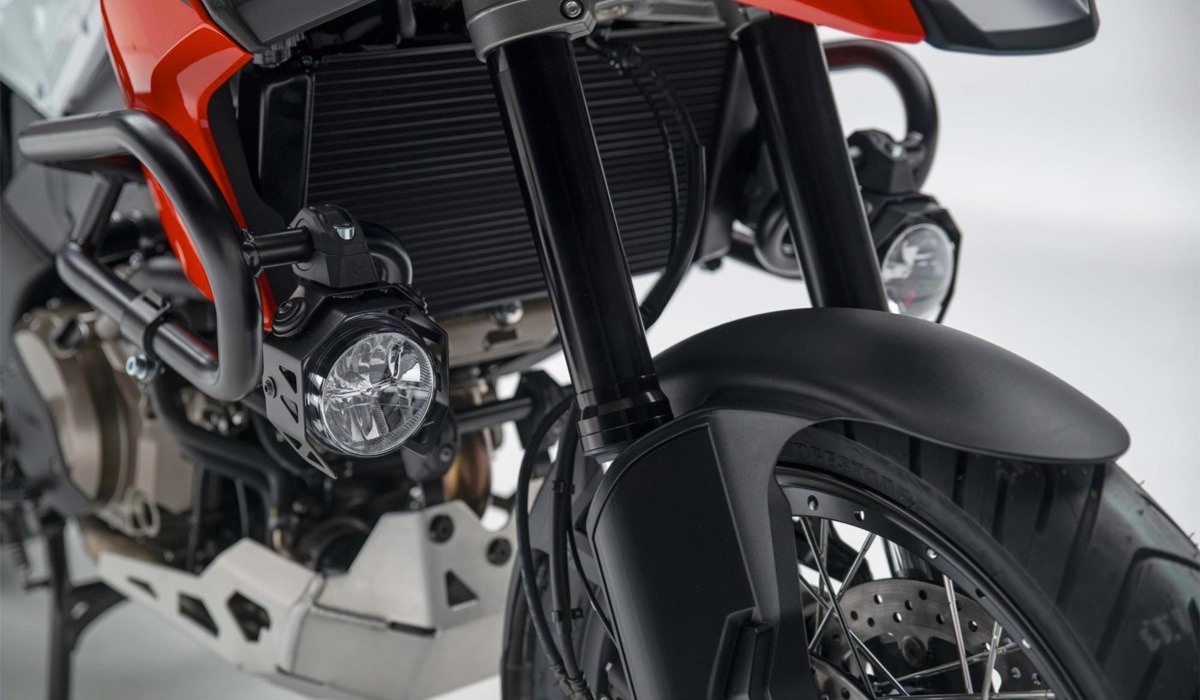 The new V-Strom 1050 and V-Strom 1050XT use an updated version of Suzuki's 1037cc V-Twin engine, the Euro5 version of the popular power plant producing 7% more power than the previous iteration. Both machines also get a three-mode traction control system and three selectable engine power modes.
An enhanced electronics package on the V-Strom 1050XT boasts Suzuki's Intelligent Ride System (SIRS), which, with a six-axis inertial measurement unit (IMU) at its heart, includes lean angle-sensitive ABS with two settings, linked brakes that can detect and adapt to load and inclines, plus hill hold control and cruise control.
*RRP excludes fitting.
Explore and Tour packs available on both V-Strom 1050XT and V-Strom 1050. City pack available on V-Strom 1050 only.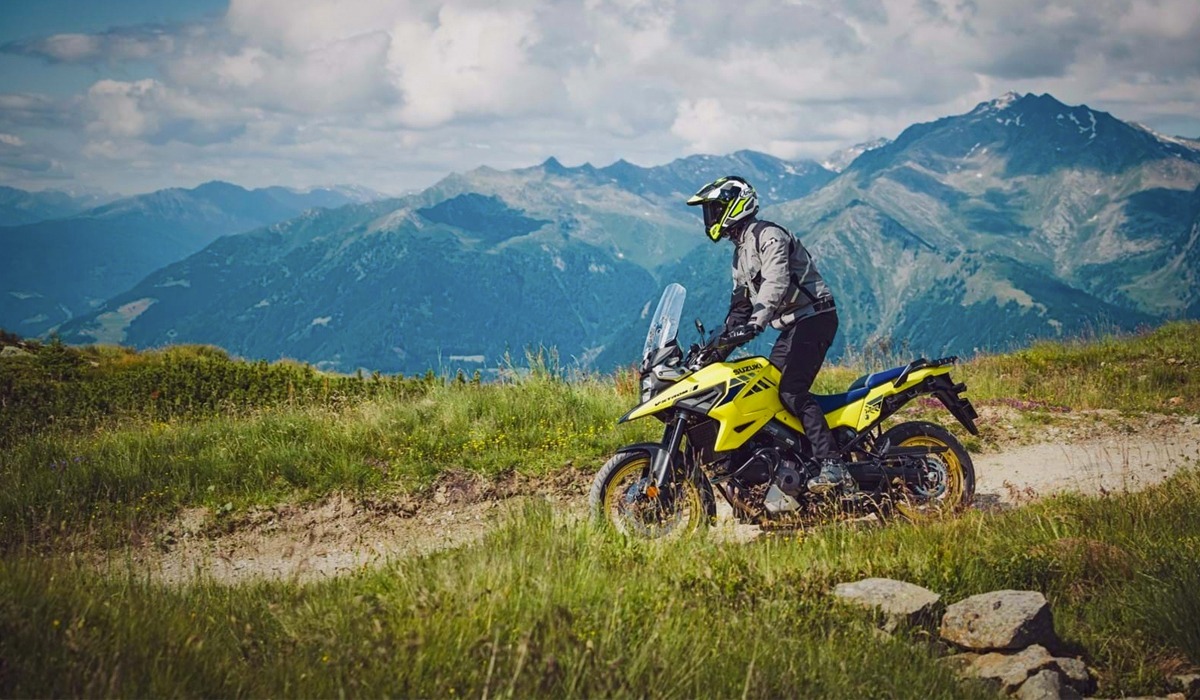 NEW V-STROM 1050 AND 1050 XT AVAILABLE TO ORDER NOW – PRICES START FROM £9,999.
Suzuki has announced pricing for its new DR-Z inspired adventure machine, with the V-Strom 1050 available for £9,999, while the flagship V-Strom 1050XT comes with an RRP of £11,299.
Both machines use an updated version of Suzuki's proven 1037cc V-Twin engine, which produces 7% more power than the outgoing V-Strom 1000 while meeting Euro5 regulations. Peak power is now 107PS. They also get a three-mode traction control system, that can be turned off, and three selectable engine maps.
The V-Strom 1050XT's electronics package is enhanced thanks to Suzuki's Intelligent Ride System (SIRS), which features an inertial measurement unit (IMU), lean-angle sensitive ABS with two settings, linked brakes that can detect and adapt to load and inclines, plus hill hold control and cruise control.
The XT also swaps the V-Strom 1050's cast aluminium wheels for spoked items, and boasts hand guards, engine bars, and a centre stand as standard.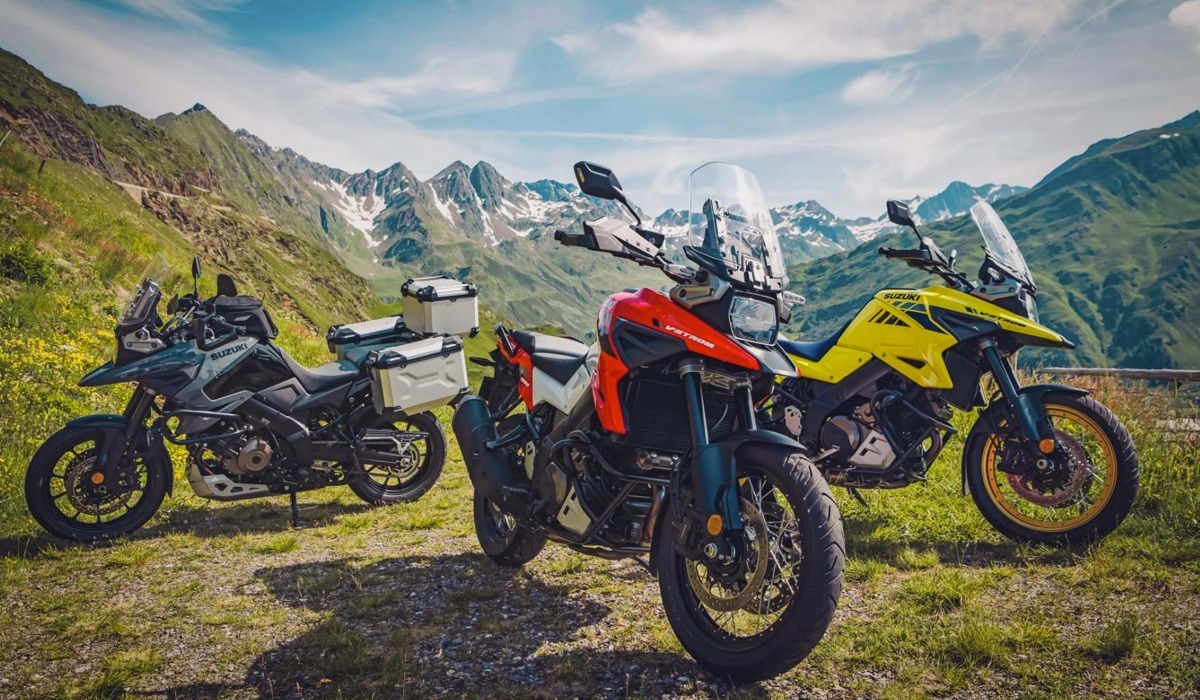 Announcing the pricing, Suzuki GB's head of motorcycles, Jonathan Martin said, "Suzuki's V-Strom range has always delivered exciting and dependable performance you can enjoy every day and everywhere while offering great value, and the new V-Strom 1050 and V-Strom 1050XT continue to do that.
"Available from just £9,999, it means it is the most competitively priced adventure bike over 1000cc, and means customers can enjoy all the benefits of the new V-Strom 1050s plus still afford to take off on some adventures on their new bikes."
The new V-Strom 1050 and V-Strom 1050XT are currently on display at Motorcycle Live, which is taking place at Birmingham's NEC until Sunday 24 November.
SUZUKI STAY WARMER WITH SUZUKI WITH 25% OFF HEATED GRIPS
Suzuki is helping riders stay warmer this winter, by offering 25% off all heated grips from 1 November 2019 until the end of February 2020.
Genuine Suzuki heated grips are available for the firm's V-Strom range, as well as the GSX-S1000 and GSX-S1000F, plus the entire scooter lineup, from Burgman 400 to Address 110.
The offer can mean a saving of over £80, depending on the model.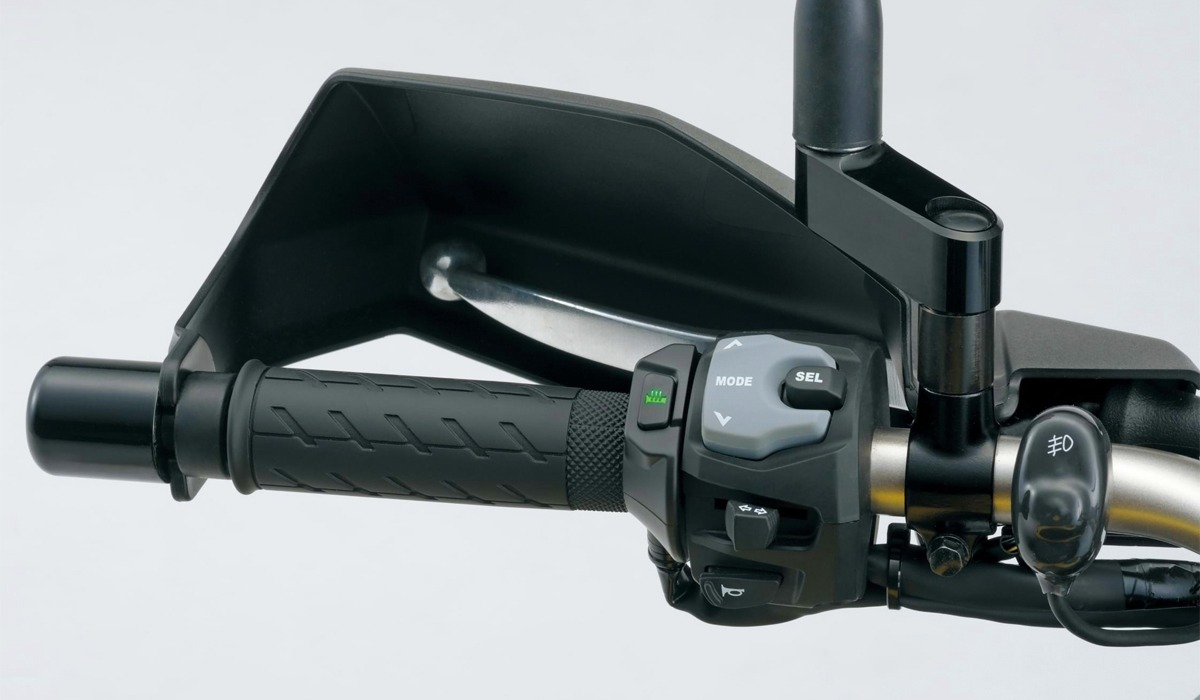 Suzuki's genuine accessory range also includes items such as centre stands, hand guards, top boxes and panniers, and taller screens.
SUZUKI DISPLAYS NEW COLOURS FOR 2020 AT MOTORCYCLE LIVE
Suzuki has displayed new colours for its 2020 model range at Motorcycle Live, which is currently taking place at Birmingham's NEC.
The GSX-S1000 super-naked – which uses the legendary GSX-R1000 K5-derived engine packed with grunt and character, housed in a lightweight twin-spar aluminium chassis and kept in check by a three-mode traction control system – comes in a new grey and matt black for 2020, set off by dark red accents and matching wheels, alongside a white version with blue detailing, and a MotoGP-inspired blue.
The same white and blue colour schemes are also available on the GSX-S750 and leaner-friendly GSX-S125. The 750 can also be had in a striking white, black, and dark red option, while the 125 is available in a standout matt grey and black. Both get red wheels.
An all black version of the GSX-S1000F – which adds a wind-cheating fairing and screen to the GSX-S1000 package to create the comfy sports bike – will be available in 2020, along with a blue and black variant and white version with subtle blue graphics.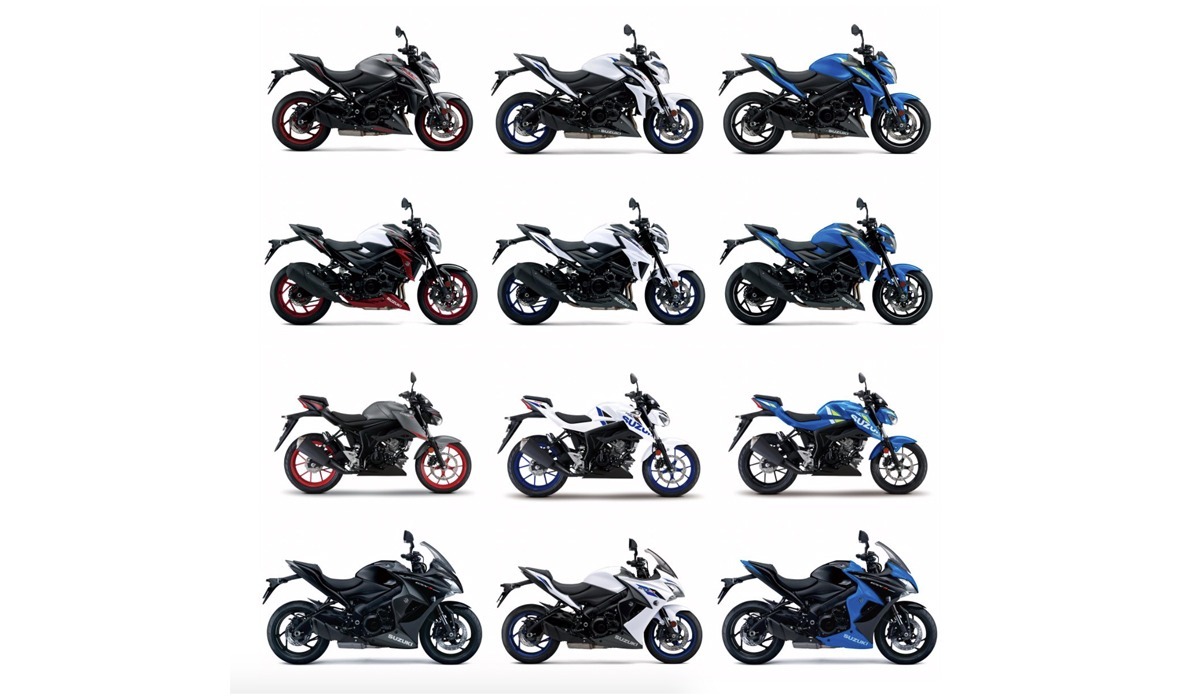 Three MotoGP-inspired liveries on the GSX-R125 – the race replica blue with white SUZUKI lettering, an inverted white with blue lettering, and a black with red lettering – match the liveries of the 2020 GSX-R1000R.
The GSX-R1000 also comes in the MotoGP blue, but is joined by a white and black version and an all-black edition.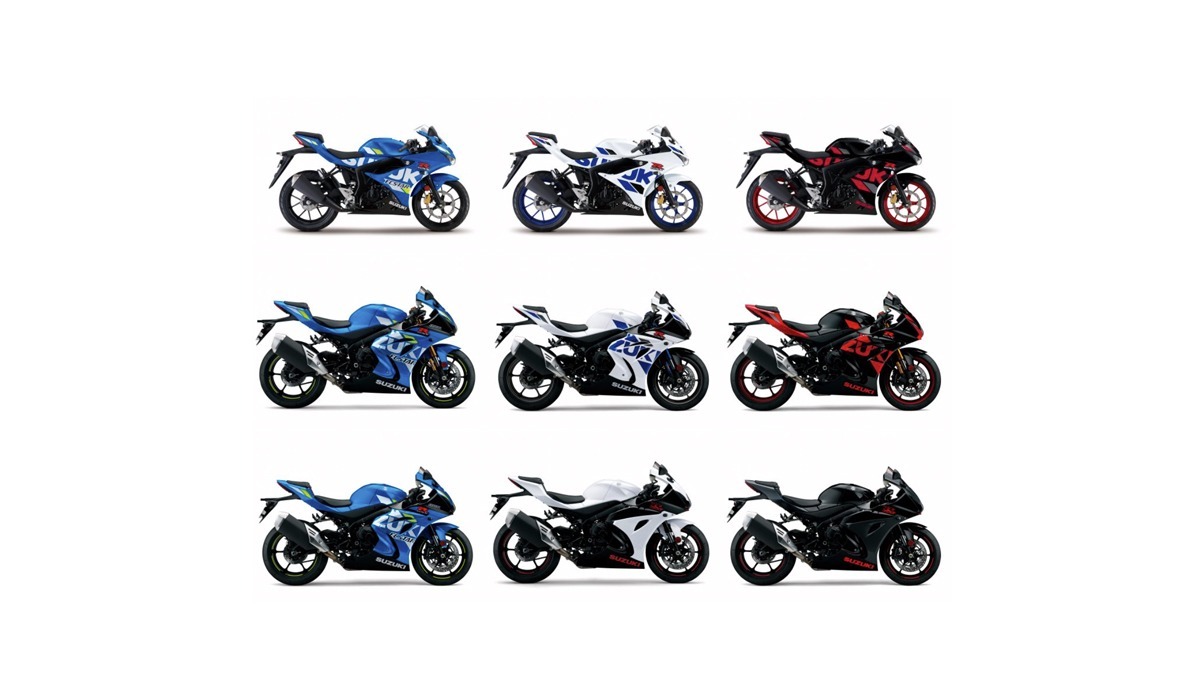 Off the back of launching its new V-Strom 1050XT and V-Strom 1050 at Eicma earlier this month, Suzuki has updated the colour options on the V-Strom 650XT and V-Strom 650 middleweight.
The more off-road focussed XT gets a revised version of the firm's motocross yellow with gold spoke wheels. A black model gets the same rims, while a blue version uses black wheels.
Three colour schemes for the V-Strom 650 include a white, black, and solid grey.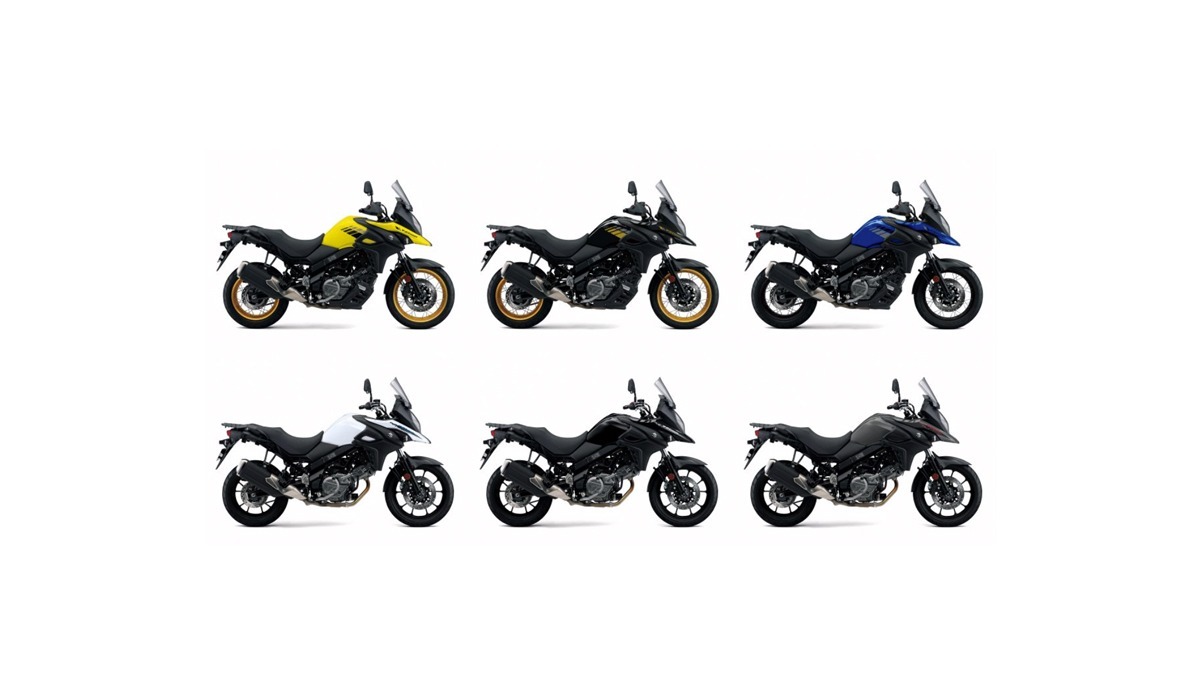 Suzuki's scooter range – which includes the Burgman 400, the original maxi-scooter – also gets new paint. The Burgman 400 can be had in white or black with classy dark blue wheels, or dark blue with black wheels.
White and silver are the options available for the Burgman 125 and Burgman 200, while the congestion-busting Address comes in a royal blue or dark blue, or gloss white.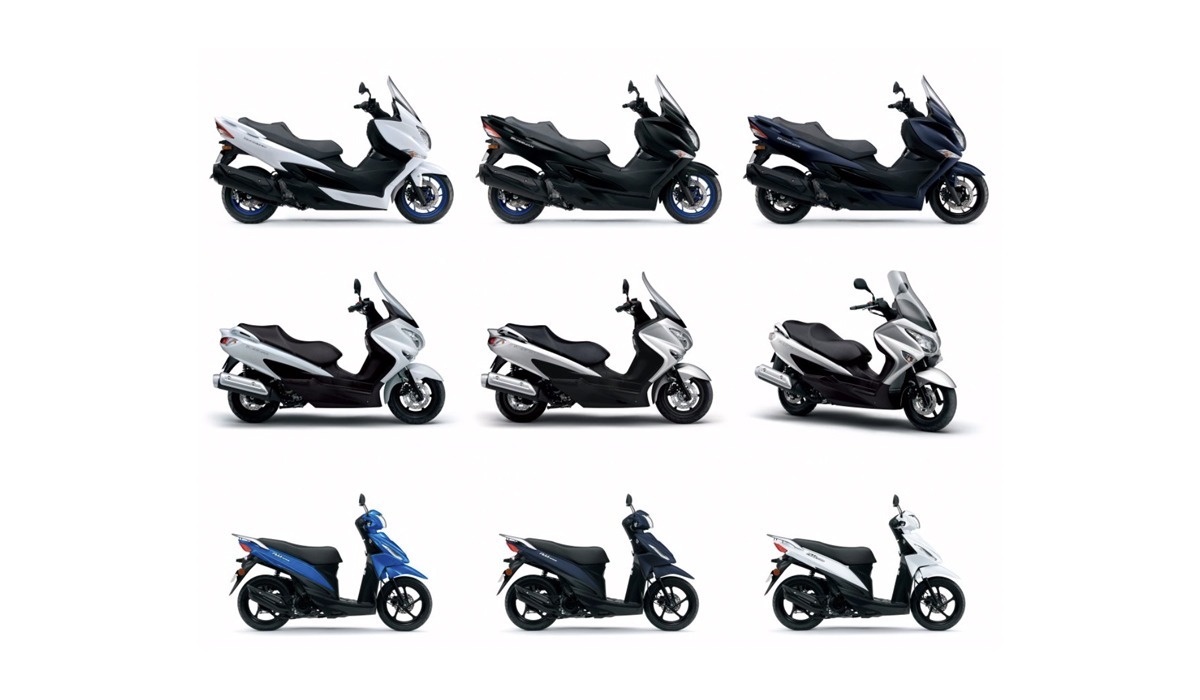 2020 colours for Suzuki's SV650 include a metallic silver and blue trellis frame, a matt black version uses a similarly striking red frame and wheels, while those looking for a more understated SV650 can opt for a gloss black model with black frame and wheels.
The café racer-inspired SV650X comes in black with a brown ribbed seat.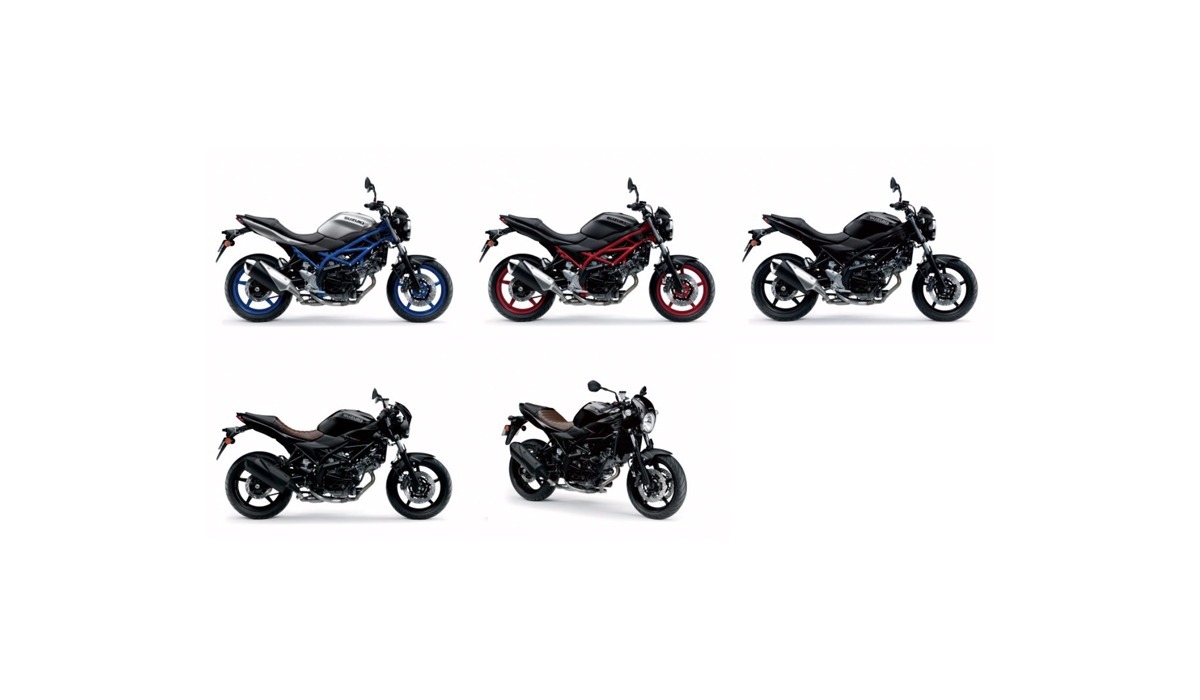 SUZUKI TO RESTORE MORE SHEENE BIKES AT MOTORCYCLE LIVE
Three more of Barry Sheene's race bikes have arrived at Suzuki GB from the family home in Australia, and two of them will be restored at this year's Motorcycle Live, which takes place at Birmingham's NEC from 16-24 November.
Watch the arrival and uncrating of the bikes in the video below:
Sheene's last Grand Prix bike – a DAF Trucks-sponsored 1984 Harris-framed XR45 RG500 – arrived alongside a 1978 XR27 RG500 and a special XR23A 652cc big bore RG500, raced in the Trans Atlantic series and F1 Championship in 1979.
In conjunction with Suzuki's Vintage Parts Programme, both the XR45 and XR23A will be refurbished and fired into life once again at Motorcycle Live, while the XR27 will be displayed alongside Sheene's 1976 and 1977 world championship-winning XR14s, both of which were also restored thanks to the Vintage Parts Programme in 2017.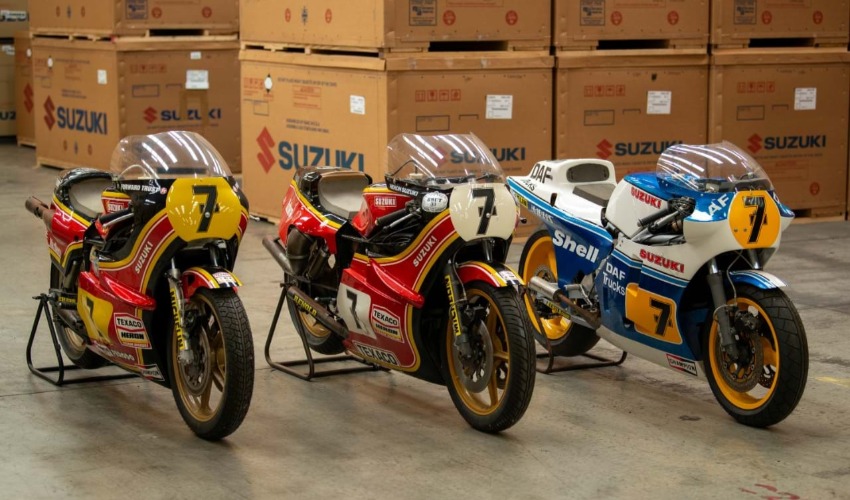 Suzuki GB aftersales marketing coordinator, Tim Davies, said, "This is another special moment for us. These bikes haven't been back in the UK since Barry and his family emigrated to Australia, so it's quite something to get them out of the crates and see them here again. But it's going to be even more of a special occasion when they live again, thanks to the restoration process which will be carried out by former '70s and '80s Grand Prix technician Nigel Everett and former mechanic for Barry Sheene, Martyn Ogborne. And it's a great opportunity for fans to again see, hear, and smell them as they would have existed at the time. We can't wait."
Launched in 2013, Suzuki's Vintage Parts Programme exists to help owners of older Suzukis keep their machines maintained or help with restoration projects, with a host of parts available from cylinders, pistons, and conrods, to a range of bearings and seals, and everything in between.
For more information visit https://bikes.suzuki.co.uk/vintage-parts-programme/

SUZUKI GSX-R1000 WINS NATIONAL SUPERSTOCK 1000 CHAMPIONSHIP
The Suzuki GSX-R1000 has won the 2019 National Superstock 1000 Championship at the hands of Richard Cooper and the Buildbase Suzuki team.
With two rounds to spare, a double victory at Oulton Park last weekend [6-8 September] gave Cooper an unassailable series lead in a championship where he has finished on the podium at every round apart from one, including 11 wins.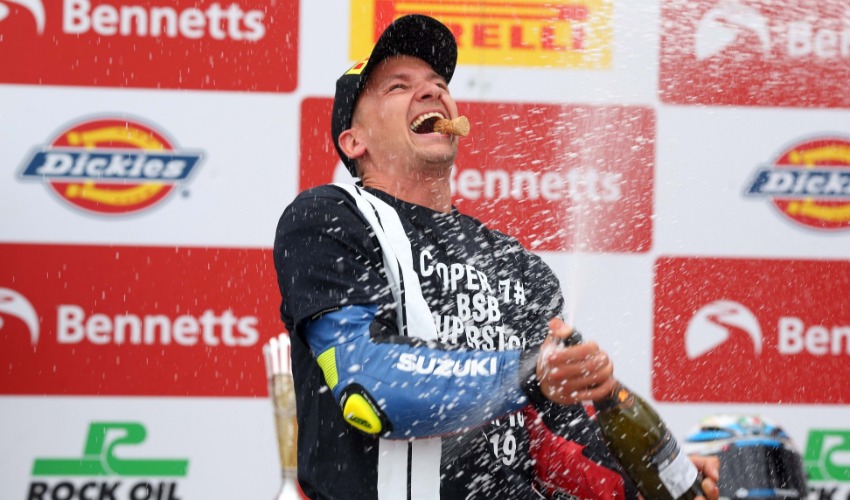 Cooper said after his title win, "It was ours to lose at Oulton but we approached the weekend in the same way we always do and in the way that's seen us on the podium at every round bar one. Honestly, we've hardly touched the bike from round to round because it's so rider-friendly. So then you're riding the same bike each time you go out and just get more and more comfortable and more and more confident and can go out and enjoy yourself.
"In my opinion we've got the best all-round package on the grid. Other bikes have their own strong points, but when you look at every element, every aspect, I think it's hard to argue otherwise, just because of how consistent and how strong it's been at so many different types of circuit."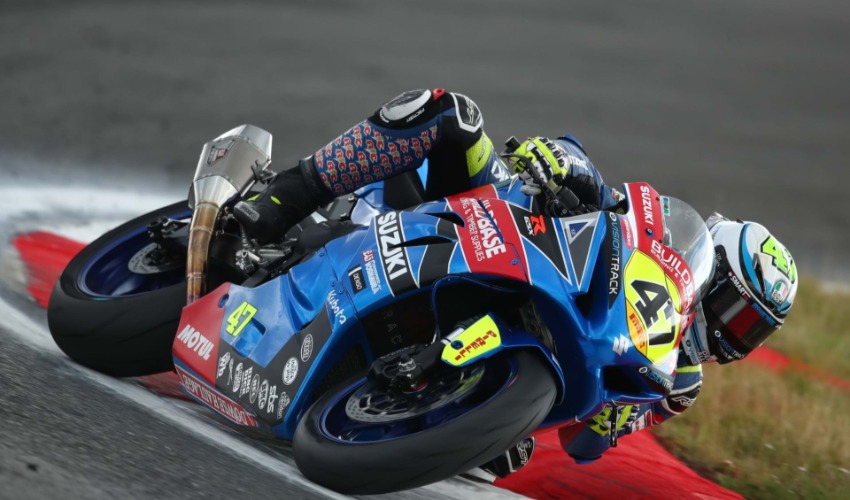 Suzuki GB head of motorcycles, Jonathan Martin, said, "The GSX-R1000 has proven itself as a competitive package since its launch, winning races and titles not only in the UK, but also across the world including MotoAmerica, Australian Superbikes, and around the Isle of Man TT course. The Buildbase Suzuki team turned it into a race-winner here at the first time of asking in 2017, and have now delivered an incredible title, for which we are incredibly thankful and proud."
The GSX-R1000 and GSX-R1000R – both of which are currently available on 0% APR finance – inherit a host of technology developed on Suzuki's GSX-RR MotoGP racer, including the inline four-cylinder engine's variable valve timing, chassis design, and suite of electronics that features a bidirectional quickshifter, 10-mode traction control system, and launch control on the R. The R It also gets cornering ABS, adjustable swingarm pivot and Showa's Balance Free suspension.
For more information on the GSX-R1000R, 
click here
.
NEW COLOURS FOR 2020 SV650AND ADDRESS SCOOTER.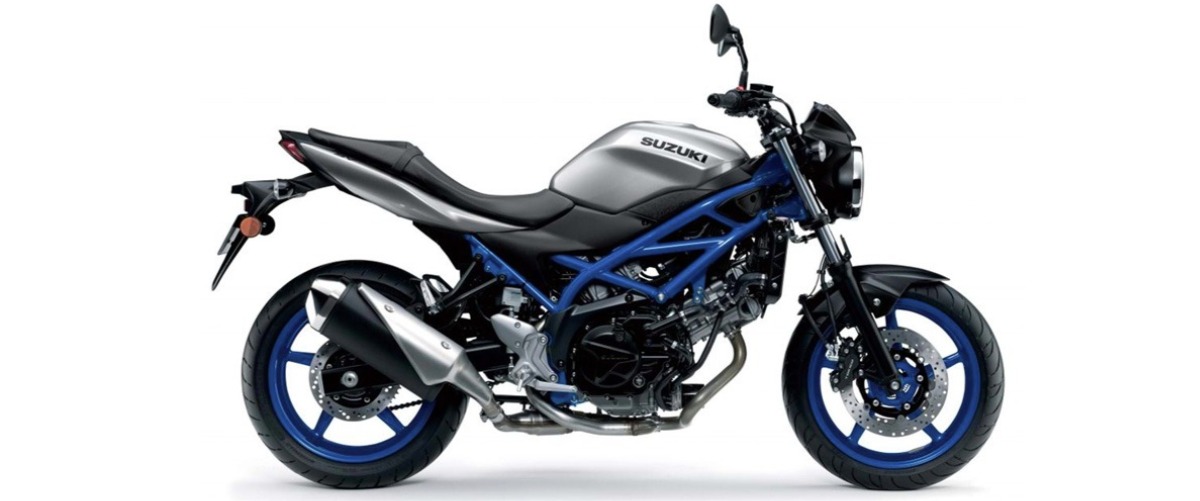 Suzuki has shown its new colour options for the 2020 SV650 and Address scooter, which are available from UK dealerships this month.
The ever-popular SV650 comes in a new metallic silver with an eye-catching blue trellis wrapped around its punchy 645cc V-twin engine and blue wheels. A matt black version uses a similarly striking red frame and wheels, while those looking for a more understated SV650 can opt for a gloss black model with black frame and wheels.
Boasting 135mpg, the frugal and congestion-busting Address scooter also comes in a trio of colours for 2020. A simple pearl white is joined by a bright Suzuki blue, plus a classy, dark, matt stellar blue option.
The 2020 SV650 comes with an RRP of £5,999, the Address is available for £2,199.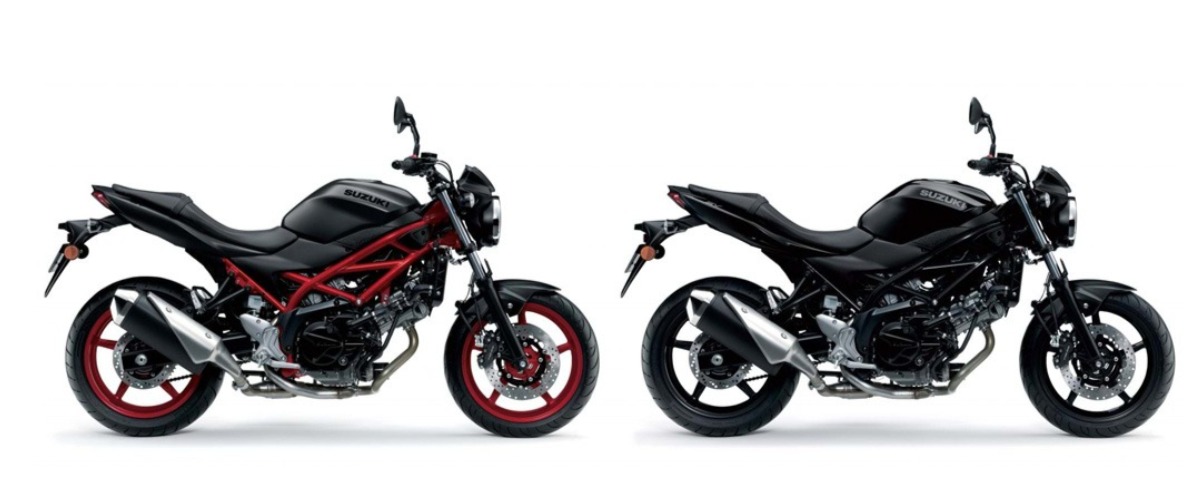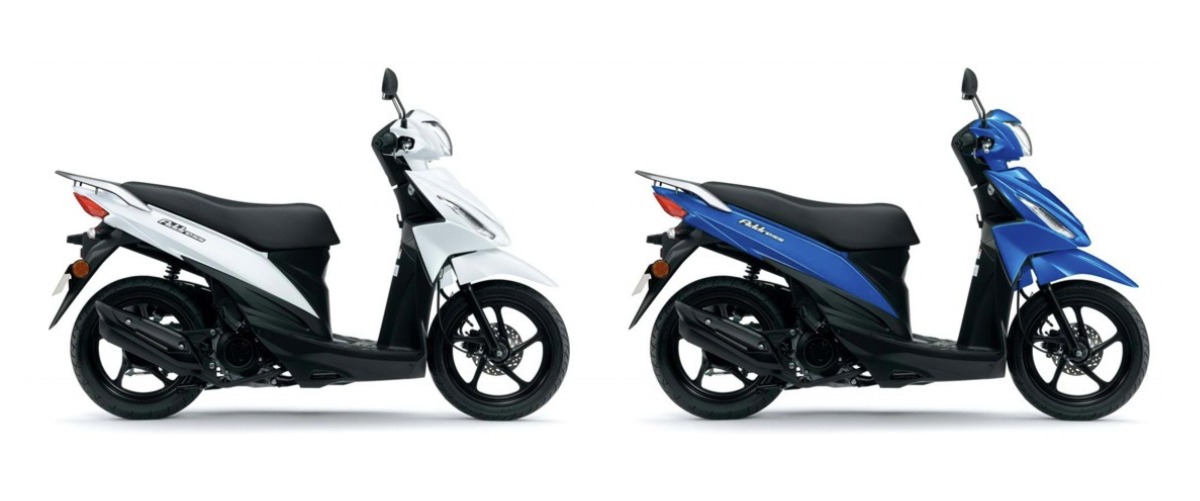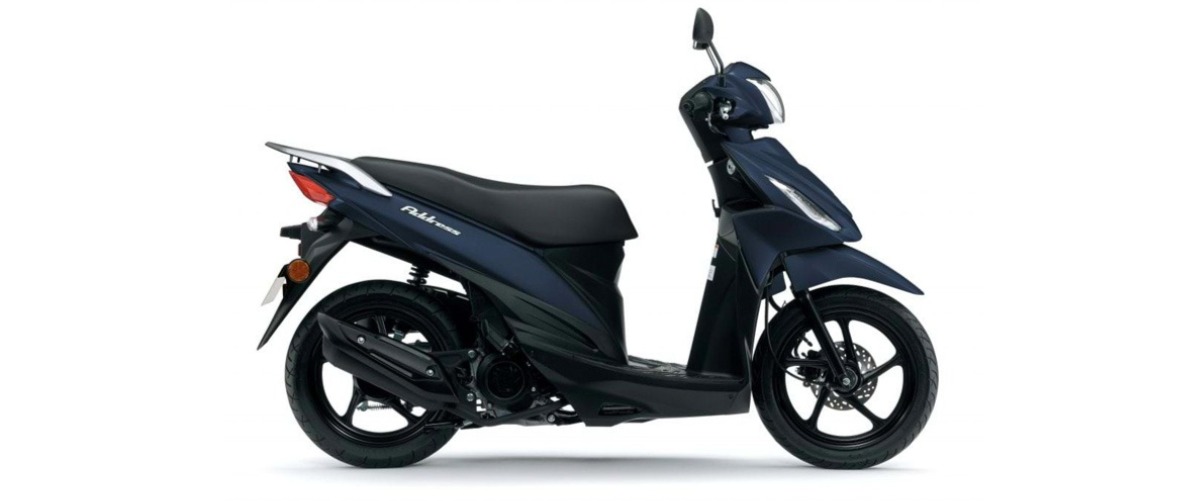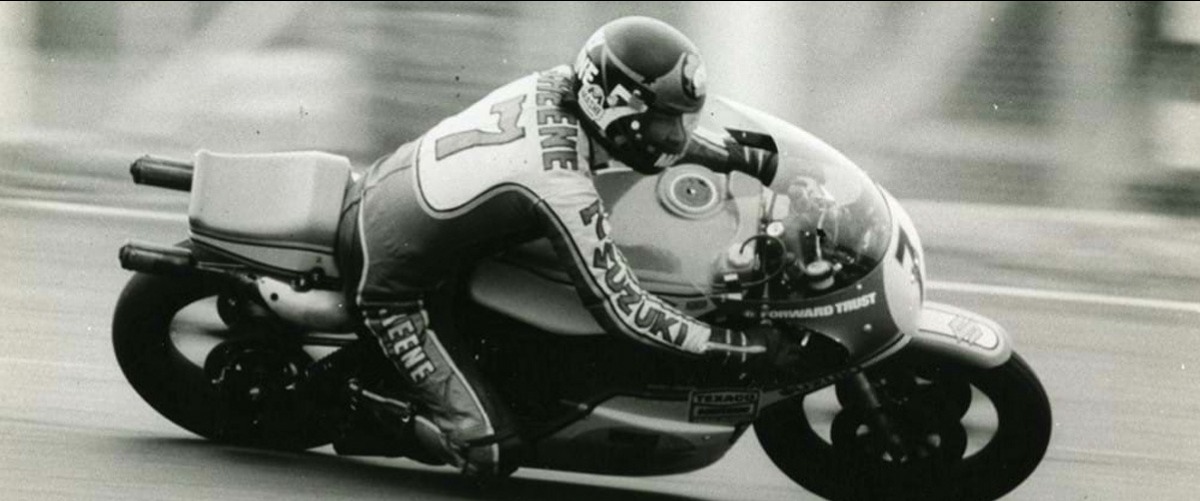 Over 40 years ago Suzuki changed the face of 500cc GP racing with the release of the two-stroke square four XR14. This, and subsequently the legendary customer RG500 went on to win seven consecutive 500GP championships, four rider world titles, and allowed privateers to compete for GP glory on an equal footing with factory teams for the first time. One of the men responsible for this machine was Makoto 'Big Mac' Suzuki who, alongside Makoto Hase, developed and built the RG500 that in 1976, with Barry Sheene onboard, delivered Suzuki its first 500GP world title.
In the early 1970s, the thought of entering 500GPs with a two-stroke motor was laughable. 'Smokers' were confined to the tiddler classes. However despite all this, in 1974 Suzuki went against convention and entered the championship using a 500cc two-stroke that would go on to dominate the world.
"People thought we were crazy as two-stroke engines were only used on small bikes, but that was all Suzuki knew, we didn't build four-strokes," remembers Makoto Suzuki. "The decision was made for us, we had no option so we looked at our small capacity bikes. We had already built square four and V4 125cc and 250cc race bikes, so we upsized them. We started the project in 1973 with the target of being ready for the 1974 season and only had four people were working on it – two for the engine and two for the chassis."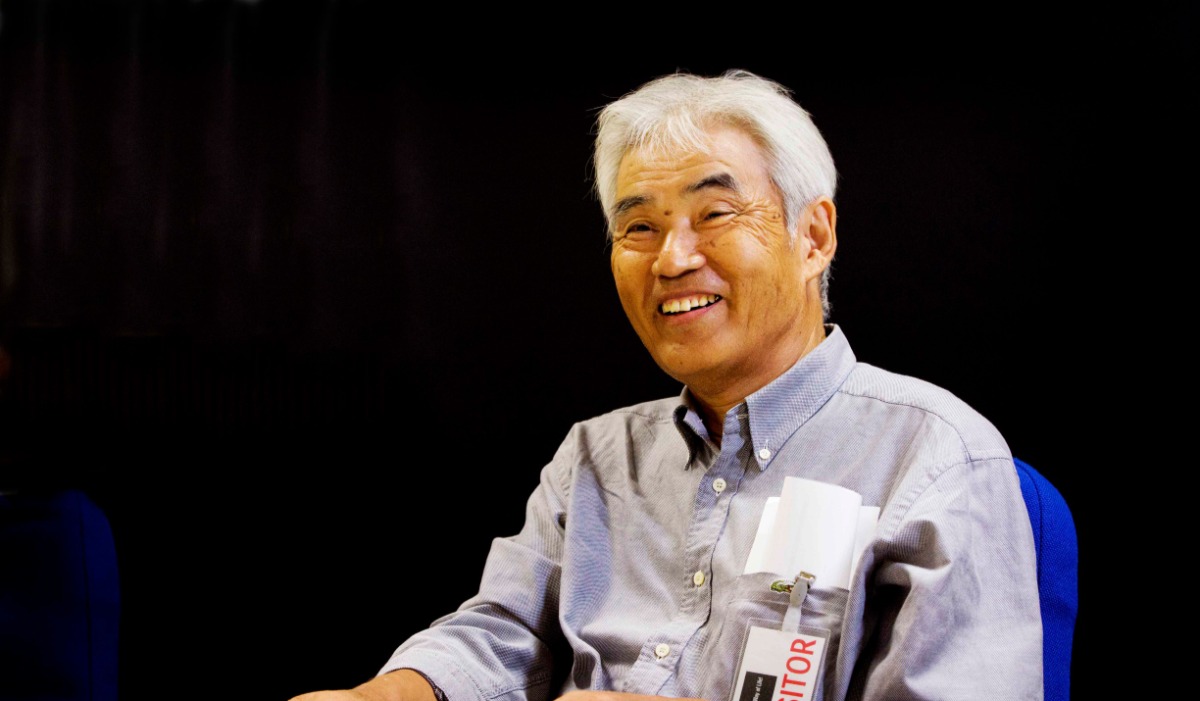 Although nowadays GP racing has reverted to four-stroke, the bike that Suzuki built demonstrated that two-strokes are very good at producing power. While this was good news for the engine's development team, the chassis engineers were faced with some tough challenges.
"With the bike we aimed for over 100bhp, but it made 110bhp in the end," said Makoto Suzuki, "which would have been an issue for the chassis had we not been racing the XR11 in America. The XR11 was a 750cc triple with lots of power so we had all the chassis issues with this bike. In America we suffered torn tyres, snapped drive chains, overwhelmed suspension, it was terrible, the chassis development was so far behind the engine.
"For the RG500 we used the knowledge from the XR11 to build a good chassis, however the engine was very hard to ride and peaky. The power was produced from 8,000 – 10,500rpm, that was it, but the GP mechanics at the circuit could alter these characteristics with exhausts and jets at the circuits. At that time there was a lot of experimentation and development happening, we were looking for inspiration from everywhere, even household items.
"The original exhaust end cans on the RG500 were modified green tea cans, they looked the correct size so I introduced this technology into the GP bike."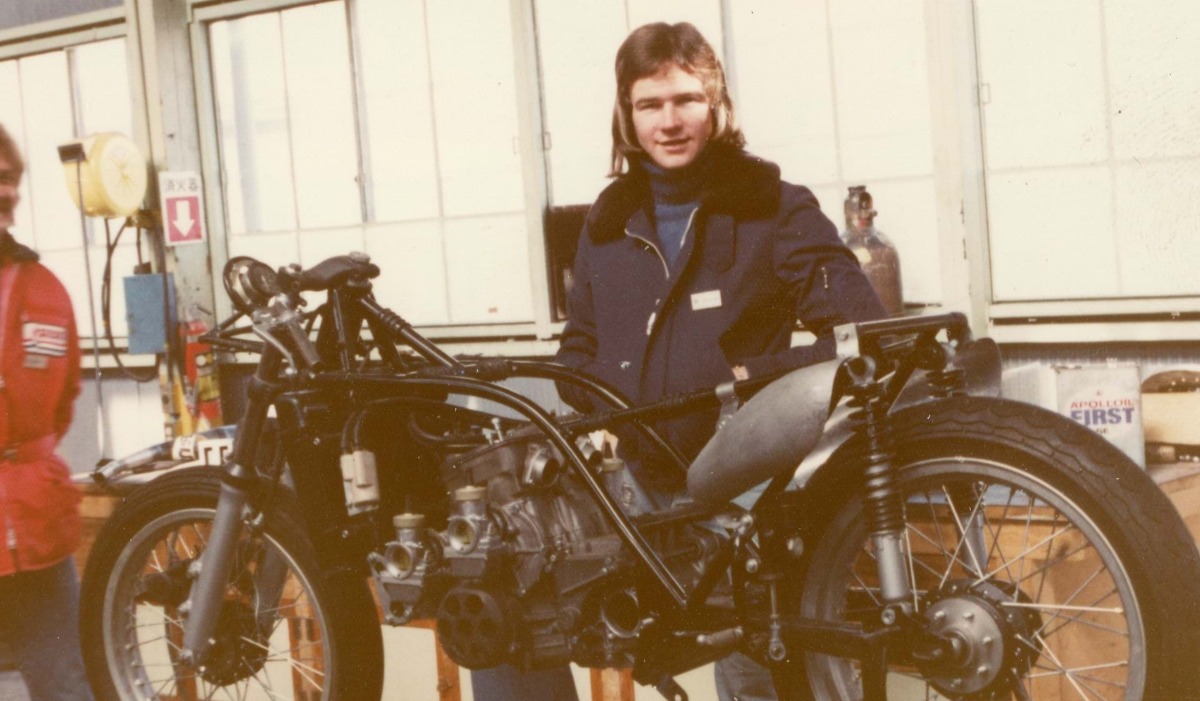 Success was quick to arrive for the RG500 and in its debut year Barry Sheene rode the XR14 to its, and Suzuki's, first 500GP win at the Assen. Two years later he brought Suzuki its first 500GP world title, however for the RG's development team, it was the constructor's title that came alongside the rider's title that meant the most.
"For Suzuki the most important thing was the constructor's championship, not the rider's one. If your rider wins you can only say the rider is a world champion, if you win the constructor's championship you can say 'Suzuki is world champion'. This drove Barry mad, he would get very upset because the privateer bikes were identical to the factory ones! For Suzuki it was excellent, we won seven constructor's championships in a row," laughs Makoto Suzuki.
With the RG500 Suzuki made a radical decision – they would release a privateer bike at a cost of £12,000 each that were identical in specification to the factory machines. With a grid full of RGs, the constructor's title was all but assured.
"The only difference was the fact the factory bikes had titanium or magnesium fasteners where the production bike had steel or aluminium ones. The engine was 100% identical, we just changed the name from prototype to production. You could buy a production RG500 and win a GP, as Jack Middleburg did in 1981. That was the last time a privateer won a 500GP, however he rode an RG500 Mk VIII based on the XR22. You can imagine Barry Sheene's frustrations."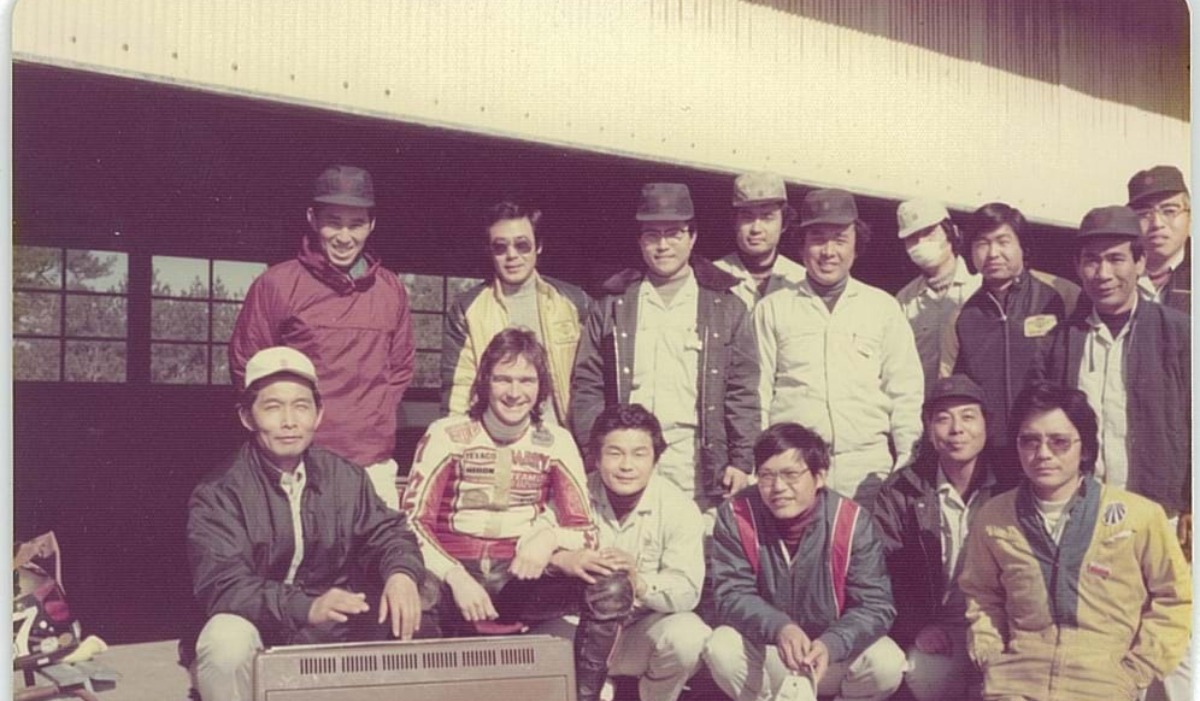 With the 1976 and 1977 titles in the bag thanks to Barry Sheene, 1978 saw Suzuki face tough competition, and upgraded the XR14 to the XR22 with its 'step motor'. This engine used the first 'cassette gearbox' on a motorcycle, a feature that is common to most engine designs nowadays but was radical technology in 1978, designed following input from the McLaren F1 racing team. However, it was developed back in 1976, but it didn't see the light of day until 1978.
"Barry won the 1976 title on the XR14 but we held the XR22 back in 1977 in case other manufacturers came out with something special," explains Makoto Suzuki. "Yamaha in particular were a concern, but only unveiled exhaust valves and so we kept it hidden until 1978. Also, our customer RG500 was proving very popular and we didn't want to detract from it, although we also needed to beat it as privateer riders were starting to challenge the factory ones.
"People had developed their XR14s so well they were incredibly fast and more than capable of matching the XR22. The power was not so different with the XR22 when compared to the XR14, they both made around 124bhp, however the engine was lighter which made the bikes handle better. Weight was a big factor in GPs in the 1970s and 1980s as despite there being a minimum weight of 100kg the bikes would never match this, the best we got was 108kg. With 124bhp and 108kg, the XR22 was quite a beast!"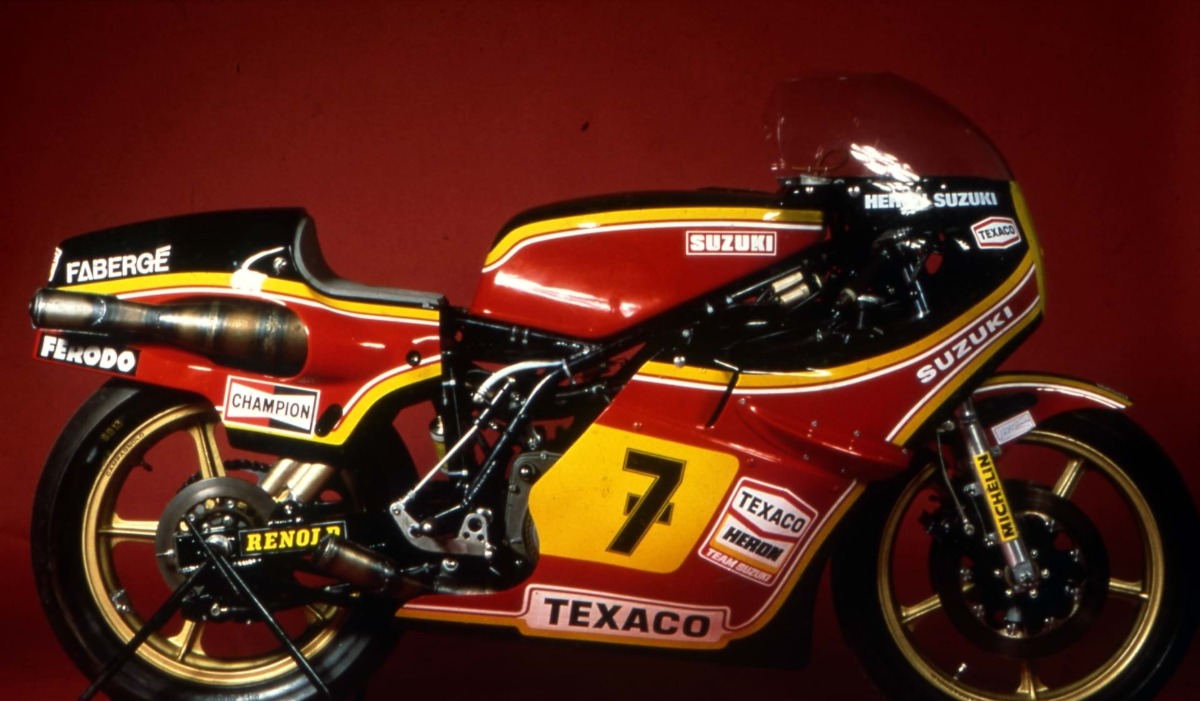 After developing the XR14 and subsequently the XR22, Makoto Suzuki was eventually able experience the power first hand.
"I rode the XR22 for half a lap in Japan and only once – that was enough for me. I pulled out of the pits and rode around a 200-degree corner and the rev counter wasn't even registering as it started at 5,000rpm. On the straight I opened the throttle, the revs suddenly appeared, the bike wheelied and I pulled in. It was terrifying. I really appreciated the skill riders such as Barry Sheene had"
The square four design went on to dominate 500GP racing, taking two more world titles (1981 with Marco Lucchinelli and 1982 with Franco Uncini) and winning a total of 50 races alongside the seven consecutive constructor's championships. But everything has to come to an end and in 1987 the square four RG500 was replaced by the V4 RGV500, something that was inevitable due to the fact the competition were all now using two-stroke motors.
"The square four had very good weight distribution and a lot of power. It is a simple engine but one that was reliable and worked very well, however it was limited in its power output, which is why it was replaced by the V4," explains Makoto Suzuki. "The inlet port was limited in space, however on a V4 it is not. The more fuel and air you can get into an engine the more power you get out, which is why the introduction of the V4 boosted power from 133bhp to over 145bhp instantly."
Suzuki GB recently restored Barry Sheene's world championship-winning XR14s to their former glory. Watch the two-part video documentary below.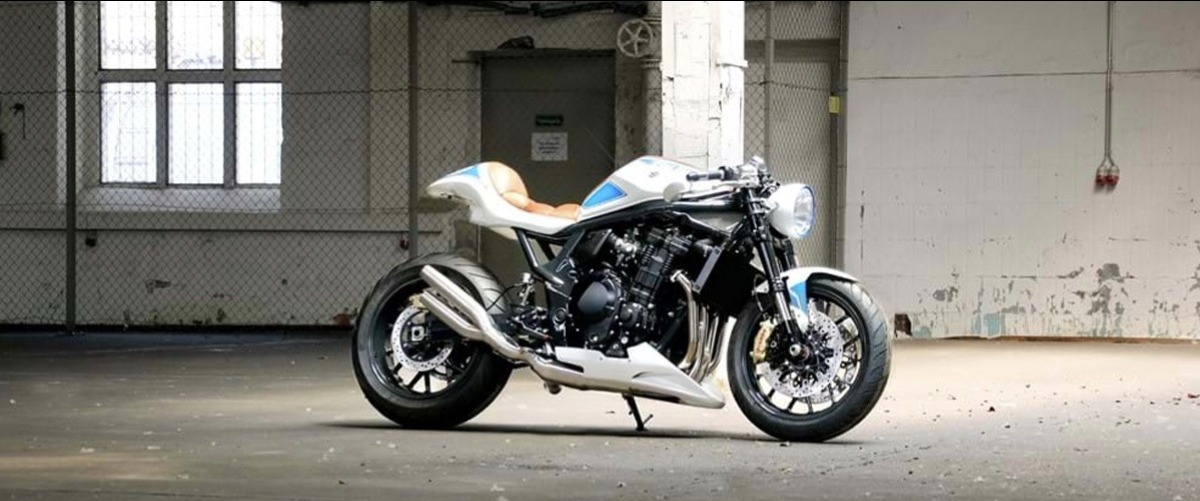 DESIGNING THE SUZUKI' FATMILE'
The Bandit 1250-based 'FatMile' was designed using what the Japanese call Senpai-Kohei, where a young designer with new and fresh ideas is brought together to work with an experienced designer who will guide and direct them. For the FatMile designer Daniel Händler teamed up with legendary Suzuki designer Hans A. Muth, architect of the iconic Suzuki Katana.
The bike was initially built for the Glemseck 101 festival in Germany; one of the biggest café racer gatherings in Europe. Since then it has done the rounds at Intermot, EICMA and Motorcycle Live.
To stay true to the Senpai-Kohei design principle, Suzuki deliberately opted to buck the obvious trend of working with a big design studio or well-known customiser, instead putting its faith in Händler to steer the project with Muth overseeing the process.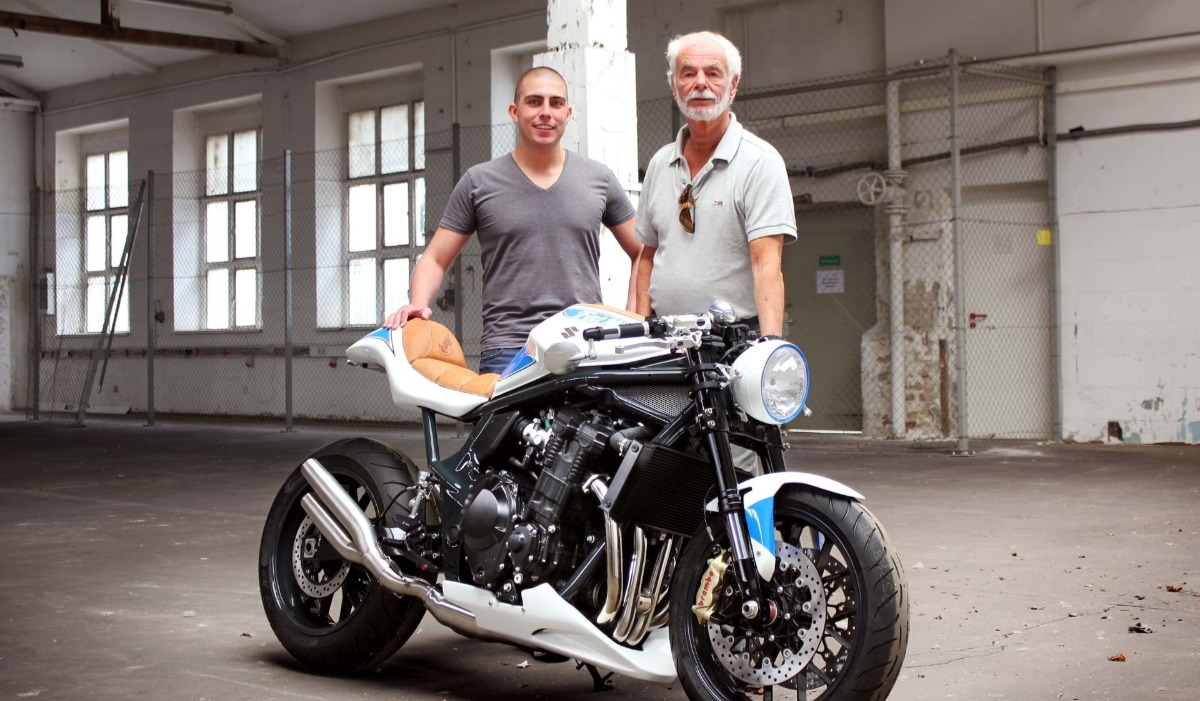 "Of course we took a certain risk with this decision," admits Gerald Steinmann of Suzuki Europe. "When you hire an established design agency or world-famous custom builder hardly anyone will come out with criticism. But we consciously took this different approach and chose a solution in the Japanese tradition. Looking at the FatMile now I am convinced we did the right thing."
A number of donor bikes were considered for the project, with the Bandit 1250 eventually becoming the starting point.
"We looked at a number of options," Händler explains. "But, along with the GSX-R, the Bandit series is an iconic series for Suzuki, so this is why we chose it."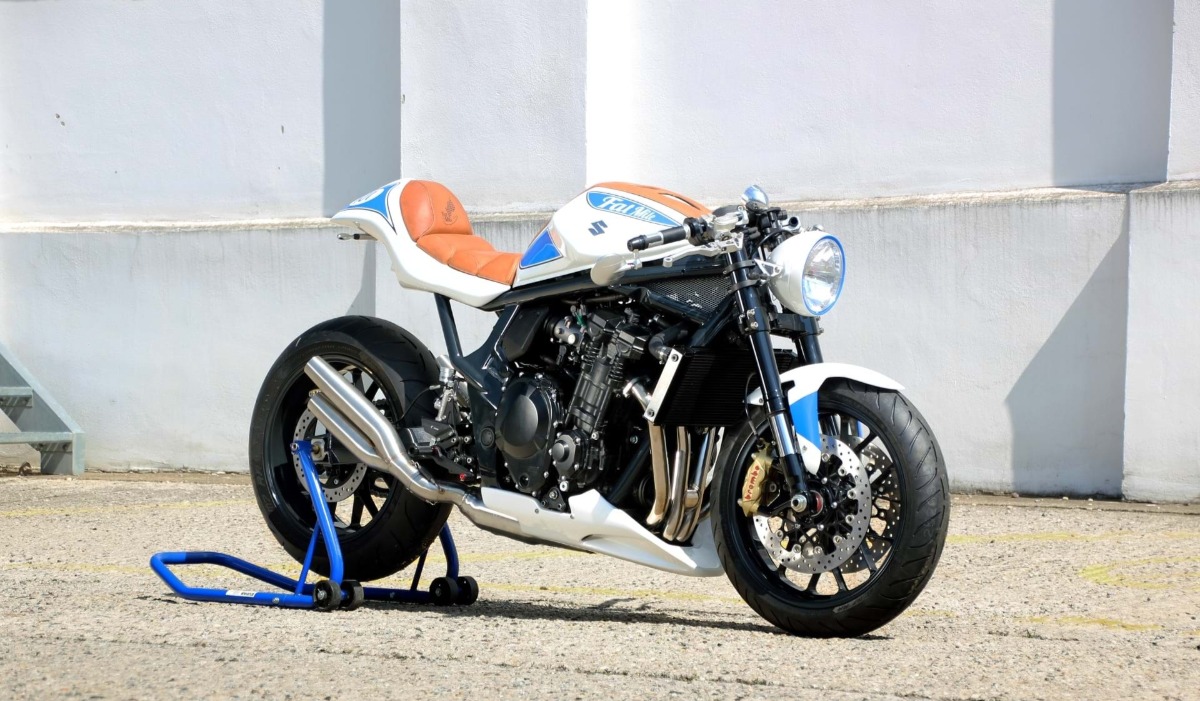 With Händler bringing the innovation and fresh approach, responsibility fell to Muth to guide him on his ideas, designs, concepts and finally implementation when it came to building the FatMile. Muth also had an eye on preserving the Suzuki design identity.
Händler continued, "In this project Mr. Muth was an extremely good tutor for me. At the beginning of our cooperation we shut ourselves away for three days to only talk and outline the FatMile project. That was enormously motivating and instructive for me."
Muth added, "Mr. Händler is full of good thoughts and ideas. Sometimes I had to remind him to consider the limits of real implementation at early draft stages, but we worked in good harmony. I think that together we have created a very good machine."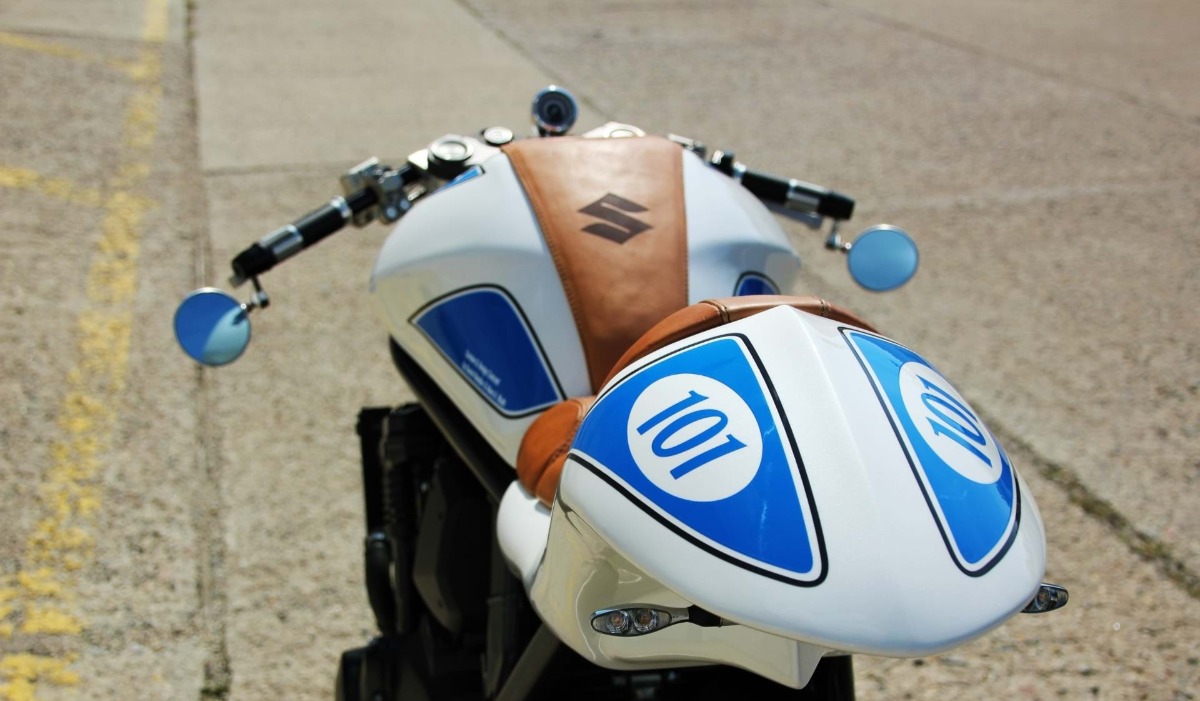 The Suzuki FatMile uses the 1255cc motor from the Bandit mated to custom Cobra Urban Killer exhausts. Swingarm is standard Bandit but the frame has a modified rear subframe and seat unit with a custom seat to go with the new Paaschburg & Wunderlich headlight, GFK front fender and custom paint scheme.
Front forks are 2012-2016 GSX-R1000 which, at 5cm shorter than Bandit forks lower the front end of the bike. Front brake calipers are Brembo monobloc from the same GSX-R1000 with GSX-R discs too. Rear stopping power comes from a four-pot Nissin caliper and B-King disc. The bike is fitted with Spiegler brake lines.
Tacho is a tiny Motogadget Motoscope and PVM wheels don Metzeler Sportec tyres. Rearsets are Rizoma RRC, handlebars are Rizoma Lux, and mirrors are Rizoma Spy-R 80.
Photography:Sven Wedemeyer

SUZUKI OFFERS SUMMER TEST RIDE INCENTIVE WITH £500 CUSTOMER SAVING
Suzuki has launched a new summer incentive, rewarding anyone that takes a test ride on selected models with £500 off the RRP when they go on to purchase. The offer runs in conjunction with all current campaigns, and across most of Suzuki's on-road range.
Running from 1 August to 9 September, the incentive applies to both the GSX-R1000 and range-topping GSX-R1000R, the GSX-S1000F, GSX-S1000, and GSX-S750, both variants of the V-Strom 650 and V-Strom 1000, plus the SV650X and the new-for-2019 KATANA.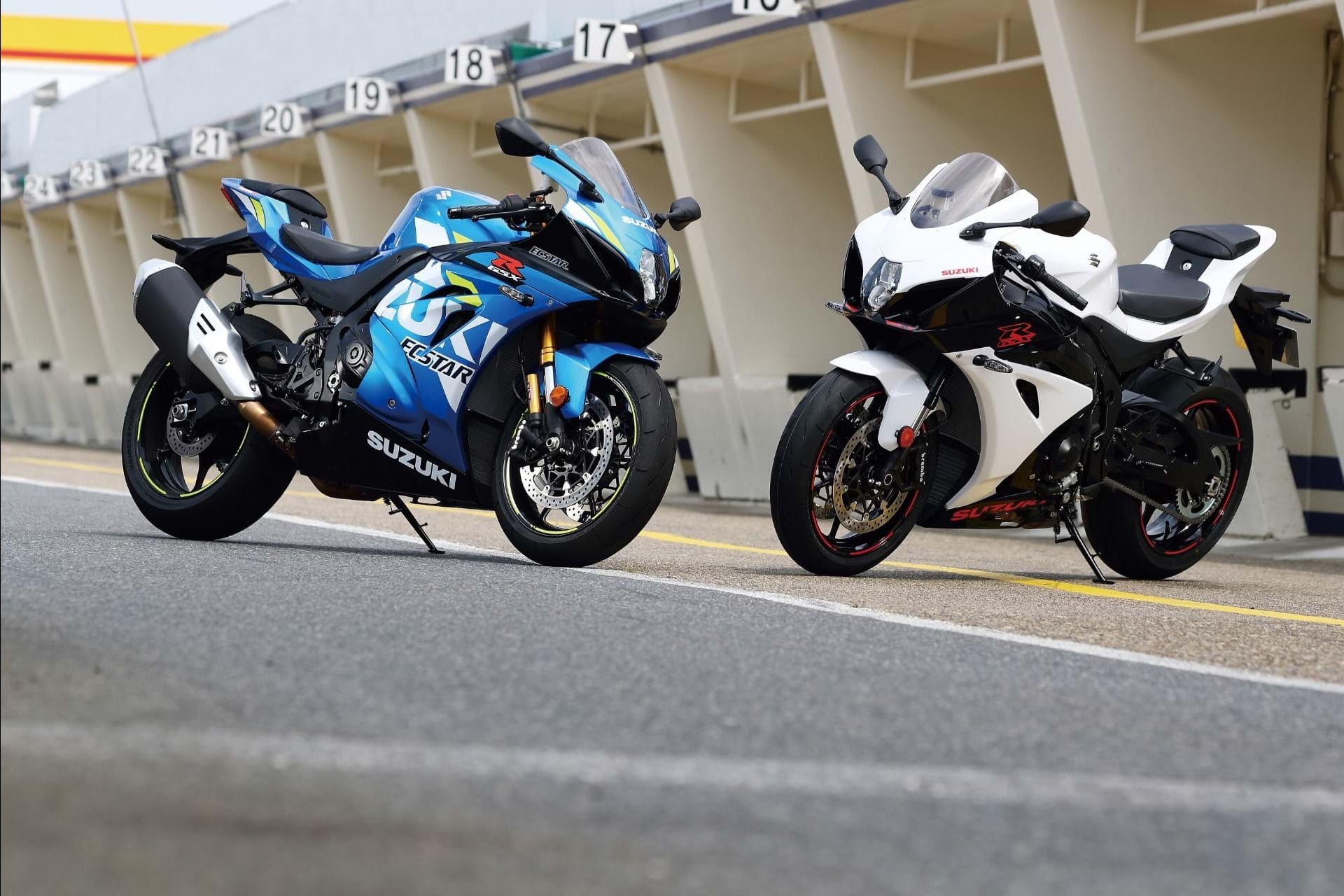 The offer also runs alongside the current HP and PCP promotions. This includes both the 0% APR finance offer on the GSX-R1000R, as well as Suzuki's low rate finance campaign, which allows customers to choose from 2, 3 or 4 years with an APR to match.
Finally if choosing a V-Strom, customers will also benefit from £500 worth of free accessories, making Suzuki's adventure range a truly tempting proposition.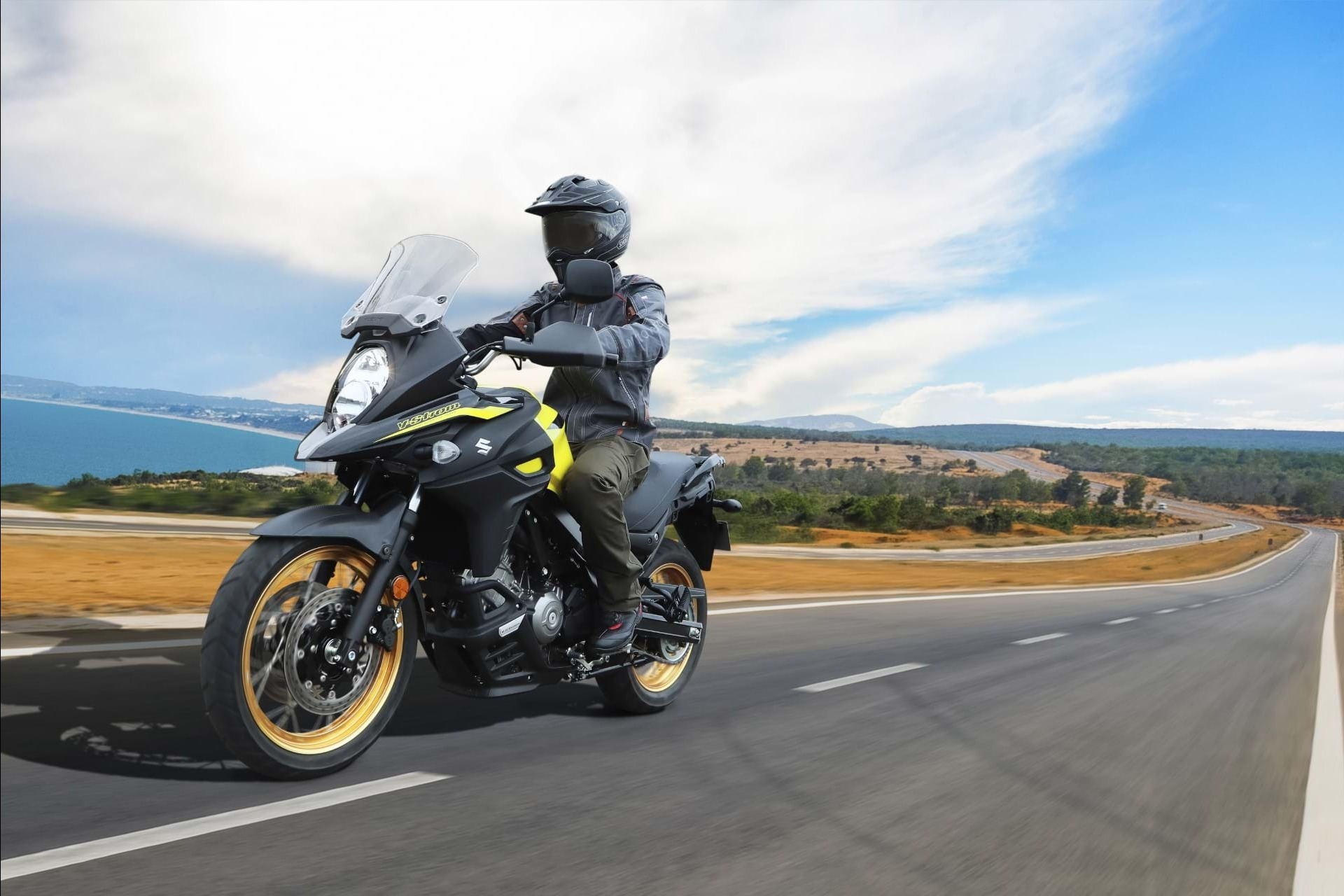 Suzuki GB head of motorcycles, Jonathan Martin, commented, "Summer's in full swing, but for those still in the process of selecting a new bike for the season, this offer is an added sweetener alongside our current offers, that makes riding a new Suzuki this summer a tempting and viable option"
0% APR finance available on 2018 models of GSX-R1000R/RZ. Low rate finance available on GSX-S1000F, GSX-S1000, GSX-S750, Vstrom 650 & V-Strom 1000. Minimum Deposit £1,000. Credit is available to UK residents aged 18 and over, subject to status. Suzuki Finance is a trading style of Suzuki Financial Services Limited; St William House, Tresillian Terrace, Cardiff, CF10 5BH.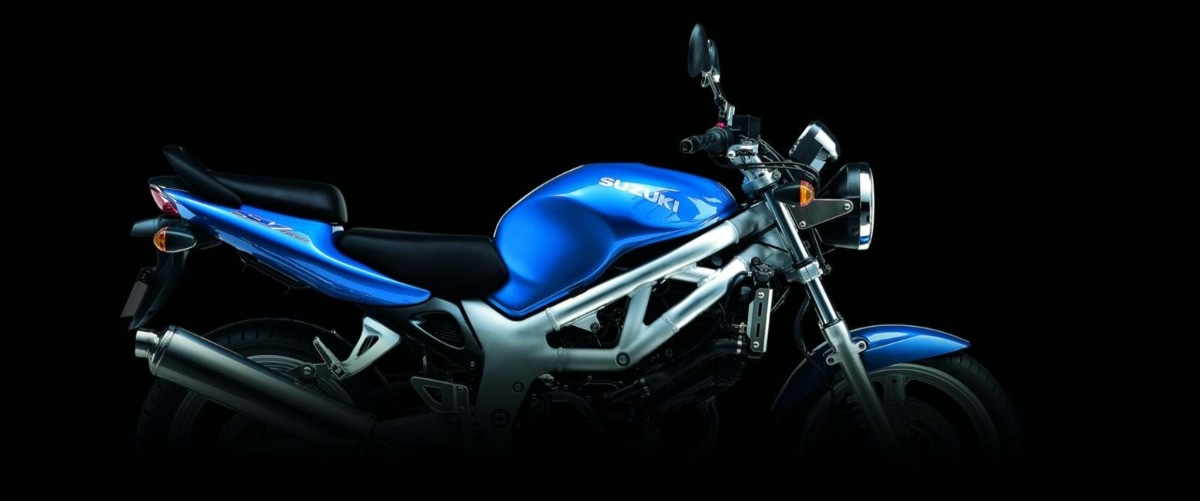 The SV650 was first introduced in 1999 as an affordable-but-fun middleweight, available either naked or half-faired. No one, not even Suzuki, could have imagined the cult appeal the bike would develop, as it appealed to everyone from commuters to riders looking for a capable tool for a weekend blast, and now fills race grids up and down the country. 20 years on, we take a look back at the history of one of the biggest overachievers in motorcycling.
The naked version of the SV650 cost just £3,999 when it was launched back in 1999, with the S model a mere £300 more. Both bikes immediately found favour with the motorcycling public, with a combined 2,549 sold in the first year and 2,939 the following year.
The SV was designed to be the answer to many people's prayers; a robust, reliable, but characterful V-twin middleweight, suited to a range of riders and uses.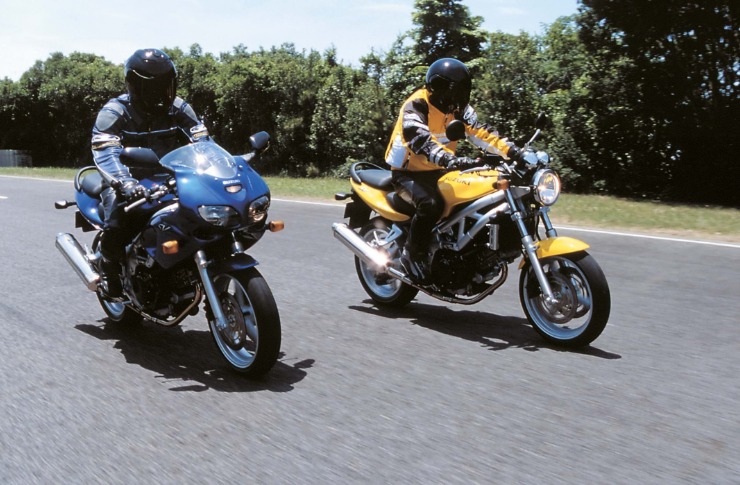 It was affordable and did everything it needed to. But it did it better than its rivals, with nimble, agile handling more akin to more expensive, sportier machines, and an engine that has gone down in motorcycle folklore. MCN referred to it as a 'straightforward middleweight V-twin all-rounder which proves you don't have to be boring to be practical'. It found a niche and it excelled.
It was comfortable as well, with a plush seat and easy-going ergonomics – especially the naked version. It could take a pillion too. And there was a great range of accessories, which meant the SV could be taken touring across the continent, or, with the fitment of fairing lowers, a pillion seat cowl, and a racy exhaust, become a mini V-twin weapon between the hedges.
Such a weapon in fact, that in club racing, the SV650 was the bike to be on when it came to the twin classes. As people sought more affordable ways of going racing, the SV filled Minitwin grids up and down the country, which boasted tighter regulations than other classes of racing. Frames couldn't be modified, nothing could be done to the engine, and even things like the forks had to remain standard. However, the basic package from Hamamatsu was far greater than the sum of its parts, and the bikes posted impressive lap times around circuits like Donington Park, Brands Hatch, and Cadwell Park.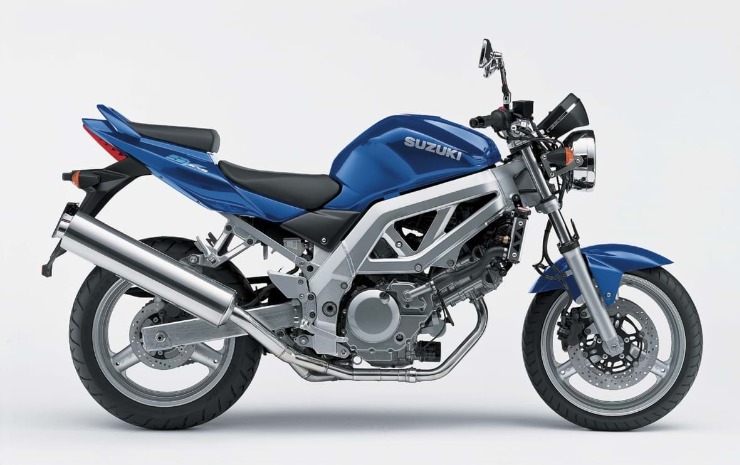 2003 saw the introduction of the second generation SV650. The new bike boasted an all-new cast aluminium frame, new swingarm and new exhaust. It also made the switch to fuel injection from carburettors. It got a power hike, too, taking peak power up to over 73bhp, while peak torque increased to 47.2lb-ft.
And it continued to fly out of the showrooms too. 2,266 were sold when the new bikes were introduced, as new riders, commuters, and racers alike sought them out.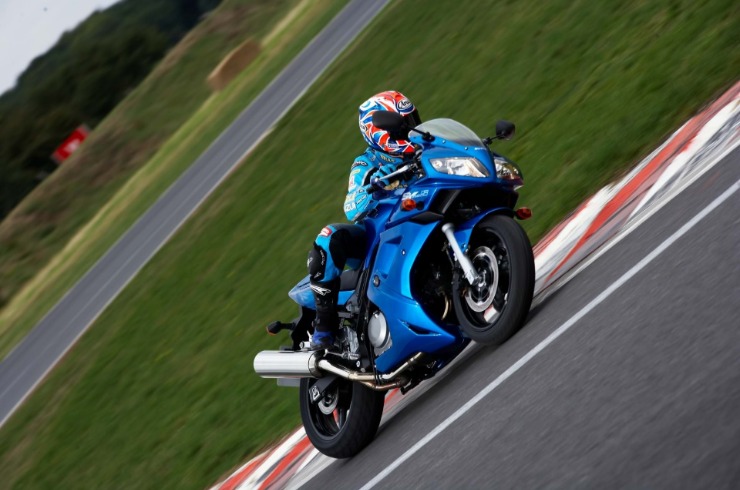 In 2007 new twin-plug heads were introduced to improve emissions, but it was the last update before the naked SV650 was superseded by the SFV650, which was launched in 2009.
The SFV650 was launched in Fuerteventura to widespread praise. MCN rated the upgraded engine five out of five, and commended the new bike, writing "the old SV650 was a good bike and to be honest Suzuki didn't have to do much to make it a great bike once more. But they have gone one better and given us an excellent bike."
Changes to the camshaft profiles and valve lift, a 10% increase in crankshaft inertia, newly staggered intake and exhaust tract lengths, and a new exhaust made it possible to boost low-rpm and midrange power, without sacrificing top-end output. There were also new valve springs, and while the bore and stroke remained the same from the older SV650, the bore was plated with Suzuki's race-proven nickel-phosphorus-silicon-carbide coating. It also benefited from new iridium spark plugs.
The most striking difference was how the new bike differed visually from the SV. The classic styling made way for more modern lines, and a new steel trellis frame replaced the aluminium frame of the outgoing SV650.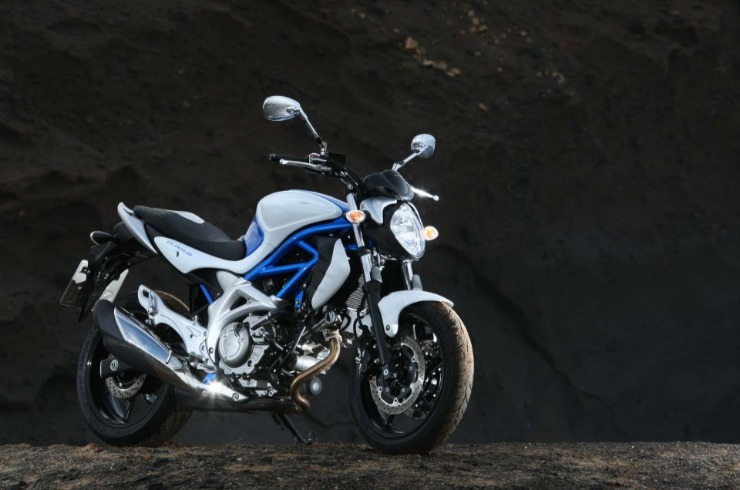 In classes where limited modifications were permitted, the SV650S continued its dominance of club racing grids, with it's clip-ons and removable rear subframe. But in the more relaxed Supertwin classes, the SFV650 was carving a name for itself.
JHS Racing in particular were championing the way with the SFV, turning out an exquisite example dressed in GSX-R600 fairings, that turned heads when on display at Motorcycle Live.
The preparation put into the bike was essentially the same that goes into a superbike. The JHS SFVs used the original crankshaft, but got new con-rods, pistons, valves and valve springs. It retained the standard ECU, but with some parameters changed and some sensor eliminators, to extract every ounce of power. This bike didn't have to do thousands of miles between services.
"The SFV650 boasts even more potential than the SV for racing," James Holland from JHS Racing said at the time. "It's the engine we like the most, as the nickel-phosphorus-silicon-carbide coating in the bores allows us to run higher tolerances with our pistons and rings."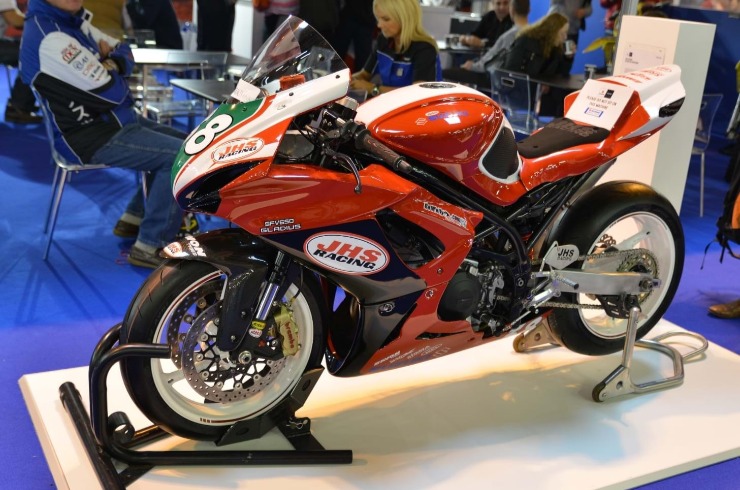 But for 2016 the naked SV returned to the range, doing everything it did in 1999, only better. It's more powerful and lighter than the SFV650, with clean, classic styling to appeal to a variety of riders. It boasts some more tech too, with a one-push, easy-start system and Suzuki's low-rpm assist function that makes it incredibly difficult to stall the bike when pulling away. On its launch in northern Spain it was praised for its handling, with Bike Social writing, "The Suzuki's chassis is mint. It turns well, holds a line, and leans over till the long hero blobs and exhaust are dragging if you want."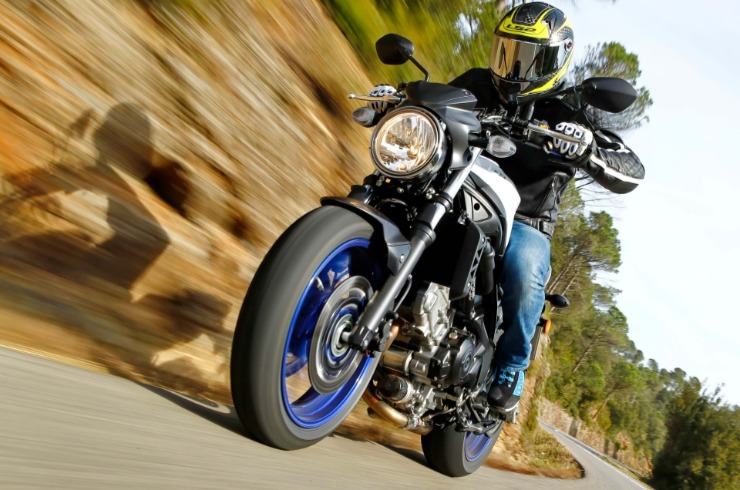 Two years later and the SV650X joined the lineup alongside the standard SV, while the S made way. It offered something new for SV customers, sporting café racer-inspired styling with a bikini fairing, dropped bars, and ribbed seat, plus a retro-style livery.
The SV650 remains a model that does far more than it should, better than it should. When the first SV650 rolled off the production line in the late 90s, no one would have believed that it would find favour with so many riders looking for so many different things, and go on to fill club racing grids and tackle the Isle of Man TT. It really is one of motorcycling's biggest overachievers.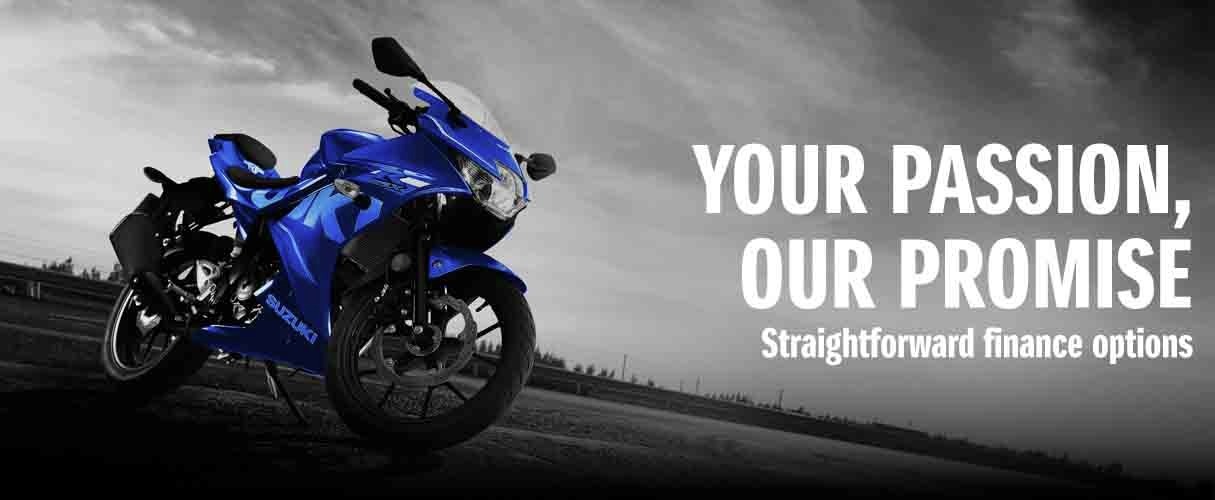 Straight Forward
You choose your preferred product
Simple
Easy to apply, pay and upgrade*
Flexible
You choose the deposit and duration
Transparent
There are no hidden charges
Suzuki Finance
We're here to help you purchase the Suzuki you desire at a monthly repayment you can afford. We have years of experience and expertise in providing finance to bikers. We understand that as riders we all have different needs and we pride ourselves on tailoring contracts that fit your needs. 
1. Choose your Bike
2. Add your bolt-on accessories
=  Value of your purchase
3. Decide your product
Personal Contract Purchase (PCP)
Want to keep your options open?
PCP could be the choice for you with 3 options to choose from at the end of the contract. 
End of contract
Once you've paid all the regular monthly repayments you can then pick from one of the 3 options. 
Deposit: Decide on the deposit you would like to pay. You might also have a bike to trade in. 
Months: Choose the number of months you want to repay over, this is the repayment term. 
Mileage: Pick the annual mileage you think you will do during the term of your contract. 
Guaranteed Future Value: Based on your chosen annual mileage and the repayment term, we calculate the vehicle's Guaranteed Future Value (GFV). This value (plus £10 Purchase Fee) then becomes your optional final repayment. 
Keep It: Pay the optional final repayment and keep the bike. 
Hand it back: Hand the bike back and have nothing further to pay, subject to the bike being in good condition (fair war and tear accepted) and not having exceeded the maximum agreed mileage. Charges will apply if the bike has exceeded the maximum agreed mileage or if the bike is not in good condition. 
Get a New One: Part-exchange your bike and purchase a new bike (subject to settlement of your existing contract; new contracts are subject to status). If the trade-in value of the bike is more than the optional final repayment this difference could be used as a deposit on a new bike. 
Want to own your bike?
With HP you will own the bike at the end of the contract once all the repayments have been made. 
Deposit: Decide on the deposit you would like to pay, you may also have a bike to trade in. 
Months: Choose the number of months you would like to repay over, This is the repayment term. 
End of contract: Once you have paid all the monthly repayments you will be the owner of the bike. 
Benefits of PCP
Choose from 3 different options at the end of the contract

Select a repayment length and annual mileage to suit you. 

Fixed regular repayments. 

Available on any new or used Suzuki up to 1 year old. 
Benefits of HP
You own the bike at the end of the contract.

Fixed regular repayments

You will pay less interest overall when compared to a PCP product of the same price and term

Available on any new or used Suzuki up to 3 year old. 
Terms and Conditions:*Subject to settlement of your existing contract; new contracts are subject to status. Credit is subject to status and only available to UK residents aged 18 and over. Credit is provided by Suzuki Financial Services Limited. Suzuki Finance is a trading style of Suzuki Financial Services Limited, St William House, Tresillian Terrace, Cardiff, CF10 5BH.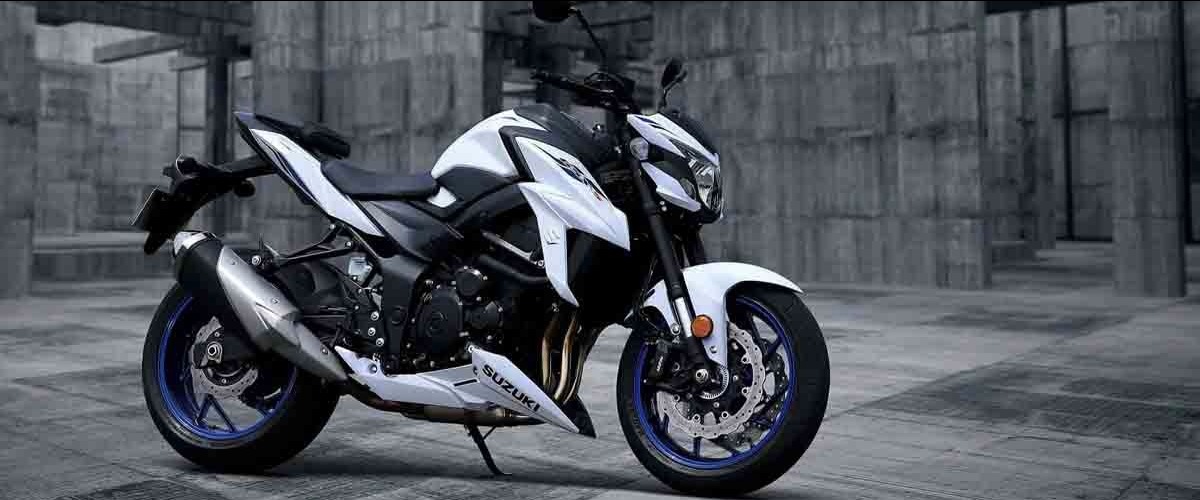 SUZUKI ANNOUNCES ITS SUMMER LOW-RATE FINANCE OFFER
Suzuki has announced the details of its summer low rate finance offer, which gives customers the ability to tailor a finance package to their individual needs by choosing from either a Personal Contract Purchase (PCP) or Hire Purchase (HP) agreement, and the term of their choice – from two, three, and four years – with an APR to match.
The offer is available on all V-Strom 650 and V-Strom 1000 models, plus the GSX-S1000F, GSX-S1000, and GSX-S750 street machines, with a minimum deposit of £1,000. With a minimum deposit of £500 customers can also take advantage of the offer on the GSX-S125 and Address scooter.
Address HP Only. Credit is available to UK residents aged 18 and over, subject to status. Suzuki Finance is a trading style of Suzuki Financial Services Limited; St William House, Tresillian Terrace, Cardiff, CF10 5BH.