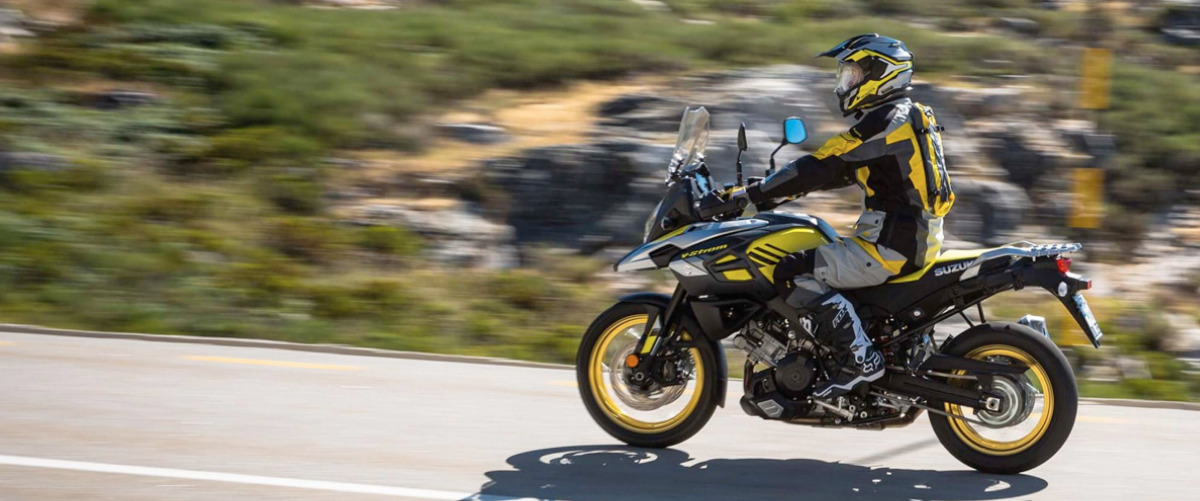 Suzuki Warranty
Warranty
All new Suzuki On-Road motorcycles officially imported into the United Kingdom by Suzuki GB PLC and first registered in the UK between 01-01-2016 and 31-12-2020 will benefit from an additional one year extension to the normal Two-Year Suzuki Warranty, such one year Warranty extension to apply subject to the following conditions:
Warranty extension only applies to such motorcycles which are regularly serviced through a UK Authorised Suzuki Dealer, in accordance with the schedule in the Owner's Manual; and in the UK only, for one year commencing from expiry of the normal Two-Year Suzuki Warranty, and only for motorcycles which are kept in the UK during the Warranty extension period; If you are a consumer, this extended Warranty is in addition to, and does not affect, your legal rights in relation to products that are faulty or not as described.
The warranty is for the benefit of the first and subsequent private consumers.
MX Warranty – Suzuki Manufacturers 6 months parts warranty:

Suzuki Off-Road bikes are designed with cutting edge technology, but this innovation does not sacrifice reliability. Our promise to provide the highest quality machines is backed up with a peace-of-mind 6 months parts warranty. This warranty applies to the entire Suzuki Off-Road Range and demonstrates Suzuki's continued commitment to customer service. If you buy an unofficial import, you will not get this.
The MX parts warranty is offered to the first owner only.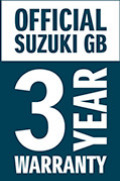 SUZUKI CONFIRMS PRICING ON NEW COMMUTER MODELS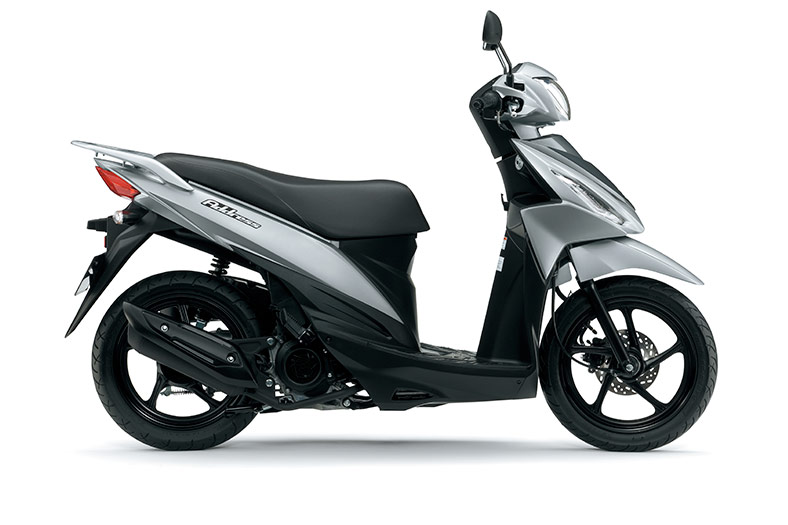 Suzuki has confirmed pricing for its new Address 110 and Inazuma 250F models, with the economical commuter-targeted machines priced at £1,799 and £3,999 respectively.
The Address 110 defines urban practicality, with its impressive 145MPG* figure, a kerb mass of just 97kg, and over 20 litres of under-seat storage. The stylish new scooter also boasts cutaway footboards, making it easy to stop around town, a rear brake locking system for use when parked, and an ignition cover which aids in security.
Performance comes from a new fuel injection system and redesigned piston skirts, while cast aluminium wheels with hollow cores boost handling capabilities.
The new scooter comes with an RRP of £1,799 while a number of optional accessories are also available, including a top box, hand guards, and tall windscreen.
The Inazuma 250F joins Suzuki´s on-road range for 2015, following the success of the naked Inazuma 250 launched at Motorcycle Live 2012.
The new F variant adds a fairing and screen for improved weather protection on longer journeys, all wrapped around an economical 248cc parallel twin capable of 85MPG* while also delivering enough punch for a spirited ride out of town.
The Inazuma 250F is available with an RRP of £3,999. Both the Address 110 and Inazuma 250F are expected in dealers in March.
*Data resulting from tests made by Suzuki in compliance with WMTC. These tests were conducted by a single pilot with no additional optional equipment. Fuel consumption may vary depending on your riding style, how you maintain your vehicle, weather, road conditions, tyre pressure, the presence of accessories, the load, the weight of the crew and many other parameters
SUZUKI V-STROM 650XT NOW IN DEALERS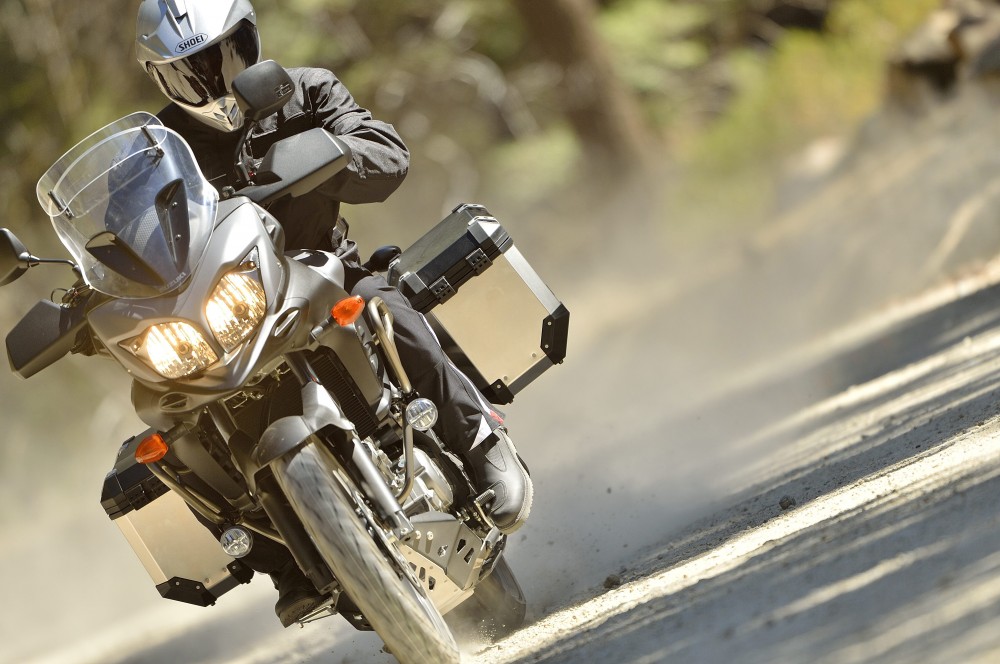 Suzuki´s new V-Strom 650XT is now available in dealerships nationwide, with pricing confirmed at £7,499.
Based on the popular V-Strom 650, which has been the best-selling mid-capacity dual-purpose motorcycle over the last decade, the new XT version boasts lightweight DID wire spoke rims, designed to improve performance on unpaved roads, while a new beak takes design cues from the V-Strom 1000 and iconic DR Big and improves airflow to the radiator.
Hand guards, aluminium sump protector and engine bars complete the look and add to the V-Strom 650XT´s rugged presence.
Suzuki GB Marketing Manager Rob Cooper commented, "The XT version of the popular V-Strom 650 builds on the original bike´s proven platform as a comfortable and capable adventure-tourer, but adds new levels of practicality with the wire wheels and other added extras, helping maintain the V-Strom´s position as the best dual-purpose machine in this sector of the market."
The V-Strom 650XT is available in authorised Suzuki dealers now with an RRP of £7,499. Additional accessories, including aluminium luggage and Vario touring screen, are also available.
WATERS AND IDDON JOIN HALSALL SUZUKI FOR 2015 BRITISH SUPERBIKE CHAMPIONSHIP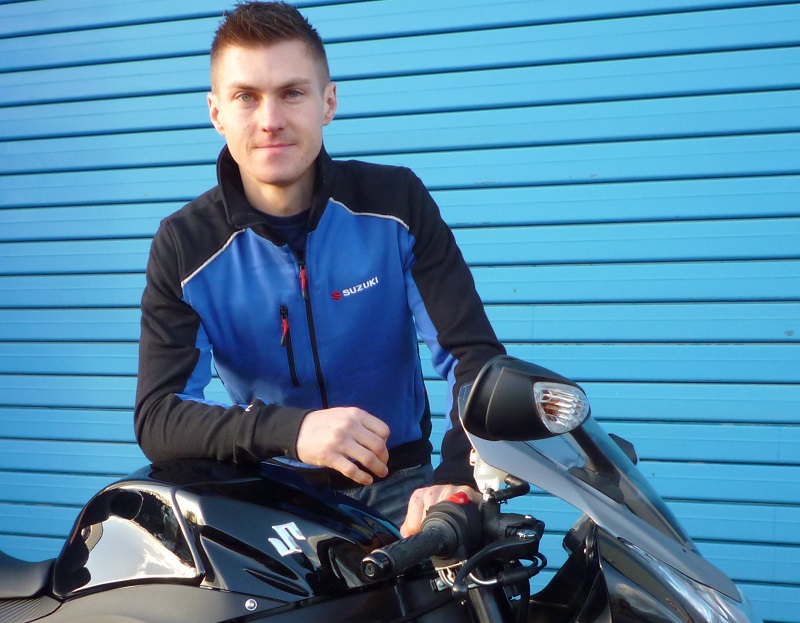 Double British Superbike race winner Josh Waters and World Superbike EVO front runner Christian Iddon will join the Halsall Racing Team in 2015, spearheading Suzuki's official entry in the MCE Insurance British Superbike Championship.
The move will see Waters continue his long relationship with Suzuki, having taken two Superbike titles for the Japanese marque in his native Australia between 2009 and 2012. In 2014, the 27-year-old took the Suzuki GSX-R1000 to two race victories and secured a brace of top six results.
Having spent two years racing on the world stage, Iddon will return to Britain in 2015 for what will be his first full season in the MCE British Superbike Championship. The 30-year-old is no stranger to success in the UK having taken two victories on his way to fifth place in the 2012 British Supersport Championship. The nine-time British Supermoto Champion also impressed by taking pole position in a wildcard appearance at the Assen round of British Superbikes last year.
Last month Halsall Racing announced a partnership with Suzuki GB which sees the Bolton-based outfit become Suzuki's official British Superbike representative from the 2015 season.
Josh Waters:
"I'm excited to be back in British Superbikes for a third year in 2015. It's great to be staying with Suzuki and I'm really looking forward to moving into the Halsall team. I really enjoyed riding a couple of rounds for Martin in 2013 and Jack Valentine has such great experience with Suzuki so I can't wait to get working with him.
"The team has a good plan to make the bike as strong as possible for 2015 and I can't wait to ride it for the first time later this year. There's no reason I shouldn't be able to start this season where I left off at the end of 2014".
Christian Iddon:
"I'm really excited about joining Halsall Suzuki for 2015. The bike has clearly got pedigree; two years ago it finished second in the championship and last year Josh won races on it. With the added experience of Jack Valentine, I'm really confident about this package.
"It has to be said the Halsall team have had a meteoric rise in the championship, just a few years ago they were in in the Superstock 1000 class and now they are a factory supported British Superbike team. I originally stopped doing Supermoto with a view of winning a championship, so I expect to be running at the front!"
Martin Halsall – Team Owner:
"It is looking really exciting for the Halsall Team as we embark on our new adventure with Suzuki. We're really looking forward to working with Josh Waters and Christian Iddon; they both have a lot of promise and I think they will fit in great with the team. We'll be doing our best to put together a great package for the pair of them and can't wait to get started in a couple of months' time."
Jack Valentine – Team Manager:
"I'm really pleased we've signed Josh and Christian to ride the Halsall Suzuki in 2015. Josh has a wealth of experience with the GSX-R and he's already highlighted some of the areas he'd like to improve. His strong end to the 2014 season shows the bike has got potential and he is determined to get the most out of it.
"Christian joins us having spent two years racing brand new bikes in World Superbikes, impressing with podiums and front-row starts on the Supersport MV Agusta and strong EVO results on the Bimota BB3. He showed the kind of results he is capable of rocking up at Assen last year with an unproven bike only to go and take pole position. I'm confident he'll get on really well with the GSX-R.
"In Josh and Christian we've got a really strong line-up; one that I believe is capable of taking Suzuki back into the British Superbike showdown."
2014 WORLD ENDURANCE BOOK ON SALE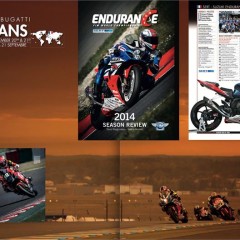 The latest 2014 Endurance Season Review book by renowned French photographer David Reygondeau is now on sale.
The large-format hard-back 176-page publication is packed with all the best imagery from this year's series along with information and facts on all the major teams and riders, including 13-time World Champions Suzuki Endurance Racing Team and World Superstock Champions Junior Team LMS.
Reygondeau, who also shoots all the stunning Endurance images for Team Suzuki's www.suzuki-racing.com has teamed-up with journalist Valerie Moreno; who provides all the words and information for what is again promised to be a must-have reference publication to have in the library.
It is priced at 45 Euros, plus postage/ shipping costs to various countries, and available now direct from David Reygondeau:[email protected]
SUZUKI GB ANNOUNCES PARTNERSHIP WITH HALSALL RACING FOR 2015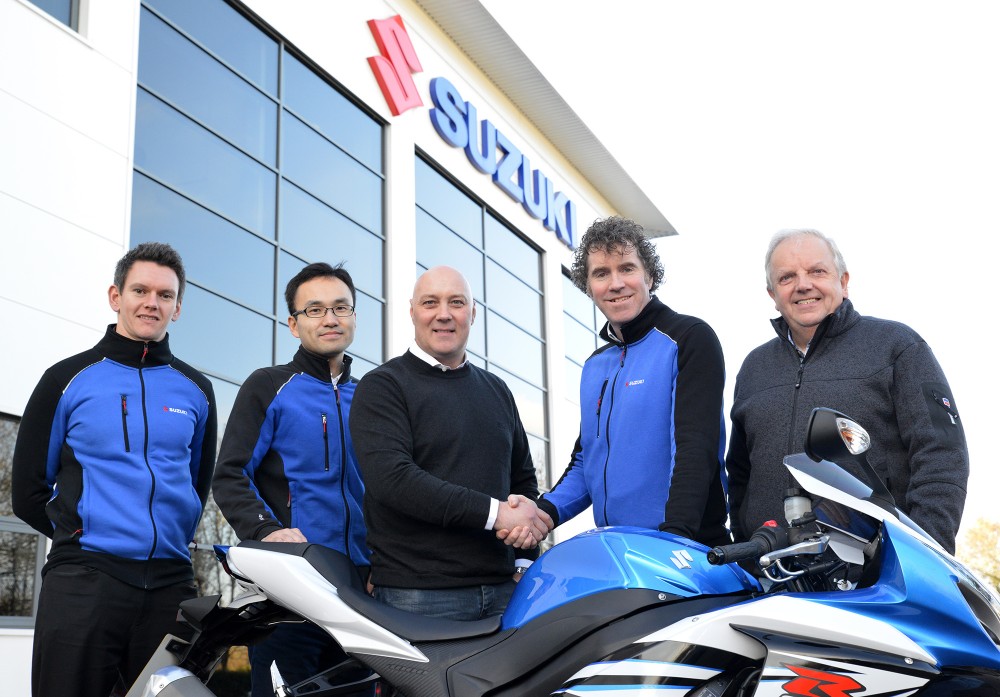 Suzuki GB has today announced its partnership with Halsall Racing for the 2015 MCE British Superbike (BSB) season.
Having agreed terms just last week, Suzuki is delighted to confirm that it will entrust the company's BSB effort going forwards to Halsall Racing, competing on the GSX-R1000 with a two-rider line-up next season.
Suzuki GB General Manager, Paul de Lusignan, commented, "We are very pleased to agree terms with Halsall Racing for next season. With the obvious enthusiasm and professionalism of team owner Martin Halsall combined with the unrivaled experience of Jack Valentine as Team Manager, we believe we have a strong foundation to build on for next season and beyond."
Having already taken delivery of 2015 GSX-R1000s, Halsall Racing will commence development with the assistance of Suzuki Motor Corporation, with the first test planned in the new year.
Team owner, Martin Halsall added, "We entered into BSB with clear objectives. We always intended to be here long-term, but our ultimate goal was to represent a manufacturer at the highest level. While our agreement with Suzuki meets that objective, this is really the beginning of a new future for us as a team. I would like to thank Suzuki for the faith they have put into everyone at Halsall Racing and look forward to the season ahead."
Team Manager Jack Valentine brings not only a wealth of racing experience, but particular experience of Suzuki, having managed both World and British Superbike teams for the brand. 
"It's fair to say that this deal is like coming home for me", commented Valentine. 
"I know the team at Suzuki well and I also know what the GSX-R1000 is capable of. We have a great team of engineers at Halsall Racing and with the support of Suzuki and the knowledge I can bring from my previous experience, I'm confident we can hit the ground running at the start of the season."
Suzuki's Paul de Lusignan added, "While we're excited for the future with Halsall Racing, I would also like to take this opportunity to thank Philip and Hector Neill at TAS for their superb support over the last 14 years, and wish them the very best for the future."
MOTORCYCLIST TO RIDE FROM UK TO INDIA IN NEW RECORD ATTEMPT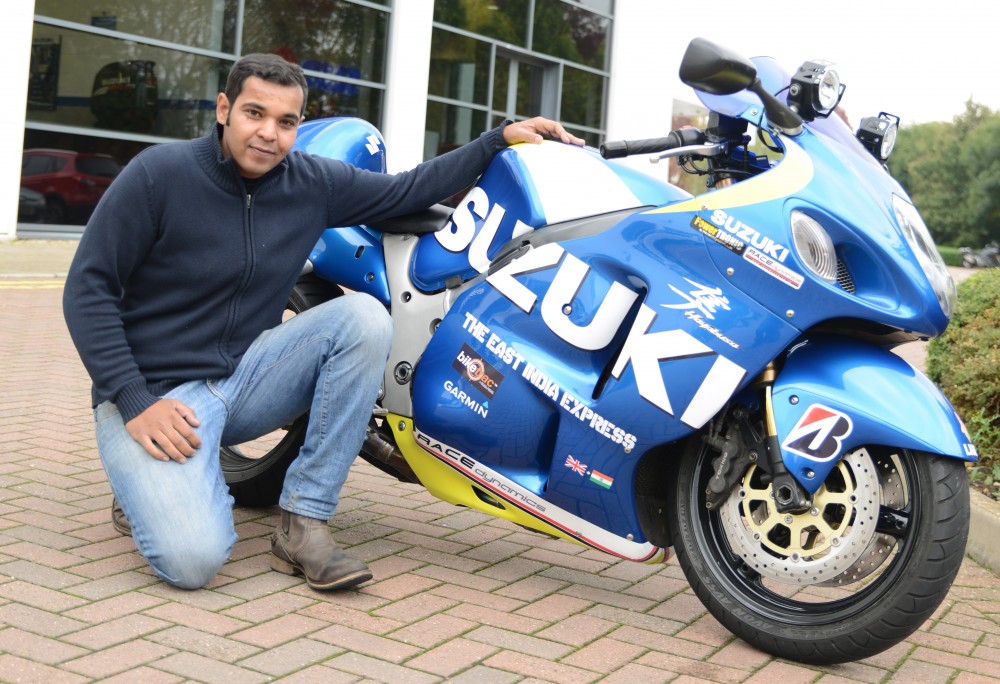 Sushanth Shetty is aiming to set a new record by riding his Suzuki Hayabusa from the UK to India in the fastest overland journey between the two countries.
Setting off from the UK on Saturday 25 October, Sushanth, who lives in London but retains his Indian citizenship, will ride his Hayabusa to France and through Europe to Turkey and then Iran. From there it will either be Pakistan, if his visa application is accepted in time, or Dubai, before arriving in India.
Dubbed the East India Express, the journey is expected to take 15 days of riding if permission is granted to travel through Pakistan – however, a police escort would be required – or slightly longer if a deviation through Dubai is necessary, but Sushanth is looking forward to the challenge.
Sushanth, who has previous travel experience through Asia and Europe, said, "I´d always fancied riding a bike from the UK to India and came up with the plan in Bangkok while travelling through Asia. I´ve also done a bit of riding across Europe before. But I didn´t think I was cut out for six months or so of riding and ´finding myself´; I wanted to do it as fast as possible. So I tried and thought about a few different bikes, but it had to be the Hayabusa. It should be a good journey and I´m looking forward to setting off. I´m looking forward to going to Sofia in Bulgaria, Ljubljana in Slovenia and Istanbul in Turkey. I´m also a bit apprehensive of Eastern Iran and Pakistan, but I´m also really looking forward to riding through Iran as a whole, and hoping I can do the whole thing to set the fastest overland journey time between the two countries, and that´s sticking to speed limits too."
Sushanth already has his flight booked back to the UK on 23 November, after spending a few days at home. The bike will remain in India for India Bike Week in February before being shipped back to the UK.
To follow Sushanth´s journey live, click here.??For more information visit http://theeastindiaexpress.com
NEW SUZUKI GSX-S1000 RANGE HEADLINES COLOGNE SHOW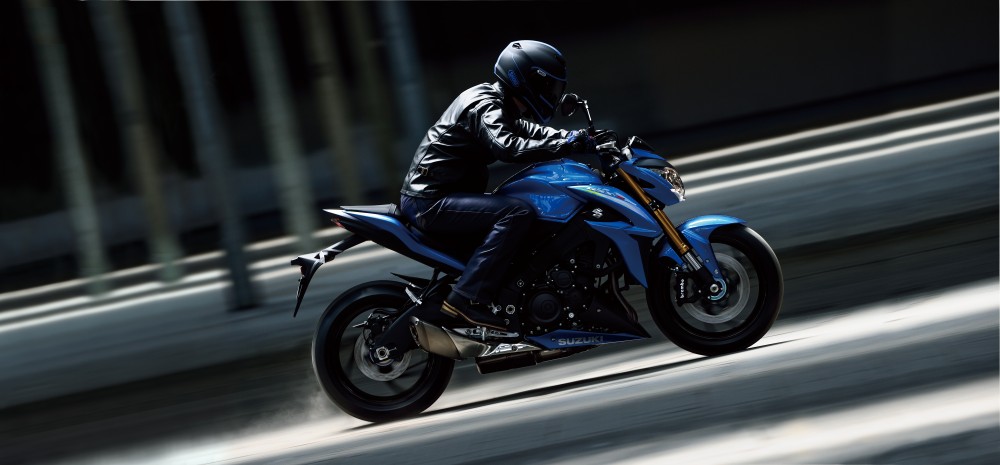 Suzuki pulled the wraps off its new GSX-S1000 and GSX-S1000F models at the opening of this year´s International Motorcycle Show in Cologne, Germany, as the Japanese manufacturer unveiled several new models and updates that will form part of its 2015 model range.
GSX-S1000 ABS
The product concept behind Suzuki´s new super-naked was to provide the spirit of GSX-R in a naked streetbike chassis. Designed for nimble and agile handling, the GSX-S1000 features an all-new frame and utilises engine design and characteristics from the iconic GSX-R1000 K5, famed for its low-down torque and mid-range power.
With knowhow from MotoGP development, the GSX-S1000 benefits from a traction control system boasting three-modes as well as the option to switch the system off completely. ABS is also available, with the bike expected in dealership showrooms in late spring next year.
GSX-S1000F ABS
Also unveiled as part of Suzuki´s new GSX-S range, the F variant features all of the benefits afforded to its naked sibling, including an all-new frame, traction control and ABS, but wrapped it in a newly designed fairing.
Designed with the same concept in mind, the GSX-S1000F shares the ergonomics and riding position of the naked version, with both aimed at providing a sporty ride on the road, but leaving customers with the choice of added weather protection or sheer naked aggression. It too, is expected in late spring.
Address 110
The new Address 110 is expected to arrive in early spring next year, and brings with it exceptional fuel economy and value. Boasting 139MPG* and a 5.2 litre fuel tank, the Address 110 is set to become the commuting scooter of choice.
Practical touches include under-seat storage in excess of 20 litres that will comfortably take a full face helmet and riding gear, and rear handbrake for use when parked. The Address benefits from a new fuel injection system and reduced overall weight, which comes from sporty, redesigned bodywork and cast aluminium, hollow-core wheels.
V-Strom 650XT ABS
Based on the already popular V-Strom 650, which has been the top selling dual-purpose machine in the 650-800cc class in the last decade, the V-Strom 650XT comes with more adventure as standard.
The new V-Strom 650XT takes design cues from the DR Big, the first dual-purpose machine to feature the now standard ´beak´ design synonymous with models in the adventure sector. A new beak blends smoothly into the existing front bodywork, with air ducts that channel airflow to the radiator.
Newly designed, lightweight, wire-spoked aluminium wheels aid in the adventure-styling of the new V-Strom 650XT, and shock absorption performance is increased on unpaved roads. Its arrival is anticipated as early as December this year.
Bandit 1250S ABS
Bandit is back for 2015, with the iconic machine on sale in the UK early next year. With the original Bandit models developing a cult following, the latest incarnation uses the newest version of Suzuki´s 1255cc inline four-cylinder engine and gets a styling update to bring it into 2015.
After repeated wind tunnel testing, the redesigned fairings, with new radiator shrouds, offer improved aerodynamics, with venting just below the headlights, as well as better wind and weather protection for both rider and pillion.
Inazuma 250F
The A2-licence friendly and ideal commuter, comes clad with a newly designed fairing for 2015, with the Inazuma 250F unveiled at Intermot.
Adding extra wind protection to the popular city-wise machine, which boasts an impressive 85MPG figure, cost conscious commuters can now travel even further in comfort. The new faired Inazuma will be on sale in early 2015, alongside the existing naked machine.
GSX-R1000 ABS
The iconic GSX-R1000, which took the win at the prestigious 24 hours of Le Mans earlier this year in the hands of the Suzuki Endurance Racing Team, now comes with ABS as standard for 2015.
As the Japanese brand celebrates its return to the blue-ribband class of motorcycle racing next year, the GSX-R1000 will also be available in the replica colours of Suzuki´s new MotoGP racer, the GSX-RR.
*Data resulting from tests made by Suzuki in compliance with WMTC. These tests were conducted by a single pilot with no additional optional equipment. Fuel consumption may vary depending on your riding style, how you maintain your vehicle, weather, road conditions, tyre pressure, the presence of accessories, the load, the weight of the crew and many other parameters
WATERS & TYCO SUZUKI WIN AT ASSEN BSB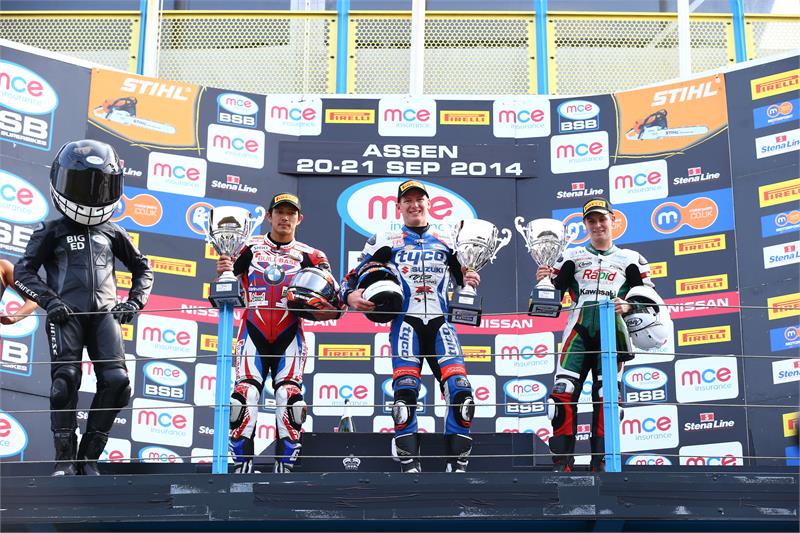 Josh Waters raced to his second British Superbike Championship victory of the season for Tyco Suzuki at Assen's TT Circuit in the Netherlands in the Australian's first-ever appearance at the famous Dutch venue.
Waters backed-up his first race win with a solid eighth place in race two, where his team-mate John Hopkins finished fifth. 'Hopper' had been in the early hunt for podium honours, but struggled to hang onto the leading quartet after using the best of his tyres in the early laps.
In race one, Waters came through from his fifth-row grid spot to take a well- deserved victory aboard his Tyco Suzuki GSX-R1000. With rain falling just before the start, Waters' crew made the correct tyre and set-up choice; which afforded him the confidence to carve his way through the pack.
A late and exciting battle with Ryuichi Kiyonari had the huge crowd on the edge of their seats, but the hard-charging Aussie delivered on the final lap to take a hard-fought-for victory.
Josh Waters:
"I'm 'rapt' to have taken another win for Tyco Suzuki and I really enjoyed the conditions. Coming here for the first time I'd have been happy with solid single figure top-10 finishes but the boys really have perfected a top-class wet-weather set-up on the Tyco Suzuki GSX-R1000 and I just dug in, kept it upright and yeah, I'm really happy to get another BSB win. I made a poor start in race two and got caught-up and maybe was a little frustrated, but I'm satisfied enough with my weekend's work and we can take away a lot of positives."
John Hopkins:
"I'm really frustrated as I know I had the pace for the podium if not the win, but I really had to use up the best of my front tyre running deep into the turns to stay with the front four. Staying in the draft on the straights was pretty tough and once the front tyre went off, we were tucking the front everywhere and I couldn't risk crashing. Yeah it's a tough one. Through the fast-flowing stuff I could hang with them no problem but on the straights we were losing-out. But we did what we could today and just have to regroup and look to Silverstone for that podium finish."
Philip Neill – Team Manager:
"A great gutsy win from Josh Waters in race one when he could so easily have settled for a finish in very difficult conditions. We have to take into consideration it was the lad's first time here at Assen, which is no easy track to perfect, and eighth in race two is also a good effort considering he had a sluggish start.
"John was hampered by his tyre-choice early in race one, but when the track started to dry he was coming through very quickly on the intermediate rear; had it stayed dry I'm certain he would have been top-five at least. That's part of the gamble in those conditions and unfortunately for John, like many others, he lost out.
"In race two it was great to see him battling at the front-end in the dry with Kiyo and Shakey. Unfortunately he couldn't turn it into a podium finish, but we will analyse his thoughts on the race and the data and see what we can improve for Silverstone in a fortnight."
British Superbike Championship, Assen, race one result:
1. Josh Waters (Tyco Suzuki)
2. Ryuichi Kiyonari (BMW) +0.184s
3. Stuart Easton (Kawasaki) +23.904s
4. James Ellison (Kawasaki) +24.637s
5. Christian Iddon (Bimota) +29.741s
6. Dan Linfoot (Kawasaki) +37.273s
7. Jed Metcher (Kawasaki) +38.068s
8. Howie Mainwaring (Kawasaki) +49.647s
9. Tommy Bridewell (Yamaha) +50.861s
10. Lee Jackson (BMW) +52.446s
British Superbike Championship, Assen, race two result:
1. Shane Byrne (Kawasaki)
2. Ryuichi Kiyonari (BMW) +0.152s
3. Tommy Bridewell (Yamaha) +0.460s
4. Dan Linfoot (Kawasaki) +4.170s
5. John Hopkins (Tyco Suzuki) +8.759s
6. Stuart Easton (Kawasaki) +12.203s
7. James Ellison (Kawasaki) +17.729s
8. Josh Waters (Tyco Suzuki) +30.241s
9. Filip Backlund (Yamaha) +32.308s
10. James Westmoreland (BMW) +33.060s
BSB Championship Points (after 10 of 12 rounds): CLICK HERE
Assen BSB Image Gallery: CLICK HERE FOR PHOTOS
NEW V-STROM 1050XT TOUR EDITION NOW AVAILABLE
Suzuki has launched a new variant of its V-Strom 1050, with a V-Strom 1050XT Tour packing extra capacity for adventure.
With an RRP of £12,799, the V-Strom 1050XT Tour comes equipped with black, three piece aluminium luggage as standard, equating to a saving of £370 over the purchase of the individual items.
The rugged aluminium top box and panniers add 112 litres of storage capacity, to a machine that already boasts practicality as standard thanks to a centre stand, hand guards, 12V socket and USB port, height-adjustable seat, and adjustable screen.
A comprehensive suite of electronics includes two modes of lean-angle sensitive ABS, a three-mode traction control system (that can be switched off), three engine power modes, cruise control, hill hold assist, and linked brakes that feature a slope-dependent and load-dependent, which optimise brake pressure to maintain control when braking downhill, or when equipped with luggage or a pillion.
MAKE 2013 YOUR LUCKY SUZUKI YEAR
With the new and inauspiciously perceived registration prefix now in effect, Suzuki urges customers to think on the new ´13´ prefix as a lucky omen, thanks to an offer that gives customers up to £800 of accessories for free*.

Available on a number of new models, the offer allows customers to effectively tailor their new machine to their own taste or need with no additional cost*.

Thanks to Suzuki´s vast range of accessories, customer can choose from items that range from useful luggage solutions to styling upgrades as well as performance parts and even clothing.

Suzuki GB general manager, Paul de Lusignan commented, "With the weather starting to improve and the new March registration prefix, we´re delighted to continue this popular offer. With such a diverse range of models available, we´re confident that customers not only have exceptional choice, but can individualise that choice too, without any additional outlay. On top of this, our dealer network can offer customers low rate finance on any of these models and more too."

Models included in the latest deal include the hugely versatile V-Strom 650 ABS adventure bike, the long-distance GSX1250FA tourer, Suzuki´s iconic GSX-R750 sports bike, the award winning GSR750, as well as the novice friendly GSX650F and the SV650S machines.

And for customers looking to test ride the very latest models then Suzuki´s Test Ride Roadshow kicks off on March 9th, with dealers across the UK hosting their very own test ride weekends during the year, where customers can try additional demonstrator models too.
Value of accessories included in promotion: V-stom 650 ABS – £800 off, GSX1250FA – £800, GSX-R750 – £600, GSR750 – £600, GSX650F – £300, SV650S – £300.

*Terms and conditions apply. No cash alternative or discount can be offered. Fitting costs may apply. Offer valid and subject to availability of machines privately registered from 14th January 2013. Suzuki has the right to withdraw this offer at any point.
WIN A VIP TRIP FOR 2 TO ASSEN BSB
14th May 2012
With British Superbikes heading to the historic TT Circuit Assen this season, Suzuki is offering a fantastic opportunity for you and one other to be there.
You can win a chance to see Tyco Suzuki´s Josh Brookes and Alastair Seeley battle for supremacy with other British Superbike heavyweights, all with accommodation and travel as part of the package, including three nights in a four star hotel, weekend tickets including grandstand seats and circuit hospitality, paddock access, a garage tour, and a meet and greet with the TAS Racing team.
To enter the competition, get your Suzuki serviced or MOT'd at any authorised Suzuki dealer between 14th May and 26th August and you could be the lucky winner of the VIP trip for two.
Suzuki GB´s Tim Davies commented, "British Superbikes is widely regarded as the best domestic race series in the world, and to have one of the showdown meetings on this famous and historic circuit is fantastic. We´re very excited about being able to offer one of our loyal and valued customers the chance to be a part of it, and reward them for choosing to stay within our dealer network."
Famous for its epic battles in the World Superbike Championship in the late 90's when thousands of Brits flocked to the circuit to cheer-on Fogarty , Whitham , and co, the magic looks set to return this year for BSB's very first mainland European race weekend.

SUZUKI LAUNCH ALL-NEW 2012 MERCHANDISE COLLECTION
03rd May 2012
Suzuki GB PLC has launched its largest ever clothing and merchandise collection for the 2012 season, with all-new lines that see the Japanese manufacturer depart from traditional and conventional motorcycle designs, to a range styled closer to high street fashion labels.
Conceived by a pan-European team, the new collection features subtle Suzuki branding with the consistent use of the Katakana motif to highlight the rich roots and heritage of the Suzuki Motor Company.
Featuring over 85 new items in eight bespoke ranges, the 2012 collection offers something for everyone, from fashionable hoodies , jackets and T-shirts for men, women and children, to technical riding gear, business shirts, workshop wear and a great range of merchandise too.
Upon launching the new range, Suzuki GB´s Emma Gibbon, commented, "The launch of the 2012 collection is the culmination of months of hard work across Europe. We´ve taken our conventional approach to motorcycle merchandise and effectively ripped up the rule book and started again. With this collection we truly believe that there´s an item for everyone and you really don´t need to be a motorcycle enthusiast either. Thanks to the team of designers involved in this collection, Suzuki clothing and merchandise can now stand proudly next to well-known high street names."
The 2012 collection can be bought online or via any authorised dealer. For more information click here or view a range preview at: http:// youtu.be / Sj61_EwC5ow

SUZUKI LAUNCH NEW ONLINE MAG
01st May 2012
Suzuki GB has launched its new online magazine, The Suzuki Bulletin, and to celebrate are giving away free tickets to the Brands Hatch British Superbike meeting in July.
The Suzuki Bulletin, an evolution of the old Suzuki Slipstream magazine, offers all the latest up to date news, from new models, the latest products, and events up and down the country, as well as all the latest offers and promotions.
There is also a wide range of exclusive features and interviews, with the likes of Crescent Suzuki Team Manager Jack Valentine, John Hopkins´ Crew Chief Lez Pearson, and the latest instalment of Prodigy frontman Keith Flint´s blog.
And for those who like their racing, there´s all the latest in the paddock from every round of the British Superbike championship and the British Motocross championship, as well as race reports from Suzuki´s racing on the world stage.
And to celebrate, Suzuki are giving away two weekend tickets to the BSB meeting at the historic Brands Hatch GP circuit in July, including race-day hospitality.
Visit the Suzuki Bulletin at www.suzukibulletin.co.uk , and to enter the competition, go here.

SUZUKI CELEBRATES ICONIC GSX-R1100 AS APRIL BIKE OF THE MONTH
10th April 2012
Suzuki GB's Bike of the Month promotion for April celebrates selected models of the iconic GSX-R1100 .
First introduced in 1986, the GSX-R1100 joined the legendary GSX-R750 , topping the new Suzuki sports bike range and wowing testers and owners alike with its powerful and grunty 1127cc engine and agile handling.
For April, Suzuki is offering discounts on 187 genuine parts, for models ´M´ to ´V´, with some parts dropped by over 60%.
The ´M´ model, launched in 1991, moved the bike into the 90s with all-new bodywork and styling, with the ´V´ model introduced in 1996.

Suzuki's Aftersales Marketing Co-ordinator , Tim Davies: "The GSX-R1100 is a classic bike, with the ´M´ model an icon that brought the already popular model into the 90s , and moved the game on again with performance and styling.
"We're pleased to be able to give customers of older machines a reason to choose the best possible parts to keep their bike running properly, and with a lot of people choosing to purchase older models to refurbish what better way than to use the genuine parts that were originally fitted to the model at the factory."
To take advantage of the Bike of the Month promotion, click here.