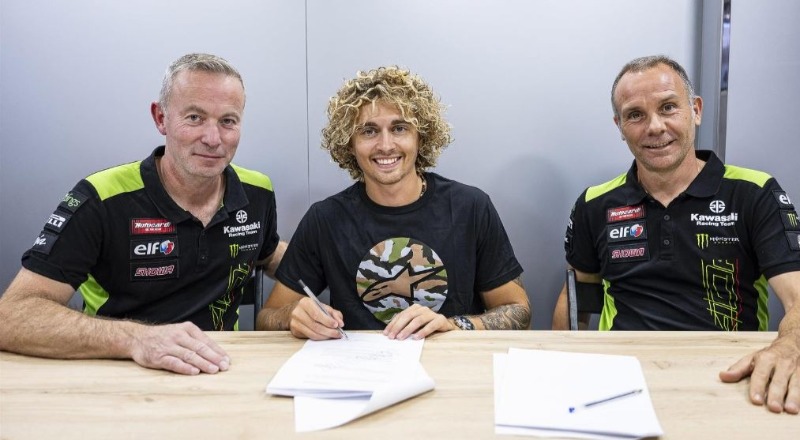 Axel Bassani has been confirmed as a Kawasaki Racing Team rider for the 2024 season and beyond. He will join established KRT rider Alex Lowes to complete the team's line up for next season on the official Ninja ZX-10RR.
Bassani (24) is one of the most exciting talents to rise from inside the WorldSBK paddock in recent years. He has amassed six podium finishes since he made the jump to WorldSBK racing in 2021, finishing ninth overall that year and scoring his first podium at KRT's home round of Barcelona – Catalunya, on his MotoCorsa Ducati.
The ambitious and increasingly skilled Bassani would score three podiums the next season as he finished seventh overall. He was the top competitor in the Independent Riders' standings in 2022, beating his closest opposition by over 100 points.
At time of writing he is fifth in the overall WorldSBK standings in 2023, and easily the best Independent Rider with two rounds to go.
His relative youth and obvious talent has made him an attractive proposition for many teams and with Jonathan Rea leaving the KRT set-up for 2024, Bassani was seen as the best prospect to be teamed up with Alex Lowes for a full campaign next year.
Bassani has scored six WorldSBK podiums already and is looking forward to having his first ride on the official KRT Ninja ZX-10RR machine once his contract with his current team expires. 
Axel Bassani, stated: "I'm really happy for the important opportunity that Kawasaki is offering me. I will give the best of myself on and off the track to achieve the best possible results, hoping to give all the Kawasaki fans great emotions and satisfaction! I want to thank my family for the sacrifices made and Lorenzo Mauri for the path we have taken together which has allowed me to stand out in recent years. See you soon on the track."
Guim Roda, Team Manager of KRT, stated: "Our 2024 strategy was set months ago, but Rea's move made us rethink the organisational logic at KRT. We spoke internally with KMC and the decision was to take a younger rider with the potential to win races and who knew how to take advantage of all the KRT experience. His image is fresh, sincere, fun and has a lot of potential to represent Kawasaki's image in the world. Alex Lowes will now need to apply all of his experience, while Axel will have a bit of time to learn. We are very happy with the structure we have proposed for 2024 and we are very motivated to enjoy racing and take advantage of the best aspects of the Ninja ZX-10RR. I hope the fans enjoy next season with this latest project we are working on."
Steve Guttridge, Kawasaki Motors Europe, Race Planning Manager, stated: "While we continue to compete for wins and podiums in the remaining races of the 2023 season with Jonathan and Alex, already the Kawasaki Racing Team is long-term planning for next season. It is almost impossible to express the impact that Jonathan has had within the Kawasaki racing family and as he leaves us at the end of the season there is a golden opportunity for a rider new to our racing project to make an impression. We are delighted to have signed Axel and our feeling is that his impressive track record so far is only a small indication of his future potential. We look forward to realizing that potential and seeing him blossom on the KRT Ninja ZX-10RR."
Shigemi Tanaka, General Manager of Marketing and Sales Division, Kawasaki Motors Ltd., Japan, concluded: "Our WorldSBK racing project has achieved multiple manufacturer and rider World Championships in recent years; first with Tom Sykes and then thanks to Jonathan Rea. The news that Jonathan will move elsewhere in 2024 signifies the end of one incredible chapter and the beginning of another in Kawasaki's illustrious racing history. The global Kawasaki family welcomes the news that Axel Bassani joins the KRT racing project for the coming season and we are confident that, in partnership with Alex Lowes, we will once again field two exciting and success hungry riders on our iconic Ninja machinery in the 2024 WorldSBK Championship."