Following two years of cancellations due to the Covid-19 pandemic, the Isle of Man TT is back for 2022 and promises to be bigger and better than ever before. As road racing fans rejoice in the return of the sport's flagship event, the racers who have missed out on almost 36 months of competitive riding could be forgiven for feeling slightly nervous.
For reigning Senior TT winner, Dean Harrison, the pressure is on, however the characteristically laid-back Yorkshireman is certainly not letting it show. Having spent the pandemic years honing his already-ample talent in other racing disciplines, he's relaxed and ready to tackle what the island throws at him in 2022.
Dean, let's take you back to 2019 and your first-ever Senior TT win. How did it feel to be standing on that podium?
It was almost overwhelming to be honest. The thing is, it's the biggest trophy you'll ever win in road racing. I'd won other TT races before and to win in any class is such an achievement, it's unbelievable, but to win the Senior was so special. With the TT being the biggest event of the season, to finish the week off like that feels like the weight of the world lifted off your shoulders.
The cancellation of the TT and other road races for the last two years has been fairly devastating for many, not least the riders. How has it affected you?
It's been so surreal. The whole Covid thing has been surreal and you just find it hard to believe what's happened. Doing the British Superbike Championship has filled a bit of the gap, so at least we've been riding some bikes, but it's like there's been a piece of the jigsaw missing. Hopefully we can finish the jigsaw off this year!
You did your first full season in BSB in 2021 – was that something you had always planned to do, or did it come about due to the lack of road racing events?
It only really came about because we didn't have any road races on the calendar. The team boss suggested we do the BSB season just to keep us sharp. The bike and all the equipment we had from 2019 was just sat there, so we thought we might as well put it to good use. Most racers start in BSB and go to roads, but I've done it the other way around. BSB is so competitive and it's a brilliant championship. I really enjoy doing it and I'm looking forward to doing more this year. Having said all that, my heart will always lie in road racing. That's what I do. It's what I grew up around and it's what I know.
Do you think doing the BSB season will improve your road racing?
I do, yes. I think it's helped me and the team. When you ride together and work together, you're finding things out about the bike all the time. You're riding all the time, so you're bike fit and your head is in the game. I think that has a knock-on effect, big time. It will help us as we go back into the road racing season. I can't wait to get back to it now. I'm just looking forward to getting the whole season going, to getting to the North West, to the TT, all of it. I've missed it a lot and I just want to get my teeth back into it now. A bit of normality.
As the defending Senior TT winner with a two-year gap, are you feeling the pressure more than you usually would?
Do you know what? I actually feel quite relaxed about it all. The only thing I feel a bit apprehensive about is what the track's going to be like. It changes year-on-year and it's been three years since we raced there. It might take a bit of time to get up to speed, it might not. I'll just take it as it comes.
Are you doing anything different to prepare mentally or physically?
The only thing different is that I'm doing a lot more off-road riding that I've ever done before. I bought a Kawasaki KX250X so I'm doing a lot of Enduro riding now. I've dabbled in a bit of Enduro here and there, but never anything serious. When I found out that Kawasaki had the KS250X coming, I thought "I'll have one!" It turned up and I was straight in at the deep end, but I'm excited to get to work with the bike and see what it can do. It has so much potential.
What are your plans for the bike?
I'm taking part in some rounds of the British Enduro Championship, then I'm hoping to finish the season off at the Sea to Sky race in Turkey. My plan is to race and develop the bike as the year goes on and really put a bit of effort into it. It's a brand-new motorbike, I've never really ridden a four-stroke off-road bike and it's totally different, so I thought I need a bit of time here. It's not that I'm not taking it seriously, but I don't have to take it too seriously so it's a little bit more relaxed for me.
With road racing, BSB and Enduro, you won't have much time for rest.
Well, yeah, I do like to keep busy!
Dean will be competing in the 2022 British Superbike Championship, the Isle of Man TT, North West 200 and Ulster Grand Prix with DAO Racing Kawasaki.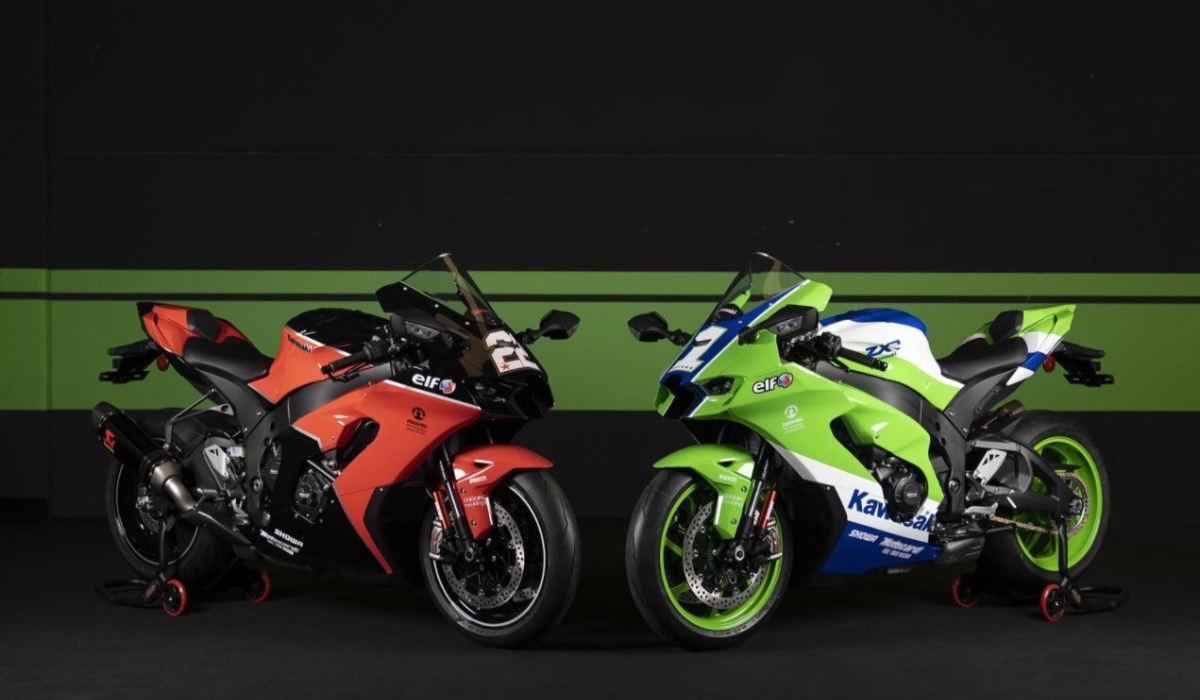 Following the worldwide response to the one-off KRT Superbike team heritage livery used at the Argentinian round of the World Superbike Championship in 2021, the Kawasaki Racing Team have created a unique experience combining a road going replica kit for the ZXR750-H2 and GPz900R styled machines along with matching leathers and a track experience with KRT riders which is being auctioned on eBay ending on March 3.
With overwhelmingly positive feedback for both the machines that Jonathan Rea and Alex Lowes rode, the team have used a pair of fresh from the crate Ninja ZX-10RR machines which have been dismantled at the KRT workshop in Granollers near Barcelona and rebuilt as faithful replicas of the racing machines with the added advantage that they will be fully road legal.
For Alex the choice in Argentina was the red and black livery of the 1980's GPz900R, the first machine in the world to be called a Ninja and two-wheeled star of a famous Hollywood film. Complete with an RST race suit made for the event, Lowes topped the look off by wearing "aviator" style sunglasses in the pit box before satisfying his "need for speed".
Jonathan fell in love with the re-imagining of the ZXR750-H style of 1990's as soon as he saw it; an era when the likes of Scott Russell, Robbie Phillis, Doug Chandler and Aaron Slight rode for the green team. Resplendent in his custom made Alpinestars leathers, the six-time WorldSBK Champion lined up on the grid and wound the clock back to a golden era of Superbike racing.
Only one of each style of machine has been created by the same mechanics that work on Rea and Lowes' racing Ninja machines and each with be accompanied by an exclusive "ownership package" that includes a Certificate of Exclusivity from KRT. Each lucky buyer will be able to spend a day on circuit with the team… and will even have 30 minutes of track time allocated alongside the KRT riders!
And to ride their newly purchased pride and joy the winner of the GPz900R replica will receive a set of custom-made RST leathers while the lucky owner of the ZXR750 style machine will be kitted out with unique Alpinestars racing leathers. Befitting such a special event, each owner will be presented with a photographic and video record of the day which they will surely never forget.
In terms of specification, each Ninja ZX-10RR will be a new unit supplied by an official Kawasaki dealer and will feature the following heritage kit courtesy of KRT sponsor partners: Akrapovic Kawasaki Heritage Limited Edition slip-on silencer, Valter Moto brake protector and rear paddock stand, Puig track-day windscreen and swing-arm bobbins, GB Racing engine covers and a Kawasaki genuine accessory fabric bike cover.

Commenting, KRT Team Manager, Guim Roda, said:

"This project was super successful in Argentina to celebrate Kawasaki's heritage and the introduction of the River Mark worldwide brand logo. We received amazing feedback from other teams and riders as well as Kawasaki fans globally. Our reaction was to create an exclusive limited edition experience with this pair of unique road machines and offer a package that amounts to a once in a lifetime ownership experience. Our KRT mechanics loved working on the bikes, and we look forward to meeting the successful bidders when they ride with Johnny and Alex."
Watch the video here https://youtu.be/BWG9QsM0x5g
Note: The ZXR750-H2 style machine reached its reserve price within minutes of the auction starting. The GPz900R machine remains available for bidding at the time of publication.
2018 Bennetts British Superbike Champion Leon Haslam is making an exciting return to the series this season, setting his sights on regaining his title. The popular rider will be racing for the Lee Hardy Racing team, riding the Ninja ZX-10RR.
Haslam will be returning to the BSB paddock following several seasons competing in World Superbikes, which included a stint as a factory Kawasaki Racing Team rider alongside Jonathan Rea. Now, the Derbyshire-based rider is returning to the UK with the aim of repeating his form of 2018 that saw him take his maiden BSB title with 15 wins and a further six podiums.
For this season, Leon will be riding a Kawasaki Ninja ZX-10RR for the proven Lee Hardy Racing team. Joining the premier class in 2014, the squad has enjoyed great success in recent years, finishing second to Leon in the 2018 series, and the one-rider team will be looking to build on this form and challenge for race wins from the opening round.
The team's new title sponsor and 2022 livery will be revealed in the coming weeks before the season officially gets underway at Silverstone on April 15th.
Ross Burridge, Head of Marketing & Racing Department at Kawasaki UK:
"It was great being part of Leon's success in 2018 and we as Kawasaki UK are excited to see him back in the Championship this year to hopefully challenge at the front of the field again. It's a tough Championship and after some time away in World Superbikes it will take some time to settle back in, but I'm sure the combination of both Leon's and the team's experience will put them in a great position right off the bat at round one."
"I'm super excited to be back in the British Championship and also to be back with Kawasaki, especially with the link to my Kawasaki-backed Affinity Sports Academy team. It's been a tough few years racing abroad so it's going to be great back in front of my home crowd once again! I know it's going to be a tough year against these guys but I'm looking forward to the challenge and have a lot of faith in the team around me."
Lee Hardy, Team Principal:
"I am very excited to have signed an agreement with Leon to contest the 2022 British Superbike Championship. Leon has proved what an asset he can be to a team, and we look forward to building a strong partnership together. We have both had amazing success with the Kawasaki brand, Leon last won the championship in 2018 with them and in that same year the Lee Hardy Racing team finished second to him also on Ninja machinery. We both have forged a great alliance with Kawasaki, and I see this as an incredible opportunity to fight for the championship again."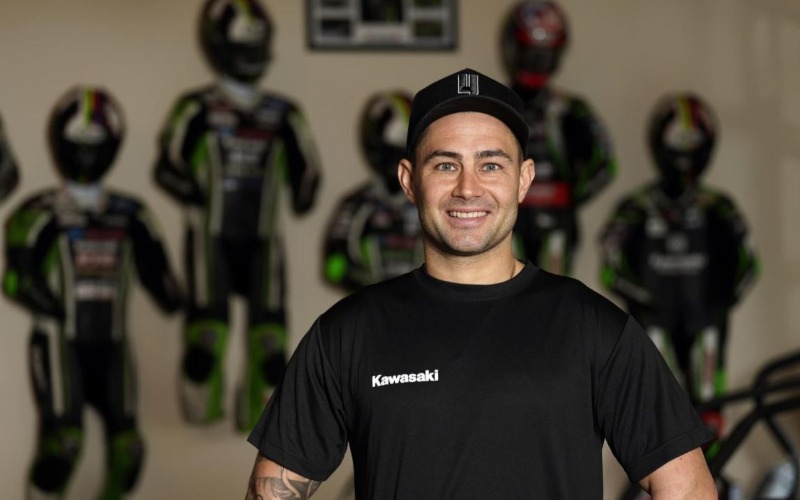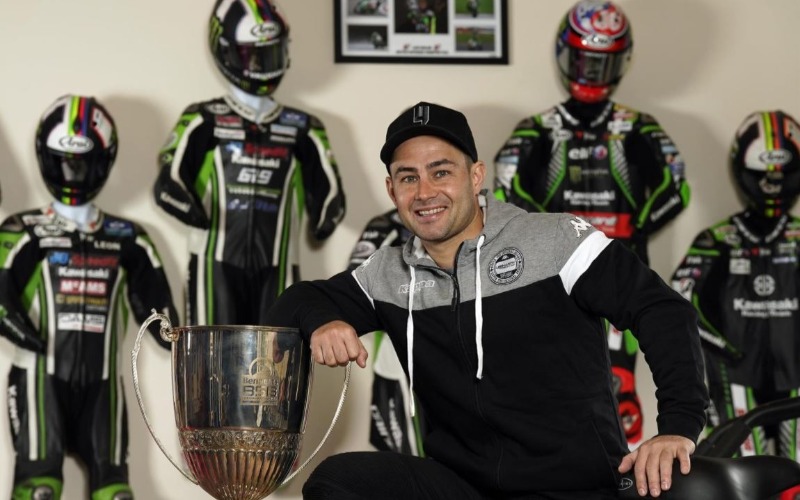 The FS-3 Racing Kawasaki team, the official Team Green entry in the Bennetts British Superbike championship, has today unveiled a striking new retro-inspired livery that will be used for all 11 rounds of the 2022 season.
Keeping with the same exciting line up of Lee Jackson and Rory Skinner, 2022 will be the sixth season that the Coventry-based team has partnered with Kawasaki. With both riders having had a year of development on the new Ninja ZX-10RR, they have firmly set their sights on building on their podium-finishing potential from 2021.
Following an incredible reaction to the ZX-7RR-inspired livery that World Superbike star Jonathan Rea used at the Argentinian round last year, the FS-3 Racing team has decided to create a similar retro-inspired them for their 2022 livery. The hugely popular design has been a hit across the UK, and for this year, customers who purchase a new ZX-10R or ZX-10RR from an authorised Kawasaki dealer can upgrade their bike to have the matching livery.
Unveiled for the first time at the MCN London Motorcycle Show, race fans will be able to see the striking liveries in action for the first time when the season gets underway at Silverstone on April 15th.
Ross Burridge, Head of Marketing & Racing Department at Kawasaki UK:
"Having witnessed the incredibly positive feedback from racing fans across the globe after seeing Jonathan's machine in Argentina, and then on our standard road bike at Motorcycle Live on the Kawasaki stand, we knew we had to see it on track in the UK this year. The guys at FS-3 Racing also fell in love with the design and are excited to see Lee and Rory debut the new look on track at round one in April later this year."
The newly renamed DAO Racing Kawasaki team has today unveiled the striking new Ninja ZX-10RR that Dean Harrison will campaign in the 2022 Bennetts British Superbike Championship.
With the covers being pulled off this morning at a busy London Motorcycle Show, race fans will immediately notice a departure from the traditional light blue colours that have adorned the team's Kawasaki machines for the past few seasons.
This reflects the team rebranding to DAO Racing, while the enhanced flashes of green showcase their close relationship with Kawasaki, with them being the Official Road Racing squad for the brand. These new colours will be seen at all 11 rounds of the 2022 Bennetts British Superbike Championship, while Dean will be running a slightly different design at the North West 200, Isle of Man TT and Ulster Grand Prix to reflect additional sponsors.
Last year saw Dean enjoy one of his best-ever seasons in the BSB class, and the Bradford-based rider will be looking to build on that while also using it as a chance to help prepare him for the return of the roads.
Ross Burridge, Head of Marketing & Racing Department at Kawasaki UK:
"This livery really is very striking! Although this is the same team, now known as DAO Racing, it's great to have a fresh new look for the 2022 season. Dean has been making strides in the Superbike class at BSB over the past 12 months and I am sure he will be progressing again this year and ready to fight to retain his Senior TT winner title also! One thing is for sure, he will be doing it in style!"
Jonny Bagnall, Team Manager at DAO Racing
"Following a complete rebrand for the team, we wanted a new look for our ZX-10RR and I'm delighted to reveal our 2022 British Superbike livery. This is the bike we will run at all BSB meetings this year and we will be unveiling our roads machine at a later date.
We have chosen to go for quite a dramatic change in style and colours. Although we have stuck with blue, green and white, we've gone for a darker and brighter blue this year, moving away from our traditional old shade and have retained the green to reflect our involvement with Kawasaki.
The livery also includes elements such as the Thai and Manx flags and I believe we've created a bold and striking machine to fly the DAO Racing flag in the Bennetts British Superbike Championship in 2022."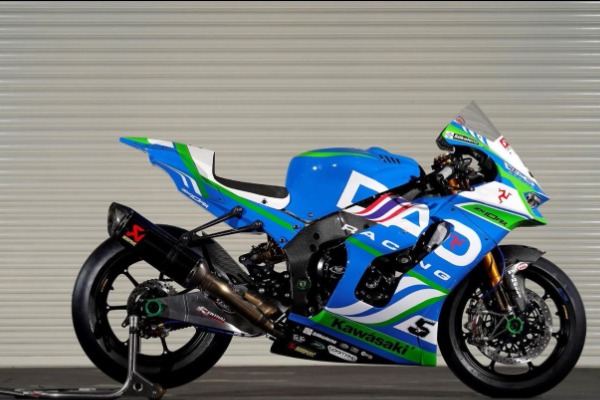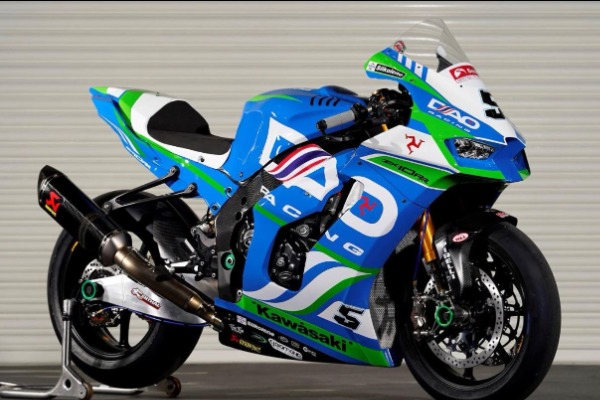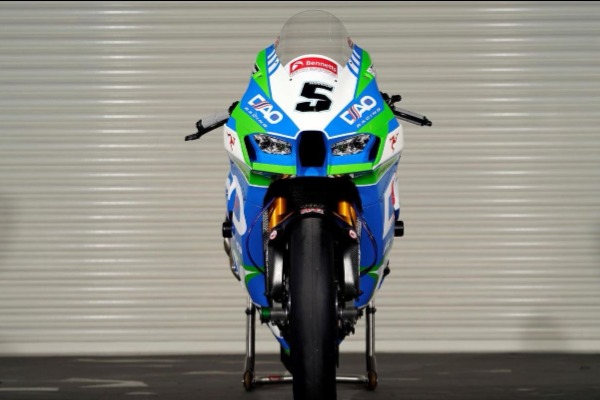 The GR Motosport-run STAUFF Fluid Power Kawasaki team has made the exciting move to bring former BSB star Joe Francis into the Pirelli National Superstock Championship for 2022. Joe will campaign the entire season aboard the Ninja ZX-10RR machine.
A successful 2021 season saw the STAUFF Fluid Power Kawasaki team secure race wins and podiums in the maiden year of the new Ninja ZX-10RR. Now with a year under their belts, the team are looking to build on this performance in 2022 and challenge for the National Superstock Championship title.
To do this, they have signed former Bennetts British Superbike Championship star Joe Francis. The Chester-based rider previously rode for the GR Motosport squad in 2013, securing the British Motostar title in the process, so the duo will be looking to replicate that winning form this year.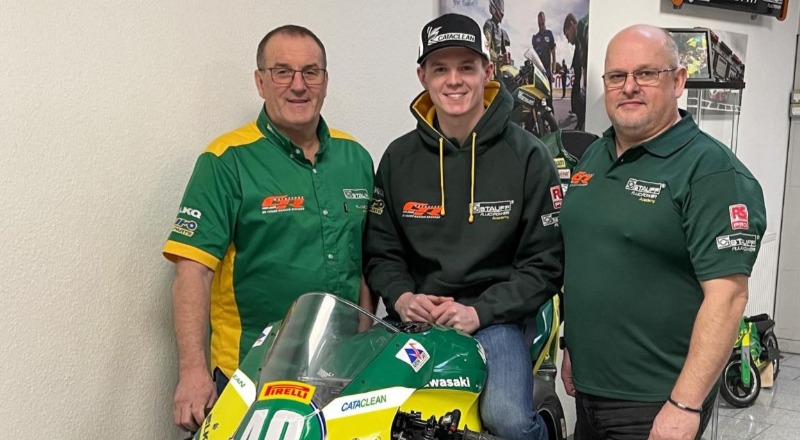 "I'm really looking forward to this year and a new challenge in the Superstock class. It is something I am excited about; my goal is to challenge for the championship title, and I am really motivated for the season ahead.
It is nice to be back with Brent and the crew, working with the same team members I had back in 2013 when we won a championship together, and now we want to make it two. I am confident that with the programme and team around me that we can make it happen. I can't wait to get going in a new class and I am thankful to Brent and all of my sponsors who have put me in this position for the 2022 season."
Ross Burridge, Head of Marketing & Racing Department at Kawasaki UK:
"Having worked with Brent and his professional outfit for a number of seasons now and seeing how the team have continued to develop across a multitude of classes, we are excited to see what they and Joe can achieve in 2022. It's always a tough class, but it's an important one for every Manufacturer, so we wish them the best of luck for the season ahead."
One of the most influential motorcycle designers of recent times has sadly died at his home in Japan at the age of 75. In December 2021, Shunji Tanaka passed away and leaves a considerable legacy in terms of his influence on motorcycle design while Design Director for Kawasaki based at their factory in Akashi, near Kobe, Japan.
As an integral part of Kawasaki's K-Tec design department, Tanaka-san played a significant part in the introduction of a fresh, new approach to the styling of Kawasaki motorcycles both in terms of the bodywork and overall appearance plus the adoption of so called "signature colours" which defined the machines during their launch phase.
Already a highly respected automotive designer before joining Kawasaki, Tanaka-san is credited with the design direction of the Mazda MX5, the world's top selling two seat convertible ever in terms of volume of sales with production now exceeding one million units. Moving from four to two wheels did not intimidate Tanaka-san; in fact, the remit to create bold designs for Kawasaki which embodied the uncompromising performance personality of the company resulted in a series of machines with instant impact and lasting appeal.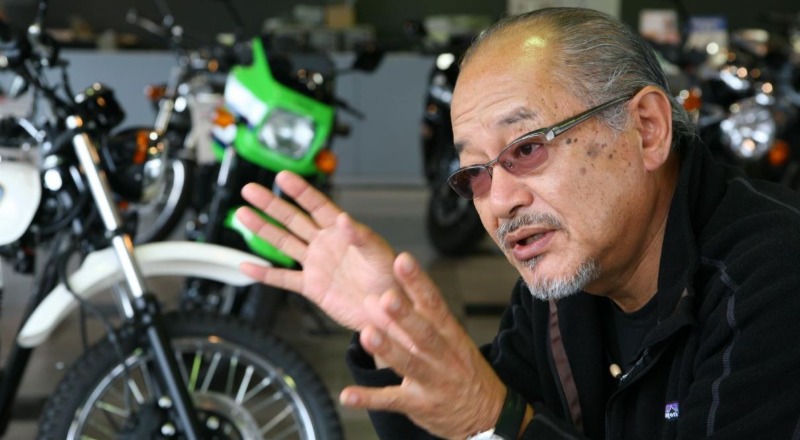 Marshalling his design team into a mutually supportive group – one of the keys to Tanaka-san's success – was the democratisation of the design process with even the most junior team member having a voice and being able to contribute to the final finished product.
Applauded for his influence on the styling and visual appeal of the machines launched during his time as K-Tec design director, Tanaka-san was proud to be involved in the successful introduction of the water-cooled in-line four-cylinder Z1000 in 2003 with its distinctive quad exhaust system and angular lines and for overseeing the look of the dramatic and impressive 2004 Ninja ZX-10R and subsequent 2005 Ninja ZX-6R.
Creating a recognisable "face" for the machines his team were responsible for was no coincidence as Takana-san firmly believed that the "personality" of a motorcycle was determined by the upper cowl and headlamp area with the rest of the design flowing from, and influenced by, this crucial part of the styling exercise.
It is hardly surprising that among many and varied enthusiasms in his private life, that Shunji Tanaka had a passion for the "Noh" masks used in traditional Japanese theatre productions; each mask establishing the credentials and often complex personality of the character in the play.
Mercurial, thoughtful, and highly creative, Tanaka-san was an eminently approachable man whose evident enthusiasm for design was infectious. As a "landmark" along the considerable design journey that Kawasaki has taken – and continues to this day – Shunji Tanaka will be remembered with considerable respect and affection.
Z1 to Z50 – Kawasaki celebrates half a century of the Z family
Fifty years after the very first Z model broke cover, Kawasaki has announced no less than five Z50 celebration models. With the iconic 1972 Super Four model Z1 as great, great grandparent, the five machines cover a wide spectrum underpinning the wide appeal of this popular Kawasaki brand family.
The dynamic Sugomi styling of the Z900 has won many fans since its introduction with an unapologetic aggressive attitude matched to dynamic and responsive riding feedback that only a Z could possess. The 50th anniversary editions of the Supernaked Z900 is clad in the Firecracker Red of the Z1100GP, the dominant air-cooled Z model of the 1980s. This hue of red – also found on the legendary GPZ900R – was Kawasaki's signature colour of the time. As another high-class touch, the fork outer tubes are finished in gold and the frame in gloss black. Incorporating TFT colour instrumentation with Smartphone connectivity, the Z900 includes integrated power modes, KTRC traction control and power mode selection (Full/Low) as well as all-LED lighting.
The A2-friendly Z650 with its narrow chassis and responsive parallel twin-cylinder engine is a firm favourite among riders of all experience levels. Equipped with an LED headlight, a TFT display and Smartphone connectivity, the Z650 energizes the senses and inspires every ride. The vivid red paint, was specially blended for these anniversary models, making their aggressive Supernaked Z styling even more striking. The dark blue and silver highlights accentuate the red and like models of the time, the "Z" emblem and Kawasaki logo are finished in gold, further distinguishing these models from their standard counterparts. Add red wheels, with silver pinstripes, special seat leather and a commemorative "Z 50th" logo on the front fender and the package is complete.
Expanding the boundaries of the Retro Sport scene further still, Kawasaki returned to the roots of the Z brand, choosing the iconic "Fireball" pattern of the original Z1 for the 50th anniversary editions of the retro sport model Z900RS and Z650RS. A special painting process was developed specially for these models. The candy colours of the tank and bodywork are applied in layers to bring out a deep, glossy texture that enhances the inherent beauty of these machines. Complementing the rich colouring, the frames of both machines are finished in gloss black and have a special seat leather with a texture distinct from the standard model, as well as different colour stitching. Both machines feature gold-coloured wheels and "Double Overhead Camshaft" emblems reminiscent of the past and proudly show the "Z 50th" logo on the top of the tank. Additionally, the left and right-side engine covers of the Z900RS feature a "DOHC" emblem.
It is rare indeed for a brand family to last a decade let alone five, yet the Kawasaki Z family moves from strength to strength. In 2022 that strength is made real by the presence of the five Z50 models forming part of a celebration bond between Kawasaki and its legion of loyal fans both established and new to the brand.
Here's to the next 50 years of Z !Z50 Celebration Colours:-
Z650 = FIRECRACKER RED RRP: £7,349-
Z900 = FIRECRACKER RED RRP: £9,799-
Z650RS = CANDY DIAMOND BROWN RRP: £8,049-
Z900RS = CANDY DIAMOND BROWN RRP: £11,449
The Z 50th Anniversary models will start to arrive in Kawasaki dealerships from March 2022. For more information and to register your interest, please contact us.
Kawasaki will launch the most comprehensively specified Sport Tourer ever created in 2022 and, thanks to new innovative ARAS technology from technical partner Bosch, this new machine will be on the radar of a legion of motorcycle fans.
Equipped with not one but two radar sensors, the Ninja H2 SX – and the top of line SE model with Showa electronically damped suspension plus Skyhook technology – host multiple rider aids including Forward Collision Warning (FCW), Adaptive Cruise Control (ACC) and Blind Spot Detection (BSD).
With three possible rider selectable distance settings, FCW gives a visual warning via a strip of lights above the meter panel when the machine reaches a set distance from the vehicle in front. The rider is in control at all times of the response and can brake or take other actions to avoid a possible collision. ACC – adaptive cruise control – also has three possible distance settings. In this case, when the machine reaches a set proximity, the brakes are automatically activated if necessary to aid deceleration, and the engine speed slowed sufficiently to maintain the pre-selected distance. As the distance increases, the machine gradually and automatically returns to the set cruising speed the rider initially selected. While both of these functions are focused on the front radar sensor, the rear sensor is dedicated to BSD – blind spot detection. As it suggests, as a vehicle moves into a rider's blind spot a light (either left or right) illuminates clearly but unobtrusively in the relevant rear-view mirror.
As a platform for such advanced technology, there is no better machine than the Ninja H2 SX with its unique Kawasaki designed and manufactured balanced supercharged engine. Mated to the sharp aggressive Ninja styling and advanced suspension, the sporting prowess of this ultimate tourer is indeed impressive. A cornering management function, multi-level traction control, launch control plus engine brake control, integrated riding modes, and even an up/down quick shifter as standard, show that this is a sport bike of the highest order.
Matched to this are such touring features as optional colour-coded clean mount panniers, selectable riding and power modes, keyless ignition, LED cornering lights plus on-board tyre pressure monitoring. Additionally – and making life that little easier when on tour – vehicle hold assist (VHA) is also part of the standard specification. When the rider has stopped, VHA is initiated after the rider exerts a given amount of pressure (to either the front and/or rear brake). The system disengages automatically when rider pulls away or when the side stand goes down. This is a huge advantage when pulling away uphill or with passenger and luggage onboard. Handy too is the Emergency Stop Signal, another automatic feature that "pulses" the rear brake light if the rider suddenly brakes hard.
In terms of the "rider environment", Kawasaki has certainly not economized delivering a large, colour TFT meter panel able to relay a multitude of machine status updates; but that is just the start of the 6.5" screen's functionality. For 2022, the Ninja H2 SX and SE models come with Kawasaki SPIN as standard. A "screen in screen" infotainment system, SPIN allows the rider to link to their Smartphone and access approximately 20 Apps on the meter panel covering navigation, weather, music, contact logs and many other subjects such as rider to passenger communication.
Packing so much technology and smart features into one sports touring package has been a challenge that Kawasaki's designers and technicians have been proud to rise to. Put simply, the Ninja H2 SX is likely to be beyond the expectations of many and it will take time for the motorcycling world to fully come to terms with the sheer level of sports and touring ability on offer, along with the most comprehensive array of rider aids that Kawasaki has ever made available. 2
022 Colours – Ninja H2 SX and SE
Emerald Blazed Green / Metallic Diablo Black / Metallic Graphite Grey
Available from March 2022, the Ninja H2 SX and Ninja H2 SX SE will be available in three editions:
Ninja H2 SX – £20,949Ninja H2 SX Tourer Edition – £21,699
Ninja H2 SX Performance Edition – £22,049
Ninja H2 SX Performance Tourer Edition – £22,799Ninja H2 SX SE – £23,949
Ninja H2 SX Tourer Edition – £24,699Ninja H2 SX Performance Edition – £25,049
Ninja H2 SX Performance Tourer Edition – £25,799
The President of the newly formed Kawasaki Motors, Ltd. – Mr Hiroshi Ito – visited the 2021 EICMA show in Milan to unveil a number of key models for the 2022 season while displaying corporate confidence in terms of international travel, alternative power sources and the roll out of new season products.
Hosting unveilings on both the Kawasaki booth and the adjacent Bimota display area, Mr Ito struck a confident note while taking part in the public world debut of two significant Kawasaki machines whilst also praising the commitment and achievements of global Kawasaki racing endeavours. Underpinning this, he made a number of key commitments in his keynote speech.
Front of mind for the media and many consumers are the twin issues of future fuels and carbon neutrality while pursuing all options including HEV, EV and eFuels such as hydrogen. Reflecting on the current trend for electric vehicles Mr Ito promised that the newly formed Kawasaki Motors, Ltd. would unveil three electric models globally during 2022. Additionally, he committed to further development of hybrid vehicles and offered some tempting insights into Kawasaki's advances in the field of hydrogen power stating that the Kawasaki Group as a whole is taking on a key role in this area committing to lead the way in hydrogen production, transport, storage and use.
With some 2022 machines already in the public the Kawasaki EICMA booth played host to the international debut of several major models for the coming season. In terms of sales volume the mid-capacity sector, and the vital A2 licence class, the Versys 650 is one of the jewels in the Kawasaki crown. For 2022 the appeal of this already popular machine is boosted following a number of key changes. In terms of bodywork styling, the synergy between the Versys 650 and Versys 1000 is now complete thanks to changes to the upper cowl of the smaller machine.
And with so many Versys customers riding year-round the new screen with its greater weather protection and revised adjustment procedure is augmented by an even larger genuine accessory item. KTRC traction control is a welcome addition for 2022 with two rider selectable settings while the 4.3" full-colour TFT instrumentation provides at-a-glance information and smartphone connectivity contributing to an even richer riding experience.
With all LED lighting and a range of practical genuine accessories such as handguards and a useful optional USB socket mounted in the cockpit area, the Versys 650 will form an essential part of the 2022 model range for Kawasaki – especially so in Europe where the edition models covering Urban, Tourer, Tourer Plus and Grand Tourer specifications will be shortly available on showroom floors.
Taking the pioneering and innovative spirit of the new Kawasaki Motors, Ltd. as his reference point, Mr Ito also proudly unveiled a game changing motorcycle that the company confidently positions as the most advanced Sports Tourer ever created. The 2022 Ninja H2 SX is equipped with Bosch ARAS technology and boasts not one, but two radar sensors used to monitor functions such as forward collision warning (FCW), adaptive cruise control (ACC) and, in the case of the rear mounted unit, blind spot detection (BSD).Unique among Japanese produced motorcycles in respect of its balanced supercharged engine and most markedly due to the Bosch integrated radar technology, the partnership with the German tech giant also extends to the Kawasaki SPIN infotainment system which also makes its debut on the 2022 machine. Allowing the rider to access approximately 20 Apps via a Bluetooth connection with their Smartphone, Kawasaki SPIN is a "screen in screen" system utilising the machines large colour TFT meter panel.
Already announced 2022 machines that the European public will see and examine at EICMA include the recently launched mid-capacity A2 licence friendly Z650RS and its Retro Sport sibling the stunning Z900RS SE resplendent in its "Yellow Ball" paint scheme. Also on display will be the latest Z900 SE shown for the first time in public.
"It was important for Kawasaki to send a clear message at EICMA", commented Mr Ito. "We are here to say that not only are things returning to normal, but that Kawasaki is continuing to innovate and push the boundaries of the motorcycle market. New technology such as ARAS and Kawasaki SPIN on the new Ninja H2 SX will offer riders the peace of mind and convenience to enjoy even more comfortable riding.
Our presence at EICMA, the world unveiling of new products and our commitment to new motive power and researching carbon neutrality represents tangible evidence that Kawasaki Motors, Ltd. is robust in its efforts to meet and then exceed current and future customer needs. Let the Good Times Roll".
Firmly established as the "go-to" mid-capacity any roads machine in its segment for a multitude of riders, Kawasaki has considered carefully how to move the concept forward in 2022.
Whilst not changing the essence of what makes the 649cc parallel twin powered machine so popular, the upgrades and changes both increase the familial synergy with its litre-class sibling and deliver increased functionality and comfort.
With its 17" wheels and long travel suspension, the Versys 650 has formed a bond with countless riders who ride in the urban jungle during the week and break out of the city at weekends to tour solo or with passenger and luggage.
And speaking of luggage, the option of colour coded clean mount panners plus a capacious top case remains for 2022 along with the convenience of Edition models which come pre-fitted with a range of genuine accessories. Urban, Tourer, Tourer Plus and Grand Tourer are all available as catalogue machines while owners are also free to specify from a huge range of accessories to create their very own "Versys vision".
Practically speaking, the Versys now features a redesigned upper cowl and new four-position windshield design with screen adjustment being even easier plus an option of a larger screen for ultimate element isolation. LED lights and indicators make the machine unmissable while reassurance is delivered via KTRC traction control and its two rider selectable modes.
Riding is what Versys owners care about most, and the slim, tubular chassis and narrow engine profile certainly deliver a flickable package that is both comfortable over distance and fun to be in command of. Certainly, most riders will want to (and be able to) ride until the last vestiges of fuel in the capacious 21L fuel tank are sipped before stopping to refuel. Frugal and fun, the Versys 650 is perhaps best explained as a "thoroughbred workhorse", ready to respond to the most radical distance demand yet pursuing its task with a lightness of touch and all-day comfort that prepares both rider and passenger for the next day's ride…. and the day after that.
For Versys riders there is the convenience of a TFT colour meter with Smartphone Bluetooth connectivity linking machine and phone in order to access Kawasaki's Rideology App which allows monitoring of numerous machine functions and overviews of routes taken plus other functions. Add the convenience of an optional USB outlet along with other practical accessories and the logic of each move Kawasaki has made to enhance the Versys 650 for the new season makes perfect, practical sense.
2022 Colours
Metallic spark black/metallic flat spark black: Standard – £7,799. Tourer Edition – £8,599. Grand Tourer Edition – £10,049
Metallic phantom silver/metallic flat spark black/metallic spark black: Standard – £7,899. tourer Edition – £8,699. Grand Tourer Edition – £10,149
Candy lime green/metallic flat spark/ metallic spark black: Standard – £7,899. tourer Edition – £8,699. Grand Tourer Edition – £10,149
The Versys 650 will be available in store from March 2022.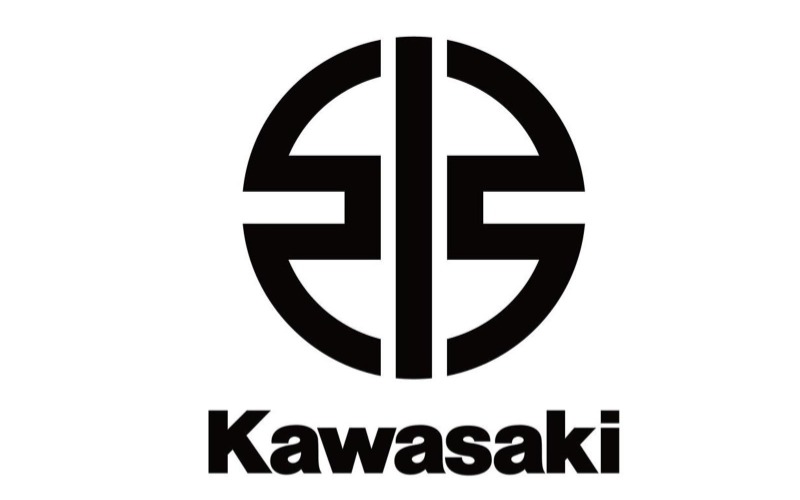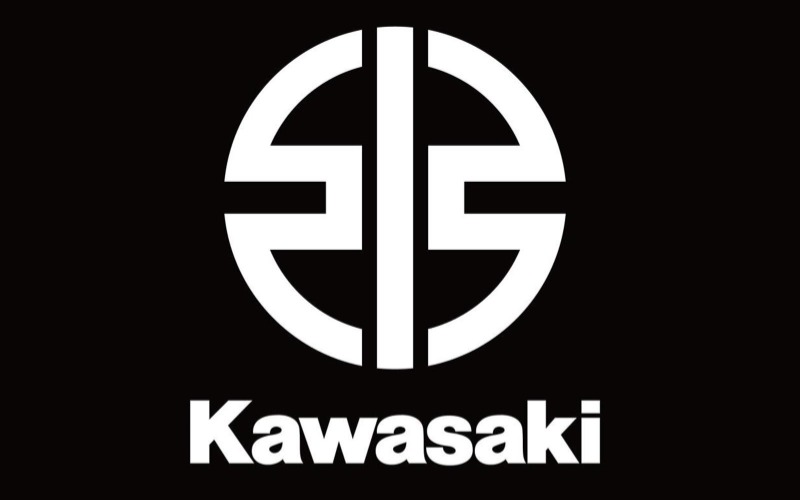 A company with over 120 years of heritage, Kawasaki Heavy Industries (KHI), encompasses manufacturing enterprises focusing on sea, land, air and even into deep space. Following the announcement of the creation of a new company within the Kawasaki group created to solely focus on the manufacture of motorcycles and stand-alone engines, Kawasaki Motors Ltd is now rolling out a new corporate identity which reflects both the heritage aspect of this global enterprise and to symbolise optimism of the future.
The River Mark – which is a stylised representation of the Japanese character meaning River – first appeared in the 1870's at which time it was seen on the flags of ships owned by the Kawasaki Tsukiji Shipyard, the forerunner to Kawasaki Heavy Industries. Being formed by Shozo Kawasaki in 1878, the company first concentrated on ship building fulfilling the desire for Japan to export goods, and for the island nation to take its place on the international trading arena. With a solid reputation for marine innovation and construction quality, the ambitious company soon expanded into civil engineering, rolling stock and steam engine manufacture finally breaking the bounds of earth by creating its first aircraft.
At key points during the century plus evolution of this vast company with its global reach and reputation, the River Mark has been used, its application being restricted to Kawasaki's most significant products of their time. In the modern era, the River Mark once more came to prominence as it appeared boldly on the cowlings of the unique to Kawasaki, Ninja H2 and Ninja H2R machines powered by their in-house designed and manufactured supercharged engines unveiled in 2015.Now, on 6 October 2021, Kawasaki has declared that the time is right to adopt the famous River Mark as its Corporate Identity symbol and for this simple yet effective round logo to be the main identifying symbol for the combined efforts of its many companies and their diverse products in both commercial and public consumer environments.
Commenting on the roll out of the new logo, Mr Masaya Tsuruno, Managing Director of Kawasaki Motors Europe said:
"The world has changed immeasurably in the century plus history of the Kawasaki company – none more so that in the past few years. As we roll out our new corporate identity with the River Mark at its core, we look to take a next, bold step in terms of technology and engineering as well as enhancing the lives of countless people around the world with a focus on sustainability and emerging green technologies. While some things change others remain constant such as our commitment to be the best in our chosen fields; the River Mark is a fitting symbol of this commitment."
Kawasaki's any roads Versys 1000 has successfully established a place for itself in the hearts of numerous riders in the past few years, and that success story looks set to continue in 2022 as Adventure Calls once more.
Appealing to truly ambitious riders who want to explore beyond the comfort and endurance limits of most machines, the Versys will be available in three versions for 2022. The SE model is the leader of the family featuring an enviable specification that includes a wide range of electronic rider aids and technical features as well as offering electronically damped front and rear suspension as standard. Featuring Showa's advanced Skyhook suspension technology, the attitude of the SE is focussed on the machine staying in the same relative position as the road surface undulates with the suspension action absorbing the movement via constant adjustment thanks to its super-fast reaction speed.
As range partner, the SE is complemented by an S model that continues into 2022 offering the same rider aids as the SE yet relying on a more traditional non-electronically damped suspension set up. The list of rider aids that both machines feature is extensive including electronic cruise control, an IMU enhanced control package, traction control, power mode selection, integrated riding modes, an up/down quick shifter and an integrated ABS braking system.
From a chassis point of view, the S and SE also have full LED lighting including cornering lights, TFT meter panels with Bluetooth connectivity to the riders' smartphone via the Kawasaki Rideology App and the convenience of a large windscreen and protective hand guards. Available with colour coded clean mount panniers plus a top case as accessory items, both the S and SE models will be available in a variety of Editions in 2022 ranging from Tourer to Grand Tourer.
Finally, completing the trio of Versys 1000 models available for the new season is a standard or "entry-level" version giving riders on a more limited budget an opportunity to discover why so many thousands of owners have such an affinity with the Versys concept.
Offering the same base specification as both S and SE models in terms of the engine and chassis, but without such items as cornering lights, TFT meter panel, integrated riding modes and highly durable paint of its siblings (or the SE electronically damped suspension), the standard machine does however offer the accessory option to add an up/down quick shifter, large windscreen, heated grips and hand guards plus the accessory pannier and top case luggage options common to the other machines in the 2022 Versys 1000 range. Standard, S and SE, for 2022 there truly is a Versys 1000 for every budget and every rider.
Available from the end of January 2022, the colours and prices for all three editions will be: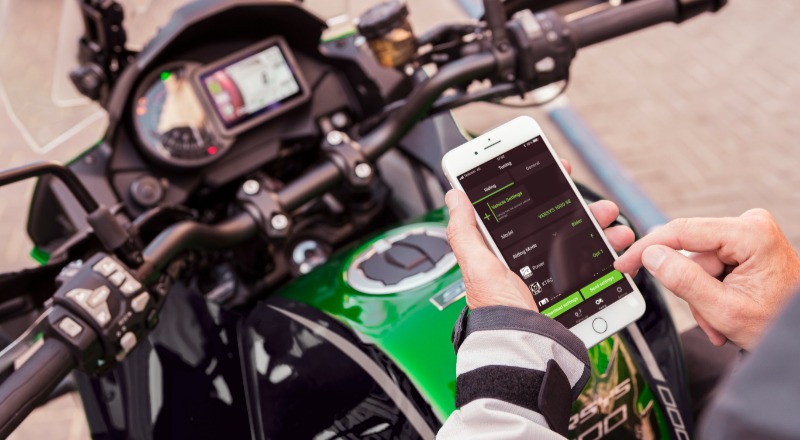 Versys
Candy Lime Green/Metallic Spark Black (Standard £10,399, Tourer £11,199, Grand Tourer £12,099)
Versys S
Emerald Blazed Green/Metallic Diablo Black/Metallic Spark Black (Standard £13,099, Tourer £13,899, Grand Tourer £14,999)

Metallic Graphite Gray/Metallic Diablo Black/Metallic Flat Spark Black (Standard £13,099, Tourer £13,899, Grand Tourer £14,999)
Versys SE
Emerald Blazed Green/Metallic Diablo Black/Metallic Spark Black (Standard £14,999, Tourer £15,799, Grand Tourer £16,699)

Metallic Graphite Gray/Metallic Diablo Black/Metallic Flat Spark Black (Standard £14,999, Tourer £15,799, Grand Tourer £16,699)
Kawasaki will start a Retrovolution in 2022 with the introduction of the new Z650RS. Augmenting its already hugely popular retro sport line, the Z650RS will open the mid-capacity class to a wide range of riders. Recognised as being at the forefront of the rapidly expanding retro sport scene, Kawasaki has the unique advantage of close to fifty years of Z heritage and this has been brought to bear on the design of the new 2022 machine.
Targeted at younger riders and those in the early stages of their riding career, the Z650RS is predicted to also appeal to those who fondly recall the launch of the iconic "son of Z1" Z650-B1 in 1977. The delicate balance of old and new, retro and current has been expertly achieved by the Kawasaki design team with clever Z references abounding.
At the heart of the new machine is an updated version of Kawasaki's venerable 649 cm3 water-cooled, parallel twin engine used in both the current Z650 and Ninja 650 models. With a justifiable reputation for durability and performance, the assist and slipper clutch equipped engine unit has also formed the basis of machines raced to success at the gruelling Isle of Man TT races. Tuned in the case of the Z650RS for low and mid rev response, plus characteristic invigorating high rev performance, the engine is rated at 68 PS (50.2 kW) and will also be available from Kawasaki dealers with a 35kw power down kit fitted creating an A2 compliant machine.
In terms of the chassis, the frame is a tubular trellis type construction providing both lightness and agile response to aid reassuring handling capabilities. Its narrow aspect also allows riders to easily reach the ground at a standstill and manoeuvre the bike on the move with equal ease. The seat height for European models will be 820mm with a low seat accessory option at 800mm.
Focusing on suspension, the front duties are undertaken by ø41mm conventional forks with Kawasaki's highly rated horizontal link rear suspension acting on a shock that is adjustable for pre-load. Braking is care of dual twin piston front calipers acting on retro-style 300mm round disc rotors instead of Kawasaki's customary petal style rotors while at the rear a single piston brake acts on a 200mm rotor all assisted by Bosch advanced ABS.
Specification is one thing but the styling of the Z650RS is whole new ball game. Evoking myriad memories of the Z650-B1, the paint and pinstripes are a faithful reproduction of the green version of the earlier machine while the iconic "duck tail" cowling behind the seat and faithfully crafted side panels also play homage to the 1977 machine. Even the seat and its stitching pattern reveal a familiar fastidious attention to detail attention by Kawasaki stylists.
A round, LED headlamp lights the way while the dual analogue style "artillery shell" shaped meters include a digital centre panel for rider information. The adoption of gold multi-spoke type wheels is truly the "icing on the cake" while further embellishment is possible via a range of Kawasaki Genuine Accessories. Without doubt the new Z650RS will ensure that 2022 is the year of "Retrovolution".
2022 Z650RS – Three Colours & Three Distinct Styles
* Metallic Spark Black – £7,549
* Candy Emerald Green – £7,699
* Metallic Moondust Gray / Ebony – £7,699
AVAILABLE FROM NOVEMBER 2021
With few, if any, rivals, the Kawasaki sport touring Ninja 1000SX has been one of the stand-out machines of recent years. Carving itself an enviable niche as a machine that has supersport handling and DNA combined with the comfort and flexibility to tour solo or with passenger, the Ninja 1000SX has won the highest praise winning countless magazine and web site road tests.
Now in its fourth iteration, the Ninja 1000SX has been gradually refined and features a magical mix of features that combine to create a machine with real pedigree. The recent adoption of a sporting four into one exhaust and more angular cowling combine with radial mount mono-bloc front brake calipers, a radial mount master cylinder and horizontal back-link suspension plus up/down quick shifter to display authentic Ninja credentials.
And from a touring perspective, clever touches abound. In terms of luggage capacity, the combined total capacity of the accessory panniers is an impressive 56l plus a clean mount pannier system means that the supersport style of the machine is not marred by an ugly framework when the panniers are removed. Seat comfort has also recently been upgraded along with greater wind protection from a screen offering a wide range of adjustment to fine tune the ride.
In terms of electronic rider aids, the assistance is myriad thanks to the adoption of an IMU that, along with the ECU, measures inertia in six axis plus electronic cruise control as standard. Alongside this, selectable integrated riding modes and a cornering management function are standard as well as power mode selection, KTRC traction control, supersport level ABS and smartphone connectivity between the all-digital TFT colour meter and the riders' smartphone via Kawasaki's Rideology App.
Default choice for a legion of riders who want their machine to multi-task and excel at whatever it is asked to do, the 2022 Ninja 1000SX will deliver a truly unique combination of competencies.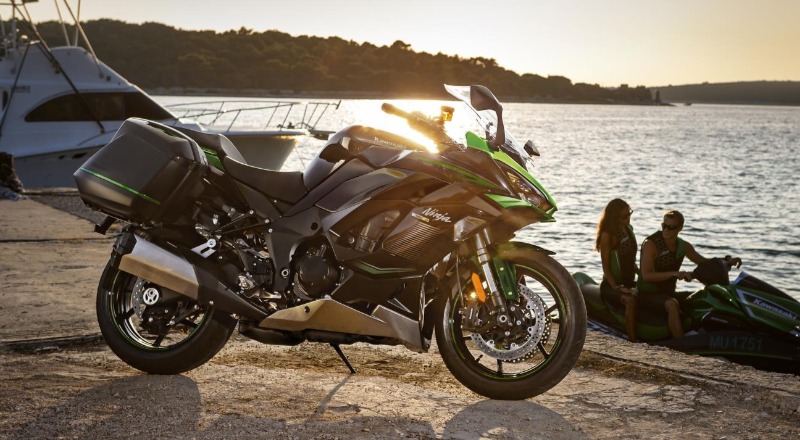 Colours for 2022 will be:
Metallic Diablo Black/Pearl Robotic White
Emerald Blazed Green/ Metallic Diablo Black/Metallic Graphite Grey
Metallic Matte Graphenesteel Grey/Steel Grey/ Metallic Diablo Black