Kawasaki Motors UK is pleased to announce that it is returning to Motorcycle Live on December 4th – 12th 2021. After the cancellation of the physical show in 2020, this year will mark the return of fans to the NEC Centre and Kawasaki will be showcasing the full range of 2022 models alongside a host of features and activities.
For 2021, Kawasaki will be located in Hall 2, and will have the full suite of soon-to-be-announced 2022 models for fans to get up close and personal with. The Kawasaki UK staff will also be on hand throughout the nine day event to help visitors understand the latest innovations and discuss the many features and benefits of the new model range.
In addition to the latest models, Kawasaki will also have a host of British Superbike riders in attendance on the stand over the event, holding interviews and meeting fans for autographs. Having turned green for 2021, the California Superbike School will also be featuring on the stand, giving visitors the chance to book their place for the 2022 season.
For those visitors looking to get on two wheels for the first time, there will be a dedicated Kawasaki Rider Training Services area as well as a fleet of Z125s in the MCIA Try Ride Zone. The Kawasaki shop will have the latest official clothing and merchandise on sale, while Club Kawasaki members will be able to take advantage of their discount and again be able to access the exclusive member's area for a break from the hustle and bustle of the show!
Tickets for the 2021 show will be available soon from www.motorcyclelive.co.uk.
Re-energising one of Kawasaki's most lusted after paint schemes from the 1970's, the new Z900RS SE model for the 2022 season will be available in the classic "Yellow Ball" livery of the original 1972 Super Four, model Z1.
Although the most obvious sign of this new variation on the stunningly popular Z900RS theme, the modifications do not stop there. Again, reminiscent of the type of tuning performed by enthusiasts back in the day, the Z900RS SE comes equipped as standard with an impressive array of other quality specification upgrades including changes to suspension and braking components.
An easy spot at the rear of the machine, the SE model features an Öhlins S46 rear shock with preload adjuster. Featuring an aluminium body with single-tube construction, the large ø46 mm piston plus internal oil and gas chambers separated by a floating piston result in a superior sense of grip and handling.
And up-front changes have also taken place with the 41mm inverted front fork not only resplendent with gold-coloured outer tubes but with standard settings refined to create an ideal balance of front/rear poise and reaction across the whole range of suspension travel.
Braking too has seen a change with the adoption of a Brembo caliper and rotor package for the front end. The twin ø300 mm Brembo front discs are gripped by Brembo M4.32 radial-mount monobloc calipers served by a smaller-diameter Nissin radial-pump master cylinder (down to ø17.5 mm from the ø19.1 mm on the standard model) activating braking action through stainless-steel braided lines delivering greater stopping power while offering linear progression when operating the lever.
Cosmetically, the Z900RS SE, which features the "RS" letters of the model logo on the side covers finished in red, is differentiated even further via black alumite radiator side covers and FI cover plus gold coloured multi spoke wheels. The "icing on the cake" of course is the so-called "Yellow Ball" paint scheme pulling on the heart strings of dedicated Z1 fans plus legions of new riders attracted to the ever-growing retro sport scene willingly immersing themselves in Kawasaki's decades of unique Z heritage.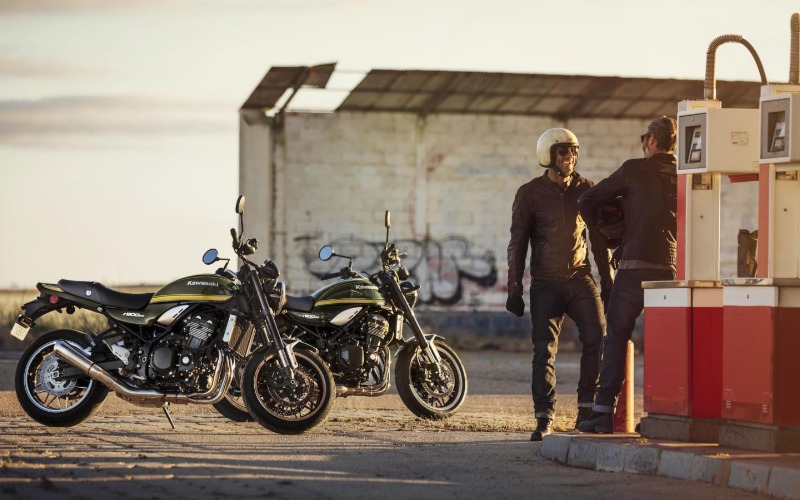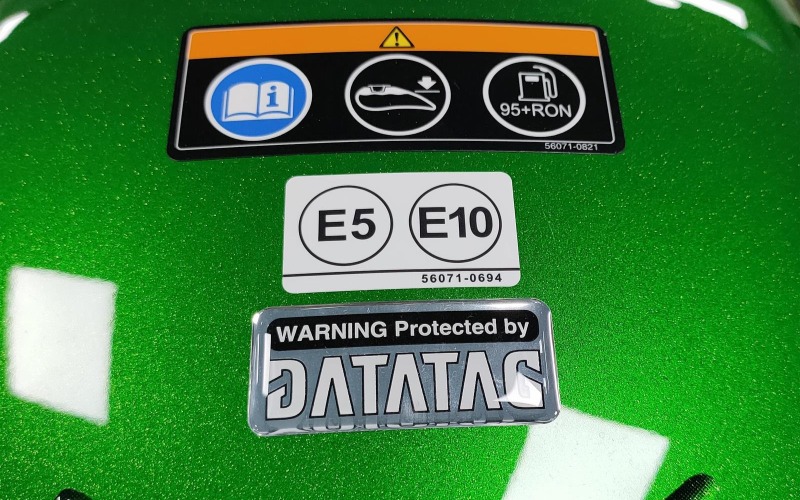 With news of a new fuel composition being introduced in the UK later this year, and the constant need to be more economically friendly, we've enlisted the help of our partners at the RAC to explain how these changes will affect you and your Kawasaki.
What is E10 fuel and why are we talking about it?
E10 is a biofuel made up of 90% regular unleaded and 10% ethanol – hence the E10 name.
Standard unleaded fuel contains up to 5% ethanol and can be used in any petrol-engine vehicle without problems or the need for modification.
In a bid to cut carbon dioxide (CO2) emissions, the Department of Transport (DfT) has confirmed that E10 petrol is being introduced to UK forecourts in September this year.
The benefits of E10
It's estimated that the greener fuel could reduce CO2 emissions by 750,000 tonnes per year, the equivalent of taking up to 350,000 cars off the road in the UK.
Transport Secretary Grant Shapps said: "The next 15 years will be absolutely crucial for slashing emissions from our roads, as we all start to feel the benefits of the transition to a zero-emission future.
"Before electric vehicles become the norm, we want to take advantage of reduced CO2 emissions today.
"This small switch to petrol containing bioethanol at 10% will help drivers across country reduce the environmental impact of every journey."
The E10 blend is already used in other countries such as Belgium, Finland, France and Germany.
Robin Wright, secretary general of environmental campaign groups ePURE, said: "Displacing 10% of Europe's petrol with ethanol through E10 fuel, a fuel widely available in France, Finland and Germany, would reduce greenhouse gas emissions from petrol vehicles by over 6%.
"But more ambition and greater use of ethanol is needed. Brazil currently mixes its petrol with up to 28% ethanol, so why not Europe?"
Finland is leading the way in Europe. E10 fuel has increased its share of petrol sold each year since it was introduced at the beginning of 2011, with the Finnish Petroleum and Biofuels Association reporting a 63% share in 2015.
How does it affect you?
As many as 600,000 vehicles on our roads in 2020 aren't compatible with E10 – you can see if your vehicle is compatible with the new fuel by visiting the official E10 online checker: https://www.gov.uk/check-vehicle-e10-petrol
Whilst the government website lists compatible models, it is currently outdated for Kawasaki motorcycles. Below is the list of older models that Kawasaki Heavy Industries (KHI) have tested and approved for use with E10 fuel.
Any earlier model year should use a non E10 fuel whilst those manufactured later are approved for E10 fuel use. The fuel details are also detailed in the owner's manual and shown in the fuel identification label located on the fuel tank.
| | |
| --- | --- |
| Model | From Model Year |
| KLX125 | 2009 onwards |
| D-Tracker 125 | 2009 onwards |
| KLX250 | 2008 onwards |
| Ninja 250R | 2008 onwards |
| Ninja ZX-6R | 2007 onwards |
| ER-6n | 2006 onwards |
| ER-6f | 2006 onwards |
| Versys | 2007 onwards |
| Z750 | 2007 onwards |
| W800 | 2011 onwards |
| VN900 | 2006 onwards |
| Z1000 | 2009 onwards |
| Z1000SX | 2011 onwards |
| Ninja ZX-10R | 2006 onwards |
| ZZR1400 | 2006 onwards |
| 1400GTR | 2008 onwards |
| VN1700 | 2009 onwards |
| VN2000 | 2008 onwards |
Club Kawasaki and RAC have put together a unique offer that combines 12 months Club Kawasaki and 12 months Kawasaki Assist for one great price from £70.00. For full details, please visit: www.kawasakiassist.co.uk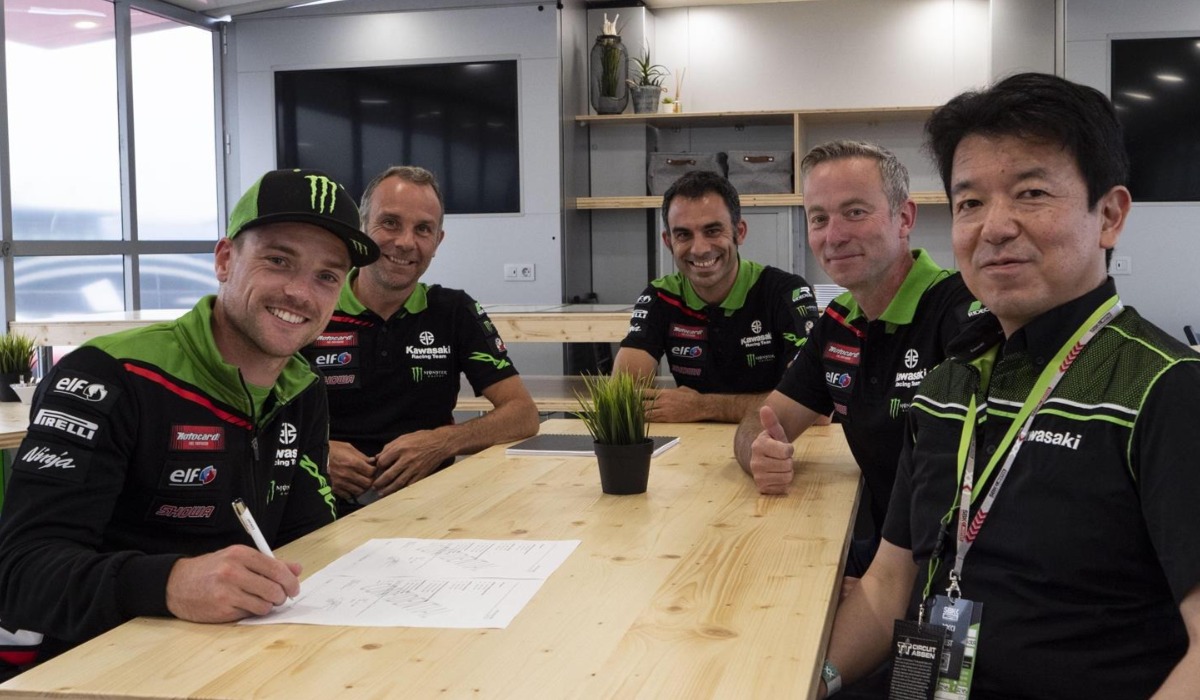 Alex Lowes will remain an integral part of the Kawasaki Racing Team for the coming seasons, having agreed a new multi-year deal that will take him into his third year as an official Kawasaki WorldSBK rider.
The contract signing was witnessed by Mr Masatoshi Yoshioka, Director of Corporate Planning Division, Kawasaki Motors Europe at the recent Assen round of the 2021 FIM WorldSBK Championship, where Alex retained his overall fourth place in the points table.
As well as returning as a full KRT Superbike rider next year Alex will also strengthen his bond with Kawasaki and his KRT squad as he and Jonathan Rea will be joined by 2021 Kawasaki superbike debutant, Lucas Mahias, to compete in the prestigious Suzuka 8 Hours race later this year.
With a race win and seven other podiums to his credit since he joined Kawasaki in 2019 Lowes continues to find a greater affinity with the new Ninja ZX-10RR, his team and his pit crew, led by Marcel Duinker.
Before the 2022 season there is the small matter of the rest of this year's championship to go. Five rounds have been completed with a further eight to go, depending on local regulations around the global pandemic.
Alex Lowes, stated: "I am really happy to have signed once more with the Kawasaki Racing Team, the most successful team in the current era of WorldSBK.
After a strange first year in the team last year due to the global situation and with such a short season it has been good to start this year at some different tracks and I am understanding the bike a lot more. It has also been slightly frustrating this year because I feel like we started strongly but the results are not quite where we would want them to be right now. We have a lot of potential and I am still in the top four of the championship, close to the top three, which is the target for this year.
I will be working hard for the next few weeks to make that next step to be regularly challenging for the podium. Honestly, I feel like it is close, so with this team and all these guys around me – with the relationships we have been building – everything is in place now to push things forward.
I am really thankful to stay in the team next year, and proud of the faith that Kawasaki has shown in me. In our job there is a lot more that goes on behind the scenes than the results that you see on the track so I am really happy about this new deal with KRT. A massive thanks to all the guys behind the project, to Guim and Biel Roda, Steve Guttridge and all the people at KHI in Japan for believing in me again."
KRT Manager, Guim Roda, concluded: "Alex started with KRT during the Covid pandemic. He needed to learn quickly and concentrate on making championship points in those first three months; not easy. For 2021 he started the season strongly and we are all working to make those important steps to improve the performance of the overall package.
We are so happy to have Alex and he is highly motivated to continue with the KRT project. With this two-year agreement we are convinced that we will now build on these firm foundations to create the strongest package with him, Marcel, his Crew Chief, the Ninja ZX-10RR and the entire KRT organisation."
2021 Alex Lowes Rider Statistics:
2021: Races: 15, Wins 0, Podiums 4, Superpoles 0
Career Race Wins: 2 (1 for Kawasaki)
Career Podiums: 28 (8 for Kawasaki)
Career Poles: 1 (0 for Kawasaki)
#NinjaSpirit #FaceYourself
Editors Note: the accompanying image was created within Covid protocols
For the second round of the EWC World Endurance Championship, the Webike SRC Kawasaki France Trickstar Team managed to run an exceptional 12 hour race on the famous Estoril circuit in Portugal. Once again, the experience of the riders and the mechanical reliability of the Kawasaki Ninja allowed them to consolidate their second place.
The good weather and the heat were evident for the whole 12 hours of race. At 10am, Jeremy Guarnoni on the #11 got away to a very good start and went straight from 8th to 5th position. He stayed there for several laps before making his first pit stop earlier than his competitors for strategic reasons. Indeed, team manager, Gilles Stafler had foreseen this scenario.
Following the excellent performance of the Ninja ZX-10RR and some crashes and unforeseen events of competitor bikes, the #11 found itself elevated to second position.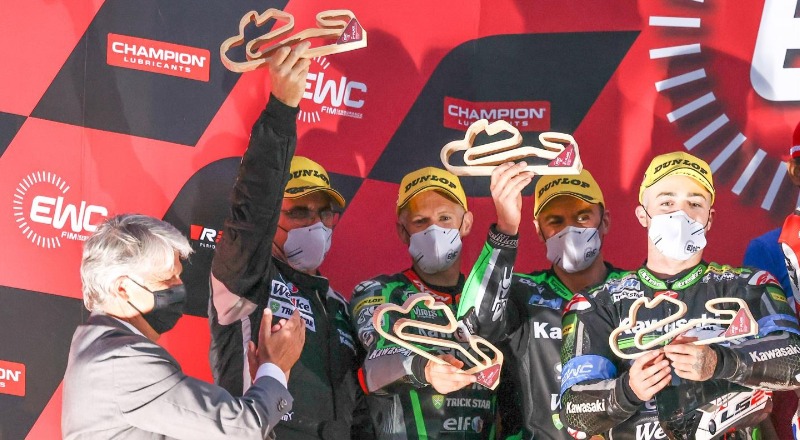 Unfortunately, after more than three hours of racing, the intervention of the safety car did not benefit the SRC Team and it lost about 10 seconds on the first placed machine
.After a number of twists and turns, the lime green bike was in first place around the halfway mark and led for most of the second half of the race until a fuel failure interrupted this domination. Erwan Nigon had to push his dry machine to get back on track with David Checa in third position.
Jeremy Guarnoni then put in a superb final stint to see the #11 finish second after a fierce battle with the #333 machine.
Again, all three riders set a very fast pace with exemplary consistency to lead an exceptional race. The Dunlop tyres excelled throughout the race despite the very high temperatures, and a track that was raised to 58 degrees at one point!
This second place on the podium allows the Webike SRC Kawasaki France Trickstar Team to take the lead in the 2021 FIM EWC World Championship.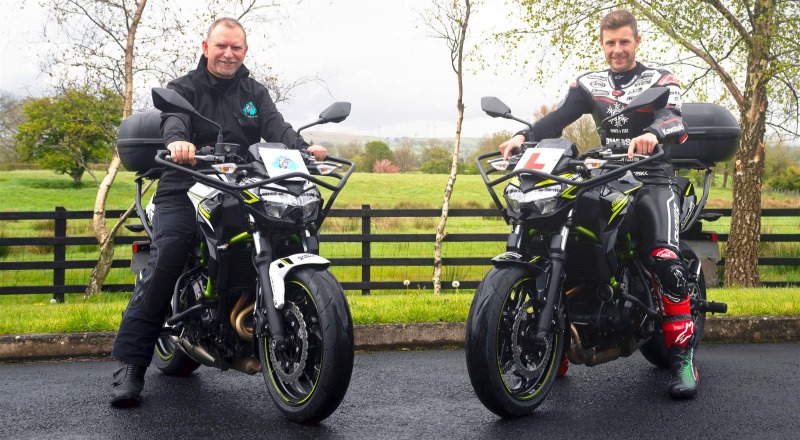 Six-time consecutive World Superbike Champion, Jonathan Rea, has achieved another of his personal goals by passing his UK motorcycle test.
Winner of the world championship at his first attempt on Kawasaki machinery when he joined the Kawasaki Racing Team in 2015, the 34-year-old native of Northern Ireland repeated the feat by passing his Compulsory Basic Training (CBT) and motorcycle tests both at the first attempt.
Undertaking one to one training with Stephen Mills of Moto Training, Rea learned new skills and new ways to ride on private training areas and the public road using a Kawasaki Z650 supplied by Moto Training as part of their accreditation as a Kawasaki approved KRTS training school.
It is not uncommon for professional riders at the highest level of motorcycle sport to have no full motorcycle licence but for Rea this is a pathway to greater things as he considers which machine to ride now that he has a huge range of choice.
Commenting, Rea told something of his journey while thanking Stephen Mills of Moto Training and hinting at what his next step as a fully qualified road rider might be.
"I am so happy and proud to have passed my motorcycle test. It's been something I have wanted to do for such a long time but with my sporting commitments and busy calendar it has been tough.
I took advantage of the lockdown due to the pandemic to study all the theory materials such as the UK Highway Code.
My priority was to reach out to an instructor that I would feel comfortable with and found Stephen Mills of Moto Training in Northern Ireland. He taught me all about riding a motorcycle on the road which is completely different to riding on a circuit.
You have to be much more aware as the environment is much less controlled and even I was able to learn new skills and techniques. The training has not just made me a better motorcyclist but also more aware when I am driving my car.
Now comes the pleasure of deciding which motorcycle in the Kawasaki range is perfect for me and my riding needs. I am pretty sure I know what fits my lifestyle and I will unveil my choice in the very near future."
A video record of Jonathan's training can be found on his YouTube page: Jonathan Rea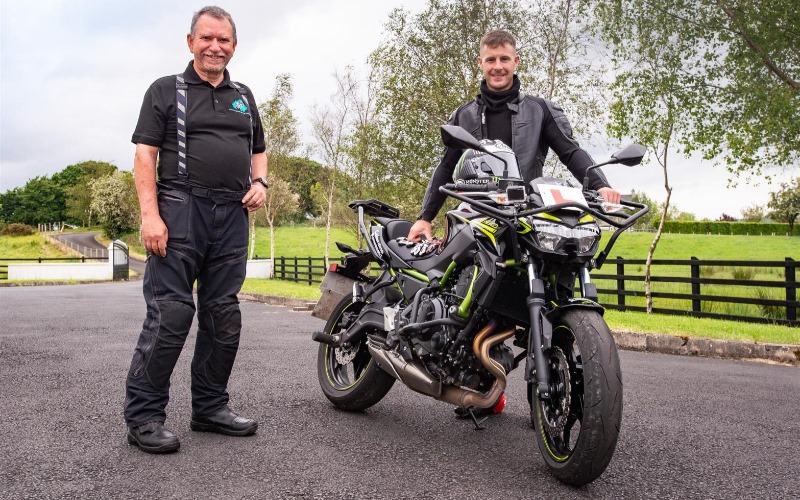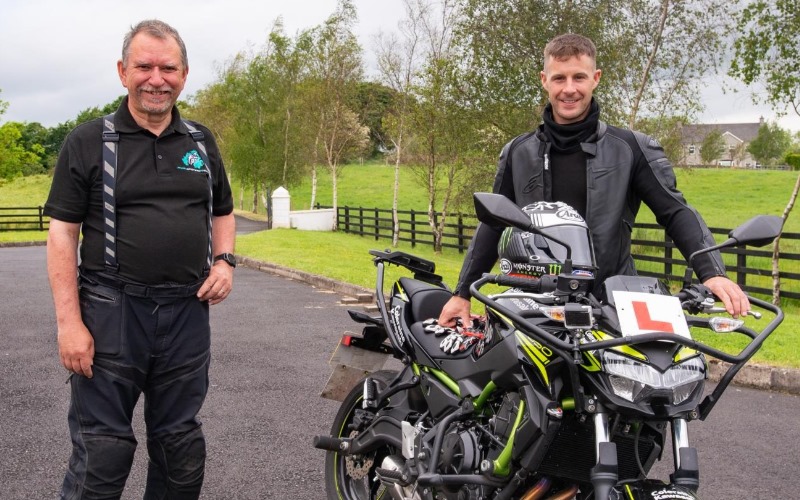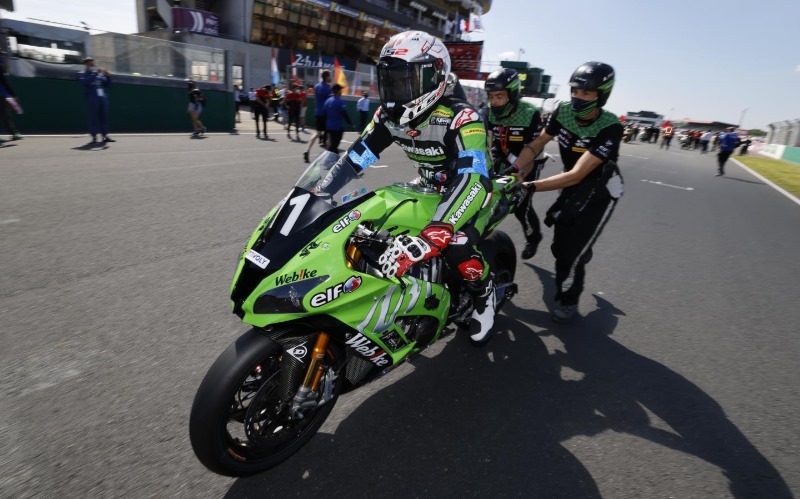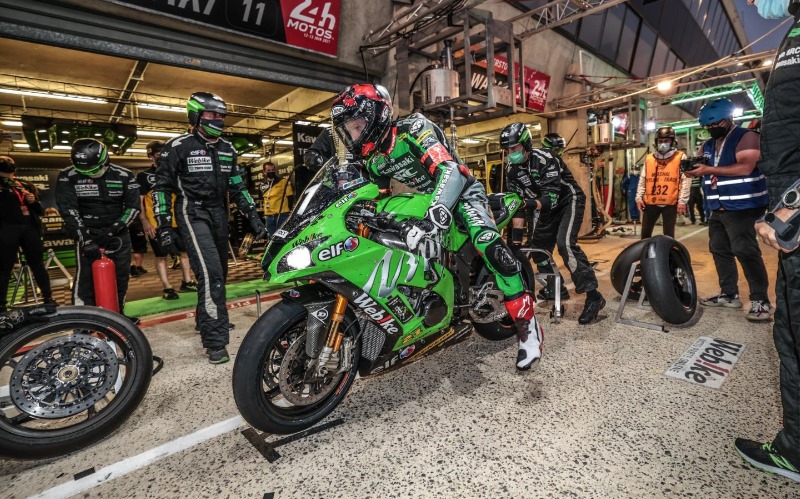 At midday, the chequered flag was waved after 24 hours of racing and the Webike Kawasaki France Trickstar SRC Team finished second aboard the famous #11 Ninja ZX-10RR – a magnificent podium.
The three riders Jérémy Guarnoni, Erwan Nigon and David Checa have again shown their skill and perseverance. Kawasaki, the most successful manufacturer at the 24 Hours of Le Mans, was not far from adding a 15th victory to its record tally.
The beginning of the race was marked by many twists and turns, with some competitors crashing out on the first corner. Starting from 7th position, Jérémy managed to make up two places before the safety car intervened.
From then on, Ninja #11 continued to run smoothly, with excellent consistency. One thing led to another and the team moved up to second place overnight, an ideal scenario creating a strategy that paid dividends at race end. Indeed, the Ninja equipped with its Trickstar exhaust and Dunlop tyres performed perfectly throughout the race and especially at night in the cooler temperatures.
Gilles Stafler, Team Manager of the SRC Team: "Even if I came to win the race, I am very happy with this second place. It was very hot, the competition was tough, and as long as the chequered flag was not shown, anything could happen! But we managed to put up a very good fight, which allows us to score important points for the Championship
The whole enterprise did a great job together, the team cohesion and the long experience of the staff and riders allowed us to get this place today. The Ninja ZX-10RR once again showed its extraordinary reliability and performance."
The team thanks to all its partners, especially ELF, Dunlop, Webike, Trickstar, Tivoly, Primset, NGK, RK without whom this would not be possible.
Last week, Brands Hatch circuit in Kent played host to the opening California Superbike School of the summer. The two-day event marked the first time the school took to the track with the new fleet of Kawasaki machinery.
With the school turning green for 2021, the iconic circuit was the first time instructors and students hit the track with the ZX-10R, Z900 and Ninja 650. In true California style, the sun was finally shining, and over the two days 120 riders of all abilities were able to enjoy the very best conditions possible.
For many of their attendees, it was their first time with California Superbike School, which meant they spent their day progressing through the Level One course. These introductory sessions are designed to help address the six most common issues that riders make, allowing them to improve their confidence and bike control.
Those riders who have already completed level one spent their day progressing through Level two, three, and four. Each step up takes everything learnt from the previous module and builds upon that to improve confidence, body position, awareness and knowledge. In between each track session, students get regular classroom-based briefings, as well as one-to-one debriefs, to help them understand what they are doing on track and areas for improvement.
One attendee, Jay, was not only making his California Superbike School debut but also returning to the track for the first time in 30 years! "I've had a brilliant day. I've been riding bikes since 1977, but this was the first time I've done any kind of track tuition – and actually the first time back on track since 1990!
It's been an incredible experience and while being out on track is amazing, I've found the classroom and technical side of things fascinating. It has really helped me to understand what I have been subconsciously doing wrong when riding on the road and allowing me to understand the areas I need to focus on to not only improve my lap time but also my road riding too. Each session focuses on a different aspect of riding, and then in that last session, I was able to put it all together, and I could really tell the difference.
I've been riding one of the school's ZX-10Rs which is just an amazing bike. I've not ridden sports bikes for around ten years, and I just couldn't believe how easy it was to ride. The Ninja is just an awesome machine, and I'm pretty sure I'll be putting a deposit down on one in the next couple of weeks!"
Speaking after their first event with Kawasaki, Gary Adshead of California Superbike School added, "We're incredibly proud to have Kawasaki join us in a partnership with California Superbike School and it was a pleasure seeing so many new and old faces at our first U.K. event of 2021. The students I spoke to were very enthusiastic about our switch to Kawasaki and those who rode the hire bikes absolutely loved them. We look forward to a long and successful relationship with Kawasaki Motors U.K."
If you want to improve your skills and enjoy a day with the California Superbike School, then there are multiple dates throughout the summer still available:
Cadwell Park
Wednesday, June 16

Thursday, June 17

Wednesday, August 04

Thursday, August 05
Bedford Autodrome
Monday, July 12
Tuesday, July 13
Tuesday, August 31
Wednesday, September 1
Donington Park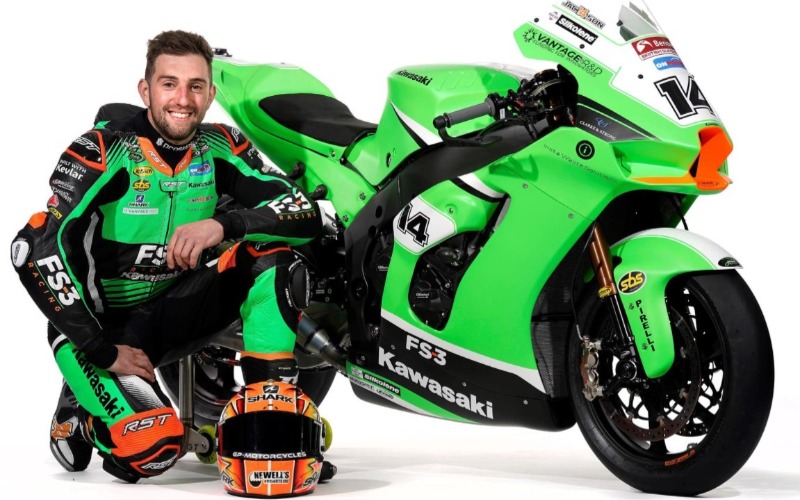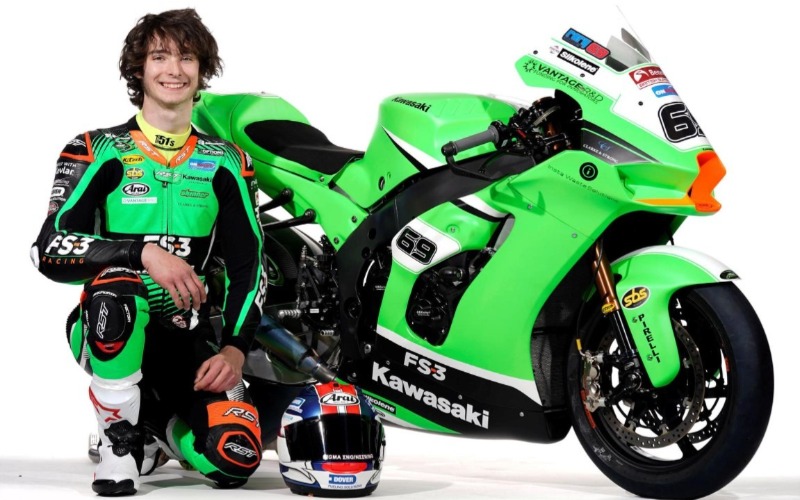 The official Kawasaki UK supported British Superbike team, FS-3 Racing Kawasaki, has today unveiled its all-new Ninja ZX-10RR livery for the 2021 campaign.
Lee Jackson and Rory Skinner pulled the covers off the 2021 machine at FS-3 Racing's new state-of-the-art workshop in Coventry. With an all-new Ninja ZX-10RR for 2021, the British Superbike race-winning team have created an eye-catching new look that is sure to stand out on track.
The distinctly Kawasaki green Superbikes closely resemble the base model Ninja ZX-10RR design, while the front of the new integrated winglets carries the distinctive orange that has become synonymous with the FS-3 Racing team.
FS-3 Racing Kawasaki will be giving the livery its public debut at the final pre-season test at Donington Park on June 8th. The proven team still has a unique opportunity for a title sponsor to join for the 2021 season, allowing a business to experience the benefits that come through association with a successful and experienced team, a global manufacturer and the championship organiser. Interested parties should contact with Ross Burridge at Kawasaki Motors UK, via email at [email protected]
Ross Burridge, Head of Marketing & Racing Department at Kawasaki UK: "The 2021 FS-3 Racing Kawasaki livery is one that is sure to stand out from the crowd and it's great to see the iconic Kawasaki green in abundance. The all-new ZX-10RR has already had a fantastic debut on track at the hands of Jonathan Rea and Alex Lowes, so we can't wait to see what Lee and Rory can do when the British Superbike Championship gets underway next month!"
Nigel Snook, FS-3 Racing Kawasaki Team Owner: ''Designing the 2021 FS-3 Racing livery presented a particular challenge. How to showcase the radical new aerodynamic shape of the ZX-10RR fairing nose without losing the classic Kawasaki Team Green look which can be traced all the way back to the 1970s. We hope you'll agree that our predominately green livery with with its black and white highlights will make it easy to spot Lee and Rory out on track. Plus, of course, we've included a nod to our team trademark orange for the engine air intake. Naturally, the livery is echoed in the design of the rider's RST leathers".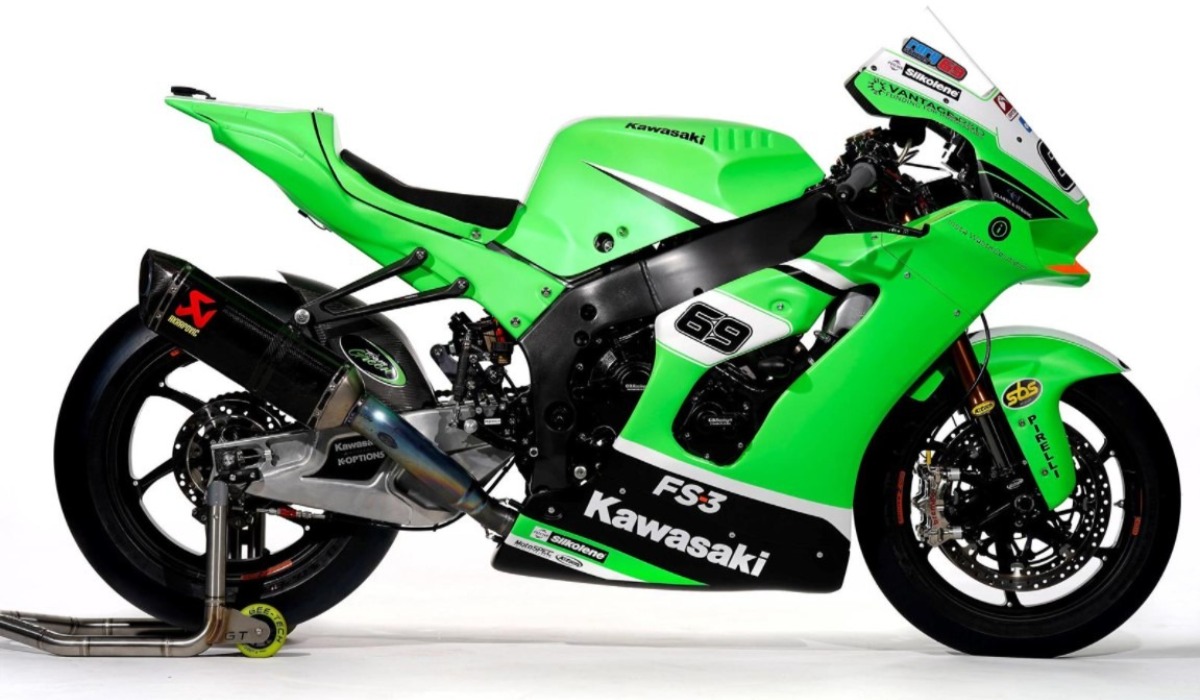 Kawasaki UK is delighted to announce that the legendary California Superbike school has chosen to go "Team Green" with a fleet of brand new Kawasaki's for both instructor and hire bikes.
Since its launch in 1980, the iconic training school has helped over 130,000 riders worldwide to enhance their skills on track. For 2021, customers will now be able to hire a range of Kawasaki machinery, from the rider-friendly Ninja 650 to the World Superbike conquering ZX-10R.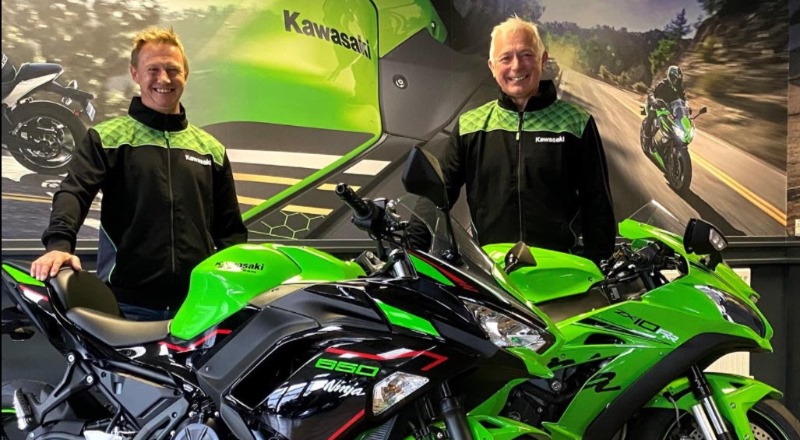 The school has an array of dates across the summer, taking in some of the most famous circuits in the UK, including Brands Hatch, Donington Park and Cadwell Park. Each day will see customers able to take part in expert tuition sessions, from novice trackday riders to experienced circuit riders. The knowledgeable team at CSS have designed each level to specifically help riders improve their confidence and techniques both on track and on the road.
Constantly evolving, the school has developed techniques to help prepare riders physically and mentally to shave seconds off their lap times, whilst giving them the awareness to avoid costly mistakes. Riders of all abilities have benefitted from the stepped 'levels' including National road racers looking to fine tune their skills.
The addition of the California Superbike School track training helps to further enhance Kawasaki's offering of 'Experiences' to its customers. With a number of off-road partners already, this new opportunity allows Kawasaki fans to truly enhance their skills, both on dirt and on track.
Ross Burridge, Head of Marketing & Racing Department at Kawasaki UK: "When it comes to trackday tuition, the California Superbike School really is the pinnacle, so it is fantastic to be able to partner with them for 2021. Their passion and knowledge is second to none, and our Ninja 650, Z900 and Ninja ZX-10R machines are perfect to help riders of all experience levels enhance their track skills.
We are confident that every customer will be able to enjoy the benefits of the Kawasaki range and the 2021 calendar has an incredible option of circuits to choose from, so we can't wait to see customers out enjoying themselves!"
Gary Adshead, Chief Riding Coach California Superbike School UK: "We are immensely proud to be working with Kawasaki UK, it is a real privilege to work with an equally driven and committed team of professionals. Our coaches are thrilled with the news that they will be operating on a Kawasaki platform to demonstrate our world-famous riding technology. We literally cannot wait for our valued customers to see and experience the stunning green machines at their fullest potential!"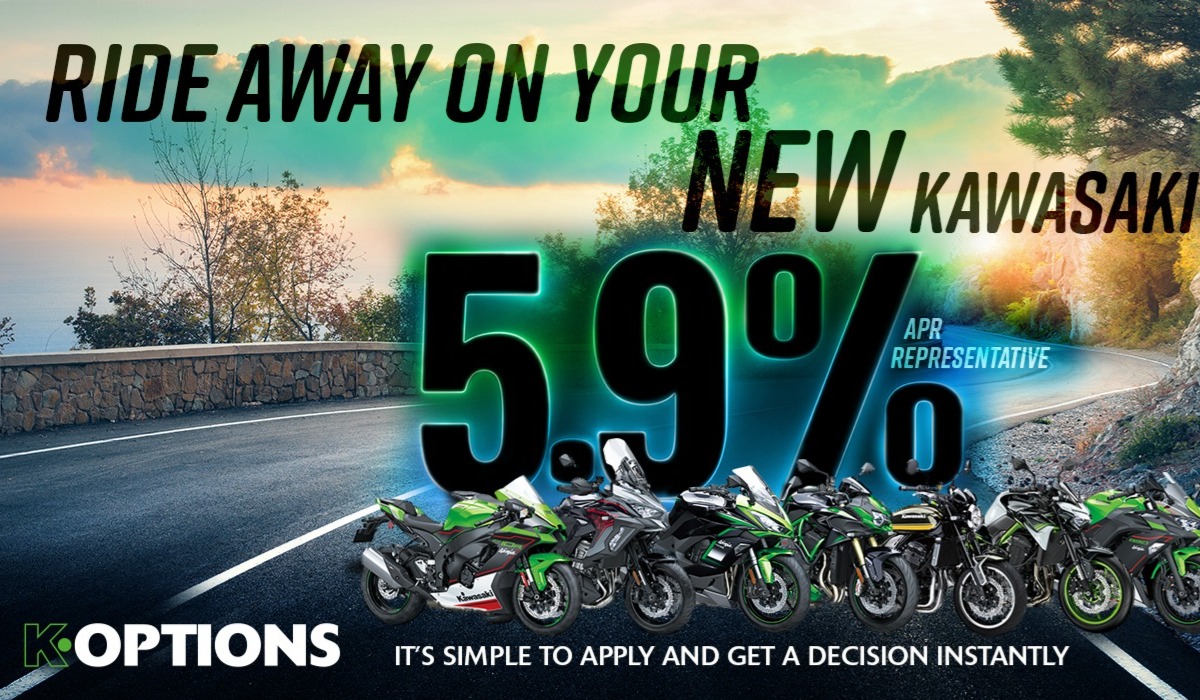 Riding away on the Kawasaki of your dreams may be easier than you think, thanks to the latest Personal Contract Purchase (PCP) finance offers from Kawasaki Motors UK.
With a range of HP and PCP offers available, customers can tailor the offer that suits them by visiting the Kawasaki Kalculator and selecting their chosen model, accessories and available deposit to determine the monthly repayments. They can then send their final choice direct to their local dealer or simply print it out and take it to the dealer themselves.
5.9% APR Representative Hire Purchase (HP) and Personal Contract Purchase (PCP)

All road bikes over 300cc are now available with 5.9% APR Representative on a HP or PCP finance agreement The 2021 range includes many of our most popular models in new colours and graphics, and introduced the all-new Z H2 SE and Versys 1000 S, offering more rider aids and options to suit riding styles.

The Z H2 SE is the next level Supercharged Z, featuring new dedicated features delivering unmatched performance: new Showa electronic suspension with Skyhook technology and Brembo brake calipers from the H2 series. The Versys 1000 S is the newest addition to the Versys 1000 family, equipped with LED lighting, a quick shifter, cruise contral and Smartphone connectivity making your ride easy and safe.

Arranging finance through Kawasaki K.Options is simple and easy to apply for, so you can swiftly get the keys to your dream Kawasaki.

Click here to tailor the perfect deal for you on the Kawasaki Kalculator.


Credit is subject to status and is only available to UK residents aged 18 and over. Finance offer available through Kawasaki Finance, a trading style of Black Horse Ltd, St William House, Tresillian Terrace, Cardiff, CF10 5BH.

If you have purchased a new Kawasaki motorcycle, you have free access to Club Kawasaki membership with exclusive discounts, news, events and more. You must activate your account within 12 months to gain access for free.
What is Club Kawasaki?
A place for Kawasaki owners, riders & fans to enjoy exclusive events, news, discounts, and content together. You'll gain instant access to the Club Kawasaki website where you'll find…
Your Digital Service History
A forum to chat to likeminded Kawasaki fans
Member only discounts on Kawasaki Clothing & Accessories
Our carefully selected Kawasaki Experience partners
National Shows, Racing & Local Events organised by local Ambassadors
Regular news & updates via email
Four magazines per year – two printed & two digital
How does it work?
You'll need your membership number to activate your account. When you bought your new Kawasaki, you would have received your Club Kawasaki welcome email which includes your membership number. If you do not have this information and you need it re-sent to you, please email your bike registration number to [email protected]
Club Kawasaki welcomes all Kawasaki fans, riders & enthusiasts so if you haven't purchased a new Kawasaki and would like to join, you can sign up for £29.95 for 12 months membership.
12 months free membership is offered to customers who purchase a brand new Kawasaki motorcycle from a n authorised Kawasaki dealership in the UK. The membership begins on the sale date of the machine and must be activated by the customer within 12 months of this date. The Club Kawasaki free joining gift is not available with the free membership offer.
This offer is only available to the first owner of the machine and does not apply to ex-demonstrator models.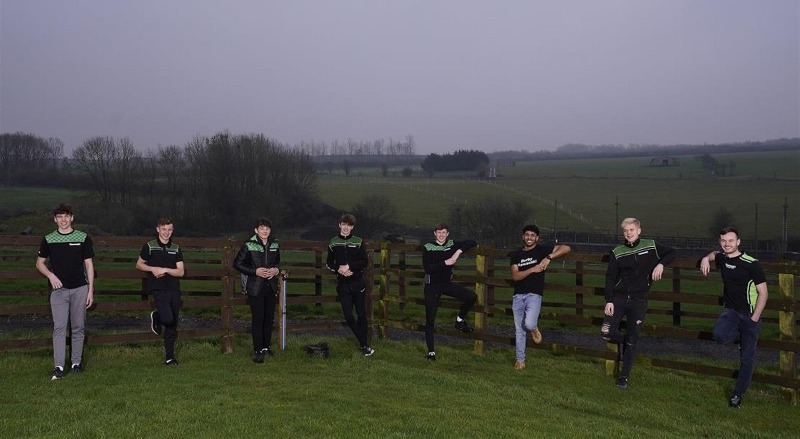 After an incredible debut season, the Leon Haslam-supported Affinity Sports Academy team is returning as the official Kawasaki UK team in the junior classes for 2021, competing across the Junior Supersport and National Superstock 600 classes.
Fresh from securing the British Junior Supersport title in 2020, the Affinity Sports Academy team will be fielding an eight rider team for 2021. Competing in the British Junior Supersport class will be James McManus, Mikey Hardie, Joe Farragher and Kam Dixon, with all four riders utilising the competitive Ninja 400.
Reigning Junior Supersport Champion, Owen Jenner, will be stepping up to the Ninja ZX-6R for 2021 to compete in the National Superstock 600 class. Joining him in Affinity Sports Academy colours will be Eugene McManus, Asher Durham and Dan Brookes.
After a fantastic inaugural season, the team will be looking to build on their Championship winning success when the season gets underway at Oulton Park on May 1st.
Team Manager John Laverty said, "It's been great to be involved with the Affinity Sports Academy, helping to develop young talent and seeing it all come together last year and win a Championship in our first season was brilliant! Working in conjunction with Team Green, the team has provided Owen with a fully paid ride in Junior Superstock in 2021 as a reward for his achievements. We are hoping for more success next season with our very strong, extended rider line up. I can't wait!"
Ross Burridge, Head of Marketing & Racing Department at Kawasaki UK, added, "The Affinity Sports Academy have proved themselves as an accomplished and committed team right from the word go, so to be able to work with them again in 2021 is great for Team Green. It's well documented that we want to see riders progress with Kawasaki throughout their careers, so seeing Owen get this great chance on the ZX-6R supported by the team is encouraging to see. He is surrounded by seven other riders, all hoping to achieve similar, so I think it's going to be an exciting year ahead!"
A supercharged sensation at its launch on the Las Vegas Motor Speedway earlier in 2020, Kawasaki's incredible Z H2 blasts into 2021 with an SE model in showrooms making it a two-bike range for the new year.

In its own unique paint and graphic look, the SE model does what seemed impossible at the time, adding yet more bling to the Z H2 concept. Already a no-nonsense, impossible to ignore base machine, the SE version adds some key features to justify its claim to be King of the Supernakeds.

The trellis chassis remains and so too the unique balanced supercharged engine that has won so many plaudits already. And although appearing to be naked and stripped to bare essentials, the Z H2 SE also boasts an awesome array of electronic rider aids including, electronic cruise control, integrated riding modes (linking KTRCS sport traction control), power modes, traction & launch control, selectable power modes an up/down quick shifter plus Cornering Management Function, launch control and Intelligent anti-lock Brake System which counts on Brembo Stylema calipers for incredible stopping power.
And while the huge torque of the 998cc inline four brings the horizon rushing into focus, the journey there will now be even smoother as the new edition of electronically damped ø43 mm Showa SFF-CA (cartridge) fork and a high-spec BFRC lite rear shock can now count on Showa's Skyhook technology. With a 1 millisecond reaction time, Skyhook adjusts the damping electronically to suit vehicle speed and suspension stroke speed with the intention of keeping the body of the vehicle in a constant attitude while the wheels and suspension follow the dips and deviations in the road surface.  Deceleration is also considered, allowing the pitching that occurs under braking to be managed.
Ensuring that Kawasaki's Sugomi styled predator does not have to move among the shadows at night, an all LED lighting package illuminates the Z H2 SE while the rider can focus on the clarity of a TFT meter panel which is also Bluetooth equipped allowing connection with a Smartphone for a variety of functions courtesy of Kawasaki's free to download Rideology app. With so many stand out features – and such characteristic Kawasaki state-of-the-art engineering – it's no wonder the Z H2 SE is adorned with the exclusive "River Mark".
It's a lot to take in and certainly a genuine assault on the senses so it's comforting to know only one word needs to be recalled to create an image of the 2021 Z H2 SE – Supercharge!
Arriving March 2021, the Kawasaki Z H2 will cost £15,899, with the Performance edition priced at £16,999. The Z H2 SE is available in Gloden Blazed Green and Diablo Black and will cost  £18,349, with the Performance Edition priced at £19,449.
Mirroring the methodical Ninja development approach of the Kawasaki Racing Team, the Kawasaki factory have delved deep inside the very core of the Ninja ZX-10R and Ninja ZX-10RR for a new model and racing season and taken another significant step in the evolution of these iconic machines.
Making full use of Team riders Jonathan Rea and Alex Lowes, the Kawasaki factory have tested numerous ideas across a season that saw Rea secure a historic sixth consecutive world Championship to add truly "race developed" features to both litre class Ninjas for 2021.
Concentrating on genuine performance and engineering upgrades and focusing on delivering a machine to win on track and set the Supersport standard on road, Kawasaki engineers have prioritised an innovative aerodynamic package for 2021 combined with handling and ergonomic upgrades supported by new engineering tech "under the skin". 
In terms of aerodynamics the target word is "downforce" with innovate integrated winglets incorporated into the structure of the cowling ducting the airstream and creating additional downforce which is approximately 17% greater than the current Ninja machine. Likewise, the design of the rear seat is subtly changed to create an area of low pressure behind the rider. When combined with a 40mm higher screen, a handlebar position that replicates that of Jonathan Rea's race bike and 5mm higher foot-pegs, the aero and ergonomic package is just one of the "next step" WorldSBK features for 2021.  Inside the new cowling innovations continue with a race style TFT dash (including Bluetooth connectivity), four handlebar button selectable rider modes and road rider features like electronic cruise control and optional heated handlebar grips.
Chassis updates include a 1mm lower swing-arm pivot point (adjustable on the RR), 2mm greater front fork offset and an 8mm increase in actual swing-arm length all contributing to increased stability and greater traction. Spring rates have changed too with the front now softer and the rear harder while a wider fork clamping area for the lower triple-clamp revises the rigidity balance for the fork outer tubes.
The job of slowing this agile beast on track and road for 2021 is ably handled by a suite of Brembo items encompassing M50 monobloc calipers, ø330 mm semi-floating front discs and a radial pump master cylinder (with race-quality steel-braided lines on the RR). And the "see and be seen" element for the new season is catered for thanks to all LED lighting utilising direct projection unit headlamps from Mitsubishi; their luminous optical modules being adopted for motorcycle use for the very first time.
The beating heart of any Ninja is the engine and the ZX-10R and RR are no exception. Both continue to rely on finger follower valve actuation increasing power and efficiency while reducing valve train weight and gear ratios are refined with 1st, 2nd and 3rd lower to make best use of the Ninja's prodigious power which is further enhanced by a new inlet port design. The 2021 machine has also been engineered to meet Euro 5 regulations, while keeping the lubricating lifeblood cool, a new KRT developed air-cooled oil cooler transfers straight from track to street reinforcing the link between race and road for Ninja fans. 
Which leaves the ultimate 998cc Ninja, the ZX-10RR for 2021 (limited to 500 units worldwide). Complete with specially commissioned Marchesini wheels equipped with standard fit Pirelli Diablo Supercorsa SP tyres. Safely revving 400rpm higher, the RR takes a big step toward the new race and track day season with existing Pankl precision lightweight connecting rods joined by Pankl low friction pistons and Pankl matched piston pins creating pure podium potential.
No wonder a Ninja has won the World Superbike crown six years in a row and no wonder the 2021 Ninja ZX-10R and ZX-10RR wear Kawasaki's prestigious river mark emblem. Kawasaki has changed the face of superbike racing with the Ninja – with new features and a brand-new look Kawasaki now says #FaceYourself.
The 2021 ZX-10R is available in Lime Green/Ebony/Pearl Blizzard White and Flat Ebony, while the ZX-10RR is available in Lime Green.  The ZX-10R is expected in dealers from May, costing £15,799 (with the Performance Edition priced at £16,799). The ZX-10RR is available for race teams by request, costing £24,799, with the Performance Edition priced £25,599