GSX-R1000R PHANTOM AND GSX-S1000 ADDSPRING SWEETENER TO SUZUKI OFFER
Suzuki has added a spring sweetener to its current Buying Power campaign, with the special edition GSX-R1000R Phantom and the GSX-S1000 both now available on the 2.9% low-rate finance offer, which is available over three years with no deposit required and on both PCP or Hire Purchase agreements.
The GSX-R and GSX-S offer runs until the end of May 2022, and is in addition to the existing campaign running until the end of June, which includes the third generation Hayabusa, the SV650 and SV650X café racer, the V-Strom 650 and V-Strom 650XT, plus the V-Strom 1050XT and V-Strom 1050XT Tour, which adds three-piece aluminium luggage to the V-Strom 1050XT's already comprehensive standard specification.
The GSX-R1000R Phantom boasts a 202PS motor packing the same variable valve timing technology as the GSX-RR MotoGP machine and a comprehensive suite of electronics that includes lean-angle sensitive traction control and ABS, a bi-directional quickshifter, and launch control.
Launched last year, GSX-S1000 gets a sharper new look, stronger and broader spread of power and torque, plus quickshifter and auto-blipper, selectable engine maps, and traction control.
Terms and Conditions:
PCP and HP Finance offer applies to purchases of a new 2022 (M2) Hayabusa, V-Strom 1050XT Tour, V-Strom 1050XT, V-Strom 650XT, V-Strom 650, SV650 and SV650X only from a participating Suzuki Dealership. The motorcycle must be purchased and registered between 01/04/2022 and 30/06/2022 to qualify. Offer may be extended or withdrawn at any time. No minimum deposit required. Credit is subject to status, UK residents aged 18 and over. Suzuki Financial Services Ltd, St. William House, Tresillian Terrace, Cardiff, CF10 5BH.
BUYING POWER: HAYABUSA LEADS SUZUKI'S SUMMER SALES CAMPAIGN
Suzuki's Hayabusa leads a summer sales campaign that sees seven of the brand's key models available on a 2.9%, low-rate finance offer, available over three years with no deposit required. Customers can choose from a PCP or Hire Purchase agreement.
The third generation Hayabusa headlines the offer, with its inline four-cylinder motor packing an abundance of power and creamy midrange thrust, plus the Suzuki Intelligent Ride System (SIRS) suite of electronics which includes traction control, launch control, cruise control, wheelie control, lean angle-sensitive ABS, selectable power modes, and a bi-directional quickshifter.
Joining the Hayabusa are six of Suzuki's punchy V-twin models: the V-Strom 1050XT flagship adventure bike, which also comes with SIRS and includes cruise control, traction control, power modes, and linked brakes with lean angle-sensitive ABS, hill hold, load and slope-dependent control, and the V-Strom 1050XT Tour, which adds three-piece aluminium luggage to the 1050XT's comprehensive standard specification.
The middleweight V-Strom 650 and V-Strom 650XT adventure bikes, SV650 naked and café racer-inspired SV650X are also included.
The offer runs from 1 April to 30 June 2022.
PCP and HP Finance offer applies to purchases of a new 2022 (M2) Hayabusa, V-Strom 1050XT Tour, V-Strom 1050XT, V-Strom 650XT, V-Strom 650, SV650 and SV650X only from a participating Suzuki Dealership. The motorcycle must be purchased and registered between 01/04/2022 and 30/06/2022 to qualify. Offer may be extended or withdrawn at any time. No minimum deposit required. Credit is subject to status, UK residents aged 18 and over. Suzuki Financial Services Ltd, St. William House, Tresillian Terrace, Cardiff, CF10 5BH.
RIDE THE GSX-S1000GTLAUNCH ROUTE
Back in October last year the UK press launch of the new GSX-S1000GT took place in Scotland, with each member of the media spending two days in the saddle, ensuring they got the fullest impression of the bike possible. Now, with spring around the corner and people making their riding plans for the year, here's some riding inspiration if you're planning a trip to the land of whisky, haggis, and shortbread.
Scotland is one of the best places on the planet to ride a motorcycle. Fact. We all love a European tour (or further afield, in some cases), but the fact remains that some of the best roads and scenery in the world are on the British isles.
For the launch of the GSX-S1000GT we plotted a route taking some of the best roads – some well known, some less so – and biggest scenery, from the mountains in the west, over the Cairngorms.
Our route begins in Nairn, and is steady away, picking up the A96 to Inverness and then the A9 out the top of the city, including a short stretch of dual carriageway work (flick on the cruise control for a spell and steal glances of the Beauly Firth on your left and the open water of Moray Firth on your right).
At a roundabout join the A835, signposted Ullapool, and this is where the fun starts. After a few more miles of standard A-road stuff, it transforms into a rollercoaster, twisting and turning its way through stunning scenery; in our case trees with orange, gold, and red leaves set against mountainous terrain as we pass through in the autumn. It descends to the shore level of Loch Garve, and through the town itself, giving you a chance to back off and enjoy the views, which are just a snapshot of the things to come.
As you exit the town a junction comes up pretty quickly, at which you want to divert off and onto the A832. The twistier nature of the A835 now makes way for swooping, sweeping turns through trees, initially, before opening up as you join the shore of Loch a' Chuilinn.
And it's stunning. This whole section, from here all the way to Achnasheen (where you take a left at the roundabout onto the A890) is all about soaking up the views: wide, desolate landscapes, with lochs and bodies of water strewn out in front of high, imposing hills and mountains, the tops of which aren't always visible through the cloud.
Before, you're dancing through the gears, up and down the box using slick quickshifter, jumping on and off the brakes, going corner to corner, point to point. But now, now you chuck the bike in top gear, and waft along, simply marvelling at what looks like something from Lord of the Rings.
Cruise onwards, but eventually the land rises up, and you're plunged back into tree-lined twisties. They start shallow, but be aware, because soon the road tightens, and it's back to flicking side to side, and for us that means using the GT's wide 'bars to lever them into corners.
It's thirsty work, and, in the rain especially, mentally taxing. Luckily, there's a café on the road into Lochcarron: the Albatross café of the Lochcarron golf club. But no one is on the course when we arrive.
Once you've had your fill of coffee and cake, head back the way you came, and then turn right, following signs for Kyle of Lochalsh, Skye, and the A87. This is the naggeriest section of the route, and for many of the next few miles, as the road tracks the opposite shore of Loch Carron compared to the one you just had coffee on, it descends to single track, with narrow tunnels through the rocks. However, it's offset with views of the water.
Eventually the usual two-lane carriageway is restored, and it's back to carving through sweeping bends. The road climbs through the trees, only to descend shortly after, gifting you views of the Isle of Skye in the distance.
On this occasion we're skipping the picturesque island, and at the bottom of the hill turn left on the A87, following signs for Fort William.
You're on here for the next 30 miles now, and it's arguably the most impressive part of the route with the most dramatic scenery; the road follows the water's edge in places, and in others snakes through valleys.
But, as good as the views are, the riding is better. The surface is incredible, with grip in abundance, even in the wet. Which is good, as the corners come thick and fast. Straights are not a thing here.
Out of the corner of your eye you catch a waterfall, a mountain you didn't spot before, or a castle. But there's no time to gaze for long, because a chevron board is fast approaching, warning you of the next set of corners. It's relentless, but in a good way.
On our ride no one wants to stop, but after 20 or so miles we elect to drop into a fuel station; there's some gas left in the tank, but they're scarce in this part of the world, so we opt for a splash and dash.
10 miles further on and the A87 diverts south, towards Fort William, but continue on straight and join the A887. The lunch stop is on the shore of Loch Ness, and at Invermoriston head south on the A82 to Fort Augustus. Just as you're passing out the other side, on your left, is the Highland Club, luxury apartments set in an 18th century abbey with stunning gardens. Follow the road round the Boathouse restaurant, set on the shore at the very bottom of the famous body of water.
Once suitably fed and watered rejoin the A82 south, and strap in for the final leg of the day's ride. From here the route's simple: the A82 to Fort William, but the riding is anything but, and you are again confronted with non-stop turns, the road snaking up and down, winding its way south. It's also more of the same on the scenery front, as you pass through trees one minute, and run down the side of lochs the next. It's incredible.
32 miles later you arrive at Fort William, with plenty of choices and a wide selection of hotels, B&Bs, restaurants and bars (though we recommend the Black Isle Bar).
The second day's ride only take in 100 or so miles, but it also includes a brief stop at Dalwhinnie distillery, for research purposes, obviously, before tackling some of the Cairngorms as the route returns north to Nairn.
To start the day, rejoin the A82 and head north, but only as far as Spean Bridge. Here the road becomes the A86 and heads east. If day one was about amazing scenery with great roads thrown in, today is more about the road. Though the views aren't too shabby either.
There's no easing yourself into this section, the one corner links into the next, meaning you need to be scanning ahead to ensure your exit from one doesn't compromise your entry into the next. And watch out, there are a few that tighten just as you expect them to open up.
But the rewards are worth the effort, and there's a tangible sense of accomplishment as the road finally straightens out, and as it does so just as you arrive at yet another loch. As we cut through on our ride the sun hasn't long been up, and is glinting beautifully off the still surface.
After passing Loch Laggan the corners return, and it's back to attack mode, but make sure to catch the right hand turning towards Dalwhinnie, using the A889. Even if whisky isn't your thing, the tour is fascinating.
Tour complete, taster kit stuffed into the GT's panniers (along with anything else that took your fancy) retrace your steps back to the A86, and turn right towards Inverness and Newtonmore.
Ignore the A9, though, this route takes you under the main road north, and onto the lesser known B970.
It loosely runs parallel to the A9, but instead of heading straight, or straight-ish, it gives you something to do, and after passing a couple of small towns, it's back to the good stuff.
On our ride we stopped for coffee and another slice of cake on the shore of Loch Insh – aptly but confusingly named the Boathouse – which is a slight diversion when you get to Kincraig, then continue on the main route to Aviemore.
After the ski resort join the A95, and follow it toward Speybridge, but pull off and follow signs to Grantown-on-Spey, picking up the Old Military Road: the A939.
From here, it's riding nirvana all the way back to Nairn. The road is superbly surfaced with twists and turns, climbs and descents through trees and over heathland. It's not as out-and-out dramatic as the views further west, but it is equally impressive in its own way and riding is arguably better.
Watch out at a fork in the road, where the A939 bears left, but other than just keep going, and savour every mile.
Eventually, for us, the ride comes to an end, with media guests having to transfer for flights and trains. But with more time you can add miles by heading south from Fort William in the morning and tackling Glencoe – a route press guests traversed on a 2013 Burgman launch – before heading west to Pitlochry and picking the Old Military Road further south.
But there are many great roads in the region, and now is the best time to plan this year's getaway.
SUZUKI AND BENNETTSANNOUNCE BUSA BONANZA
Suzuki GB and Bennetts insurance have teamed up to host an action-packed Busa Bonanza, which will take place on 26 April at Elvington Airfield and give owners the chance to ride their own Hayabusa flat-out in a run-what-you-brung-style event, as well as the opportunity to test ride the new, third generation machine.
Open to all Hayabusa owners – road legal or otherwise – attendees will be able to enjoy an unlimited number of runs and will be provided with printouts recording their speed at ½ mile and one-mile intervals. A complementary photography service will also provide free images of the day.
Those attendees will also be able to test ride the new Hayabusa, launched last year, with Suzuki bringing along a fleet of six demo machines. Available on a first come, first served basis, loanees will be required to provide their licence details and a DVLA check code, or National Insurance number.
A number of modified Hayabusa drag racers will be on display and stun crowds with top-speed demo runs, while British Superbike racers Christian Iddon and Danny Kent will swap their GSX-R1000s for Hayabusas for the day. Suzuki will also display its wider product range, including the newly-launched GSX-S1000GT.
Gates open at 10:30am with standard entry £5. Runway use is free for Bennetts Bike Social members, or £10 for an unlimited number of runs for non-members.
Elvington Airfield can be found near Elvington, York, YO41 4XS.
For further information or queries, email [email protected].
SUZUKI EXTENDS MK DONS SPONSORSHIP
Suzuki has extended its sponsorship of the MK Dons football club, in a deal that will run until the end of the 2023/24 season. The new deal will take the partnership between the two to the 10-year mark, demonstrating Suzuki's long-term commitment to the club and the Milton Keynes community.
The Suzuki logo will remain on front and centre on all MK Dons first-team and replica shirts through the next two seasons, while the partnership continues to extend way beyond the football pitch, with Suzuki dedicated in their support of the Milton Keynes Sport and Education Trust.
A huge supporter of all the Sport and Education Trust's community initiatives, with a particular focus on disability football, Suzuki will actively encourage their employees to involve themselves in the partnership, both in terms of attending matches at Stadium MK as well as volunteering at events, such as the upcoming Ability Counts Day.
Stadium MK will also provide Suzuki with the ideal facility to engage with their dealer network across the two-wheel, four-wheel, ATV and marine divisions.
MK Dons chairman, Pete Winkelman, said, "We continue to be so proud of our association with Suzuki, who have been with us through thick and thin. Their backing and support through the most difficult of times in these last couple years, is something I will, personally, never forget.
"The partnership not only focuses on the football and helping us provide a team that our supporters can proud of, but also the vital work of our Sport and Education Trust and their various programmes, not least disability football.
"I think it also demonstrates the strength of Milton Keynes too, with two of the biggest names in the area working together to deliver for the people and the community. I can only see our partnership going from strength to strength as we continue forward."
Nobuo Suyama, managing director of Suzuki GB PLC, said, "Our long-established sponsorship of MK Dons has again proved a successful and mutually beneficial partnership. Collaborating for the next two seasons will take us to our 10th year as title sponsor, which we know provides a solid foundation on which to further our strong relationship with the club. We are also proud to help maintain the support of the renowned and invaluable work that MK Dons Sport and Education Trust (SET) do in the surrounding community.
"We are delighted to announce our further sponsorship with MK Dons; as well as reaching out to people outside our business, we also see it as a great way of building pride and engagement with our head office staff, many of whom live in and around the city. Suzuki has been based in Milton Keynes for over 17 years and we are proud to be part of the area's successful commercial sector."
Commercial manager at MK Dons, Andy Wooldridge, added, "To have a global brand like Suzuki willing to commit their support to MK Dons into a tenth year is massive for the football club and for Milton Keynes. Our relationship with Suzuki remains so multi-faceted. Whether it is sponsoring the SET's disability football programme or helping to support club events, they are with us every step of the way. At MK Dons, we take a lot of pride in working closely with our partners to feel valued and appreciated and to ensure they reap the benefits of associating with the club. Our long-term partnership with Suzuki is hopefully evidence of what an attractive proposition we are."
SUZUKI CONFIRMS RETURN TO ADVENTURE BIKE RIDER FESTIVAL
Suzuki has confirmed it will return to the Adventure Bike Rider festival, with the 2022 event taking place on 24-26 June 2022 at Ragley Hall in Alcester.
The Japanese firm will again be bringing a comprehensive fleet of test ride machines, including its adventure flagship: the V-Strom 1050XT. With a suite of electronics including lean angle-sensitive ABS and traction control, selectable engine maps, cruise control, hill hold, and linked brakes that provide clever slope and load-dependent control systems, it will be available to demo alongside the base model V-Strom 1050, and the V-Strom 650 and V-Strom 650XT middleweight adventure machines.
Those bikes will also form part of an expansive static display, while for the three days members of the Suzuki team will be on hand to answer any questions and provide information and details on its range of models and any current offers and promotions.
Following two years of cancellations due to the Covid-19 pandemic, the Isle of Man TT is back for 2022 and promises to be bigger and better than ever before. As road racing fans rejoice in the return of the sport's flagship event, the racers who have missed out on almost 36 months of competitive riding could be forgiven for feeling slightly nervous.
For reigning Senior TT winner, Dean Harrison, the pressure is on, however the characteristically laid-back Yorkshireman is certainly not letting it show. Having spent the pandemic years honing his already-ample talent in other racing disciplines, he's relaxed and ready to tackle what the island throws at him in 2022.
Dean, let's take you back to 2019 and your first-ever Senior TT win. How did it feel to be standing on that podium?
It was almost overwhelming to be honest. The thing is, it's the biggest trophy you'll ever win in road racing. I'd won other TT races before and to win in any class is such an achievement, it's unbelievable, but to win the Senior was so special. With the TT being the biggest event of the season, to finish the week off like that feels like the weight of the world lifted off your shoulders.
The cancellation of the TT and other road races for the last two years has been fairly devastating for many, not least the riders. How has it affected you?
It's been so surreal. The whole Covid thing has been surreal and you just find it hard to believe what's happened. Doing the British Superbike Championship has filled a bit of the gap, so at least we've been riding some bikes, but it's like there's been a piece of the jigsaw missing. Hopefully we can finish the jigsaw off this year!
You did your first full season in BSB in 2021 – was that something you had always planned to do, or did it come about due to the lack of road racing events?
It only really came about because we didn't have any road races on the calendar. The team boss suggested we do the BSB season just to keep us sharp. The bike and all the equipment we had from 2019 was just sat there, so we thought we might as well put it to good use. Most racers start in BSB and go to roads, but I've done it the other way around. BSB is so competitive and it's a brilliant championship. I really enjoy doing it and I'm looking forward to doing more this year. Having said all that, my heart will always lie in road racing. That's what I do. It's what I grew up around and it's what I know.
Do you think doing the BSB season will improve your road racing?
I do, yes. I think it's helped me and the team. When you ride together and work together, you're finding things out about the bike all the time. You're riding all the time, so you're bike fit and your head is in the game. I think that has a knock-on effect, big time. It will help us as we go back into the road racing season. I can't wait to get back to it now. I'm just looking forward to getting the whole season going, to getting to the North West, to the TT, all of it. I've missed it a lot and I just want to get my teeth back into it now. A bit of normality.
As the defending Senior TT winner with a two-year gap, are you feeling the pressure more than you usually would?
Do you know what? I actually feel quite relaxed about it all. The only thing I feel a bit apprehensive about is what the track's going to be like. It changes year-on-year and it's been three years since we raced there. It might take a bit of time to get up to speed, it might not. I'll just take it as it comes.
Are you doing anything different to prepare mentally or physically?
The only thing different is that I'm doing a lot more off-road riding that I've ever done before. I bought a Kawasaki KX250X so I'm doing a lot of Enduro riding now. I've dabbled in a bit of Enduro here and there, but never anything serious. When I found out that Kawasaki had the KS250X coming, I thought "I'll have one!" It turned up and I was straight in at the deep end, but I'm excited to get to work with the bike and see what it can do. It has so much potential.
What are your plans for the bike?
I'm taking part in some rounds of the British Enduro Championship, then I'm hoping to finish the season off at the Sea to Sky race in Turkey. My plan is to race and develop the bike as the year goes on and really put a bit of effort into it. It's a brand-new motorbike, I've never really ridden a four-stroke off-road bike and it's totally different, so I thought I need a bit of time here. It's not that I'm not taking it seriously, but I don't have to take it too seriously so it's a little bit more relaxed for me.
With road racing, BSB and Enduro, you won't have much time for rest.
Well, yeah, I do like to keep busy!
Dean will be competing in the 2022 British Superbike Championship, the Isle of Man TT, North West 200 and Ulster Grand Prix with DAO Racing Kawasaki.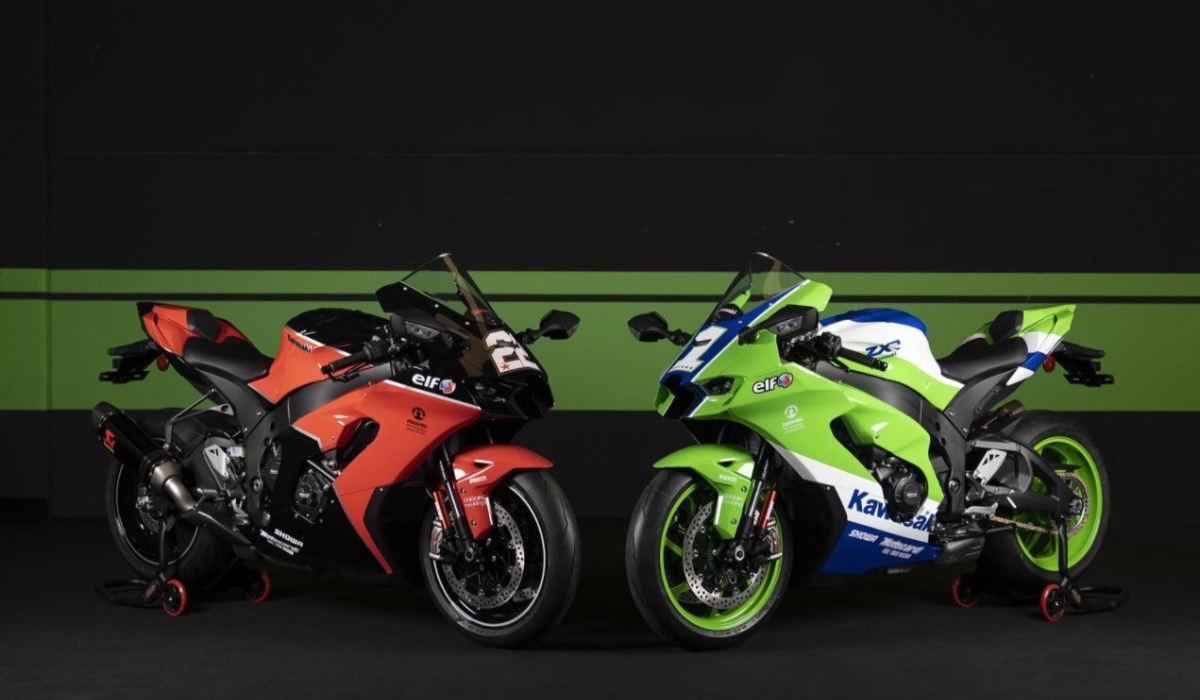 Following the worldwide response to the one-off KRT Superbike team heritage livery used at the Argentinian round of the World Superbike Championship in 2021, the Kawasaki Racing Team have created a unique experience combining a road going replica kit for the ZXR750-H2 and GPz900R styled machines along with matching leathers and a track experience with KRT riders which is being auctioned on eBay ending on March 3.
With overwhelmingly positive feedback for both the machines that Jonathan Rea and Alex Lowes rode, the team have used a pair of fresh from the crate Ninja ZX-10RR machines which have been dismantled at the KRT workshop in Granollers near Barcelona and rebuilt as faithful replicas of the racing machines with the added advantage that they will be fully road legal.
For Alex the choice in Argentina was the red and black livery of the 1980's GPz900R, the first machine in the world to be called a Ninja and two-wheeled star of a famous Hollywood film. Complete with an RST race suit made for the event, Lowes topped the look off by wearing "aviator" style sunglasses in the pit box before satisfying his "need for speed".
Jonathan fell in love with the re-imagining of the ZXR750-H style of 1990's as soon as he saw it; an era when the likes of Scott Russell, Robbie Phillis, Doug Chandler and Aaron Slight rode for the green team. Resplendent in his custom made Alpinestars leathers, the six-time WorldSBK Champion lined up on the grid and wound the clock back to a golden era of Superbike racing.
Only one of each style of machine has been created by the same mechanics that work on Rea and Lowes' racing Ninja machines and each with be accompanied by an exclusive "ownership package" that includes a Certificate of Exclusivity from KRT. Each lucky buyer will be able to spend a day on circuit with the team… and will even have 30 minutes of track time allocated alongside the KRT riders!
And to ride their newly purchased pride and joy the winner of the GPz900R replica will receive a set of custom-made RST leathers while the lucky owner of the ZXR750 style machine will be kitted out with unique Alpinestars racing leathers. Befitting such a special event, each owner will be presented with a photographic and video record of the day which they will surely never forget.
In terms of specification, each Ninja ZX-10RR will be a new unit supplied by an official Kawasaki dealer and will feature the following heritage kit courtesy of KRT sponsor partners: Akrapovic Kawasaki Heritage Limited Edition slip-on silencer, Valter Moto brake protector and rear paddock stand, Puig track-day windscreen and swing-arm bobbins, GB Racing engine covers and a Kawasaki genuine accessory fabric bike cover.

Commenting, KRT Team Manager, Guim Roda, said:

"This project was super successful in Argentina to celebrate Kawasaki's heritage and the introduction of the River Mark worldwide brand logo. We received amazing feedback from other teams and riders as well as Kawasaki fans globally. Our reaction was to create an exclusive limited edition experience with this pair of unique road machines and offer a package that amounts to a once in a lifetime ownership experience. Our KRT mechanics loved working on the bikes, and we look forward to meeting the successful bidders when they ride with Johnny and Alex."
Watch the video here https://youtu.be/BWG9QsM0x5g
Note: The ZXR750-H2 style machine reached its reserve price within minutes of the auction starting. The GPz900R machine remains available for bidding at the time of publication.
2018 Bennetts British Superbike Champion Leon Haslam is making an exciting return to the series this season, setting his sights on regaining his title. The popular rider will be racing for the Lee Hardy Racing team, riding the Ninja ZX-10RR.
Haslam will be returning to the BSB paddock following several seasons competing in World Superbikes, which included a stint as a factory Kawasaki Racing Team rider alongside Jonathan Rea. Now, the Derbyshire-based rider is returning to the UK with the aim of repeating his form of 2018 that saw him take his maiden BSB title with 15 wins and a further six podiums.
For this season, Leon will be riding a Kawasaki Ninja ZX-10RR for the proven Lee Hardy Racing team. Joining the premier class in 2014, the squad has enjoyed great success in recent years, finishing second to Leon in the 2018 series, and the one-rider team will be looking to build on this form and challenge for race wins from the opening round.
The team's new title sponsor and 2022 livery will be revealed in the coming weeks before the season officially gets underway at Silverstone on April 15th.
Ross Burridge, Head of Marketing & Racing Department at Kawasaki UK:
"It was great being part of Leon's success in 2018 and we as Kawasaki UK are excited to see him back in the Championship this year to hopefully challenge at the front of the field again. It's a tough Championship and after some time away in World Superbikes it will take some time to settle back in, but I'm sure the combination of both Leon's and the team's experience will put them in a great position right off the bat at round one."
"I'm super excited to be back in the British Championship and also to be back with Kawasaki, especially with the link to my Kawasaki-backed Affinity Sports Academy team. It's been a tough few years racing abroad so it's going to be great back in front of my home crowd once again! I know it's going to be a tough year against these guys but I'm looking forward to the challenge and have a lot of faith in the team around me."
Lee Hardy, Team Principal:
"I am very excited to have signed an agreement with Leon to contest the 2022 British Superbike Championship. Leon has proved what an asset he can be to a team, and we look forward to building a strong partnership together. We have both had amazing success with the Kawasaki brand, Leon last won the championship in 2018 with them and in that same year the Lee Hardy Racing team finished second to him also on Ninja machinery. We both have forged a great alliance with Kawasaki, and I see this as an incredible opportunity to fight for the championship again."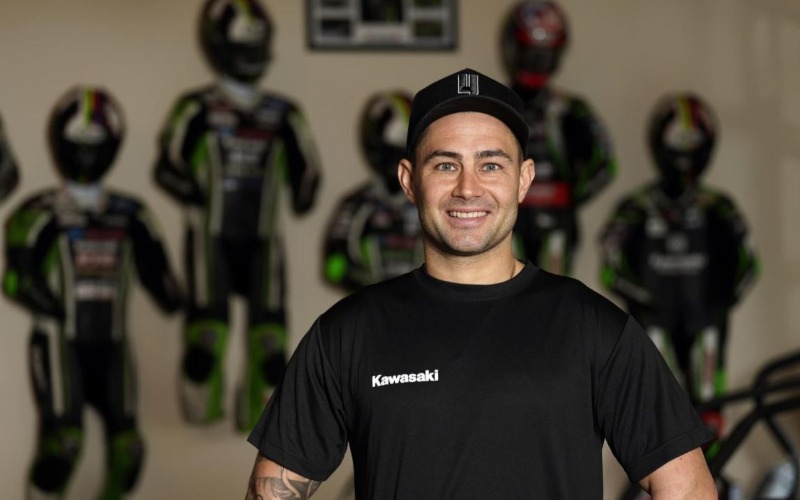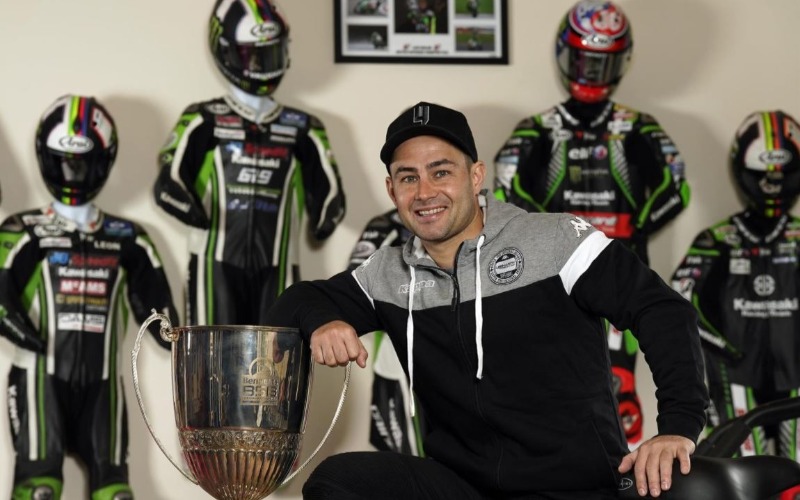 The FS-3 Racing Kawasaki team, the official Team Green entry in the Bennetts British Superbike championship, has today unveiled a striking new retro-inspired livery that will be used for all 11 rounds of the 2022 season.
Keeping with the same exciting line up of Lee Jackson and Rory Skinner, 2022 will be the sixth season that the Coventry-based team has partnered with Kawasaki. With both riders having had a year of development on the new Ninja ZX-10RR, they have firmly set their sights on building on their podium-finishing potential from 2021.
Following an incredible reaction to the ZX-7RR-inspired livery that World Superbike star Jonathan Rea used at the Argentinian round last year, the FS-3 Racing team has decided to create a similar retro-inspired them for their 2022 livery. The hugely popular design has been a hit across the UK, and for this year, customers who purchase a new ZX-10R or ZX-10RR from an authorised Kawasaki dealer can upgrade their bike to have the matching livery.
Unveiled for the first time at the MCN London Motorcycle Show, race fans will be able to see the striking liveries in action for the first time when the season gets underway at Silverstone on April 15th.
Ross Burridge, Head of Marketing & Racing Department at Kawasaki UK:
"Having witnessed the incredibly positive feedback from racing fans across the globe after seeing Jonathan's machine in Argentina, and then on our standard road bike at Motorcycle Live on the Kawasaki stand, we knew we had to see it on track in the UK this year. The guys at FS-3 Racing also fell in love with the design and are excited to see Lee and Rory debut the new look on track at round one in April later this year."
The newly renamed DAO Racing Kawasaki team has today unveiled the striking new Ninja ZX-10RR that Dean Harrison will campaign in the 2022 Bennetts British Superbike Championship.
With the covers being pulled off this morning at a busy London Motorcycle Show, race fans will immediately notice a departure from the traditional light blue colours that have adorned the team's Kawasaki machines for the past few seasons.
This reflects the team rebranding to DAO Racing, while the enhanced flashes of green showcase their close relationship with Kawasaki, with them being the Official Road Racing squad for the brand. These new colours will be seen at all 11 rounds of the 2022 Bennetts British Superbike Championship, while Dean will be running a slightly different design at the North West 200, Isle of Man TT and Ulster Grand Prix to reflect additional sponsors.
Last year saw Dean enjoy one of his best-ever seasons in the BSB class, and the Bradford-based rider will be looking to build on that while also using it as a chance to help prepare him for the return of the roads.
Ross Burridge, Head of Marketing & Racing Department at Kawasaki UK:
"This livery really is very striking! Although this is the same team, now known as DAO Racing, it's great to have a fresh new look for the 2022 season. Dean has been making strides in the Superbike class at BSB over the past 12 months and I am sure he will be progressing again this year and ready to fight to retain his Senior TT winner title also! One thing is for sure, he will be doing it in style!"
Jonny Bagnall, Team Manager at DAO Racing
"Following a complete rebrand for the team, we wanted a new look for our ZX-10RR and I'm delighted to reveal our 2022 British Superbike livery. This is the bike we will run at all BSB meetings this year and we will be unveiling our roads machine at a later date.
We have chosen to go for quite a dramatic change in style and colours. Although we have stuck with blue, green and white, we've gone for a darker and brighter blue this year, moving away from our traditional old shade and have retained the green to reflect our involvement with Kawasaki.
The livery also includes elements such as the Thai and Manx flags and I believe we've created a bold and striking machine to fly the DAO Racing flag in the Bennetts British Superbike Championship in 2022."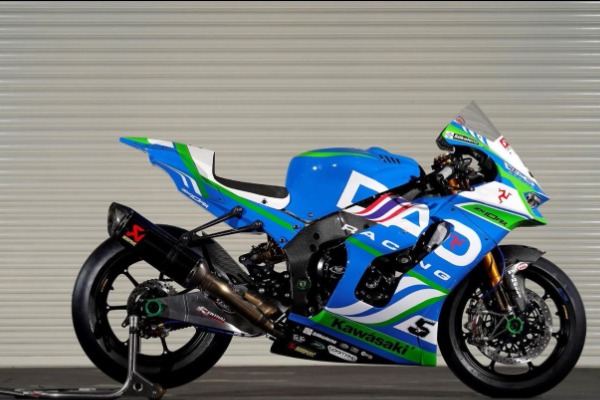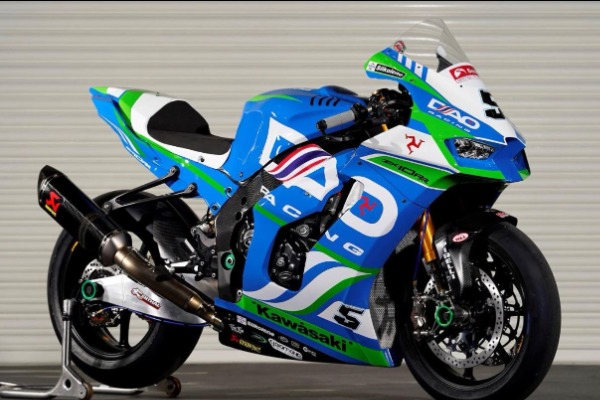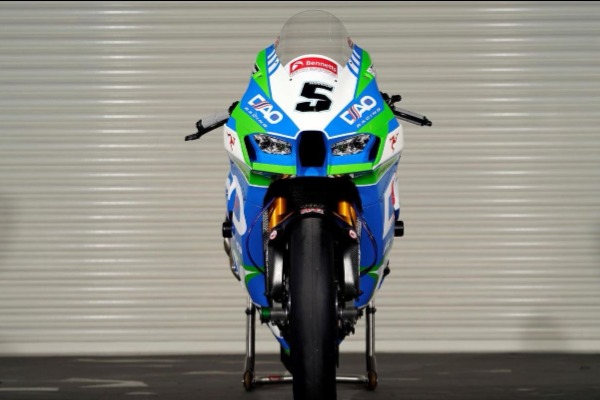 The GR Motosport-run STAUFF Fluid Power Kawasaki team has made the exciting move to bring former BSB star Joe Francis into the Pirelli National Superstock Championship for 2022. Joe will campaign the entire season aboard the Ninja ZX-10RR machine.
A successful 2021 season saw the STAUFF Fluid Power Kawasaki team secure race wins and podiums in the maiden year of the new Ninja ZX-10RR. Now with a year under their belts, the team are looking to build on this performance in 2022 and challenge for the National Superstock Championship title.
To do this, they have signed former Bennetts British Superbike Championship star Joe Francis. The Chester-based rider previously rode for the GR Motosport squad in 2013, securing the British Motostar title in the process, so the duo will be looking to replicate that winning form this year.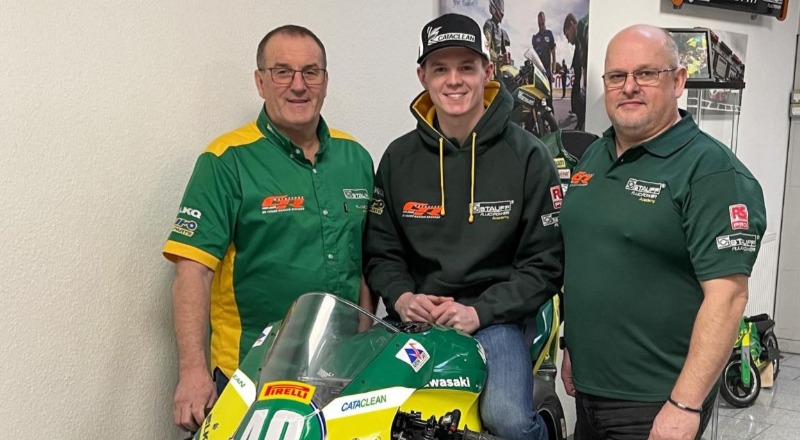 "I'm really looking forward to this year and a new challenge in the Superstock class. It is something I am excited about; my goal is to challenge for the championship title, and I am really motivated for the season ahead.
It is nice to be back with Brent and the crew, working with the same team members I had back in 2013 when we won a championship together, and now we want to make it two. I am confident that with the programme and team around me that we can make it happen. I can't wait to get going in a new class and I am thankful to Brent and all of my sponsors who have put me in this position for the 2022 season."
Ross Burridge, Head of Marketing & Racing Department at Kawasaki UK:
"Having worked with Brent and his professional outfit for a number of seasons now and seeing how the team have continued to develop across a multitude of classes, we are excited to see what they and Joe can achieve in 2022. It's always a tough class, but it's an important one for every Manufacturer, so we wish them the best of luck for the season ahead."
One of the most influential motorcycle designers of recent times has sadly died at his home in Japan at the age of 75. In December 2021, Shunji Tanaka passed away and leaves a considerable legacy in terms of his influence on motorcycle design while Design Director for Kawasaki based at their factory in Akashi, near Kobe, Japan.
As an integral part of Kawasaki's K-Tec design department, Tanaka-san played a significant part in the introduction of a fresh, new approach to the styling of Kawasaki motorcycles both in terms of the bodywork and overall appearance plus the adoption of so called "signature colours" which defined the machines during their launch phase.
Already a highly respected automotive designer before joining Kawasaki, Tanaka-san is credited with the design direction of the Mazda MX5, the world's top selling two seat convertible ever in terms of volume of sales with production now exceeding one million units. Moving from four to two wheels did not intimidate Tanaka-san; in fact, the remit to create bold designs for Kawasaki which embodied the uncompromising performance personality of the company resulted in a series of machines with instant impact and lasting appeal.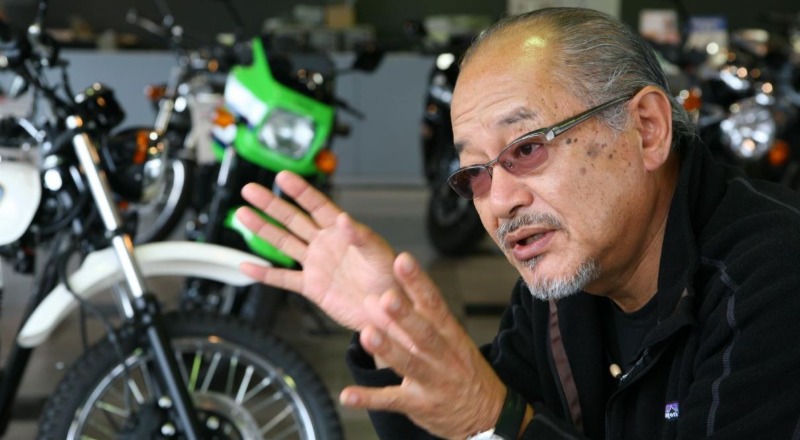 Marshalling his design team into a mutually supportive group – one of the keys to Tanaka-san's success – was the democratisation of the design process with even the most junior team member having a voice and being able to contribute to the final finished product.
Applauded for his influence on the styling and visual appeal of the machines launched during his time as K-Tec design director, Tanaka-san was proud to be involved in the successful introduction of the water-cooled in-line four-cylinder Z1000 in 2003 with its distinctive quad exhaust system and angular lines and for overseeing the look of the dramatic and impressive 2004 Ninja ZX-10R and subsequent 2005 Ninja ZX-6R.
Creating a recognisable "face" for the machines his team were responsible for was no coincidence as Takana-san firmly believed that the "personality" of a motorcycle was determined by the upper cowl and headlamp area with the rest of the design flowing from, and influenced by, this crucial part of the styling exercise.
It is hardly surprising that among many and varied enthusiasms in his private life, that Shunji Tanaka had a passion for the "Noh" masks used in traditional Japanese theatre productions; each mask establishing the credentials and often complex personality of the character in the play.
Mercurial, thoughtful, and highly creative, Tanaka-san was an eminently approachable man whose evident enthusiasm for design was infectious. As a "landmark" along the considerable design journey that Kawasaki has taken – and continues to this day – Shunji Tanaka will be remembered with considerable respect and affection.
AKRAPOVIC SILENCERS FORM PERFORMANCE ACCESSORY PACK FOR HAYABUSA
Suzuki has launched a new Performance accessory pack for its Hayabusa hypersport machine, which comes with an RRP of £2,599, representing a saving of £1,112 over the cost of the individual items.
The standout accessory in the kit is a pair of titanium Akrapovic silencers, which save a total of 4kg and boost power by 2kW, as well as enhancing the soundtrack. Capped with a carbon fibre tip and featuring a carbon fibre heat shield, the silencers are finished with a classy, laser-etched Akrapovic and Hayabusa logos.
Billet aluminium brake and clutch levers replace the original items, with extra style coming from a colour-coded pillion seat cowl, an accessory seat with Hayabusa logo and red stitching, plus a tank pad also adorned with a Hayabusa logo in a choice of gold or red, to suit the bike's colour.
The Performance accessory pack can be fitted at the time of purchase, meaning it can also be incorporated into any finance deal, spreading the cost monthly, and benefits from the same three-year-warranty.
With an RRP of £16,499, the third generation Hayabusa uses a heavily redesigned engine – including new pistons, conrods, crankshaft, and camshaft – specifically aimed at producing enhanced performance in the lower to mid rev ranges, making it the fastest-launching Hayabusa yet with more cumulative torque than its predecessor.
It gets Suzuki's most advanced suite of electronics ever, with 10 lean angle-sensitive traction control modes, lean angle-sensitive ABS, three power modes, a bi-directional quickshifter, cruise control and a speed limiter, and three stages of launch control, all controlled via easy-to-use switchgear and managed through a neat colour TFT display, nestled between two analogue dials reminiscent of the original Hayabusa's clocks.
Design cues from the original also extend to the bodywork, which is sharper and more angular but nonetheless immediately recognisable as Hayabusa.
SUZUKI TO ATTEND MANCHESTER BIKE SHOW AS EVENT RETURNS AFTER TWO-YEAR HIATUS
From the 2022 product range Suzuki will have its new GSX-S1000GT, offering the latest technology and all-day comfort. This sports-tourer will be showcased in its striking metallic triton blue and reflective blue colourways.
Also on display from the GSX-S stable will be the GSX-S1000, which combines aggressive looks, relentless torque, agile handling, and enhanced electronics.
Now in its third generation, the iconic Hayabusa – famed for its abundant power and imposing presence – will be displayed in it's brilliant white colourway, following its UK debut in December.
From Suzuki's twins range the V-Strom 1050 and V-Strom 650XT will feature alongside the SV650, with the 650s available on 2.9% APR Representative finance, with £0 deposit required and an additional £500 test ride bonus also available.
Other models on show include the refreshed Burgman 400 – the perfect commuter scooter – as well as the special edition GSX-R1000R Phantom.
Away from the road bikes, Suzuki will also display Kenny Roberts Jr's world championship-winning RGV500 from the 2000 season, alongside the Yoshimura SERT Motul GSX-R1000R superbike, fresh from winning the 2021 EWC title.
The Manchester Bike Show takes place 29-30 January at Event City, Manchester, M41 7TB.
Suzuki can be found on stand 105. For ticket information, click here.