SUZUKI ANNOUNCES DETAILS OF NEW GSX-S1000
After indicating earlier this month that a new GSX-S1000 was on the way, Suzuki has now released details of the 2021 naked, which comes with:
A completely new look, with sharp, aggressive new bodywork and futuristic LED lighting design.
An updated, Euro 5 compliant 152PS inline four-cylinder engine with a fatter and flatter torque curve, providing a broader spread of power in the low and midrange.
New electronics, including a quickshifter and auto-blipper, selectable engine maps and more levels of traction control.
A larger fuel tank and new, wider set handlebars.
Styling
Immediately obvious is the new GSX-S1000's redesigned aesthetic; the bodywork and lighting is completely new, with a focus on sharp, angular, aggressive lines and a powerful stance, with a 'mass forward' demeanour.
Available in Suzuki's traditional metallic triton blue, a new mechanical matt grey, and a stealthy gloss black, it's streetfighter looks are enhanced with textured radiator shrouds, MotoGP-insipired winglets, and side panels that feature an urban camo-inspired design.
Arguably the most striking visual change is the new, vertically stacked LED headlight. As well as the practical benefits of a new mono-focus LED light source that displays a wide, bright light, the new design of two stacked hexagonal units topped by LED position lights creates a look that is lighter and tighter, and aids the desire for a more aggressive pose. There's a new LED tail light, too, with both flanked by LED indicators.
Engine
The inline four-cylinder engine in the 2021 GSX-S1000 produces more power and a broader spread of torque in the lower rev ranges to deliver ideal naked sports bike performance. Changes include a new intake and exhaust camshaft, new valve springs, new clutch, and a new exhaust.
Compared to its predecessor, the new GSX-S1000 makes more cumulative torque across the rev range, filling in the dips in the graph with a flatter curve. It revs on to provide increased top end power, too, with peak power 152PS at 11,000rpm.
Thankfully, a new exhaust retains the soundtrack the outgoing model was known for, while aiding in the increase in power and the meeting of Euro 5 emissions requirements with an additional catalytic converter.
New electronic throttle bodies help achieve a more controllable engine response during the initial throttle opening. A new airbox manages to do without an internal separator, reducing intake resistance.
Reduced valve overlap also helps the new GSX-S1000 meet Euro 5 emissions standards, thanks to new a camshaft and revised cam profiles. The changes also aid engine controllability for the rider.
Added controllability and increased performance also comes thanks to Suzuki's Clutch Assist System. The slipper clutch partially disengages to reduce negative engine torque and mitigate the effect of engine braking when downshifting from high rpm. This helps prevent the rear wheel from locking up or hopping and provides smoother deceleration, enabling the rider to shift down with greater confidence and maintain better control when downshifting into corners.
Adding an assist function increases the clutch's clamping force under acceleration and thereby allows the use of softer springs while still efficiently transferring torque to the rear wheel, resulting in a lighter lever operation.
Electronics
An advancement over the previous GSX-S1000 comes with an updated suite of electronics, courtesy of Suzuki Intelligent Ride System (SIRS).
A new ride-by-wire throttle makes it possible for riders to more accurately and finely control the relationship between throttle actuation and engine response, especially when allied to the new Suzuki Drive Mode Selector (SDMS) system, with which the new GSX-S1000 is equipped.
SDMS allows riders to choose from one of three engine maps, depending on the riding conditions or their own personal preferences. Modes A-C all deliver the same peak power, but vary the sharpness and immediacy of the delivery, with A mode the sportiest, and C mode delivering the softest power delivery.
Performance is enhanced thanks to a bi-directional quickshifter, which reduces the need to operate the clutch during gear changes or close the throttle on upshifts, or blip it on downshifts.
A new traction control system comprises five modes, while it can also be switched off. Inputs from front and rear wheel speed sensors, and crank, gear, and throttle position sensors feed into the ECU which in turn controls the throttle valve opening, ignition timing, and fuel injection rate, to reduce or prevent wheel spin.
All the information is displayed on an updated and easy-to-read LCD dash.
Topping off the electronics package is Suzuki's always-handy easy start system – which requires only one prod of the starter button to fire the engine – and low RPM assist, which raises engine speed as the clutch lever is fed out, to aid slow speed control and prevent stalling.
Chassis
The twin-spar aluminium chassis is mated to a rigid, GSX-R-derived swingarm for agile, sporty performance and handling. New, 23mm wider, tapered 'bars help riders pitch the bike into turns with greater leverage. They are also set 20mm closer to the rider to improve comfort without compromising handling.
Suspension comes in the form of fully-adjustable KYB front forks and a preload and rebound damping adjustable rear shock, with revised settings from the previous iteration. 310mm front discs are paired with Brembo monobloc calipers.
A larger, 19 litre fuel tank and 46.3mpg equates to a tank range of 194 miles. Those miles can be undertaken in greater comfort thanks to a new seat.
Tyres are custom-engineered Roadsport 2 from Dunlop.
Pricing and availability
The new GSX-S1000 will be available in Suzuki dealerships from the end of June, with an RRP of £10,999.
HISTORY OF AN ICON: THE HAYABUSA STORY
There aren't many more iconic and immediately recognisable silhouettes in motorcycling, and the GSX1300R Hayabusa wowed the two-wheeled world when it was launched in 1999. We've taken a look at its origin, the revamps, the stories, and the launch of the third generation.
'Suzuki Sets New Standards' read the headline in MCN following the launch of the first Hayabusa at the Circuit de Catalunya in 1999. The design brief was simple; wade into the hypersport motorcycle market and come out on top. And the Hayabusa (which translates to peregrine falcon, a bird of prey which has a top speed dive of 200mph and preys on blackbirds – geddit?) did just that.
Styled and designed to a purpose, the Hayabusa made an impression the moment you clapped eyes on it, with its flowing lines aimed at making it as aerodynamic as possible, allowing it to cut through the air with ease. And at the launch in Spain, every superlative imaginable was thrown in its direction, with the assembled press running out of ways to describe just how jaw-dropping it was.
Head of design on the original project was Yoshiura san, who described the idea he set out to achieve, saying, "The concept of the first Hayabusa was to create an original and dominating impact with superior aerodynamics, as well as being the most powerful sports motorcycle. I designed it with the intention of getting attention, using a unique motorcycle design. It needed to be the ultimate road-legal motorcycle with the highest performance from mass-produced bikes."
It was immediately heralded as the fastest production bike on the market. At the launch, top speeds were clocked at the same point on the track as they were for the 500cc GP race the year before, with the Hayabusa just five miles an hour slower than the quickest prototype racer of the day, bike at the same point of the straight, and it wasn't flat out. Journalist Chris Moss described the speed and acceleration, saying "At 7,000rpm your arms feel like they're about to be wrenched out of their sockets." And to cope with the power, Bridgestone developed a set of brand new tyres, the BT56J, which gave the Hayabusa a greater contact patch when leant over and greater stability at high speed.
Suzuki test rider, Yuichi Nakashima, said of the first Hayabusa, "I can say the Hayabusa's engine feels so overwhelmingly powerful and finely tuned that there is nothing like it. After riding it you won't want to ride another motorcycle. Just once experience the Hayabusa's powerful acceleration from low to high speeds and its nimble handling and you too will be hooked."
It wasn't just the phenomenal power that the bike was praised for. The smooth, 1299cc inline-four cylinder engine provided masses of torque, making the Hayabusa more than just a road-legal missile, but a user friendly, real-world motorcycle, capable of shrinking continents. Bike Magazine's Martin Child reported from the launch, "You will not find a more torquey, rider-friendly engine. I completed two laps in top gear which saw everything from 30mph hairpins to the freedom of the straight and the bike pulled cleanly. The torque was instant and free-flowing."
It was happy cruising at motorway speeds on long-distance trips, or on the casual Sunday ride out. And it handled too, with the chassis and agility the other key areas where the Hayabusa scored highly.
It became an immediate hit and cult status followed, with the Hayabusa becoming an icon. It was, and indeed, still is, the weapon of choice for top speed chasers, while drag racing strips became its second home. It also leant itself readily to customisation, with a number of people choosing to personalise their Hayabusas.
Jack Frost, who operates Holeshot Racing, has spent years chasing top speed records, as well as using his expertise to help others. But he's done both on Hayabusas more than any other model.
"When the Hayabusa came out in 1999, I got one straight away," Jack explained. "I rode it standard to run it in and it was a great bike, as I have always said to people over the years. And they handle better than people would think; so easy to ride fast and eat up the miles. But it was by far the most powerful stock bike I had ridden and the obvious choice of bike to transform into a turbo bike.
"After a few months fettling mine, we managed 350bhp and a top speed of 228mph, still on pump fuel and a lot of standard components. After a few more changes we ran 257.4mph on the mile. It quickly caught on that turbochargers were a recognised add on for Hayabusas and at Holeshot Racing we sold hundreds of turbo kits around the world.
"But the 'Busa has such a great engine, as Suzuki are renowned for, and this shows by how long the model ran without change until 2008."
Also testament to the strength and power of the Hayabusa power plant is the long standing relationship that Suzuki GB has formed with sports and racing car manufacturer, Radical. Since 2000, Radical have been using Hayabusa engines in a wide range of their sports and racing cars, including building a Hayabusa-based V8 engine, which features in the SR8 RX race car.
As for the customised scene, that took off nowhere more so than the United States, where the Hayabusa elevated itself to the top of the fashionable motorcycle list, also proving popular with music artists and sport stars. The instantly recognisable bodywork, extensive list of aftermarket parts and interchangeable Suzuki components, plus the silky smooth, powerful and easily tuneable engine meant it was the motorcycle of choice for custom shops up and down the USA, serving as a rolling advertising board for the potential of the custom builder.
Apart from an upgraded ECU, revised fuel injection settings and front suspension, it went relatively unchanged in the early years, until a radical overhaul on the 2008 model.
But, launched in September 2007 at the Salzburgring in Austria, the Hayabusa was back with a bang, eight years after the original made its debut in Spain. Updates included a stronger and more powerful engine, which increased the displacement to 1340cc, with new lighter and stronger engine internals and a redesigned gearbox and a broader torque throughout the rpm range. And to deal with the extra heat and power, and new, curved radiator helped keep the engine cool.
The newest 4-into-2-into-1-into-2 exhaust system featured a new oxygen sensor used by the engine management system to increase combustion efficiency by adjusting the amount of fuel injected into the cylinders, and wind tunnel testing for the 2008 model centred around design refinements aimed at redesigning wind protection for the rider, while remaining true to the original design and iconic styling. Wind flow over and around the rider, both when in a normal seating position as well as when completely tucked in was improved. There were also changes to the front and rear suspension, brakes, frame, and wheels.
It was immediately heralded as the 'rebirth of a legend' by MCN, with senior road tester at the time Adam Child writing, "The word 'legendary' is over-used. So is 'iconic'. But both typify Suzuki's Hayabusa."
Chief engineer Hiroshi Iio worked on the engine of the original Hayabusa, before being made chief engineer for the overall project. "When we were refining the design for the second generation, the team placed top priority on improving its already legendary aerodynamic efficiency. The Hayabusa really stands above and apart from other ultimate sport bikes, and its consummate form follows the function of the bike's aerodynamic characteristics. Plus, its optimal balance and motion control translate into the ease of handling that you experience when actually riding the bike."
The Salzburgring was the perfect track for the relaunch of the Hayabusa, with two long straights, flat out kinks and fast corners. And nearly 10 years after the original model wowed the assembled motorcycle press, here it was, at it again. Bike Magazine's Simon Hargreaves agonised over finding a flaw in his report, before conceding that, "the 2008 Hayabusa has me stumped because I honestly cannot think of a single thing wrong with it." After it's introduction in 1999, it was back to reaffirm itself at the top.
Fast forward another five years and Brembo Monobloc front calipers graced the front end, which are lighter and more rigid than conventional bolt-together calipers, delivering better feedback to the rider. And to further aid stopping power, lightweight, high-performance ABS featured to match stopping power to available traction. It also came with new Bridgestone BT-015s, again, specially developed for the Hayabusa.
As GSX-R1000s and GSX-R1000Rs moved the supersport game on, with faster engines and superior handling, the Hayabusa's place moved further into high speed comfort. Already a string in its bow, the Hayabusa was the ideal tool for swallowing huge miles in speed and comfort, with assured handling and performance.
But with tighter emissions regulations coming into force, the Hayabusa disappeared from European model ranges after 2018.
But in February 2021 a new version was announced. The third generation Hayabusa was here, retaining everything that made it so good, and getting updates to make it even better.
Over 550 new parts come with the new Hayabusa, the new hyperbike using a similarly iconic and uniquely individual Hayabusa aerodynamic silhouette and styling, a heavily redesigned engine – including new pistons, conrods, crankshaft, and camshaft – specifically aimed at producing enhanced performance in the lower to mid rev ranges making it the fastest-launching Hayabusa yet, a comprehensive suite of electronics that includes IMU-governed ABS and traction control, cruise control, launch control, bi-directional quickshifter, engine brake control, three power modes, plus three preset rider modes and three user-defined modes, and a revised chassis, with a new subframe, new brakes, and new suspension settings.
Since the Hayabusa ceased to exist in Europe, the motorcycling landscape has changed, not just from the standpoint of stricter emissions regulations, but also a market place. The Hayabusa's need to keep chasing peak power figures was no longer there. Instead, the focus was on thrust.
While litre sports bikes push out more peak power, even grunty GSX-Rs can't compete with the Hayabusa's shove at the bottom end, and the third generation Hayabusa has an even fatter torque curve, providing a wider spread of power in the lower rev ranges, which makes building speed effortless.
The biggest change, however, comes in the electronics department. A sophisticated suite of electronics means the new Hayabusa has everything you could want or need to cover ground quickly and in comfort. But it also stops short of technology for technology sake, meaning that it could be launch with an RRP of £16,499, too, ensuring it remained an awful lot of bike for relatively little money.
Added together it means the Hayabusa story continues, and another chapter will be written.
NEW COLOURS FOR V-STROM 1050 AND V-STROM 1050XT REVEALED
Suzuki has shown the colour options available on its 2021 V-Strom 1050 and V-Strom 1050XT, with bikes arriving in dealerships now.
Launched last year, the range-topping V-Strom 1050XT – which comes complete with three selectable engine maps, traction control with three modes, lean angle-sensitive ABS with two modes, linked brakes with slope and load-dependent control and hill hold, plus cruise control – remains available in the popular orange and white, DR750-inspired livery, but for 2021 it is joined by a classy, steely grey with blue decals and blue and grey seat, completed by blue spoked wheels.
An updated yellow option also features, unashamedly influenced by the firm's RM-Z motocross range, with a black tank and gold rims. Gold rims also feature on an otherwise all black version, bar subtle grey and gold decals.
The V-Strom 1050 – which uses the same 107PS V-twin engine and many of the same electronics features as the XT but swaps the spokes for cast aluminium wheels and loses the standard fit engine bars and hand guards to come in at £9,999 – is available in a bold red and black livery and a more subtle all black option.
The new-for-2021 colours on the V-Strom 1050XT also apply to the Tour edition, which adds black three piece aluminium luggage as standard with 112 litres of storage space. With an RRP of £12,799 it equates to a saving of £370 over the purchase of the individual items.
BUSA'S BACK – SUZUKI REVEALS NEW HAYABUSA FOR 2021
Suzuki has announced details of its latest generation Hayabusa, with the new – and hotly-anticipated – third iteration of the legendary hyperbike coming with over 550 new parts, including:
Iconic and uniquely individual Hayabusa aerodynamic silhouette and styling, but with redesigned wind-cheating bodywork that remains faithful to the Hayabusa's unmistakable shape while adding sharper lines and classy details.
A heavily redesigned engine – including new pistons, conrods, crankshaft, and camshaft – specifically aimed at producing enhanced performance in the lower to mid rev ranges making it the fastest-launching Hayabusa yet.
A comprehensive suite of electronics that includes IMU-governed ABS and traction control, cruise control, launch control, bi-directional quickshifter, engine brake control, three power modes, plus three preset rider modes and three user-defined modes.
A revised chassis, with a new subframe, new brakes, and new suspension settings.
History
Launched in 1999, the Hayabusa stunned the motorcycling world and gave birth to the hypersport category. Taking its name from the Japanese for Peregrine falcon – famed for feasting on blackbirds – it delivered unrivalled performance, was immediately recognisable thanks to its now-iconic silhouette, and went on to develop cult status. Its monster engine enabled a smooth, turbine-like power delivery and an eye-widening top-end rush, but also gave it a flexibility and usability rivals could only dream of, while wind tunnel-designed bodywork allowed it to slip through the air effortlessly.
The launch of the second generation Hayabusa in 2008 boosted capacity and power, while a mid-term update in 2013 added Brembo monobloc calipers and ABS, updates that brought the machine firmly into the 21st century, yet remained faithful to the unique styling that has earned the Hayabusa its icon status.
Nearly 200,000 units later a third generation takes all that was right with the genre-defining hyperbike, but leverages the latest technologies to provide greater control and improved comfort to maintain its position as the ultimate sports bike.
Design
After the launch of the original in 1999, the Hayabusa's striking aerodynamic silhouette has become instantly recognisable; nothing looks quite like a Hayabusa.
During the design of the third generation machine the concept of 'the refined beast' made sure that Suzuki designers did not bring about wholesale changes, but instead made sure the latest iteration was still immediately identifiable as a Hayabusa. And 21 years on, still nothing looks quite like a Hayabusa.
Still low, long, and wide, the new generation has faithfully inherited the DNA of its predecessors, but with sharper lines and a tough, modern look that oozes refinement, class, and ultimate performance. It has been brought firmly into the present and future-proofed for the road ahead.
The overall result is a look of higher quality and greater luxury fused with the daunting image of the fierce bird of prey from which it takes its name.
The side profile looks every inch Hayabusa, but the design features straighter, sharper lines, from the new mirror design to the famous seat hump. A fresh face comes from new vertically stacked LED headlights, nestled between the new angular air intakes. New position lights flanking the scoops double up as integrated turn signals.
Great effort was also devoted to designing the straight-edged exhaust and mufflers, that sweep up towards the tail (which itself features new LED rear combination lights) to create a mass-forward look.
Much like the design of the Hayabusa's bodywork, the iconic machine's clocks are just as much a part of the bike's identity. And much like the bodywork, they too have been redesigned to embrace modern technology – in the form of a colour TFT screen – while retaining the elements that standout as Hayabusa: the two large dials that flank the new TFT display.
The large analog tachometer and speedometer gain a fresh, more attractive appearance. Features include bigger, bolder numbering that improves legibility, and raised scale markings around the periphery of each meter use LED lighting to provide a clearer view and faster recognition.
The colour TFT screen displays a plethora of information readouts from the new Hayabusa's suite of electronics (described in full, below) including the current SDMS-a settings or an active data display that shows lean angle (with peak-hold function), front and rear brake pressure, rate of forward/reverse acceleration and the current accelerator position. The panel also shows clock, gear position, odometer, dual trip meter, ambient temperature, instant fuel consumption, riding range, trip time, average fuel consumption, and voltmeter displays. LEDs located in the corners above and below the LCD include the neutral indicator light, turn-signal indicator lights, high-beam indicator light, low oil pressure warning light, traction control indicator, malfunction indicator lamp, master warning indicator, and ABS indicator. There is also an LED engine coolant temperature indicator light in the upper right corner of the engine coolant temperature gauge and fuel indicator light in the upper left corner of the fuel meter gauge. An ambient light sensor automatically adjusts the instrument cluster's brightness level based on surrounding conditions, or the rider can also opt to make manual adjustments.
Engine
During the development of the new Hayabusa many prototypes were evaluated, with many featuring different engine configurations. Engine designer Naoki Mizoguchi explained, "We considered a variety of engine configurations before arriving at the final design. Experimentation included building prototypes with larger displacement engines, turbocharged versions, and others with six cylinders. In the end we came to the conclusion that the original engine package achieved the best overall balance. We also came to the conclusion that not changing the basic layout was key to retaining the Hayabusa's distinct identity. So we applied the best of its proven qualities when we sat down to set the latest engine design. Our goal was to create a better engine while building on the same proven layout."
As a result of Mizoguchi and the engineer's work, the 1340cc, inline-four cylinder engine has undergone extensive reworking, with the aim of boosting performance and improving power and torque in the low and mid-range RPM. The result – especially when allied to new performance-enhancing electronics – is the fastest-launching Hayabusa yet as well as a more rideable and flexible engine for everyday use, plus added durability and reliability, also.
While the new Hayabusa remains electronically limited to 299km/h (186mph), it outpaces its predecessors off the mark thanks to a flatter torque curve that fills in a flat spot identified in earlier iterations in the lower rev ranges.
That increase in performance, plus the added durability, comes from a number of new or redesigned components. The new Hayabusa uses new, lighter pistons, more rigid and lighter conrods, new camshaft with revised cam profiles to reduce valve lift overlap and new cam chain tensioner, revised crankshaft and crankcases, new gearshift stopper, cam, and cam plate, and gears with revised bearing widths to improve shift feeling, new slipper clutch assembly, and new magneto.
Changes to the combustion chamber promotes faster and more efficient burning of the fuel-air mixture. Further machining on the combustion chamber around the intake valve expands the valve curtain area and improves the flow coefficient by 5% as the valve begins to open and reaches 5mm in lift height.
A new ride-by-wire electronic throttle system works with the new Hayabusa's variety of electronic control systems, while also providing a light, natural response with linear control, similar to that of conventional throttle operation. In conjunction with the introduction of this new throttle system, the size of the tapered throttle bodies has changed from 44mm to 43mm, but the overall intake pipe length, (including the intake pipe, throttle body, and funnel), is extended by 12mm over the previous intake system. This contributes to producing greater power output at low and mid-range engine speeds.
There's also a new side feed fuel injector that places the secondary injector at an angle on the side of the intake funnel. Its spray strikes a reflecting plate in the funnel and creates a fine mist that enters the combustion chamber. The result is again an increase in power and torque output at lower engine speeds.
New air intakes reduce pressure loss and increase flow into a larger airbox, which ups capacity from 10.3 to 11.5 litres, and while retaining the bold, twin muffler design the Hayabusa is known for, a new exhaust system saves over 2kg over the previous system, as a new pipe connecting cylinders one and four helps delivery more bottom end torque. A new two-stage catalytic converter replaces the previous single-stage design to help meet Euro5 emissions standards.
Electronics
A major leap forward from the second to the third generation Hayabusa comes from a new, comprehensive suite of electronics aimed at improving everything from performance to rider comfort, and safety.
Encompassed within the latest version of Suzuki Intelligent Ride System (SIRS) is the below:
Suzuki Drive Mode Selector Alpha (SDMS-a) featuring a selection of three factory preset and three user definable modes, combining:

Motion Track Traction Control System (10 modes plus off)
Power Mode Selector (three modes)
Bi-directional Quick Shift System (two modes plus off)
Anti-lift Control System (10 modes plus off)
Engine Brake Control System (three modes plus off)
Active Speed Limiter
Launch Control System (three modes)
Emergency Stop Signal
Suzuki Easy Start System
Low RPM Assist
Cruise Control System
Combined Brake System
Motion Track Brake System
Slope Dependent Control System
Hill Hold Control System
Within SDMS-a riders have the ability to choose from one of three power modes, with full-power mode one followed by a softer mode two that reduces initial power but still builds to the same peak power, while mode three has a reduced maximum power output.
There are also 10 modes of Motion Track Traction Control from an IMU-controlled system that uses the same technology as Suzuki's world championship-winning MotoGP machine and GSX-R1000R. The lean angle-sensitive system takes readings from the IMU, front and rear wheel speed sensors, crank position sensor, throttle position sensor, and gear position sensor to detect a loss of traction before the ECU controls output to the throttle valve, ignition coil, spark plugs, and fuel injectors to limit power. The system can also be turned off.
A further 10 modes of Anti-lift Control help prevent the front wheel from lifting during hard acceleration. The higher the setting the greater amount of control supplied. It, too, can be disabled.
A race-derived bi-directional quickshifter allows riders to shift up with the throttle wide open and without operating the clutch, while the need to blip the throttle on downshifts is also eradicated. Two modes mean riders can choose from a more race and performance orientated response, or a mode that responds to a lighter touch.
To further personalise the Hayabusa's advanced electronic systems riders can manage the effective strength of the engine braking to match their preference. There are three additional settings to choose from, as well as the default 'off', whereby the higher the setting the more the effect of the engine braking is suppressed.
As part of SDMS-a come three factory preset rider modes – Active, Basic, and Comfort – with each using a combination of allotted settings for the above systems. Active uses the full power engine map, with traction control and anti-lift set to one out of 10 and the quickshifter on its raciest setting. Basic uses the same quickshifter setting but the softer throttle response with traction control and anti-lift set in the middle, at mode five of 10. Comfort sees those upped to 10, with the engine mapping set to its softest setting with reduced peak power, and the softer quickshifter setting. All three modes use the default engine brake control system setting.
However, three user-defined settings allow riders to tailor the settings to their own preferences and needs based on their experience or the riding conditions.
The new Hayabusa's electronics suite is further bolstered by a launch control system with three modes that allow riders to limit engine RPM to 4,000, 6,000, or 8,000 RPM before launching, depending on their confidence or experience.
Cruise control allows riders to set their desired speed on longer journeys. With the system activated via a button on the right hand switchgear and the speed set and adjusted using buttons on the left, riders can release the twist grip and continue onwards at their preferred speed. The result is reduced fatigue and increased comfort. The system can be overridden with a touch of the brakes or by reopening the throttle. Owners can also set their preferred speed via a new speed limiter function, ensuring the motorcycle will not exceed that speed during operation. However, it too can be overridden by a quick twist of the throttle to allow riders to make overtakes or escape danger.
An intelligent braking system sees the third generation Hayabusa equipped with lean angle-sensitive ABS, helping riders track the intended line even when the brakes are applied mid-corner, plus linked brakes mean pressure is automatically applied to the rear brake when the front brake lever is operated, improving stopping performance.
The system also identifies when the brakes are being applied on a descent, with the ABS unit using input from the IMU to monitor the bike's posture, before optimising front brake pressure to prevent rear wheel lift. The IMU also enables the new Hayabusa's hill hold function, which automatically engages the rear brake for 30 seconds once the motorcycle comes to a stop facing uphill, even if the rider releases the brake lever or pedal. This helps ensure a smoother restart free of worries that the bike will roll backward.
Suzuki's easy start system and low RPM assist functions also feature, meaning the engine fires with one brush of the starter button and the engine speed is automatically raised as the clutch lever is released to aid slow speed control and prevent stalling. A new emergency stop signal flashes the turn indicator lights when the brakes are suddenly and sharply applied to warn traffic in the immediate vicinity.
Chassis
Hayabusa has always been known for its remarkable combination of high-speed stability and its planted feel alongside surprising agility and nimbleness. As a result, Suzuki engineers focussed on evolving the existing chassis setup to build on the proven base, as opposed to ringing the changes unnecessarily.
The tried and tested twin-spar aluminium frame uses extruded aluminium sections which lend the right amount of suppleness and strength, achieving a better overall balance. A new subframe reduces weight by 700g.
A new setup of the fully adjustable front and rear suspension units help improve the bike's stability at speed as well as its ability to turn, and also deliver improved grip from the specially-designed Bridgestone Battlax Hypersport S22 tyres.
Mounted to new seven-spoke wheels are bigger 320mm discs up front, with improved stopping power also coming from Brembo Stylema calipers.
Longer journeys on the new Hayabusa are not only made easier thanks to the extensive electronics package, but changes to the bike's ergonomics see the 'bars brought closer to the rider by 12mm, aiding rider comfort while ensuring the rider remains directly connected to the front wheel.
Availability
The new Hayabusa will be available in March 2021, with an RRP of £16,499.
2021 RM-Z RANGE AVAILABLE IN JANUARY
Suzuki's Arenacross championship-winning RM-Z450 is available in its new 2021 livery from January, along with the MX2 RM-Z250 machine.
On both machines the standout yellow, synonymous with Suzuki's off-road activity, is complemented by black radiator shrouds, white number boards, blue-topped seat, and retro-inspired, chunky RM-Z decals.
In 2020 the RM-Z450 picked up its fifth Arenacross championship since 2015, with Charles Le Francois winning for UK-based SR75 World Team Suzuki.
The title-winning RM-Z450 was completely redesigned in 2018 with a whole new chassis, making it the first production motocross machine to adopt Showa's premium, race-proven balance free shock. It also put out more power than its predecessor with improved tumble flow, new intake cam profile, a 30% larger air filter aperture, new throttle body and injector.
The RM-Z250 benefitted from similar treatment a year later, with a new frame, swingarm, and suspension, plus a heavily revised engine for more power and torque. Both bikes get the Suzuki's holeshot assist control and traction management systems.
A supercharged sensation at its launch on the Las Vegas Motor Speedway earlier in 2020, Kawasaki's incredible Z H2 blasts into 2021 with an SE model in showrooms making it a two-bike range for the new year.

In its own unique paint and graphic look, the SE model does what seemed impossible at the time, adding yet more bling to the Z H2 concept. Already a no-nonsense, impossible to ignore base machine, the SE version adds some key features to justify its claim to be King of the Supernakeds.

The trellis chassis remains and so too the unique balanced supercharged engine that has won so many plaudits already. And although appearing to be naked and stripped to bare essentials, the Z H2 SE also boasts an awesome array of electronic rider aids including, electronic cruise control, integrated riding modes (linking KTRCS sport traction control), power modes, traction & launch control, selectable power modes an up/down quick shifter plus Cornering Management Function, launch control and Intelligent anti-lock Brake System which counts on Brembo Stylema calipers for incredible stopping power.
And while the huge torque of the 998cc inline four brings the horizon rushing into focus, the journey there will now be even smoother as the new edition of electronically damped ø43 mm Showa SFF-CA (cartridge) fork and a high-spec BFRC lite rear shock can now count on Showa's Skyhook technology. With a 1 millisecond reaction time, Skyhook adjusts the damping electronically to suit vehicle speed and suspension stroke speed with the intention of keeping the body of the vehicle in a constant attitude while the wheels and suspension follow the dips and deviations in the road surface. Deceleration is also considered, allowing the pitching that occurs under braking to be managed.
Ensuring that Kawasaki's Sugomi styled predator does not have to move among the shadows at night, an all LED lighting package illuminates the Z H2 SE while the rider can focus on the clarity of a TFT meter panel which is also Bluetooth equipped allowing connection with a Smartphone for a variety of functions courtesy of Kawasaki's free to download Rideology app. With so many stand out features – and such characteristic Kawasaki state-of-the-art engineering – it's no wonder the Z H2 SE is adorned with the exclusive "River Mark".
It's a lot to take in and certainly a genuine assault on the senses so it's comforting to know only one word needs to be recalled to create an image of the 2021 Z H2 SE – Supercharge!
Arriving March 2021, the Kawasaki Z H2 will cost £15,899, with the Performance edition priced at £16,999. The Z H2 SE is available in Golden Blazed Green and Diablo Black and will cost £18,349, with the Performance Edition priced at £19,449.
2021 COLOURS REVEALED FOR SUZUKI'S 650 RANGES
Suzuki has revealed new colours for its 2021, Euro5-compliant 650 V-twin ranges, with updates to the ever-popular V-Strom 650 and SV650 machines.
The adventure-ready V-Strom 650XT, with spoked wheels and handguards plus traction control and low RPM assist, comes in a fresh version of Suzuki's motocross yellow, complete with gold rims, paying homage to the off-road racing from the Japanese manufacturer.
Gold rims also adorn a new white edition, with gold and black accents on the tank, while a new black and red version plus a grey and blue model are also available.
The standard V-Strom 650 will come in red, white, and grey in 2021.
The middleweight naked SV650 is available in gloss black next year with a gold frame, or for those looking to stand out further from the crowd, a white model comes with a striking red frame and red wheels and black seat unit. Another matt black option is offset by a blue frame and blue wheels.
With dropped bars, a headlight cowling, and ribbed seat as standard, the café race-inspired SV650X comes in gloss black with a gold frame, but also swaps the chrome tipped exhaust and silver footrest hangers of the standard machine for all black items.
The 2021 V-Strom 650 and V-Strom 650XT plus both variants of the SV650 are available from January.
Mirroring the methodical Ninja development approach of the Kawasaki Racing Team, the Kawasaki factory have delved deep inside the very core of the Ninja ZX-10R and Ninja ZX-10RR for a new model and racing season and taken another significant step in the evolution of these iconic machines.
Making full use of Team riders Jonathan Rea and Alex Lowes, the Kawasaki factory have tested numerous ideas across a season that saw Rea secure a historic sixth consecutive world Championship to add truly "race developed" features to both litre class Ninjas for 2021.
Concentrating on genuine performance and engineering upgrades and focusing on delivering a machine to win on track and set the Supersport standard on road, Kawasaki engineers have prioritised an innovative aerodynamic package for 2021 combined with handling and ergonomic upgrades supported by new engineering tech "under the skin". 
In terms of aerodynamics the target word is "downforce" with innovate integrated winglets incorporated into the structure of the cowling ducting the airstream and creating additional downforce which is approximately 17% greater than the current Ninja machine. Likewise, the design of the rear seat is subtly changed to create an area of low pressure behind the rider. When combined with a 40mm higher screen, a handlebar position that replicates that of Jonathan Rea's race bike and 5mm higher foot-pegs, the aero and ergonomic package is just one of the "next step" WorldSBK features for 2021.  Inside the new cowling innovations continue with a race style TFT dash (including Bluetooth connectivity), four handlebar button selectable rider modes and road rider features like electronic cruise control and optional heated handlebar grips.
Chassis updates include a 1mm lower swing-arm pivot point (adjustable on the RR), 2mm greater front fork offset and an 8mm increase in actual swing-arm length all contributing to increased stability and greater traction. Spring rates have changed too with the front now softer and the rear harder while a wider fork clamping area for the lower triple-clamp revises the rigidity balance for the fork outer tubes.
The job of slowing this agile beast on track and road for 2021 is ably handled by a suite of Brembo items encompassing M50 monobloc calipers, ø330 mm semi-floating front discs and a radial pump master cylinder (with race-quality steel-braided lines on the RR). And the "see and be seen" element for the new season is catered for thanks to all LED lighting utilising direct projection unit headlamps from Mitsubishi; their luminous optical modules being adopted for motorcycle use for the very first time.
The beating heart of any Ninja is the engine and the ZX-10R and RR are no exception. Both continue to rely on finger follower valve actuation increasing power and efficiency while reducing valve train weight and gear ratios are refined with 1st, 2nd and 3rd lower to make best use of the Ninja's prodigious power which is further enhanced by a new inlet port design. The 2021 machine has also been engineered to meet Euro 5 regulations, while keeping the lubricating lifeblood cool, a new KRT developed air-cooled oil cooler transfers straight from track to street reinforcing the link between race and road for Ninja fans. 
Which leaves the ultimate 998cc Ninja, the ZX-10RR for 2021 (limited to 500 units worldwide). Complete with specially commissioned Marchesini wheels equipped with standard fit Pirelli Diablo Supercorsa SP tyres. Safely revving 400rpm higher, the RR takes a big step toward the new race and track day season with existing Pankl precision lightweight connecting rods joined by Pankl low friction pistons and Pankl matched piston pins creating pure podium potential.
No wonder a Ninja has won the World Superbike crown six years in a row and no wonder the 2021 Ninja ZX-10R and ZX-10RR wear Kawasaki's prestigious river mark emblem. Kawasaki has changed the face of superbike racing with the Ninja – with new features and a brand-new look Kawasaki now says #FaceYourself.
The 2021 ZX-10R is available in Lime Green/Ebony/Pearl Blizzard White and Flat Ebony, while the ZX-10RR is available in Lime Green.  The ZX-10R is expected in dealers from May, costing £15,799 (with the Performance Edition priced at £16,799). The ZX-10RR is available for race teams by request, costing £24,799, with the Performance Edition priced £25,599
Having recently launched the Versys 1000 S, Kawasaki chose November 23 to debut major new models via online unveils hosted by both Kawasaki Motors Europe and Kawasaki Motors Corporation in America.
Underpinning this, Kawasaki showcased new technology under its Rideology banner encompassing contemporary and future thinking on Artificial Intelligence, Hybrid Technology and Self-Driving Vehicles. 
Highlighted in a keynote speech by Mr Masanori Inoue, General Manager, Kawasaki Motorcycle & Engine Company, the future vision for Kawasaki and its core commitment to the community and the planet shared the stage with models in two major product families for the European market. 
Hot on the heels of a sixth consecutive WorldSBK title, the Ninja ZX-10R and ultimate performance partner, ZX-10RR feature a number of highlights for 2021 some easy for the eye to spot and others further "under the skin". 
Sure to create conversations, the new Ninja "aero-package" debuts Integrated Winglet Technology responsible for achieving a 17% more downforce compared to the current model and has already been praised by six time World SBK Champion, Jonathan Rea at the recent Kawasaki Racing Team Winter Test at Jerez. 
A redesigned rear seat contributes to an area of low pressure behind the rider while a new foot-peg positioning, a 40mm higher screen and handlebars adjusted according to KRT rider input illustrate well the Kawasaki philosophy, not just one headline grabbing feature but updates across the board take the litre class Ninja machine to the next level. 
And for the RR, the adoption of Pankl pistons and matched piston pins mated to Pankl connecting rods, the race technology is proven with Marchesini wheels, braided brake hoses and a 400rpm maximum rev capacity compared to the standard ZX-10R. 
For the Z H2 SE, the strong, muscular presence of the Z H2 and its Balanced Supercharged technology, trellis type chassis and TFT meter equipped LED equipped headlamp cowl are taken to the next level via Brembo Stylema calipers and Brembo radial master cylinder illustrate well the match of performance and quality exuded by the Z H2 SE. Instantly recognisable thanks to a new colour and graphic treatment – and benefitting from Showa's advanced Skyhook suspension technology – the unique Supercharged Z H2 SE is set to burnish the Hypernaked crown yet more in 2021. 
There may be no major international shows in 2020 due to the global pandemic, but that will not diminish the desires on Kawasaki fans worldwide. And with debut of the latest litre class Ninja models and Z H2 SE, plus further future thinking, Kawasaki looks to 2021 and beyond with hope and optimism.
Please find all our online unveils on our YouTube Channel: Kawasaki Motors YouTube
COVID STATEMENT -MESSAGE FROM SUZUKI GB
We want to assure you that Suzuki GB is following all Government advice and working responsibly with our dealer network to support you and our staff during the current Regional and National COVID restrictions. In light of the latest Government announcements, we would like to update you on how we are remaining open for business to support you through this period.
What sales and aftersales support can you expect from Suzuki and our dealer network during a period of enhanced COVID restrictions?
First of all, the safety of our customers and dealer colleagues is of utmost importance and as such Suzuki dealerships are operating with COVID safe working practices and have been since the National lockdown earlier this year.
The vast majority of our service departments remain open and continue to provide you with all the services you may need. Staff will be taking safety precautions in a COVID secure way.
Depending on Regional legislation and Government lockdown guidance, some showrooms may be closed for physical appointments, however most of our dealers are still very much open for business (albeit digitally in some cases).
Suzuki dealers pride themselves on customer service and have sales teams on hand who can remotely discuss your requirements either by telephone, via video and on social media. Many can share video walk arounds of new and used bikes or send videos directly to you so that you can explore our products in your own time.
Bike deliveries and handovers continue to be carried out in a COVID compliant and safe manner, with social distancing observed. Should you wish to explore alternative delivery solutions (for example to your home), our dealer network can support this. New Suzuki machines will be prepared in advance and sanitized prior to handover.
Thank you for your understanding, and for helping us to ensure our dealerships are a safe place to visit and work. We are still open to serve you but please call our dealers first to discuss your specific needs and make an appointment.
Three of Kawasaki's most popular machines, the Z900RS, Ninja 125 and Z125, are receiving new colourways for 2021, further enhancing their appeal for new riders or those seeking retro-inspired styling of yesteryear.
Evoking the legendary Z1 Super Four series of machines available between 1972 and 1976, the Z900RS matches a swathe of styling sentiment with up to date technology, electronic rider aids and chassis compliance carefully matching classic looks with modern convenience.  
The four-cylinder water-cooled engine is equipped with traction control and an assist and slipper clutch making down-changes quick and seamless. Acceleration is brisk and, along with gathering speed, the expertly crafted "four-into-one" exhaust has been tuned to create the most evocative sound – true Z personality. 
Low maintenance, multiple thin spokes are a homage to Z1 style, as is the modern multi-functional LED meter.  The bright LED headlamp has a chrome bezel just like 1970's machines, whilst the rest of the machine, from its teardrop fuel tank, side panel badges, 1970's seat strap and aesthetically designed tail further add to machines retro design. 
The 2021 Z900RS continues with its Candytone Green livery, but will also be available in Metallic Spark Black and Ebony. Machines will begin to arrive in dealerships during December. 
Kawasaki's entry-level machines are also receiving a makeover for 2021. The top-selling Z125, with its exposed tubular trellis chassis spars, robustly engineered four-stroke A2 friendly 15PS (11kW) engine and sleek digital meters, is capable of handling the demands of both experts and new riders alike. 
The already ergonomically designed machine also comes with an Ergo-Fit accessory option to lower the machine, opening it out to all riders. The 2021 machine will be arriving in January and is available in:
Candy Lime Green / Metallic Spark Black
Metallic Spark Black / Pearl Flat Stardust White / Metallic Flat Spark Black
Metallic Flat Spark Black / Metallic Spark Black 
For those riders seeking a more sporty design, the aggressively styled Ninja 125 is also getting a new look for 2021. From the same Ninja family that has won the WorldSBK Championship a record six years in a row, the smallest Ninja is built to evoke the emotions of track success while delivering a composed and control environment in which to get used to the delights of two-wheeled transport. 
Sharing the same A2-friendly engine of the Z125, the Ninja 125 is completed with a nimble chassis that is worthy of comparison to the mighty Supercharged Ninja H2, delivering chassis integrity matched to handling compliance. 
From its aggressive race style cowl to its upswept Supersport tail, the Ninja 125 is ready to "tick all the boxes" of those aspiring to sit astride their first powered two-wheeler in 2021. Available in UK dealers from May and in a Lime Green / Ebony / Pearl Blizzard White colour way for the new season, the Ninja 125 is sure to race its way into the hearts of a legion of new riders in the coming year.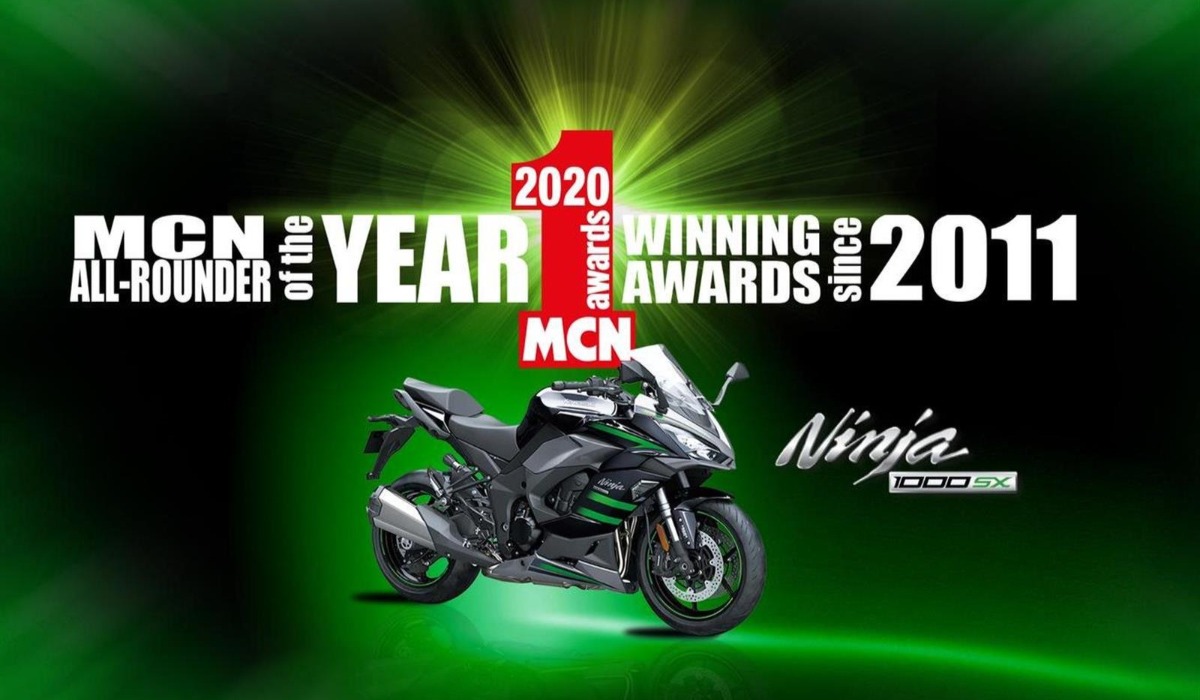 Motorcycle News has today announced the Ninja 1000SX as its 'All Rounder of the Year' in the 2020 MCN Awards. 
The 2020 Ninja 1000SX is the fourth generation of the popular sport touring machine, providing motorcyclists with the same great performance but with a sportier and more dynamic styling. The 2020 model also provides cleaner emissions and increased comfort, as well as Electronic Cruise Control and integrated Riding Modes. 
Today's award marks a tenth consecutive MCN Award win for Kawasaki, and the newspaper named the Ninja 1000SX its 'All Rounder of the Year' for 2020, stating, "the Ninja handles with greater precision, less effort and a lot more grace. Its long-stroke inline four continues to offer lashings of easy, eager thrust at all revs without needing to be worked hard."
 Craig Watson, Kawasaki Motors UK Sales & Marketing Manager added, "We are really proud to have this machine named MCN's All Rounder of the Year. Since its introduction, the Ninja 1000SX has been one of our most popular machines, giving motorcyclists a comfortable and sporty solution no matter whether they're seeking a daily commuter or looking to head out on a lengthy tour. 
It's great that its all-round capabilities have been recognised by MCN and the win cements ten successfully years for Kawasaki in the annual awards."
Kawasaki Racing Team's Jonathan Rea cemented his status as one of the all-time World Superbike greats over the weekend, securing his sixth consecutive title aboard the Kawasaki ZX-10RR.
Despite needing just three points, it was a tough start to the weekend for the star when he crashed during qualifying, leaving him starting the opening race back in 15th position on the grid. Showcasing his class, Rea sliced his way through the field to eventually finish in fourth place, seeing him secure the 2020 title in the process. 
The newly crowned champ followed that up with a fifth in the Tissot Superpole race on Sunday before crashing out of podium contention in Race Two, although he was able to remount and finish 14th. It was a challenging weekend for team mate Alex Lowes, who was able to finish sixth in the opening race before scoring two DNFs in Sunday's races. Alongside winning the riders' Championship with Rea, Kawasaki also won the Manufacturers' Championship.  
The final race of the World Supersport Championship was a successful weekend for Kawasaki, as Lucas Mahias and Philipp Öttl qualified on the front row before taking third and fourth respectively in the opening race. It was in the final race of the season, however, where Mahias was able to shine, taking his second win of the season.
The World Supersport 300 class continued to see Kawasaki Ninja dominance as Kalinin, Perez and Ieraci made it a front row lockout. The two races then saw all six podium positions secured by Kawasaki riders as Perez and Mueffels shared the wins whilst Booth-Amos and Di Sora also climbed the rostrum. MTM Kawasaki Motoport team rider Jeffrey Buis was eventually crowned series Champion. 
This weekend also saw the final round of the 2020 Bennetts British Superbike Championship, as the series rolled into a cold and damp Brands Hatch circuit in Kent. Eager to complete the season in style, it was a challenging qualifying for the FS-3 Kawasaki duo of Lee Jackson and Danny Buchan, finishing 13th and 14th respectively. Knowing they could achieve better in the three races, Danny stormed through in race one to eventually finish fifth with Lee just a few places behind in eighth. It was a similar story in Sunday's final two races, with Lee taking a fifth and ninth and Danny securing seventh and sixth. 
In the Quattro Group British Supersport class, Ben Currie was able to round his season off in style with a front row in qualifying and a second place finish in the opening race whilst team mate James Westmoreland was able to secure third overall in the Championship standings. 
Further success came in the Pirelli National Superstock 1000 class as Danny Kent powered his Morello Racing ZX-10RR to victory in a thrilling final race. However, the biggest success came in the Superstock 600 class, when Ben Luxton was able to secure the 2020 title following a tense victory in the opening race on Saturday afternoon.  
BLACK AND ORANGE GSX-R1000R JOINS 2021 SUZUKI RANGE
Suzuki's British Superbike and Superstock 1000 race-winning GSX-R1000R is available in a new black colour scheme for 2021, complemented by orange and grey accents and bold, grey, SUZUKI lettering, as a nod to the firm's now well-recognised race bike livery.
Available in dealerships now, the GSX-R's variable valve timing-equipped engine produces 202PS and features a comprehensive electronics package including a 10-mode, lean angle-sensitive traction control system, a quickshifter and auto-blipper, and launch control.
The new black and orange variant of the GSX-R1000R – which joins the 100th anniversary edition in Suzuki's range in 2021 – is also available with £1000 off its RRP as part of Suzuki's £1 per cc offer, meaning it can be had for just £15,999.
SAVE UP TO £1000 WITH SUZUKI'S £1 PER CC OFFER PLUS NO DEPOSIT REQUIRED
Suzuki's popular £1 per cc offer will return this autumn, which will see customers able to enjoy savings of up to £1000.
Buyers of the British Superbike and Superstock race-winning GSX-R1000R – with its MotoGP-derived variable valve timing system and comprehensive suite of electronics – as well as the GSX-S1000, GSX-S1000F, and the new Katana will benefit from a £1000 saving.
Meanwhile there is £750 to be saved on the GSX-S750, plus a £650 discount on the V-Strom 650 and V-Strom 650XT, SV650, and SV650X.
In addition, all models are available on both PCP and Hire Purchase finance with no deposit required, making it even easier to make the switch to a new Suzuki.