Kawasaki is pleased to announce a limited-edition range of motocross apparel, specifically designed for riders and MX enthusiasts alike. The first MX clothing collection in four years consists of men's and women's t-shirts, polo tops, sweatshirts, jackets, body warmers and hats, and is available now. 
With the all-new Kawasaki 2021 motocross machines arriving in dealers as we speak, the brand is pleased to confirm both fans and riders can also now enjoy a new MX apparel collection. The new MX-dedicated range is the same as that worn by the Kawasaki Racing Team in MXGP and features the KRT logo alongside official sponsors such as Monster Energy.
The limited-edition range consists of a Men's t-shirt and polo top, as well as a ladies' polo top. Both options are made from 100% polyester which is lightweight and breathable, and are suitable for use all year round. As the weather begins to cool, MX fans will be able to keep themselves warm with dedicated men's and women's sweatshirts, winter jacket and body warmer. The new MX collection also features a KRT MXGP cap and beanie. 
Only available while stocks last, the collection is available now either from Kawasaki's MX dealer network or online at 
http://bit.ly/Kawasaki-MX-Range
. 
Dean Clewley, Business Operations Manager at Kawasaki Motors UK, added, 
"We're very excited to be launching a brand new range of motocross apparel, the first new MX-dedicated clothing since 2016. The stylish new range is suitable for use throughout the year and is sure to look great in racing paddocks and motocross tracks across the country!"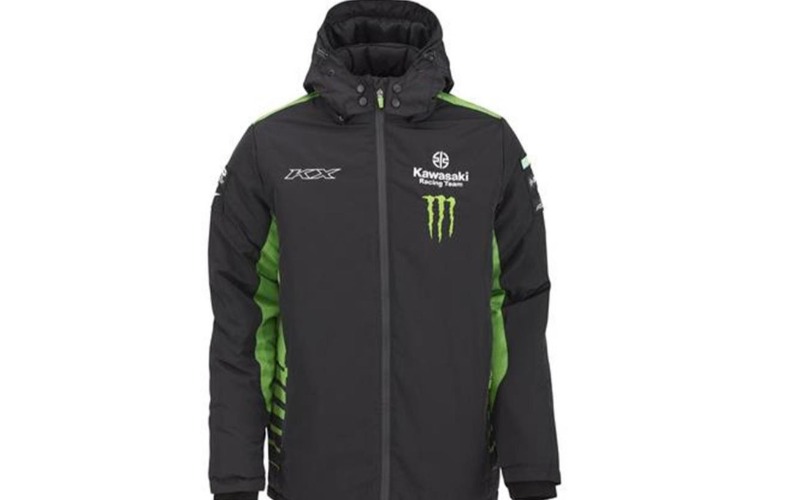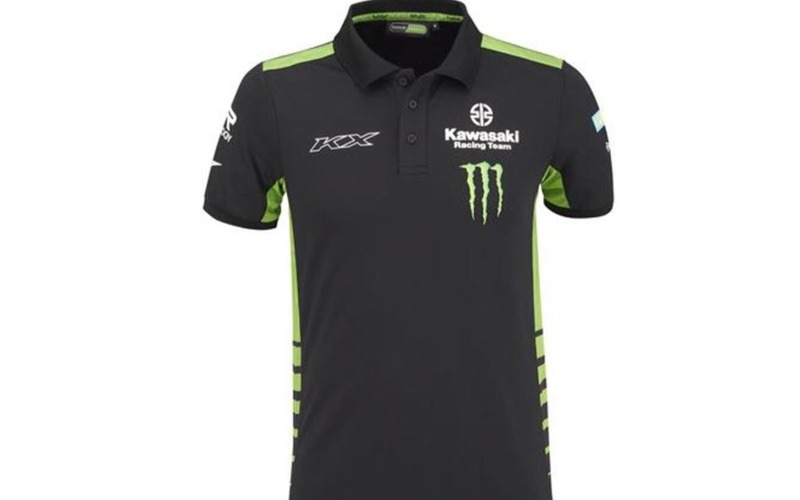 Z900 enjoys three new colour options for 2021
Continuing to push boundaries and delivering a visceral riding experience while offering an outstanding selection of focused electronic rider aids, the Z900 will be available in three colour-ways for the 2021 season.
For many in the media, plus legions of owners, the Z900 presents the ideal balance between the direct and emotionally charged experience of riding a class defining Z family naked bike and the refinement and confidence that a carefully selected suite of electronic rider aids proves.

Equipped with an easy to read and innovative TFT meter panel (with Smartphone Connectivity) plus all LED lighting, the Z900 will be available in three colour-ways plus an Edition model for 2021.

Fans of mean and moody dark colours are rewarded with a choice of Green Framed Metallic Spark Black / Metallic Flat Spark Black with a touch of green or Red Framed Metallic Spark Black / Metallic Flat Spark Black with a touch of red while the impossible to ignore impact of Pearl Blizzard White / Metallic Spark Black is also on offer for the coming season.

With Power Mode selection plus advanced traction control and rider modes, the support and subtlety of the electronic rider aids is matched to the precision of such features as a smooth to operate Assist and Slipper clutch offering a riding experience that is generally recognised as taking the Z ethos to the next level of engagement and refinement.

Speaking of next level, for those who demand an "instant upgrade" the Z900 is available from Kawasaki dealers as a Performance Edition once more in 2021 featuring a large smoke meter cover, a gel tank pad, a colour coded seat cover plus the sporty sound and extra performance of an Akrapovic exhaust, finished off with carbon heat shield.

The Z900 and its unique Sugomi style is not simply a vital element of Kawasaki brand DNA, it is also an essential part of the riding universe of thousands of riders across Europe. In 2021 that number will be swollen by yet more discerning riders ready to experience Kawasaki's exciting and easy definitive mid-weight naked machine.

The Z spirit finds its latest expression in the Sugomi styled Z900. Power to the max, instinctive handling and traction control redefine the SuperNaked experience. LED lights and a TFT display (with Smartphone Connectivity) bring the newest tech. Push boundaries and dominate your ride.

The 2021 Z900 will be available in dealers from this coming December and prices will be announced shortly.
Class defining Ninja 1000SX set to continue segment dominance in 2021
The new 2021 Ninja 1000SX, arriving in dealers this December, is set to hit showroom floors in a range of three colour-ways. Alongside this, the machine coms with the choice of three distinct Editions which – added the growing number of Genuine Accessory items available – will create a huge range of possible machine specifications.
Evolving from the Z1000SX, which frequently topped the sales charts in several European markets, the recently launched Ninja 1000SX ably demonstrated that the best can indeed get better. Adding the zest of the Ninja personality to the basic SX package has led to an uplift in dynamic engine and chassis performance, without losing the enviable touring capability, which initially established a new category of machine in the litre class.

Tech-wise, a TFT meter panel and advanced traction control feature alongside electronic cruise control plus a quick shifter as well as a clever integrated braking system and cornering management, all designed to facilitate hours of fulfilling saddle time whether that be long distance touring or hard core sport riding.    

Available in three colourway options for 2021, riders can choose between Metallic Carbon Gray / Metallic Diablo Black, Emerald Blazed Green / Metallic Diablo Black / Metallic Graphite Gray or Metallic Moondust Gray / Metallic Diablo Black. And in each case match the desired colour to one of three Editions.

The Ninja 1000SX Performance Edition adds frame sliders, a smoke windscreen, a gel tank pad, a colour coded seat cover plus the sporty sound and extra performance of an Akrapovic exhaust.

Marking the fifth generation of a successful sport touring platform, the Ninja 1000SX Tourer Edition adds a 2x 28L integrated pannier system that is colour-matched to the body of the bike and can be conveniently locked with the ignition key. A larger windscreen is fitted for even more comfort; while the GPS bracket lets you mount your system of choice.

The third of the trio of Edition options is the Ninja 1000SX Performance Tourer Edition adding a colour coded 2x 28L integrated pannier system, heated grips, frame sliders, a large smoke windscreen, a GPS bracket, a gel tank pad, a colour coded seat cover plus the sporty sound and extra performance of an Akrapovic exhaust.

Time and distance will continue to be an abstract concept for Ninja 1000SX riders as they choose a destination and decide how long they would like to take to get there. Motorway blasts or country road tours, the Ninja 1000SX in all its new liveries and guises is set once more to deliver the ultimate combination of Sports thrills and Touring practicality.
 
Prices for each machine will be announced at a later date.
Vulcan S cruises confidently into 2021
Available for the upcoming sales season in three distinct colourways, Kawasaki's popular and highly rated mid-weight Cruiser successfully combines modern technological convenience with a personality that is the very essence of custom style.
Whether choosing Metallic Spark Black, Metallic Flat Raw Graystone or Ebony, Vulcan S riders can be assured of a stimulating ride thanks to the Vulcan's 649 cm3 liquid-cooled, 4-stroke Parallel Twin engine delivering a healthy 61 PS.

Translating an engaging riding sensation into words, the cruiser virtues of light handling, comfortable, plush low seat and relaxed foot-forward riding position are all evident thanks to the compact engine and slim frame design creating a narrow aspect at the knees and feet.

Successfully mixing the traditional virtues of a classic cruiser with a contemporary styling approach the customer base for the Vulcan S is diverse extending from those that are drawn to the relaxed custom lifestyle matched to dependable low to mid speed pulling power and predictable handling and other who enjoy and more spirited ride utilising the by now famous top-end urge and acceleration of the water-cooled power plant.

Add the adjustability offered by the Kawasaki Ergo-fit approach whereby handlebar and seating adjustments can be made via the use of accessory items and the Vulcan S is machine well suited to experienced riders, those new to the mid-weight scene and, as sales has shown, both male and female riders. 

The benefit of ABS and a linkage-equipped offset laydown single-shock means that the confidence levels of riders both experienced and novice are well catered for and, along with high tech features like dual throttle valves, the Vulcan S rides into 2021 ready to impress a new legion of cruiser fans.

Rea Reigns Supreme in Aragon!
Kawasaki Racing Team's Jonathan Rea showcased why he's the most successful World Superbike rider of all-time over the weekend, with three hard-fought podium finishes that saw him extend his lead at the top of the Championship standings
Just as he did last weekend, Rea topped qualifying to claim pole position whilst KRT team mate Alex Lowes fought through severe gastroenteritis to claim an impressive ninth. Setting a consistent pace throughout the race, Rea was able to claim his 11th podium of the season with second place whilst Lowes took a strong sixth. With title rival Scott Redding crashing out of contention, Rea's podium saw him significantly extend his series lead at the top of the standings.  
Sunday played host to two all-time great World Superbike races, with Rea and Redding going head-to-head in the Tissot Superpole race, seeing Rea again take second, before the Kawasaki star stunned the paddock in Race Two to take victory. Lowes continued to battle his illness, taking an impressive sixth and fifth in both races. 
In the World Supersport class, Lucas Mahias was able to take fourth and second, whilst Philipp Öttl took fifth and fourth. In the two World Supersport 300 races, Ninja 400 riders continued to dominate the class, with Victor Rodriguez Nunez and Jeffrey Buis sharing the victories, with four of the six podium spots being claimed by Kawasaki riders. 
Back in the UK at the Silverstone Bennetts British Superbike Championship round, Danny Buchan and the new-look Rapid Fulfillment FS-3 Kawasaki claimed pole position, before taking ninth, eighth and eleventh in the three races. Team mate Lee Jackson secured two sevenths and eighth. 
In the Pirelli National Superstock 1000 class, Danny Kent took third place in the opening race, whilst the Superstock 600 class saw a podium from Daniel Brooks. Two action-packed Hel Performance British Junior Supersport races saw five of the six podium positions claimed by Ninja 400 riders, with Osian Jones and Owen Jenner sharing the victories.
Kawasaki announce "Team Green Army" rewards programme
With the upgraded 2021 range of KX machinery only recently announced, Kawasaki are excited to introduce an all-new rewards programme aimed at the amateur Motocross riders competing across the UK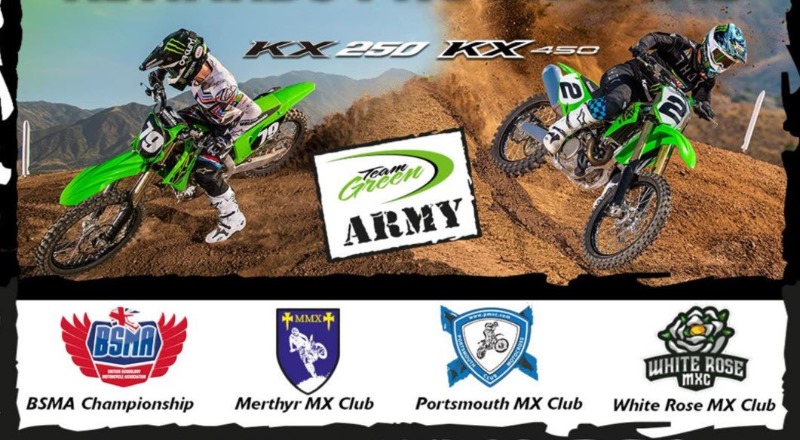 The programme reinforces Kawasaki's inherent focus on racing and provides an opportunity for like- minded racing enthusiasts who choose the Kawasaki brand to be rewarded for their achievements. 
For riders competing on both KX250 and KX450 machinery (2020 or 2021 model year), prize money will be paid to the top three Kawasaki mounted riders in the following classes and series' throughout the respective 2021 Championships:
The BSMA Championship – Adult A and Adult B classes
The Portsmouth MX Club – MX1 and MX2 classes
The White Rose MX Club – A class and B Class
The Merthyr MX Club – MX1 Junior and MX2 Junior classes
(2021 Events, dates and venues TBC)
To apply, simply head over to 
www.teamgreenracing.co.uk
/teamgreenarmy
 and complete the online form, stating which club / Championship and class you will be competing within plus your nominated local Kawasaki dealer, through which you would collect your prize money. 
Kawasaki Motors Head of Marketing & Racing Department, Ross Burridge, is pleased to see the Team Green Army rewards programme roll out, saying "As Team Green we spend a lot of time and effort supporting our professional level teams, with much success over the years. However we understand that the grass roots level of our sport is so important and we relish the idea of being able to support the riders who are loyal to Kawasaki.
We believe this first step of our rewards programme is a great way of not only achieving this, but hopefully adding yet another reason for customers to choose one of the premier models from the KX range! The Team Green Army will be an inclusive programme and one which we hope will make its members feel a part of the wider Kawasaki community."
Dominant Display for Kawasaki at Aragon!
It proved to be a prosperous weekend for Kawasaki at the first of two World Superbike rounds held at the Spanish circuit of Aragon, gaining silverware in every class
After setting a new circuit record in Superpole, reigning World Superbike Champion Jonathan Rea claimed third place in the opening encounter, battling for the lead for the majority of the race. Team mate Alex Lowes crashed out unhurt whilst running in a strong podium contention position.
 
On Sunday, the five-time Champion demonstrated his talent by first taking victory in the 10-lap Tissot-Superpole race, before following it up with another win in the full-length Race 2. Taking the chequered flag by nearly two seconds, it marked Rea's 80th win with Kawasaki and gave him a ten point lead in the Championship standings. On the other side of the garage, Lowes was able to battle back from his highside on Saturday to claim sixth and ninth.
 
Further trophies came in the World Supersport class, with Philipp Öttl taking third in the opening race, his second podium of his rookie season, following it up with fifth in race two, one place behind teammate Lucas Mahias in fourth.
 
The World Supersport 300 class once again provided fans with two action-packed races, but it was Jeffrey Buis who shone through, taking pole position before doubling up on race wins, his first victories in the class. All six podium positions were claimed by riders racing the Kawasaki Ninja 400.
 
This weekend also saw further Kawasaki success, when the SRC squad were able to claim second place at the gruelling Le Mans 24 Hours World Endurance Championship!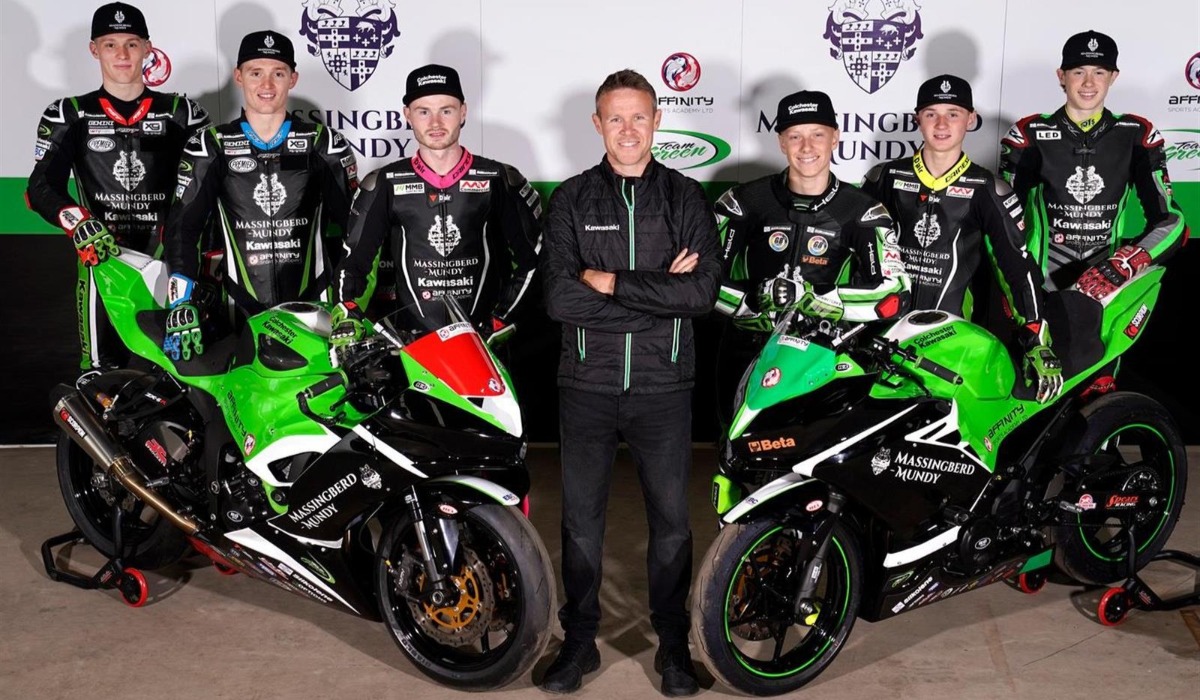 The long awaited start to the 2020 British Superbike Championship season is now just around the corner and Affinity Sports Academy have been focused on readying the team for a high velocity roll out at the first round.  
The recent birth of the team last year has seen the team work tirelessly behind the scenes, with dedication applied towards setting up the best platform possible for the six young riders to launch from. (Find out more about the riders here – http://www.teamgreenracing.co.uk/junior-superstock-sport.aspx).
The new academy's strong association with Kawasaki's Team Green brand is important for not only the riders who want to progress through the ranks, but also for Team Manager, John Laverty.
"This is an exciting new venture for all of us. Team Owner, Leon Haslam has created a great platform for these young riders to work from, and I am there to help nurture them through the season and try not to let them make the same mistakes that we all did when starting out!", said John.
"The support of Team Green is invaluable and these guys know they have a great opportunity ahead of them. The idea of the Academy is to help them win races, Championships and hopefully progress through the British Superbike series alongside Kawasaki and Team Green.
"Naturally the crowds and supporters of the series draw their attention towards the Superbike class, however Kawasaki understands the importance of assisting young riders who are fairly new to the sport. At the forefront of Team Green's ethos is offering athletes the highest amount of support possible and ensuring there is a robust foundation to work from in the early stages in their racing career.
Kawasaki Motors UK Senior Racing Coordinator, Ross Burridge said, "Team Green has always focussed on developing young talent and offering opportunities for progression. Danny Buchan is a great example who has progressed from Junior Superstock, right the way through to becoming our official Superbike rider, so there really is something for the young riders of Affinity Sports Academy to aspire to. Spanning across two classes, Junior Supersport and Junior Superstock, immediately there is an opportunity for growth within the Academy itself, so I am sure we will be seeing some exciting racing on track from all riders when the season gets underway in just over a month's time."
The 2020 British Superbike Championship will fire up for the first time this year on 7th August at Donnington Park. Find out more here – https://www.britishsuperbike.com/
V-STROM 1050XT WINS MOTO JOURNAL
MOTORCYCLE OF THE YEAR AWARD
The new V-Strom 1050XT has picked up Moto Journal's award for motorcycle of the year, with a rating of 91 out 100.
The respected French title handed the award of moto de l'année to the new-for-2020 Suzuki V-Strom after a thorough evaluation focussing on the bike's ability, spec, and price.
The new V-Strom 1050XT uses the proven 1037cc V-twin engine from Suzuki, but meets Euro5 emissions regulations while increasing peak power to 107.4PS (79kW), a 7% increase over the previous generation.
And while the design harks back to the original and iconic DR Big and pays homage to that original adventure machine – both bikes were designed by the same person – a thoroughly modern and comprehensive suite of electronics dubbed Suzuki Intelligent Rider System (SIRS), sees the V-Strom 1050XT equipped with cruise control, lean angle-sensitive ABS, two ABS modes, slope-dependent control, load-dependent control, and traction control, plus a ride-by-wire throttle and three power modes.
FREE CITY PACK KIT WITH NEW V-STROM 1050
Suzuki is offering a free City Pack accessory kit with the new V-Strom 1050.
The pack – which usually retails for £549 – includes a spacious 55-litre top box, all the necessary mounting kit and a centre stand.
It means the V-Strom 1050, already lauded as one of the best-value adventure bikes on the market thanks to its RRP of just £9,999, now offers even more practicality. The free City Pack makes the true all-rounder an ideal tool for both weekend getaways and the daily commute, with plenty of space to keep your clothes and laptop for work while avoiding crowded public transport.
Launched this year the V-Strom 1050 uses Suzuki's 1037cc V-twin engine which has been upgraded for Euro5, making 7% more power (107PS) whilst delivering strong liner torque from tick over to red line and 57.65mpg, giving an impressive 250mile range from its 20L tank. There are three power modes and three traction control settings to keep everything in check, plus the ability to turn the traction control off. It also gets Suzuki's easy start and low RPM assist, which aids setting off and makes light work of town riding.
SUZUKI TO HOST SUPER 70 TEST RIDE WEEKEND

With the impending release of the '70' registration plate in September Suzuki has announced a Suzuki Super 70 Test Ride weekend on 11-13 September, plus the chance to win one of three V-Strom 1050-themed Arai Tour-X4 helmets worth £649.
With almost all of Suzuki's on-road dealer network taking part there will be no shortage of models to demo, including the new-for-2020 V-Strom 1050 – which currently comes with a free City Pack – and V-Strom 1050XT. Both bikes have the latest Euro 5 version of Suzuki's fabled 1037cc V-twin, which now puts out 107PS. They also get a three-stage traction control system and three engine power modes. The XT adds cruise control, hill hold assist, load and slope-dependent control linked brakes, two ABS modes plus lean angle-sensitive ABS.
Those that take a test ride can enter a prize to draw to win one of the Arai adventure helmets by posting a picture of themselves with the new V-Strom to the SuzukiBikesUK Facebook page or by tagging @SuzukiBikesUK on Instagram or Twitter, and using the hashtag #SuzukiSuper70.
With a host of other offers running across the range there is also something for everyone. Suzuki's '2-3-4' offer – which allows customers to choose from either a two, three, of four-year PCP or HP deal with an APR to match – is available on the range-topping GSX-R1000R and the GSX-R1000, the GSX-S1000 super-naked and the faired GSX-S1000F, plus the middleweight GSX-S750, V-Strom 650 and V-Strom 650XT, and the Katana.
Many models are also eligible for a £500 discount when taken for a test ride, including the GSX-R1000R, GSX-S1000, GSX-S1000F, Katana, V-Strom 650, SV650, and SV650X. Those looking for a 125cc solution can also enjoy £500 off the GSX-R125 and GSX-S125 machines.
For the 2021 season Kawasaki race engineers have concentrated on detail refinements to the successful KX450 package aimed to satisfy the demands of mid to upper level skill riders who form the bedrock of the KX450 customer base.
Engine wise the most noteworthy change is the adoption of a dry film lubricant coating on the piston skirt which reduces friction between the piston and cylinder wall and contributes to increased performance
A highly praised feature when introduced, the KX450 hydraulic clutch has been refined for the new season and two changes occur to aid rider feel and clutch life under harsh racing conditions.
In order to deliver a lighter clutch actuation when the lever has been pulled in, and a wider clutch engagement range, the traditional coil spring arrangement has been replaced by coned-disc springs. The resultant feel and control is evident in operation and, especially so, when half-clutching.
Finally, in terms of changes, a Renthal Fatbar is now part of the standard KX450 specification. With a ø28.6mm tube diameter, the all-aluminium bar helps reduce vibration and shocks transmitted to the rider while a 19mm lower grip position that is 8mm closer to the rider makes it easier for the rider to weight the front wheel.
The difference between and win and second is sometimes a hundredth of a second. Likewise a race winning package is defined by a specification created by a myriad of features. Now, for 2021, the KX450 package is the most complete ever – fact.
Anticipated availability in UK: Late August
Anticipated RRP: £7,799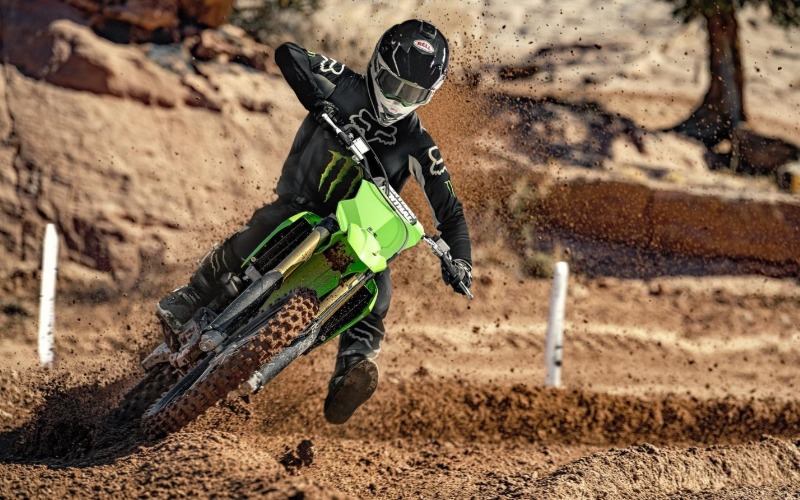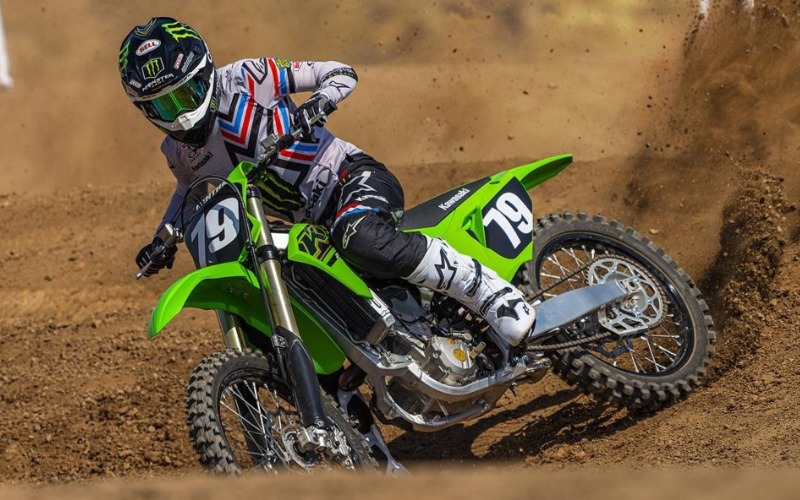 The big news for the 2021 season is that the impressive Kawasaki KX250 comes to the starting gate with the most peak power ever plus a host of "rider-centric" features set to reconfirm its place as the standout bike in its class.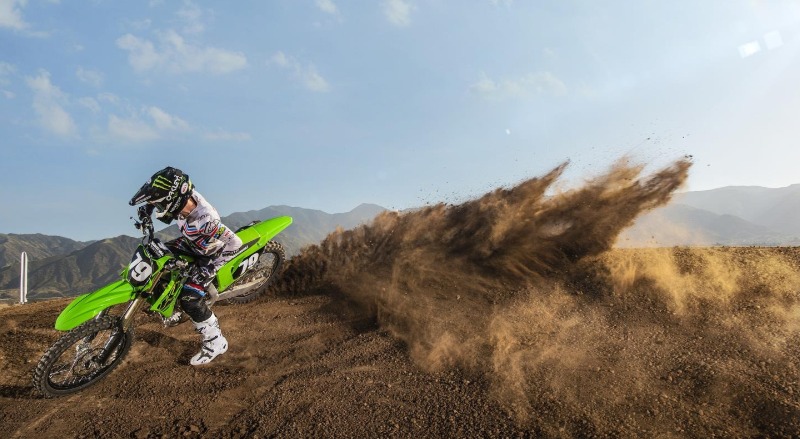 At the core of the updated racer is a state-of-the-art engine offering an additional 1kw (1.4PS) at peak power without sacrificing the low and mid-range urge so characteristic of Kawasaki's "win from the box" racer.  
Equally valuable for racers is an increase to the rev ceiling of an extra 350rpm adding to the KX250's already impressive over-rev performance.
New additions for a new season do not stop there in fact, appropriately, that is just where they start with the welcome addition for the 2021 model year of an electric starter for the first time on a KX250 as well as the logical adoption of a hydraulic clutch of the same type used on the KX450 since the 19MY model.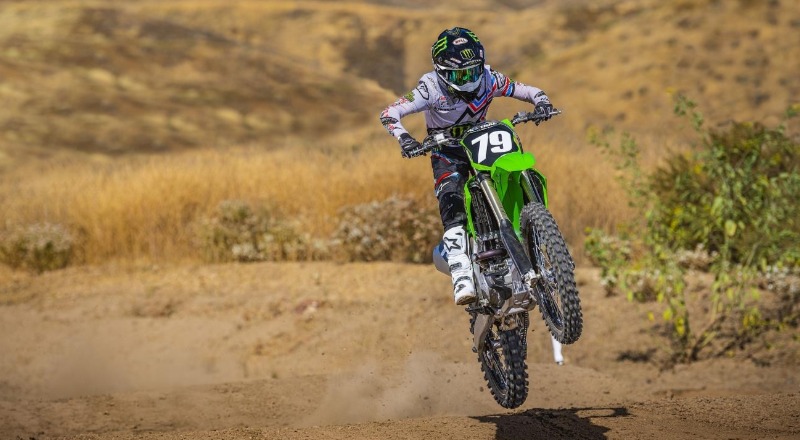 The ability to remount and restart after bike and rider hit the dirt is obvious and the seconds saved could well mean the difference between the top and middle step of the podium. Kawasaki engineers also appreciate that "instant gains" like quick starting are just part of the picture and the race-long reliability and durability of an easy to operate hydraulic clutch are also great to have as part of the standard specification.

In terms of styling and running gear the "new spec for a new season" story continues with changes to the slim, ergonomic bodywork evident and less easy to spot, a new frame and swinging arm combination modelled on the highly successful KX450 chassis.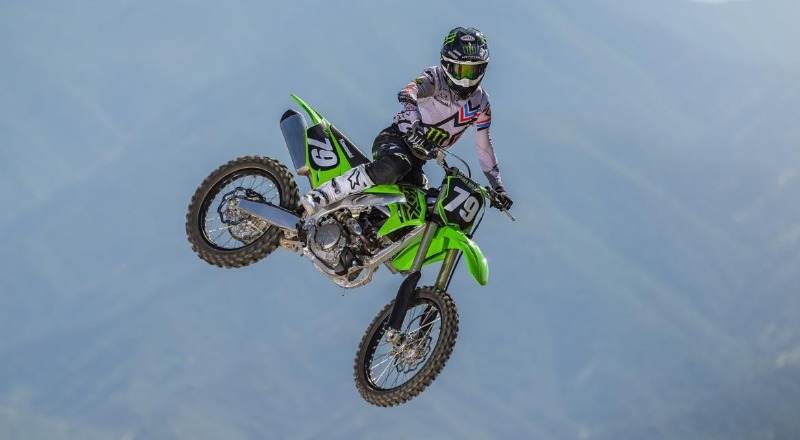 In terms of styling and running gear the "new spec for a new season" story continues with changes to the slim, ergonomic bodywork evident and less easy to spot, a new frame and swinging arm combination modelled on the highly successful KX450 chassis.
Additionally, the standard settings of the suspension have been refined to better absorb bumps and aid traction while a series of adjustments in the braking group facilitates an even greater degree of control. Speaking of control, a choice of four handlebar positions and two foot-peg settings allows riders to personally tailor their riding position to suit body size and preference.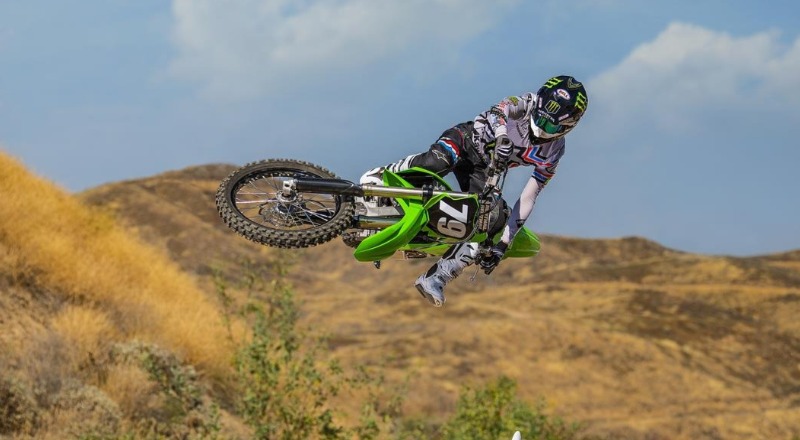 Add established features such as the option of an accessory Fi calibration kit for ultra-fine tuning in addition to the three easy to interchange "tuning plugs" and the KX250 for the new season becomes a logical and almost mandatory choice for riders who crave racing success.
Kawasaki KX250 – the success story continues.
Anticipated availability in the UK: Late August 2020
Anticipated RRP: £7,499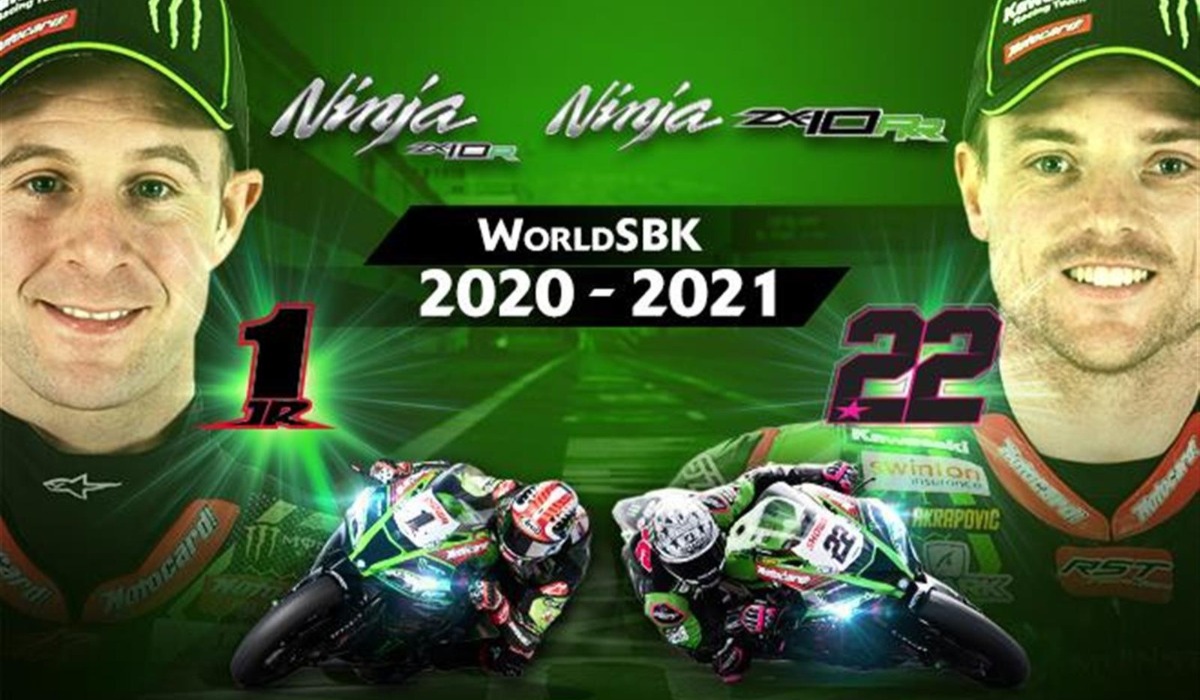 Now that a WorldSBK Championship in some form is set to take place following regional "lock-downs" and a widespread ban on travelling, the KRT Superbike project achieves continuity with both Rea and Lowes signed for the 2021 season. 
With five consecutive WorldSBK titles under his belt, Rea is one of the hottest properties in the paddock and many manufacturers and teams would like to tempt the Irish born rider away from Kawasaki, the manufacturer with which he has now become indelibly linked. 
For Rea, however, the relationship is not simply with Kawasaki as the maker of the formidable Ninja ZX-10RR that he rides but also the pit crew and advisors he has carefully built around him providing such a strong platform for success. 
The bond between the 33 year old racing veteran and a crew that work in perfect coordination whether at testing or in an actual racing scenario is something that other competitors envy and is something that Rea himself should be given the lion's share of credit for, both in deciding to create and achieving.  
Rea commented: "I am super happy to sign a new contract with Kawasaki and KRT. What we have achieved together is incredible. Our success is driven by a great team and of course the base of the project – our Ninja ZX-10RR. I will keep working hard, together with my crew, the engineers at KHI to be in the best condition every single race." 
For Lowes – new to the team and as team mate to the current WorldSBK Champion – it has been a dream start. Not simply connecting with crew chief, Marcel Duinker from the early days of his time with KRT, but also bonding successfully with a highly developed and potent Ninja package that would intimidate lesser riders. 
Displaying a "can-do" attitude from the very start of Winter testing, 29 year old Lowes has worked hard to "get up to speed" with a new bike, a new team and a sudden stop to his racing year – like others in the paddock – after just one event. 
Leading the 2020 Championship following a strong showing and a maiden Kawasaki win at Phillip Island in Australia, Lowes is keen to get back to racing and has high hopes of further success in 2020 welcoming the stability that a contract for the 2021 season brings. 
Commenting on 2021, Lowes said: "It is great be with Kawasaki for 2021. I can continue adapting to the team and adapting myself to the ZX-10RR. Even since I joined the team I have really felt like it was an opportunity to for me to make another step forward with my riding." 
Whilst the interruption to the 2020 season has been unfortunate and unavoidable, Kawasaki fans now have the best of news, not only will racing resume with Rea and Lowes in the best position to take up where they left off as Championship winning prospects, but also the team can concentrate on post season testing and a new season in 2021 with no interruptions to their momentum. 
With an almost universal feeling – in racing and other aspects of life – that the future looks brighter, Rea and Lowes look set to shine for Kawasaki and keep the Ninja Spirit alive. 
After six fantastic seasons spent with Team Green riding KX machinery, Lewis Hall has made the difficult decision to move on to pastures new.
Starting his Kawasaki career on the KX85, Lewis immediately displayed huge potential by winning multiple races and Championships. 
2017 arguably marked his most successful season, in the form of winning almost every MX Nationals race of the year on the way to a dominant Rookie class title. 
Despite this success, Lewis fought to find his true potential with Team Green upon moving to the ultra-competitive MX2 Pro class, however due to a myriad of reasons he has decided to amicably part ways with the team. 
"I've been with Kawasaki for six years now, but my time with Team Green has come to an end. I just want to say a special thank you to everyone at Kawasaki and the entire Perrett family for giving me the opportunity and helping me rise through the ranks from a Small Wheel KX85 to my third year as a Pro racer on the KX250. I can honestly say I would not be where I am today without them, thanks guys!" said Lewis Hall.
Reflecting on the contribution made by Lewis to Team Green and his drive to succeed, Team Manager, Jeff Perrett said, "Since joining the team in 2014 Lewis and his family have been nothing but a pleasure to work with. He's always listened to advice and gone out and applied it. He is one of the most focused and self-motivated kids I have seen and worked with in the sport and always gives nothing but 100%. As a Team Manager, that's the fundamental base you need to work with to succeed. If everyone is giving 100% then you've got a chance to be successful and win championships and that's what we have achieved." 
"Unfortunately our time working together within Team Green has come to end. I wish Lewis the absolute best of luck and on a personal level I will continue to support him and follow his career. Hopefully a little further down the line we'll see Lewis return to Kawasaki with the same success he's had as a youth racer."